Slot Review of Elven Gold from Microgaming
Microgaming is one of the best slot creators in the online gambling industry. They have created hits like Mega Moolah, Immortal Romance, and Thunderstruck II.
One reason Microgaming games are so popular is that the company thinks outside the box to offer new and exciting features.
They have done that again with the creation of the Elven Gold online slot machine. It has a unique feature that allows you to buy free spins whenever you want. As exciting as that possibility is, this feature is not as impressive as you might think.
Keep reading our Elven Gold slot review to find out why this game and its features might be a bit disappointing.
Where to Play Elven Gold Online
If you would rather just play the game to see for yourself, you can start now by checking out some online casinos with Elven Gold.
Most casinos that have Microgaming slots should have the Elven Gold casino slot game available.
Unfortunately, if you're an American wondering where to play Elven Gold online, we have some bad news for you.
Microgaming does not currently work with USA online casinos. So, you won't be able to play Elven Gold or other casino games from Microgaming.
Fortunately, Americans can play elves-themed slots at the top online casinos for the USA. They may not be THIS slot, but any game from providers like RealTime Gaming and Betsoft is going to be fun.
How to Play Elven Gold
Playing Elven Gold is not like playing other slot games. It has a unique slot structure with four rows instead of three.
Adding a single row doesn't seem like something that would make a significant difference. But it changes the game enough that you will need to take some time to get used to it.
There are 40 fixed pay lines, and they might look different than you expect because of the fourth row.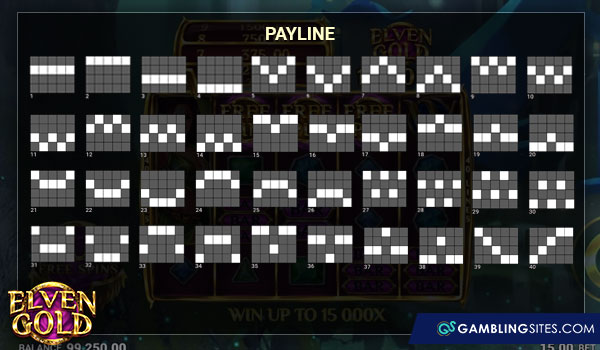 Once you get used to the different pay lines and having an additional row, the Elven Gold online slot game is similar to other games.
Because the paylines are fixed, you must choose from pre-determined betting amounts. There are fourteen options between $0.20 and $15, but half of them are $2 or less.
The most exciting prizes are tied directly to your bet amounts. So, you may want to become familiar with the betting options and the prizes you can earn at each level.
For example, the max prize is 15,000x your bet amount. If you are betting the max bet of $15, the jackpot prize would be $225,000. When you are betting $1, the top prize is only $15,000.
Review of Elven Gold – Key Details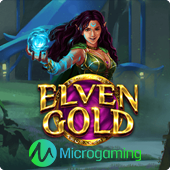 Theme: Elves and Gemstones
Manufacturer: Microgaming
RTP: 96.10%
Reels/Rows: 5/4
Paylines: 40, fixed
Minimum bet: $0.20
Maximum bet: $15
Maximum Prize: 15,000 coins ($225,000 at max bet)
Jackpot: No
Volatility: High
Mobile Compatible: Yes
Now that you know the basics of how to play the game, let's continue our Elven Gold review by exploring the symbols and paytable.
Winning Symbols on Elven Gold
One reason the Elven Gold slot game is unique is that it has an eclectic mix of symbols. There are stacked character symbols, different colored gems, and classic slot machine bar symbols.
The bar symbols do not have anything to do with the theme, but they are more interesting than traditional playing card symbols. There are three ways that the bar can show up on the reels. It can be a single bar, double bar, or triple bar.
You can earn larger prizes if you get three of the same bar symbol, but you can also earn smaller prizes for a combination of bar symbols.
The gems are the low-paying symbols, with the triangle and diamond-shaped symbols offering the lowest prizes.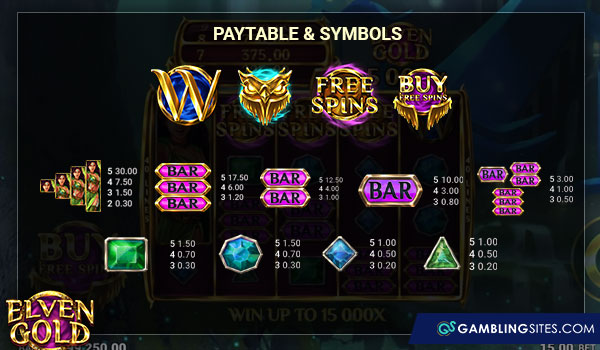 There is only one character on the Elven Gold slot game – the brunette elf in a green outfit. Her symbol can appear in stacks that take up one to four spaces on the reels.
Stacked symbols often seem more exciting than they really are. There are no vertical pay lines, so you would need at least three elf symbols in a row to get a payout. If you are lucky enough to get five elf symbols in a row, you could earn 30x your bet. You could potentially earn more if the stacked symbols line up on multiple pay lines.
The chances of that happening are not high. Instead, it is much more likely that the stacked symbol will block a symbol that you need to line up a combination of other symbols.
Stacked wild symbols are an exciting feature, but stacked regular symbols are more annoying than helpful.
Special Symbols
There are three special symbols on the Elven Gold casino slot. They are the most exciting symbols for many reasons.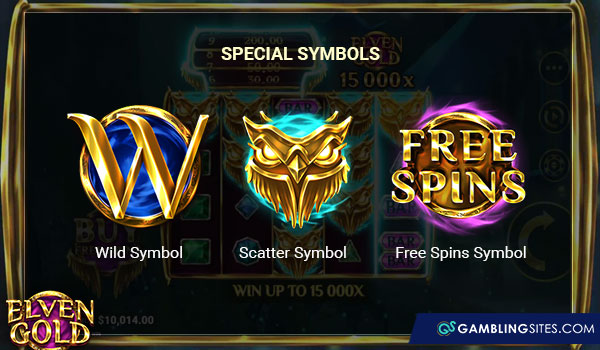 The first special symbol is a standard wild symbol, represented by a large golden W. It replaces any other regular pay symbol. If you get two or more wild symbols on a payline that doesn't line up with any other paying symbols, you can receive a payout based on the Wild symbol itself. Wild symbol payouts are the same as the payouts for the elf character.
There is also a free spins symbol. However, it does not offer any payout, and you need three symbols to earn the free spins. Getting three free spins symbols in a single spin is not an easy task because this symbol only appears on the three center reels.
The most exciting special symbol on the Elven Gold online casino slot is the golden owl mask scatter symbol. It doesn't activate any bonus features, but the golden mask offers the highest payouts.
You need at least four masks to appear on the reels to earn a payout. The payout for four golden owl masks is equal to your bet amount. If you get more than four, the payouts increase exponentially.
Number of Masks = Payout Multiplier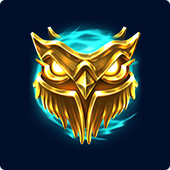 5 Masks = 5x
6 Masks = 15x
7 Masks = 25x
8 Masks = 50x
9 Masks = 100x
10 Masks = 250x
11 Masks = 1,500x
12 Masks = 15,000x
With twenty spaces on the reels, getting four or five mask symbols in a single spin is relatively easy. Getting seven or eight masks is less common but still possible.
You will need to get lucky to get ten or more masks in a single spin, but those payouts are very exciting when they happen.
Those same payouts are also available in the free spins round, where the scatter symbols tend to show up more. Let's continue our review of Elven Gold by exploring the bonus features.
Elven Gold Bonus Features
There are no bonus features within the Elven Gold base game. Instead, the main feature is the instant cash prizes that you can earn for collecting four or more scatter symbols.
Other than that, the only bonus feature is the free spins feature.
Free Spins Feature
You can earn free spins by collecting three free spins symbols on reels two, three, and four. This feature automatically starts with three free spins, but there is a built-in way to get more free spins.
During the free spins feature, the golden owl scatter symbols work differently. The collection meter at the top of the screen will show how many scatter symbols you have earned during the free spins.
Each spin that includes a scatter symbol automatically resets the number of free spins.
It is crucial to understand how this part works, so here are a few scenarios that will help you understand.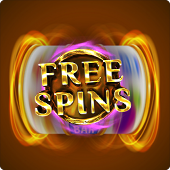 If you are on your last spin, you get three more spins. However, you only get one extra spin when you are on your first spin because it always resets to three.
You can only reset the number of spins one time per spin. So, if you get two or three scatter symbols on a single spin, they will get added to your collection meter, but the number of free spins is still three.
The maximum number of free spins is 39, but you would only get that if you got a scatter symbol on every third spin. You can collect a maximum number of twelve scatter symbols during the free spins.
In addition to resetting the number of spins, the scatter symbols still offer cash prizes during the free spins. However, they work a little differently.
Instead of getting a cash prize each time, all your scatters are collected in the collection meter. You will get a single cash prize at the end of your free spins based on how many scatters you collected during the round.
Collecting scatter symbols throughout the free spins makes it easier to get some of the higher scatter pays because you don't have to collect all of them in a single spin.
Buy Free Spins
Thanks to the possibility of collecting so many scatter symbols, the free spins feature is the most exciting part when you play Elven Gold for real money. But it can take a long time to earn those free spins because the free spins symbol only shows up on the center reels.
If you don't want to wait for those symbols to appear, you have the option of buying free spins for 50x the bet amount. It is important to note that the option of buying free spins is not available in the UK because of rules from the Gambling Commission.
The concept of buying free spins is an interesting one. They are not genuine free spins if you have to pay for them. However, it does allow you to access the free spins reels in a different way.
You will have to decide for yourself if it is worth it to pay for the free spins. The bet amount that you use for the free spins will affect how valuable this option could be.
Here are some examples of various betting amounts and how much the free spins would cost at that bet amount.
| | |
| --- | --- |
| Bet Amount | Cost of Free Spins |
| $0.20 | $10 |
| $0.30 | $15 |
| $0.40 | $20 |
| $1 | $50 |
| $2 | $100 |
| $5 | $250 |
| $10 | $500 |
| $15 | $750 |
When you use the option to buy free spins, you can change the bet amount through the same menu. You can play the base game at the max bet and the free spins at the minimum bet or any combination in between.
No matter what bet amount you choose, you need at least eight scatter symbols during the free spins to break even.
If you get eight scatter symbols, any line wins are extra profit. When you get fewer than eight scatter symbols, you may or may not break even depending on how many line wins you get.
We suggest caution when using the option to buy free spins when you play Elven Gold online for real money. It is tempting to go for the quick fix, but that is like playing 50 spins at one time.
If you actually took the time to spin fifty times, you would win at least a few prizes in the process.
You can always play Elven Gold for free to play around with different options. That is a safe way to experience the benefits and risks of paying for free spins at different betting amounts without risking your bankroll.
RTP and Volatility on Elven Gold
The overall RTP on the Elven Gold casino slot machine is 96.10% at its highest. Unfortunately, this game comes with customizable RTP ranges.
That means Microgaming gives casinos the right to choose from a few different game versions with different RTP percentages.
Some casinos may have Elven Gold with an RTP of 94.09%. Other casinos may opt for the lowest RTP version, which is 92.13%.
You may want to check a few different online casinos with Elven Gold before you start playing.
Some gambling websites will advertise the RTP, or you can ask a customer service representative. In some cases, you can request a copy of the casino auditing report from an independent auditor. That report will list the RTP for various games.
It is wise to check around for the casino that offers Elven Gold with the highest possible RTP. But you need to remember that RTP is theoretical. It is based on the long run – hundreds of thousands of spins.
At the end of the day, every win and loss on a slot machine is entirely random. Your wins and losses may not match the RTP.
The Elven Gold online slot machine is high volatility, so you can expect infrequent wins with larger prizes. You might play several spins without winning anything but win a significant amount on a single spin.
Elven Gold Mobile Slot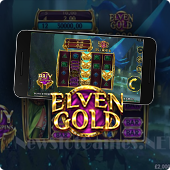 You can find Elven Gold on mobile casino sites. These sites make it easy to play this slot game from anywhere.
To play the Elven Gold slot on mobile devices, you can access your favorite casino through your device's internet browser. Some casinos also offer downloadable apps that you can use instead.
Downloadable apps sometimes have device-specific features that you might prefer. Once it has been downloaded, you will be able to play without using your device's data connection.
Other players prefer mobile gambling sites because they don't affect your device's memory as much.
Either way, the Elven Gold mobile slot has been engineered to adapt to the size of your screen. All graphics will look the same, and you shouldn't have any problems with slow loading times.
Click the button below to find all our top-rated slots apps with Elven Gold and other online slots from Microgaming.
Our Verdict on the Elven Gold Slot
The Elven Gold slot machine is a high-quality game that appeals to specific players. If you get excited about instant cash prizes from scatter wins, this game will keep you coming back for more.
But there are not many bonus features beyond the scatter symbol payouts. So, players who prefer games with lots of bonus features will be disappointed.
Overall, it is a fun game that is worth checking out. Either you will love it and want to keep playing, or you will get a little entertainment before you decide to move on.
Let's wrap up our Elven Gold slot review with our honest opinions about the different aspects of this game.
Graphics and Sound Effects
The graphics on the Elven Gold slot game are well done. They feature vibrant colors with gold accents. All the symbols use detailed shading and highlighting techniques that give them an ethereal quality.
There are simple yet exciting animations that occur when you win or collect a scatter symbol.
We found the sound effects to be somewhat annoying. When you play the Elven Gold slot online, there is a different sound effect for all the special symbols.
That includes different sound effects for free spins symbols, scatter symbols, wild symbols, and even the stacked elf symbols.
Those different sound effects make you think something exciting is happening, but that is not always true. So we recommend turning the sound on mute while you are playing.
Features
You will either love or hate the features of the Elven Gold slot machine. The free spins feature is exciting because it can be retriggered and you can collect scatter symbol payouts.
However, the number of free spins is disappointing. You almost must retrigger the feature two or three times to make it worthwhile.
The option of buying free spins is a double-edged sword. It offers guaranteed free spins, but there is no guarantee that the payouts will cover the cost.
There is no progressive jackpot, no second-screen bonus round, and no cascading symbols. If you like feature-heavy games, Elven Gold is not for you.
Jackpots and Payouts
The highest payout on the real money Elven Gold slot is the 15,000x jackpot that you can earn with twelve scatter symbols. That is an impressive max payout.
As long as you get six or more scatter symbols, the payouts are significant. So even if you don't win the jackpot, you can still win enough to make the game exciting.
The lack of a progressive jackpot might be frustrating for some players. But it wouldn't make sense in this game because the focus is on the scatter payouts.
User Experience
Playing the Elven Gold slot online is straightforward. All you have to do is select your bet amount and press the spin button.
You can modify the sound settings or set up autoplay with just a few clicks.
The only things that take time to adjust to are the pay lines and the five-by-four slot structure. They are different from what you might be used to, but it only takes a few spins to get used to the differences.
We got the hang of the game within a few spints during our review of the Elven Gold slot.
Theme and Symbols
If there is one area that the Elven Gold slot could improve, it is the representation of the theme.
There is only one symbol that even relates to elves. The slot machine bar symbols are entirely unrelated and out of place.
It seems like Microgaming is going for some sort of treasure theme, where the gems and golden masks are somehow treasures that belong to the elves. But that is a stretch.
Elves are not an easy theme to represent because elf folklore varies from one culture to the next. There are so many ways that elves could be represented, but any of them would have been better than this.

Sign up Bonus
250% Up To $5,000
READ REVIEW
Visit Site
X