TopBet Review
Not all gambling sites are created equal. Some offer specific services at a tiny niche, like online poker rooms which offer nothing but Texas hold'em and Omaha games, or casinos which only offer slot machines and blackjack. Others work more as a one-stop shop. It's common for companies which take this attitude of catering to multiple target markets to work primarily as a sports book which also offers casino games and poker.
TopBet.eu, on the other hand, walks more of a middle path. The site offers sports betting as its primary product, but it also offers over 100 different casino games. Their lack of a poker room is surprising, but it's a minor disadvantage at a gambling site which can cite a large number of advantages over its competitors.
This page tries to offer a detailed, unbiased review of what TopBet offers that other gambling sites lack. It's written by an expert with over 10 years in the online gambling industry, and it focuses largely on which products the site supports and how well those products compare with other sites in the industry.
VISIT TopBet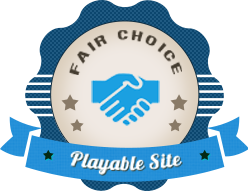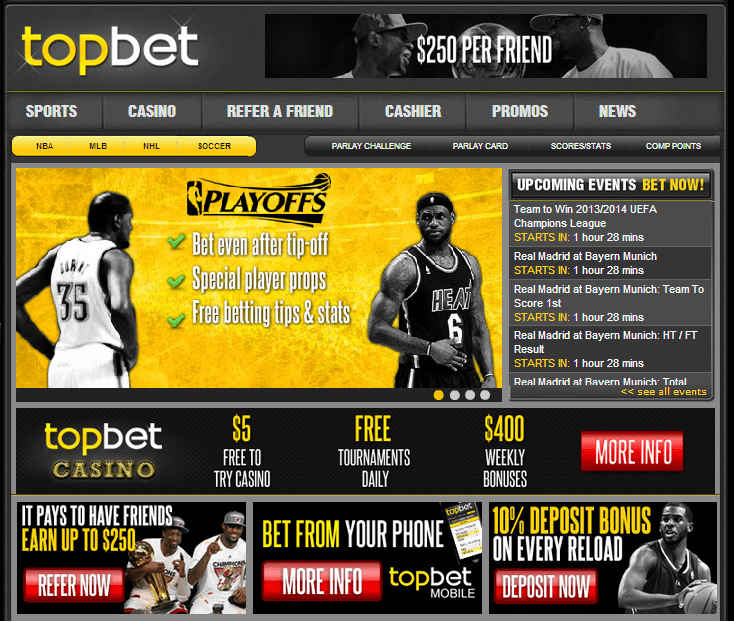 Established in 2011
Website – TopBet.eu
Licensed in Curacao
Email – support@TopBet.eu
Telephone – 1-877-528-6748
Offers both sports betting and casino games
Accepts real money gamblers from the US
Clean, user-friendly mobile betting interface
No poker room
No racebook
Licensing and Regulation Information
TopBet.eu is licensed and regulated by Curacao E-Gaming. If you've never heard of it, that's not surprising. Curacao is one of the smallest countries in the world—it's an island in the Dutch Caribbean. (You might never have heard of that area of the world, either. It used to be called the Netherland Antilles.)
To get their gambling license with the Curacao government, TopBet.eu was required to submit to an initial investigation of their business. They also agree to a regular auditing process conducted by their gaming authority.
Becoming licensed by Curacao isn't something just anyone can do, either. It costs a significant amount of money in fees--$34,000 upfront, $5600 each month, and 2% of profits are the costs for the first two years. Under-capitalized gambling companies can't afford these fees, so it's good to know that TopBet.eu is able to afford them. It means you shouldn't run into cashout problems based on corporate cash flow issues.
I think it's important to look at licensure when shopping for a gambling site. Licensing is probably less important than reputation, but you want to look at the whole picture when deciding whether or not to gamble at a particular site. Having a license from Curacao is not, by itself, a reason to play somewhere. But it is a factor that might affect your eventual decision.
Site Background
TopBet.eu is a standalone site. In the Internet gambling niche, this is unusual. Many sites are part of a larger conglomerate which features multiple storefronts catering to separate niche. For example, Bovada is associated with Slots.lv. The former specializes in sports betting, while the latter focuses on casino gambling.
I was disappointed that more information about the site and its owners isn't available online. I searched their website thoroughly and was unable to find an "about us" page. I also had little luck finding information about the corporation on other sites who had reviewed the company.
Some of this isn't surprising given the questionable legality of offering real money sports betting to United States customers. At the same time, it doesn't create the warm and fuzzy trust relationship I'd prefer to see. All that being said, the site's interface and design screams respectability, so I don't put too much stock in the absence of an about page. It's just a disappointing Web design and marketing decision.
Countries Catered to by TopBet.eu
The question most visitors to this site are interested in is whether or not a particular site accepts United States gamblers. I'm happy to report that TopBet.eu not only accepts U.S. players but welcomes them. In fact, the USA seems to be the site's primary focus. The website is only available in English, and the only currency accepted there is the U.S. dollar.
That being said, I didn't see any indication on the site that they're turning away customers from other English-speaking countries like the UK or Australia. There was nothing in the site's terms and conditions to indicate that they would turn away a player from any jurisdiction. The phrasing specifically places the onus of determining whether or not it's legal for a player to participate in the online betting activities there on the player, not the site.
Opening an Account
It's easy to find the "join now" section of TopBet.eu, because there are multiple links to this section from every page of the site, and these links are clearly labeled. Like most online betting sites, registering for an account requires submitting certain pieces of information:
Country
First Name
Last Name
Zip Code
Street Address
City/Town
State
Phone Number
Date of Birth
Username
Password
Email
Mother's Maiden Name
How Did You Hear about Us?
Promo Code
After you've input this information, signing up for your account is as simple as clicking on the big red button at the bottom of the page that reads: "Complete Your Free Account". You have to be at least 18 years old to sign up for a new account with them.
Making Deposits at TopBet.eu
Once you've registered your account, making your first deposit is easy. The site has 5 deposit methods available, which is better than some of its competitors. These methods include standard credit cards and debit cards (like Visa and MasterCard), checks, and Moneygram.
If you have trouble getting your deposit to go through using your Visa or MasterCard, don't despair. This isn't that uncommon. You might have better luck with a prepaid credit card like you'd buy at Walmart or at a check cashing store. Depositing with a check or Moneygram is also easy, and you can contact the customer service team there for help. Just call their toll free number at 1-877-528-6748.
I'm disappointed that TopBet.eu doesn't accept Bitcoin yet, but maybe if enough customers ask about it, they'll oblige them. I'm comfortable with the variety of deposit choices at TopBet.eu, though. (I've seen other sites which limit their options to just two different methods, which is an insufficient amount of choice. Having 5 choices is excellent.)
TopBet.eu Bonuses and Promotional Offers
Like most online gambling companies, TopBet.eu incentivizes new signups with deposit bonuses. They also incentivize repeat play with additional promotions. This section examines the current offers there and how they compare with the promotions available from other companies.
The Up to $1000 First Deposit Bonus
On your first deposit at TopBet.eu, you can receive a matching deposit bonus that's based on the amount you deposit. The more you deposit, the bigger the percentage match, as follows:
$50 - $99.99=50%
$100 - $199.99=75%
$200 - $1,000=100%
Here are some examples of how that would work:
If you deposited $50, you'd get a $25 bonus (50% of your $50 deposit).
If you deposited $150, you'd get a $112.50 bonus (75% of your $150 deposit).
If you deposited $400, you'd get a $400 bonus (100% of your $400 deposit).
Obviously, the optimal deposit is $1000, because that nets you $1000 in free money. But if you can't afford a deposit larger than that, you might even consider saving your money until you can raise at least $200. It's a shame to miss out on the free money that's available on your first deposit.
The $10 Monday Night Free NFL Bet
This is exactly what it sounds like. You sign up for a new account, and you get to place a free $10 bet on any NFL game you like. I'm a fan of no-deposit bonuses, and this one's great. I think it would be a fun challenge to try to run that up as high as possible, too.
The $5 Free Casino Bonus
This is just a free $5 chip so that you can try out the casino software at TopBet.eu. You can play for real money and get a taste for the games and the software without having to make a deposit of any kind. As with the $10 Monday night free bet, it's just free money to play with. Almost everyone should give this kind of signup bonus a try.
The $10 Thursday Night Free NBA Bet
This is just like the NFL bet, because it's free and it's $10 worth of action. The main difference is that it has to be used on a Thursday night NBA game. I'm not as familiar with NBA betting as I am with NFL betting, but this seems like a great opportunity to get started.
What All These Bonus Offers Have in Common
TopBet.eu has a maximum of $1000 in bonus money that a new player can claim. This means if you deposit $1000 and get a 100% matching bonus, you don't get to take advantage of the free $10 NFL bet, the $5 casino bet, or the $10 NBA bet. But since you have $1000 in bonus money to play with, you don't really need those offers.
On the other hand, if you take advantage of the 3 no-deposit bonuses, your maximum bonus on your first deposit is $975. That's because you already got $25 in bonus money on the free bets. In Texas, we call that six in one hand and half a dozen in the other.
Rollover Requirements
Like most online gambling sites, TopBet.eu has rollover requirements that must be met before you can cash out. These requirements only apply if you claim a signup bonus. If you want to opt out of the signup bonus and/or the rollover requirements, all you have to do is contact the customer service department. They're remove the bonus dollars from your account, and you'll no longer have to meet the rollover requirements.
The rollover requirements are different based on whether you're playing in the casino or in the sports book. In the sports book, you only need to wager your deposit plus your bonus 5 times before cashing out. In the casino, you need to wager your deposit plus your bonus 25 times before cashing out.
That might seem like a stringent requirement, but it's there for a specific purpose. If online gambling sites didn't require a minimum number of wagers, advantage gamblers would be able to take advantage of bonus offers to give themselves an almost mathematically guaranteed win. That would destroy a business in short order. As rollover requirements go, TopBet.eu is actually one of the least restrictive sites on our site's list of recommendations. Most properties require 35X or more in wagers before allowing cashouts.
The Sportsbook
You can bet on the following sports at TopBet.eu:
Football
Baseball
Tennis
International Soccer
Golf
Basketball
Mixed Martial Arts
Hockey
Boxing
Entertainment
Rugby Union
Football includes both NFL and college football betting.
Baseball only include Major League Baseball games.
Tennis is an odd choice, but some people like to bet on major events.
International Soccer is hugely popular in other countries. I know some people in the United States who follow it, but its only distantly popular when compared with American football.
Golf includes occasional major events you can bet on, like the Ryder Cup.
Basketball is available to bet on at both the professional and the college level.
Mixed Martial Arts is growing increasingly popular. You can get on UFC events here.
Hockey is available to bet on for NHL fans.
Boxing isn't nearly as popular as it once was, but it's still one of the most fun sports to bet on.
Entertainment is one of my favorite categories. This is where you can bet on things like the Oscars, the Emmys, and the 2016 Presidential election.
Rugby Union has its followers in the United States, too, but precious few.
Available Casino Games from Available Vendors
There was a time when casinos and gambling sites used only a single software provider, but now, it's just as common—especially among some of the better sports books—to have multiple software packages available. This provides the player with a wider selection of games with different flavors to choose from. In the case of TopBet.eu, the casino games are provided by 2 vendors:
AceGaming
Betsoft
Betsoft provides the bulk of the games, and they offer some of the most attractive and immersive games on the Internet. I'm generally reserved with my praise of various sites and their games, but in this case, being reserved would border on being inaccurate. Betsoft is top notch software. The games from AceGaming are just icing on an already rich cake.
The Available Casino Games
TopBet.eu offers a wide variety of casino games in various categories:
3D Games
Slot Machines
Blackjack
Table Games
Video Poker
Fun Games
The 3D Games are the real highlight of their casino offerings. These are Betsoft's 3-dimensional animated video slot machine games, many of which have elaborate plotlines. These are some of the most immersive and fun casino games on the Web. Here's a list of the games available in this category:
Mr Vegas
Tycoons 3D
Slotfather
Sushi Bar
Aztec Treasures
Arrival
The Glam Life
Enchanted
Gladiator
Under the Sea
At the Movies
BooManji
True Illusions
Ned and His Friends
Under the Bed
Viking Age
Lost
After Night Falls
A Night in Paris
Madder Scientist
Slots Angels
Once Upon a Time
Treasure Room
Rockstar
The Exterminator
Safari Sam
Mad Scientist
Three Wishes
Gold Diggers
Miles Bellhouse and His Curious Machine
At the Copa
2 Million BC
Black Gold
Heist
Barbary Coast
Mamma Mia
Rook's Revenge
Paco and the Popping Peppers
House of Fun
It Came from Venus
The Slot Machines category includes the following games, which are a little more basic but still fun:
5X Wild Diamonds Bonus Slots
Headline Slots
Party Bucks Progressive Slots
Free Spin Saloon
Heaven Cent
Cross Country Reels
Conspiracy Slot
Black Magic
Spider Guy
Carnival Wheel Slots
Banana Beach Slots
King's Castle
Deal or Steal
Cleopatra's Bonus
Coral Cash
Volcano Bonus
Freak Show
Fast Lane
Wild Sushi Slots
Samurai Slot
Final Table
Roughneck Reels
Aces High
Bar Room Blast
Fruit Fuzion
Charmed Reels
Blackjack
Blackjack games are listed separately from the other table games, although it is arguably a good fit for that category, too. The following games are available in this category:
Blackjack
Blackjack VIP
Sidebet Blackjack
Sidebet Blackjack VIP
If you've spent much time at other online casinos, you'll recognize that TopBet.eu doesn't have a large selection of blackjack games. It's tempting to think of this as a disadvantage, but I don't think that's true. For the most part, the differences in blackjack games at most sites are frilly at best and bad for your bankroll at worst. Give me a fair game with no frills and a low house edge, and I'm satisfied. My best advice is to avoid the "Sidebet" games. Those are almost always wagers with a high house edge.
Table Games
Table Games include the following:
Triple Card Poker
American Roulette
Triple Ride Poker
European Roulette
Craps
Baccarat
Mini Baccarat
Lucky 8's Pai Gow
Pai Gow Poker
Caribbean Poker
War
Red Dog
Many of these are card games, but there are some unusual games here, too. Pai Gow is an unusual and fun game to play at an online casino, and many sites don't offer it. You should always opt for European Roulette over American Roulette, as the house edge is much lower and the gameplay is practically identical.
Video Poker
Video Poker games invariably offer better payback percentages than slot machines. At most casinos, I'd recommend video poker games over slots without any reservation at all. But at TopBet.eu, the slot machine games are so entertaining that I don't mind giving up a few percentage points to the casino. Here are the video poker games available:
Double Barrel Bonus
Deuces Wild
Jacks or Better
Wild Joker
With only 4 video poker games, TopBet.eu has one of the most limited selections of video poker games on the Internet. Still, they do offer the most common variants. Many players stick with Jacks or Better anyway. This is a drawback to the casino, but a minor one.
Fun Games is a catch-all category where you can play lottery-style games, arcade games, and pachinko. These games generally have the highest house edge at the casino. In fact, I tend to think of these as being more like carnival games than like actual casino games. They might be worth playing once or twice for the novelty, but you'd have to really enjoy keno to want to face a house edge over 20%. Here's a list of their games in this category:
Instant Keno
Virtual Derby
Grand Slam Pachinko
Game Day
End Zone
Shockwave Keno
Texas Holdem
Slamm Jamm Pachinko
The Pitch
Penguin Party
TV Tournament Poker
Pieces of Eight
End Zone Pachinko
Slamm Jamm
Donut Dollars
Player Rewards
Like most online gambling sites, TopBet.eu has a frequent player program. They do not make it easy to find the dollar amounts available or the amount of play required to earn those dollar amounts. This is unfortunate, and it's on a par with not having a clear about us page. Clicking on that icon on the site takes you to the "join" page. It's a minor complaint, as most player rewards programs are about the same from site to site, but I still would have liked to have seen more information more readily available here.
The information is available on the frequently asked questions page, though. Theirs is a "comp point" system. Every dollar earns comp points, but play at some games counts more than play at other games. Generally, the lower the house edge, the fewer comp points you earn for playing. Here's a list including the number of points you earn per dollar based on each game:
Baccarat = 1
Blackjack = 1
Pai Gow Poker = 2
European Roulette = 2
Craps = 2
Triple Ride = 2
War = 2
Triple Card Poker = 3
Caribbean Poker = 4
American Roulette = 4
Red Dog = 4
Multi-Hand Double Barrel = 4
Multi-Hand Jacks or Better = 4
Multi-Hand Wild Joker = 4
Multi-Hand Deuces Wild = 4
All other games, including slots and "fun games" = 6
As you accumulate comp points, you can cash them in for rewards. These can be in the form of cash or money to play with in your account. Any time you have questions about how these rewards work, you can contact the customer service department for clarification.
Another perk for regular players is reload bonuses. These are awarded at the discretion of the casino and are based on repeated play. These are usually paid out in 10% or 20% increments when you make a new deposit at the site.
TopBet.eu also features frequent casino game tournaments—over 150 per month. This is an area where most casino sites fail miserably, so it's nice to see a sports book doing the casino management game better than many online casinos.
Withdrawing Money from TopBet Sportsbook
Being able to quickly and easily withdraw your money from an online gambling site is where the rubber meets the road. Unfortunately for TopBet, this is where they have had a difficult time as of late. There have been many complaints of very slow payout times.
The payout method they prefer to use is sending you your winnings by check via courier. This is my favorite way to receive my winnings, too. It's faster and easier than using regular mail, too.
TopBet does have limits on how much money you can withdraw, though. You're limited to winning a maximum of $50,000 a week, but you're limited to withdrawing $2500 a week. If you want to withdraw winnings of more than that, you have to get those payments week by week until you get your whole balance. For most sports bettors, this is reasonable and no big deal. Some high roller bettors might not be able to live with such limits. I suggest contacting customer support to request an exception or to see what they can work out if you're planning to bring that much action to TopBet. They're likely to try to accommodate such a large player.
How to Contact Customer Service
I've mentioned repeatedly during this review that you can always contact customer service with questions. You have multiple options for how you contact customer service here:
You can email them at the following email address: support@TopBet.eu.
You can call them toll-free at the following phone number: 1-877-528-6748.
Most gambling sites also have a contact us form on their site you can fill out, but that doesn't really do anything but send an email anyway, so I think it's superfluous. I was disappointed that they have no live chat option, because that's my favorite method of contacting customer service at a gambling site.
Conclusion
TopBet.eu is not a new site. Years of operation in the gambling niche are like dog years; they're longer than they initially seem. Having been in business since 2011 is a big point in TopBet's favor. They offer an impressive mobile-friendly product on both the sports betting and the casino side of the business. They have a great loyalty program, excellent signup bonuses, and lots of casino game tournaments to choose from. They're also friendly to US sports bettors, which is a huge plus for people in my part of the world.
Their drawbacks are few. It would be nice if they offered a poker room, for example. It would also be great if they accept Bitcoin as a deposit and withdrawal method. More transparency in terms of making information available to potential customers would also score a lot of points. None of these items are deal-breakers, but it's only fair to mention the bad along with the good when writing an online casino review.
From what I've seen on the rest of the Internet, players in general are happy with the service at TopBet.eu. Legitimate complaints are rare, although you can always find chronic malcontents who think they're being mistreated. I have no problem recommending that you try TopBet for yourself. With their no deposit bonuses, you don't even have to risk any of your own money to do so.
We're sorry, residents of your region are not accepted by this gambling site!
OK