Gambling in New Jersey – Current Laws and Regulation
New Jersey Gambling Law Overview
Casino Gambling: Legal
Tribal Gaming: Not Legal
Poker: Legal
Horse Racing Betting: Legal
Dog Racing Betting: Not Legal
Lottery: Legal
Daily Fantasy Sports: Not Specified
Charitable Gaming: Legal
Social Gambling: Not Specified
Online Gambling: Legal
New Jersey maintains the image of a gambler's paradise due to Atlantic City, which has been a gaming hotspot for years. But in reality, New Jersey isn't as liberal with their gambling laws as many think.
Casino in point: their casino gambling is restricted to Atlantic City's corporation limits.
Also worth noting is that New Jersey doesn't allow tribal casinos, they restrict charity gaming, and have failed to address social gambling.
But what the Garden State does do is offer several big casino resorts, legal online gambling, and a few other options. Let's discuss these options below along with key points about New Jersey's gambling laws.
Below we've included a list of the major topics we touch on throughout the article. To jump to the topic that interests you most, just click on the title below. Immediately after these jump links, we provide you with some key facts and stats about the state of New Jersey, such as the age requirement for gambling, revenue, and the number of gambling establishments throughout the state.
While New Jersey has a significant casino industry, their lottery actually earns the most revenue at $2.6 billion. In 2016, the New Jersey Lottery earned $3.3 billion, with a record-breaking $987 million going towards the state.
Most of the state's earnings go towards the public school system and higher education. Other causes like the Department of Agriculture, human services, and military and veteran affairs receive lottery money too.
The next-biggest source of gambling revenue for New Jersey is their casino industry, which earned $2.414 billion in 2016.
Unfortunately, this figure is nowhere close to when Atlantic City pulled in $5.2 billion in 2006. Out-of-state competition has caused a drop in New Jersey casino revenue, which, in turn, has forced several casinos to close.
But a side product of the closures is that the industry has stabilized, and the majority of existing casinos are back to profitability.
Since 2013, New Jersey has been offering online casino and poker games. This industry got off to a slow start, but it generated a record-$196.7 million in 2016.
New Jersey Gambling Stats & Key Info
Age Requirements

18 for lottery; 21 for casinos

Approximate Annual Gambling Revenue

$6 billion

Approximate Annual Gambling Taxes

$1.4 billion

Number of Commercial Casinos

7

Number of Rancinos

0

Number of Tribal Casinos

0

Casino Regulatory Body

New Jersey Division of Gaming Enforcement

Lottery National Rankings

8th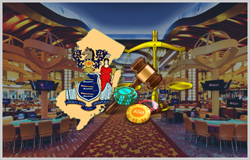 Transition to Legal Status of Gambling
21 is the standard minimum casino age for most states – especially when concerning major casino destinations like New Jersey. But there was a window between 1978 and 1983 when Atlantic City casinos accepted 18-year-olds.
According to the New York Times, this changed in 1983, when the state House and Senate passed legislation to raise the gambling age from 18 to 21.
Casinos supported the measure because, two months prior, Congress raised the legal drinking age to 21, making it harder for casinos to police underage drinkers.
Despite a higher minimum gambling age, Atlantic City continued to be a popular casino destination, even eclipsing Las Vegas as America's top casino hub.
While Vegas would quickly reclaim this crown, New Jersey casinos continued experiencing success into the 2000s. As mentioned earlier, the gambling market peaked in 2006 while earning $5.2 billion.
But this was followed by a downturn, coinciding with the Great American Recession. Aftereffects of the recession caused four casinos to close in 2014.
These closures inspired Atlantic City to decrease its reliance on gambling and start focusing on all-around entertainment, much like Vegas has successfully done.
Legal Status of Gambling in New Jersey
Statue 2 of the New Jersey Constitution explains that all forms of gambling are illegal in the state, except those approved by voter referendums.
While this is a common point in many states' criminal codes, they normally require approval from legislators, rather than voters. New Jersey's policy of letting voters decide gambling matters embodies America's democratic ideals.
New Jersey offers their definition of illegal gambling in statue 2C:37-1 (b), which reads as follows:
"…means staking or risking something of value upon the outcome of a contest of chance or a future contingent event not under the actor's control or influence, upon an agreement or understanding that he will receive something of value in the event of a certain outcome."
This is nearly identical to how New England states and others around the northeast define illegal gambling. Statue 2C:37-1 goes on to address the following activities as illegal:
Any contest of chance, including a "game, pool, gaming scheme or gaming device in which the outcome depends in a material degree upon an element of chance, notwithstanding that skill of the contestants or some other persons may also be a factor therein."
Bookmaking.
Holding an illegal lottery.
Slot machines in unlicensed establishments.
Offering a policy or numbers game (form of illegal lottery).
Possessing an illegal gambling device, which includes lottery tickets, policy slips, or any equipment used to offer unlicensed gaming.
Based on the first point, it's easy to assume that social forms of gambling like office betting pools and home poker games are illegal. But as we'll cover in the social gambling section, New Jersey's criminal code makes exceptions.
Other activities that are exempt from statue 2C:37-1 include licensed casino gaming, horse racing, poker, state lotteries, online gaming, and charitable gambling.
Casino Gambling
New Jersey has 7 commercial casinos, which collectively offer over 29,000 slot machines and 1,440 table games. While we've seen states with more slots, few places offer anywhere close to 1,440 table games.
The largest of these casinos is Bally's Atlantic City, which has 5,200 slot machines and 230 gaming tables. The second-biggest establishment is the Borgata Hotel Casino & Spa, which features 4,000 slot machines and 230 table games.
Atlantic City visitors will appreciate the large variety of casino games, including 3-card poker, baccarat, blackjack, craps, poker, roulette, slot machines, and even arcade-style gaming.
Politicians have furiously debated about adding more casinos in the northern part of New Jersey to compete with New York casinos. But the matter has yet to gain enough support, given that Atlantic City struggles as is without in-state competition.
Charitable Gaming
Charity gaming is legal under New Jersey law, although there are several notable restrictions on the matter.
As covered in sections 2.A and 2.B, only certain groups are approved to offer charitable gambling. These include churches or other religious groups, educational organizations, civic clubs, fire departments, first-aid squads, senior citizens, and veterans associations.
Regarding what games charities can offer, these include casino nights, lotteries, pools, pull-tabs, and raffles. 100% of the proceeds must go towards the charity's stated causes.
As per statue 5:8-51 (2.a), your charity must obtain licensing from the Attorney General's office if you plan on offering prizes worth $51 or more.
New Jersey is one of the few states we've seen that allows charity casino nights. But they're also on the restrictive side with their stipulations and rules.
Horse Racing
The Garden State features some of the most historic racetracks in the United States, including Freehold Raceway, which was opened in 1853. Freehold is America's oldest daytime, half-mile harness track, and it features events throughout the summer.
Opened in 1870, Monmouth Park is not only historic, but it also offers huge thoroughbred events like the $1 million Haskell Invitation.
The Meadowlands Racetrack was launched in 1976 and holds the famed Hambletonian trotting event. The Meadowlands is also where the NFL's New York Jets and New York Giants play.
State Lottery
Established in 1971, the New Jersey Lottery doesn't get as much attention as Atlantic City's casino industry. But based on the latter's decline, the lottery is the state's largest source of gaming revenue.
The New Jersey Lottery generates $3.3 billion in ticket sales, with nearly $1 billion of this going to the state school fund and other programs.
Available games include 6 Pick Xtra, Pick 3, Pick 4, Cash 4 Life, Card Cash All In, Jersey Cash 5, Mega Millions, and Powerball.
Live Poker
New Jersey features 6 live poker rooms, including ones at Bally's, Borgata, Caesars, Harrah's, Resorts, and Tropicana.
Overall, you'll find more than 200 poker tables in Atlantic City, with games including 7-card stud, limit hold'em, mixed games, Omaha, pot-limit Omaha, and Texas hold'em.
The largest poker room is Borgata's, which features 85 tables and regularly hosts large tournament events. Two of these events are the Borgata Winter Open and Borgata Spring Open, both of which offer multi-million dollar prize pools.
Other large poker rooms in the city include Harrah's (40 tables), Tropicana (27 tables), and Caesars (24).
Social Gambling
As covered in statue 2C:37-1, contests of chance, pools, and even skill-based games (poker, bridge) constitute illegal gambling. And since New Jersey doesn't directly address social gambling in their criminal code, this makes it seem like private gaming is unlawful.
But two statues clear "players" from being prosecuted. Before we get into these sections, let's first look at how 2C:37-1 (c) defines a player:
"A person who gambles at a social game of chance on equal terms with the other participants therein does not thereby render material assistance to the establishment, conduct or operation of such game if he performs, without fee or remuneration, acts directed toward the arrangement or facilitation of the game, such as inviting persons to play, permitting the use of premises therefor or supplying cards or other equipment used therein"
Here are the two statues that exclude players from illegal gambling:
2C:37-2 (c) discusses how one can defend themselves from gaming prosecution by claiming that they "participated only as a player."
2C:37-7 (A) basically clears anybody defined as a player from possessing, selling and transporting illegal gambling devices. We assume that what you're doing must be totally innocent to be defined as a player in this case.
Keep in mind that we merely study state gambling laws and we're not lawyers. But based on the hours we've spent pouring over gaming criminal codes, our opinion is that New Jersey is fine with social gambling.
Tribal Gaming
The Garden State doesn't have any tribal casinos, and it doesn't seem like they ever will, based on their commercial gambling industry.
The closest thing to tribal gaming in the state involves Connecticut's Mohegan Indian Tribe taking ownership of the Resorts Casino in 2012.
Where Can I Gamble in New Jersey?
Online Gambling Options in New Jersey
New Jersey is one of only three states that features legalized online gaming, with Delaware and Nevada being the other two.
The Garden State offers a larger iGaming market than Delaware and Nevada, with five different operations. New Jersey's government lists approved operators on their website.
The government site features 5 approved operators, including the Borgata, Caesars Interactive, Golden Nugget, Resorts Casino, and Tropicana. These companies each have their own separate network that offers several different sites.
Online gaming revenue has increased every year since its inception in late 2013. This includes going from earning $120.5 million in 2014; to $148.9m in 2015; to $197.6m in 2016.
It should be noted, though, that even the $197.6 million is way off initial revenue predictions. As discussed in a 2014 USA Today article, some politicians thought the market would bring in $180 million in tax revenue – meaning well over $1 billion in total revenue when accounting for the 15% tax rate.
The reality is that New Jersey made $29.6 million in tax revenue off operators in 2016.
The initial revenue predictions were floated by politicians hoping to shore up New Jersey's budget problems and were more wishful thinking than rationale.
Even though these casinos haven't met their lofty predictions, $29.6 million is an extra chunk of revenue that New Jersey wouldn't be earning if offshore operators were prevalent.
Speaking of which, the Division of Gaming Enforcement deems it illegal for any unlicensed gaming site to offer services to New Jersey residents. And we can't find an American-serving offshore casino or poker site that also operates in New Jersey.
Nevertheless, this brings up an important question: what would happen if a New Jersey resident was caught gambling on an offshore site, or a licensed foreign site through a virtual private network (VPN).
After pouring over the criminal code, we can't find any section that addresses this scenario. Instead, all we can find is language that can be used to prosecute illegal operators.
Perhaps this scenario will never happen, and the criminal code doesn't prepare for the possibility either. The legal distinction between a player and gambling operator is blurred, with only vague definitions of "illegally promoting gambling."
But one thing to watch in this regard is statue 2C:37, which discusses how "promoting gambling" includes anything that "… aids any form of gambling activity." This could potentially be used to charge somebody with illegal gambling promotion if they told somebody about an offshore gaming site.
Long story short, we recommend staying on the right side of the law by only playing at licensed New Jersey casinos and poker sites. And with 19 different domains across 5 networks, you won't have a problem with variety.
Atlantic City's Dark Year – 4 Casinos Close, Including $2.4b Revel
After years of declining gambling revenue, the fallout was felt in 2014, as four casinos closed their doors.
The Atlantic Club was the first to close, followed by Trump Plaza, Showboat, and Revel – taking the city's total number of casinos from 12 down to 8.
The Revel's failure is especially notable because it cost $2.4 billion to build, which is a record for New Jersey. The high-priced resort began losing money immediately after opening in April 2012.
Less than one year after opening, Revel declared Chapter 11 bankruptcy in February 2013, based on its inability to repay loans or get more credit. The casino continued operating until 2014 when they closed for good after being unable to find a buyer.
Florida developer Glenn Straub purchased the property out of bankruptcy court for $82 million. Straub rebranded the property as TEN Atlantic City but has yet to reopen it or offer definitive plans on if he'll feature a casino.
Gov. Christie has asked Straub to sell TEN Atlantic City if he's unwilling to purchase a gaming license and offer gambling.
Carl Icahn Battles with Casino Workers – Trump Taj Mahal Closes
In 1990, Donald Trump opened the Trump Taj Mahal, which, until the Revel, was the city's most-expensive casino at $1 billion.
Dubbed the "Eighth Wonder of the World," Trump Taj Mahal was supposed to usher in a new era of resort-style gaming that could match Las Vegas. But, like the Revel, it struggled in the beginning and went into bankruptcy court just a few years later.
The Taj Mahal would eventually stabilize and last well into the mid-2010s, when it again ran into financial trouble. After the casino entered bankruptcy court in 2014, billionaire Carl Icahn began financing the venue with millions of dollars.
In an effort to keep the casino afloat, Icahn slashed worker benefits and pension plans. This sparked a battle between he and the UNITE HERE casino workers union.
Icahn planned to invest another $100 million into the Trump Taj Mahal but reconsidered amid battles with the union and the state over tax breaks.
The tipping point came in the summer of 2016 when unionized workers went on strike. Icahn shut the casino down and began looking for a buyer.
According to Philly.com, Hard Rock International has agreed to spend $300 million purchasing the property from Icahn and renovating it. Their goal open date is the summer of 2018.
Push for Casino at Meadowlands Racetrack
For the past several years, certain interests have pushed for casino gaming at East Rutherford's Meadowlands Racetrack.
Hard Rock is one of these interests, with CEO Jim Allen telling NJ.com that he's prepared to wait for years to build a casino at the Meadowlands.
What makes this location so attractive is East Rutherford's location, which is right across the river from Manhattan. Building a casino here could help New Jersey keep their northern residents in-state, rather than visiting New York casinos.
But the big deterrent is that it'd also take visitors away from Atlantic City, which has struggled ever since the late 2000s.
Voters aren't interested in a Meadowlands casino because they rejected the idea in November 2016 by over 1.5 million votes.
Arcade Style Gaming
One of the key issues for the casino industry as a whole is how to attract younger visitors because their core demographic is aged 50 and older.
New Jersey is currently experimenting with arcade-style gaming in an effort to draw younger players.
The Division of Gaming Enforcement (DGE) approved arcade gaming in October 2016, and Harrah's became the first casino to offer this style of gambling the following month.
Harrah's featured a skill-based game called Danger Arena, which is a first-person shooter where gamblers try to shoot as many aliens within 45 seconds as possible. A player's performance determines their payout, which can range from $1 to $5,000.
It's still too early to tell how successful arcade gaming will be in the Garden State. But just the fact that they're the first casino destination to offer this shows that the DGE keeps an open mind.
New Jersey Gambling FAQ
Where in New Jersey can I Gamble Online?
You can play anywhere as long as you're within state lines.
Licensed New Jersey gaming sites feature geolocation software that locates where you're at in the state, versus across the border or anywhere else in the US.
Sites initially had difficulty with their geolocation software upon launching in late 2013 and early 2014. Specifically, the software was rejecting players who were within state boundaries.
In early 2017, PokerStars was fined $25,000 because their geolocation software was flawed and allowed out-of-state players to gamble at their site. In 2016, GAN – used by Betfair Interactive US – was also fined $25k for the same issue.
The New Jersey criminal code doesn't offer a clear yes or no answer on whether social gambling is legal. But based on the state's definition of a "player" and how they're exempt from illegal gambling, we believe that New Jersey is fine with home poker games.
If you have any serious questions about the matter, we suggest that you contact a New Jersey lawyer. But given the Garden State's lack of interest in chasing recreational gamblers and their criminal code's language, private gambling appears to be legal.
The key is to make sure that the host isn't profiting off your game, and that no illegal activities are going on at the premises.
Do New Jersey Casinos Offer Land-based Slot Machines Online?
Yes. Brick-and-mortar casinos that also feature licensed internet casinos have formatted some of their biggest slots hits for online play.
What's nice is that you can play these games for free, or play for real money if you're in New Jersey and have a real money account.
Can I Fund My Online Casino Account through a Land-based Casino?
Yes. You can visit brick-and-mortar casinos in Atlantic City and pay cash at the Cashier's Cage, then have it credited to your online gaming account.
This is a nice option for those who don't want to use credit or bank cards online, or when you're in a New Jersey casino and feel like funding your account.
History of New Jersey Gambling Laws
1844
New Jersey bans lotteries, which had been used to fund colleges
1853
Freehold Raceway opens
1870
Monmouth Park Racetrack begins offering horse racing
1894
Voters ban pari-mutuel betting
1897
Voter referendum bans all gambling in the state, but social gaming continues
1939
Pari-mutuel betting legalized
1953
Charities approved to offer raffles and bingo
1957
Amusement games banned by New Jersey
1959
Amusement gaming ban is reversed
1970
Voters legalize the New Jersey Lottery
1970
Voters turn down bill to allow casinos
1976
Casinos legalized, but restricted to Atlantic City's limits
1978
Resorts Casino is first Atlantic City casino to open
1983
New Jersey raises casino gambling age from 18 to 21
2011
Voters approve sports betting in New Jersey, and Sen. Ray Lesniak drafts bill
2012
Gov. Chris Christie signs New Jersey bill into effect
2013
Sports leagues oppose New Jersey sports wagering, and US District Court sides with leagues
2013
Gov. Christie signs online gambling bill into effect
2015
PokerStars receives New Jersey iGaming license, 5 years after being forced out of the US
2016
Voters reject a casino proposal for the Meadowlands racetrack
Conclusion
Atlantic City may not offer every major form of gambling, but they feature far more options that most states. This includes legal internet gaming, commercial casinos, horse racing, a lottery, and charitable gaming.
The casinos draw the most attention because several major resorts are offered within Atlantic City's limits. While it's unfortunate that five casinos have closed within the past few years, the market is doing better with less competition.
Of course, New Jersey is a state that's constantly looking to expand gaming and compete with out-of-state casinos. This is the primary motivation for a casino being proposed at the Meadowlands.
Voters soundly rejected this measure, though, meaning we may never see a casino built at the complex.
One good thing about New Jersey's politicians and casinos is that they're not afraid to try new things. Arcade-style gaming is a perfect example because New Jersey is the first state to offer this.
They're also one of the few places in the US where you can legally gamble online.
This means that you won't be able to play at offshore casinos and poker sites in New Jersey. But few will care when considering how many legal gaming sites are available in the Garden State.
In summary, if you visit New Jersey, you'll have plenty of land-based and online gambling options at your fingertips.