Guide to Playing Red Dog Poker
The game is called Red Dog Poker, but is it really poker?
No. It uses standard poker rankings, but Red Dog is much easier to learn than poker. If you want to play a fun and simple table game, check out one of these top Red Dog Poker casinos online.
Rank
Online Casino
Exclusive Bonus
Get Started

#1

Wild Casino

250% Up To

$5,000

Visit Site

Visit Site

#2

Las Atlantis

280% Up To

$14,000

Visit Site

Visit Site

#3

El Royale

250% Up To

$12,500

Visit Site

Visit Site

#4

Bovada Casino

100% Up To

$3,000

Visit Site

Visit Site

#5

Ducky Luck

500% Up To

$7,500

Visit Site

Visit Site

#6

Super Slots

250% Up To

$6,000

Visit Site

Visit Site

#7

Drake Casino

300% Up To

$6,000

Visit Site

Visit Site

#8

BetUS Casino

200% Up To

$5,000

Visit Site

Visit Site

#9

Ignition Casino

150% Up To

$1,500

Visit Site

Visit Site
If you don't see the game listed as "Red Dog Poker" at an online casino, it might be listed under one of the following alternative names
Yablon
Acey-Deucey
Maverick
In-Between
Between the Sheets
Regardless of what others call it, Las Vegas casinos referred to it as Red Dog Poker ever since they started offering it in the 1930s.
And for a while, Red Dog was a mainstay. You'd have no problem finding it.
These days, Red Dog Poker is primarily an online casino game. You might run across a table here and there in land-based casinos, but it's rare.
How to Play Red Dog Poker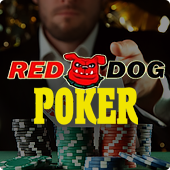 The premise of Red Dog is simple.
The goal is to predict whether a third card will have a ranking in between the first two cards to hit the table.
All the gameplay is community-based, so if you're playing Red Dog Poker in a live casino, everyone bets on the same results.
To quickly get the gist, let's use an example of a deal consisting of a 4 and a 9. Players win if the next card is a 5, 6, 7, or 8.
You can lose or tie the hand too, and how we'll show how that works later. But this is all there is to playing Red Dog Poker. Simple, right?
There are also a few Red Dog variations, including a five-card version called high-card pool, but online casinos with Red Dog Poker stick to the basic premise.
However, there are a few more intricacies to the game, especially if you're playing Red Dog Poker for real money.
We'll fill you in on the best strategy for raising your bet, when a hand is a push instead of a win, and how Red Dog Poker stacks up against other casino table games.
Red Dog Rules and Payouts
We don't want to overcomplicate a straightforward game unnecessarily.
Still, there are a few Red Dog expressions, rules, and scenarios you'll want to be familiar with if before you hit the table.
Terms Used in Red Dog Poker
Rank (interchangeable with value)

The value of the card (as in 8 = 8 and a Jack = 10)

Value (interchangeable with rank)

The rank of the third dealt card – as in will the "value" be between a "4" and "9"

Spread

The number of possible cards that can fall between the two dealt cards – i.e., with a "4" and a "9," the spread is four because a 5, 6, 7, or 8 can come in between

Ante

The required bet at the beginning of each new Red Dog game

Ride

A raise equal to the ante

Ace-high

Unlike some games that assign a high and low value to an Ace, Red dog is Ace-high, so the order is 10 – J – Q – K – A instead of A – 2 – 3 – 4 – 5

Push

A Red Dog outcome that's neither a win nor a loss; you can take your bet back or leave it on the table for the next game
Important Red Dog Rules
Raises are optional – You never have to raise your bet to stay in the game
Ace is high – Instead of an Ace starting a series with a value of 1 as in Ace – 2 – 3, it's always at the end – Queen – King – Ace.
Consecutive cards mean a push – Two successive cards, such as a "5" and a "6," result in an automatic push
Dealt pairs – Two identical cards, like a 4 and a 4, play like other non-consecutive card hands. A third card is dealt, and if it's also the same card, players receive an 11:1 payout; if not, it's a push
Face card value – All face cards (Jacks, Queens, Kings) are valued at "10"
Suits don't matter – In Red Dog Poker, suits (hearts, diamonds, clubs, spades) are irrelevant; it's all about the rankings
Betting and Payouts in Red Dog Poker
Red Dog Poker has a unique payout structure based on the spread. A win with a smaller spread, which is harder to beat, is worth more.
The top payout in Red Dog comes with a "0" value spread, as it's the three-of-a-kind result.
| | |
| --- | --- |
| Win Result | Payout |
| One-card spread | 5:1 |
| Two-card spread | 4:1 |
| Three-card spread | 2:1 |
| Four to 11-card spreads | 1:1 |
| Three identical cards | 11:1 |
| Consecutive cards | Push |
| Tie results (except three matching cards) | Push |
You've got two opportunities to bet in Red Dog.
The mandatory ante that gets you into the game.
Unless you have consecutive cards, you have the option to raise (or "ride," as some tables call it).
The raise has to be the same as the ante.
For example, if you've wagered $5.00, your raise is $5.00, and you have a total of $10.00 riding on the result.
Examples of Red Dog Poker Hands
The best way to get a good feel for playing Red Dog Poker is to look at a few sample hands. So, we'll walk you through a few scenarios, and you'll be ready to play with real money in no time.
But first, here are the steps you'll go through for every hand of Red Dog Poker you play. That way you can follow the examples we have for you afterwards.
Place your chip(s) in the Ante Bet position (sometimes labeled as "Place Bet" online)
Click "Deal"
Two cards are dealt – both face-up on the table
The dealer positions the cards and places a marker on the appropriate spot indicating the spread and the potential payout
Players make a stay or raise decision – click "ride" to raise, or "stand" to decline the opportunity to double your bet
The third card comes out face-up to determine the overall result (win, lose, or tie)
Now, let's look at some examples.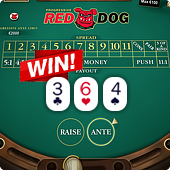 Example #1 – Spread Win
The two-card deal is a "3" and a "6"
The spread = two for a 4:1 payout (if the third card is a "4" or a "5")
You click "stand" or "ride" (to stay or raise)
The third card appears, and it's a "4"
You claim a 4:1 payout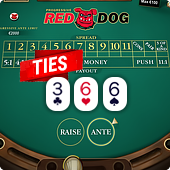 Example #2 – Spread Loss with a Tie Card
The two-card deal is a "3 and a "6"
The spread = two for a 4:1 payout (if the third card is a "4" or a "5")
You click "stand" or "ride" (to stay or raise)
The third card appears, and it's a "6"
As the third card has to be in the middle, you lose with a matching card in this case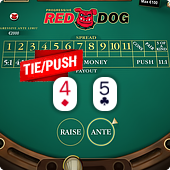 Example #3 – Consecutive Cards
The two-card deal is a "4" and a "5"
The result is "consecutive" (sometimes indicated on the table as "CONS")
It's an automatic push, so you take your bet back or use it to play again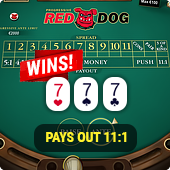 Example #4 – Two Identical Cards
The two-card deal is a "7" and a "7"
It's a tie, but not an automatic push
*The third card is dealt, and it's a "7"
You win and claim an 11:1 payout (If it wasn't a "7," it's a push)
Red Dog Poker Optimal Strategy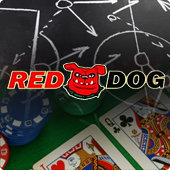 You can see that the little details make a difference in Red Dog. It's not quite the same as grabbing a deck of cards and playing at home with a straightforward win or loss concept.
Don't let the ins and outs of the game deter you, though. Red Dog Poker is a simple game to play as pretty much everything you need to reference is written on the table.
Optimal strategy for Red Dog Poker is simple to learn too, especially when compared to other casino table games.
When you're playing a game like blackjack, basic strategy includes knowing when to hit, double-down, or split your cards.
With Red Dog, though, you don't have that many decisions. Once you've placed your ante bet, you could just sit back and let it stand without even considering a raise, and you'd still be in the game like every other player.
But if you want to play Red Dog Poker for real money using optimal strategy, the only thing you need to know is when you should stand and when you should raise (aka "ride").
In fact, we're not going to give you a detailed pocket guide with various scenarios. In Red Dog, there's just one guideline.
Raise with a seven-card spread or more and stand with anything less.
You can opt to raise on any hand, but mathematicians have concluded that seven is the magic number, which is easy to remember.
Can You Beat the House Playing Red Dog?
We've covered the basics of how to play Red Dog Poker. But if you're a numbers-driven player, then we've got some more stats for you.
One of the most unusual things about Red Dog compared to other casino table games is that the number of decks has the opposite result.
For example, in blackjack a single deck gives you the most significant advantage. Adding more decks increases the house edge.
But with Red Dog Poker, a higher deck-count is to your benefit. You've got more opportunities to create triples for 11:1 payouts and aren't limited to just a few possible ways to hit the spread.
| | |
| --- | --- |
| Number of Decks | House Advantage |
| 1 | 3.15% |
| 2 | 3.08% |
| 4 | 2.88% |
| 6 | 2.80% |
| 8 | 2.75% |
You could say that, overall, Red Dog Poker has about a 3% house edge. But another optimal Red Dog strategy tactic is to play at an eight-deck table whenever possible to reduce it even more.
Win Probabilities Based on the Spread
Besides the game as a whole, there are some other numbers you might be interested in if you want to get as detailed as possible with your raise decisions.
We mentioned that a seven-card spread is advantageous if you're looking to double your bet. But the following is a probability comparison based on each of the 11 spread scenarios.
The following are percentages based on a six-deck table.
| | |
| --- | --- |
| Spread | Probability of a Win |
| 1 | 0.08% |
| 2 | 0.15% |
| 3 | 0.23% |
| 4 | 0.31% |
| 5 | 0.39% |
| 6 | 0.46% |
| 7 | 0.54% |
| 8 | 0.62% |
| 9 | 0.70% |
| 10 | 0.77% |
| 11 | 0.85% |
The smaller the spread, the lower the odds of you winning the hand. But when you win, your payout will be much larger than the hands you win with a larger spread.
Red Dog Variations and a Game Show
If you search for Red Dog Poker information, you'll come across the other names we've mentioned, like Yablon or In-Between.
You might see a few game variations as well.
High Card Pool
Online casinos with real money Red Dog Poker tend to stick to the version we've described. But social games cover High Card Pool, described as a different way to play Red Dog, but leaving out the in-between element.
With High Card Pool, each player receives three or four cards, and the dealer flips over one as a community card. The object of the game is for the player to have a card in their hand that's the same suit but a higher rank to declare a win.
For example, if the dealer turns over the King of clubs, the only card that'll beat it is the Ace of clubs. With only one deck in play, only one player could potentially claim a payout.
Montana Red Dog
If you take High Card Pool but deal players five cards instead of three or four, and then add a bonus bet, you've got Montana Red Dog. This variant was prominently featured in a 1970s western television series, Alias Smith and Jones.
Today's Red Dog Poker sticks to a raise or stay option, but Montana Red Dog is raise, stay, or surrender. You can double your bet if you're feeling lucky or throw in the towel for a 50% refund.
Bonus action in Montana Red Dog pays on qualifying poker hands using the player's five cards and one community hit card.
Card Sharks
The 70s kick-started the card prediction craze. An episode devoted to Montana Red Dog in Alias Smith and Jones prompted plenty of home game action.
Then, a few years later, a game show called Card Sharks, advertised as a take-off on Acey-Deucey, hit the air.
Instead of the in-between concept, Card Sharks asks for a simple higher or lower guess to oversized cards on the board.
Get ready to hear more about Acey-Deucey and Red Dog Poker, as Card Sharks is back on the air after almost 50 years.
Why Play Red Dog Poker?
You've got plenty of online casino table game selections. Blackjack alone is behind dozens of variations based on side bets, exposed cards, and other rule changes.
But its simplicity makes Red Dog Poker an ideal choice as well. You can play without giving it any thought, placing an ante and seeing what happens. Or, you can play the numbers game and base your raise decisions on win probabilities.
Regardless of how you decide to play it, the following are some of the benefits of playing Red Dog Poker.
Uncomplicated gameplay
Limited betting rounds
Raise opportunities
A 96.85% to 97.25% player return (depending on the decks used)
Easy to play with optimal strategy
Recreational players can stretch betting resources as pushes are frequent
Community table – all players bet on the same cards; no waiting for a seat at the table
Red Dog Poker tables are available in many online casinos
Payouts up to 11:1
When you play Red Dog Poker online for real money at one of our recommended casinos, you also get to enjoy benefits such as these.
Lower deposit thresholds
Lower table limits
Welcome match deposit bonuses
Cashback
Red Dog Poker mobile access
And more!
All you need to do to enjoy these perks is join one of the Red Dog Poker online casinos we recommend at the top of this page.
Comparing Red Dog to Other Casino Games
A benefit of Red Dog Poker is the relatively attractive player return. Compared to slots, table games typically have more attractive RTPs (return to player percentages).
While blackjack has one of the lowest house edges, Red Dog ranks above Caribbean Stud, Casino War, Let It Ride, Sic Bo, and Three Card Poker, as you'll see below.
| | |
| --- | --- |
| Table Game | House Advantage |
| Baccarat | 1.06% (banker), 1.24% (player), 14.36% (tie) |
| Blackjack (six decks) | 0.41% |
| Caribbean Stud Poker | 5.22% |
| Casino War | 2.88% (war on ties), 3.70% (surrender on ties) |
| Heads Up Hold 'em | 2.36% |
| Let it Ride | 3.51% |
| Pai Gow Poker | 1.46% |
| Red Dog (six decks) | 2.80% |
| Sic Bo | 2.78% (up to 33.3%) |
| Three Card Poker | 3.37% |
The point?
If you want to give yourself the best chances to walk or log out of the casino a winner, you should play Red Dog, as it has one of the lowest house edges in the casino.
Gameplay Differences
Red Dog Poker is known by different names. The rules are nearly identical with Acey-Deucey or In-Between, but other similar casino tables have a few key differences.
Casino War
Instead of predicting whether the next card will come in-between the two community cards, Casino War pits the player's card against the dealer's.
It's a straightforward high-card wins game.
Dueling for Dollars
Galaxy Gaming's Dueling for Dollars is Casino War with a touch more of Red Dog, plus a side bet prediction.
Besides the high-card wins element, players can step back and guess which of two cards will come out on top. It's kind of like betting in baccarat, as you can back the player or dealer.
Three Card Poker
Poker is in the name, but the only element Red Dog shares (with poker) is the card rankings.
Three Card Poker, on the other hand, is an abbreviated poker-driven game. It plays like traditional five-card poker with straight flush and three-of-a-kind hands at the top of the paytable, instead of royals and fours-of-a-kind.
Stud Poker
While Stud Poker is an actual poker variation, it's also a straightforward player versus the dealer, heads-up game.
Like Casino War, it's got the best-hand wins concept without strategizing with draws, bluffs, or community cards.
Andar Bahar
While Andar Bahar has been a favorite in India for years, it's starting to catch speed in online casinos, including live dealer tables.
Like Red Dog Poker, Andar Bahar is also a straightforward prediction game but typically has an optional side bet.
Instead of two cards dealt first and then a prediction on the third, one card is dealt face-up to start the round. To the left of that card is the "Andar" side, and "Bahar" is right. Players are backing Andar or Bahar as the side that'll end up with a matching card to the one in the middle.
Let's say that a "6" is dealt. The dealer starts with a face-up card on the left (Andar) to see if it's a "6." If so, Andar bets are paid. If not, the next card goes to the Bahar side and continues to alternate until there's a match.
The side bet involves how many cards it'll take before there's a win. A correct 41+ card prediction is worth 120:1!
Finding the Best Red Dog Poker Games
Red Dog Poker used to be a regular on live casino floors in Las Vegas, but it's tougher to find these days.
If you're ready to have some fun predicting cards and vying for payouts up to 11:1, then real money online casinos with Red Dog Poker are your best bet.
All top-rated software providers for US players (RealTime Gaming, Betsoft, Nucleus, Rival) provide Red Dog Poker tables for their casino partners.
Because the game is nearly identical regardless of which studio is behind it, the key to having the best experience is to choose your online casino wisely.
After years of reviewing, rating, and ranking gambling sites worldwide, we've compiled quality lists of the overall best online casino sites.
Regardless of which of our recommended casinos you join, you can feel confident that the game is fair, and that you'll receive your winnings after a successful session at the Red Dog Poker table.

Sign up Bonus
250% Up To $5,000
READ REVIEW
Visit Site
X