Guide to Blackjack Tournaments
What would you say if we told you to split 10s at the blackjack table?
You'd look at us as if we were crazy. An amateur should never split 10s in a blackjack cash game. But what if we said you were playing a blackjack tournament instead?
You still might look at us as if we're nuts, but that's probably because you don't realize just how different blackjack tournaments are from cash games.
You're going to learn about how they are different in our guide below. We explain how blackjack tournaments work, the types of tournament blackjack variations you can play, and where you can play blackjack tournaments online.
We also dive into blackjack tournament strategy and provide tips to help you win.
But before we get to all that, let's start with the basics.
Blackjack Tournament Basics
Each casino blackjack tournament will have its own buy-in, structure, rules, etc. The tourney variant will also introduce some nuances.
Certain blackjack tourney basics always remain the same, though.
How Blackjack Tournaments Work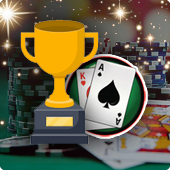 Every tournament player will pay a flat fee to enter the tournament. A small percentage of the fee goes to the house. The rest goes to the prize pool.
The tournament will either be a single table or multiple table and elimination or non-elimination format.
Depending on the format, you'll have one of two objectives: to win more chips than your opponents or to outlast your opponents.
Your opponents are the other tournament players, and not the house like a blackjack cash game.
Every player starts with the same number of chips.
The lead-off position rotates every hand.
The tournament plays until everyone has been knocked out or until all the rounds are finished.
Players are paid (or not paid) based on where they finish in the tournament. Tournaments usually have top-heavy payout structures where the top finishers receive a larger percentage of the prize pool compared to those who finish at the bottom.
If you're already a seasoned blackjack player, then you have probably already spotted some major differences between how blackjack tournaments work and cash games.
But in case you haven't, check out the table below. We list all the major differences between these two formats.
| | | |
| --- | --- | --- |
| | Casino Blackjack (Cash Game) | Blackjack Tournaments |
| Objective | To beat the dealer every hand you play, and to win more hands than you lose. | To be one of the last players standing and/or to have the highest chip count. |
| Opponent(s) | The dealer (aka the house). | Other players. |
| Risk | As much as you're willing to stake on a per-hand basis. | The tournament buy-in (and any potential re-buys); you'll play the tournament for a set price. |
| Reward | You will receive money for every hand you win. The amount you get per hand depends on your stake and the table payouts. | A piece of the prize pool if you finish high enough. The top finishers usually receive as much as 25%. It is possible to not win any money if you finish too low in the standings. |
| Strategy | Optimal strategy provides you with the greatest advantage. | Tournament strategy is fluid; you'll play more aggressively or conservatively based on the leaderboard standings and your position toward the end of each round (in elimination-style competition). |
| Beat the Dealer? | Cash players are always in competition with the dealer. | There could be times in tournament play when you root for the dealer (to beat your opponents). |
Variations of Blackjack Tournaments
As we said, the basics of blackjack tournaments will remain the same from one competition to the next.
However, there will be nuances in blackjack tournament rules depending on the variation you play.
Here are the most common blackjack tournament variations.
Single or multiple table
Elimination
Non-Elimination
Mini tournaments
Major tournaments
Freerolls
Guaranteed
SNGs
Scheduled
Rebuy
Satellites
Live Money
These variations add unique twists, challenges, or perks to every casino blackjack tournament.
For example, a rebuy tournament is challenging for two major reasons.
It takes longer and is harder to reach the money, much less win the tournament, since everyone can re-enter multiple times. You need more stamina and luck to do well in this type of blackjack competition.
You need a larger bankroll so you can re-enter the tournament as many times as you think it is profitable to do so.
The perk to playing rebuy blackjack tournaments, though, is that the prize pool is so much larger than a non-rebuy tournament because of everyone who re-entered (often at full price).
But that is just the start. Many blackjack tourneys will combine multiple variants. For example, you might find a rebuy scheduled blackjack tournament or a rebuy satellite blackjack tournament.
These combinations only add to the challenges you face, strategies you need to use, and the rewards you stand to gain if you get lucky AND play well.
That's the gist of blackjack tournament variants and how they may impact the games you play. Now let's look at some of the most common variants blackjack tourneys use.
Single or Multiple Table
Whether you play a single or multiple table blackjack tournament depends on the number of players who register to play.
Single table tournaments are nice because they're quick to finish and, from a strategy perspective, it is easier to quickly assess the competition and chip counts.
Multiple table blackjack tournaments are usually elimination-based. As players are knocked out, the table count dwindles until there's one player remaining (like a poker tournament).
Elimination
Elimination-style casino tournament blackjack is the most popular and easiest to find.
This format is unique in that the players with the lowest chip counts are removed at the end of every round.
Depending on the number of participants, elimination blackjack tournaments typically play in four to five rounds, consisting of 20 to 30 hands each.
Non-Elimination
Instead of knocking fellow players out of the game, your objective in a non-elimination blackjack tournament is to accumulate as many chips as you can.
The winner is the person who has the most chips at the end of the tournament.
Mini Tournaments
As the name implies, mini blackjack tournaments are same-day competitions.
The buy-ins are usually around $10-$20, and the prize pools are in the $1,000-$2,500 range.
Major Tournaments
A major blackjack tournament is a competition with a larger buy-in, field, and prize pool.
These competitions can sometimes last as long as 2-3 days.
Freerolls
Freeroll blackjack tournaments are free to play and often still have a real money prize pool. The money for the prize pool doesn't come from the players – it comes from the casino.
Sometimes free entry blackjack tournaments are available to the public. Other times, they're exclusive to VIP members or customers who have met some other criteria.
Guaranteed
A guaranteed blackjack tournament is one with a promised prize pool. If the prize pool is not met due to not enough players signing up to play, the casino will pay the difference.
For example, if a competition has a $2,000 guarantee but only $500 comes in from buy-ins, the casino or promoter kicks in the other $1,500.
This is called an overlay. Overlays are valuable for blackjack players because you're competing against fewer people for the same total prize pool.
Not only is there less competition, but fewer people are paid out. And because there is so much more money in the prize pool relative to the number of registrants, every person who cashes will get a larger payout than they would've otherwise.
SNGs
You might know the term sit 'n go from poker rooms. It's a competition that starts when enough players take a seat. This is how it works for blackjack SNGs, too.
Six players are usually enough to facilitate a SNG blackjack tournament.
Scheduled
The opposite of blackjack SNGSs are scheduled tournaments. These are tournaments that start on a specific day at a specific time. These are the most common type of blackjack tournament.
Casino sites with blackjack tournaments list their upcoming blackjack tournaments on the promotions page or in the VIP loyalty club area.
Land-based casinos send notices out to loyal players, or you can pick up schedules at the player's club or cashier's cage.
Rebuy
A rebuy is the option to pay another fee and re-enter a blackjack tournament you just busted out of. The rebuy is usually the same as the original buy-in, though sometimes it can be less.
One of the things that makes rebuys neat is that they directly contribute to the prize pool. The more people who rebuy, and the more each person rebuys, the larger the prize pool and payouts will be.
Satellites
A satellite is another common poker tournament term. It has the same meaning in the blackjack world.
Blackjack satellite tournaments act as a preliminary round, awarding the winner (or winners) entry into more prominent and valuable real money blackjack tournaments.
Live Money
Most of the competitions we're covering in this guide focus on a single buy-in that doesn't necessarily translate to the number of chips you receive. That's because the chips aren't worth anything in the contest. They're just used to play the game and determine a winner.
But in a live-money blackjack tournament, each player buys in as they would in a real money blackjack game.
So, $5.00 gets you a 5.00 chip. At the end of the match, the chips are exchanged for the cash equivalent.
Those are the most common tournament blackjack variants you'll come across. These will certainly add a twist to the blackjack tourneys you play.
Now let's look at some blackjack tournament strategy you can use to increase your chances of winning the competitions you enter.
Winning Blackjack Tournament Strategies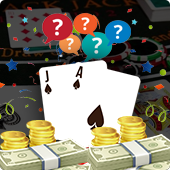 Competing in a blackjack tournament requires a different skill set than casino blackjack. Remember our table from earlier and all the differences there are between these two formats.
If you plan to devote more time to blackjack tournament play, you might want to come with an even more detailed line of attack. That's where Ken Smith can help.
Ken Smith is on the list of notable professional blackjack and tournament players. He took first place in the first episode of CBS's Ultimate Blackjack Tour and he competed in the World Series of Blackjack on GSN.
It probably makes sense to follow his advice. You can find Smith's advice in the books he has published on casino tournament blackjack strategy.
One of those books is How to Win More Blackjack Tournaments. It covers ten ways to avoid elimination, splitting your bankroll, bet sizing basics, and other tips to help your gameplay and decision making during a blackjack tournament.
That's who we recommend you listen to for your main blackjack tournament strategies. But it will take you a couple of days to get the book and read it.
Here are a few blackjack tournament tips to help tide you over.
Compare buy-ins to the prize pool
Review the rules of the table
Follow the leaderboard and chip counts
Use the power of position to your benefit
Know when to deviate from optimal blackjack strategy
Let's go through each tip now.
Compare Buy-ins to the Prize Pool
Your goal is to win blackjack tournaments and come out ahead. It doesn't do you any good to win a blackjack tournament and still be in the red.
So, when you play rebuy blackjack tourneys, you will want to do the math to decide if rebuying into the tournament makes sense. Can you rebuy, win (or cash), and still make a profit?
You can even determine this before the tournament starts by simply giving yourself a limit (3-4 buy-ins, for example). Then once you reach your limit, call it quits.
Review the Rules of the Table
You've heard it time and again; knowledge is power. The more you know about the structure and table rules, the easier it will be to develop your tournament blackjack strategy.
Here is what you need to consider.
Number of rounds and hands per round
Leaderboard updates
Gameplay rules – surrender, betting limits, etc.
The gameplay rules are straightforward. Keeping track of the rounds and the status of your competitors is important because that information can help you decide when to raise or lower your bets or when to play more conservatively or aggressively.
Follow the Leaderboard and Chip Counts
You might be inclined to keep your head down and hope for the best. But paying attention to your position compared to everyone else is part of a winning blackjack tournament strategy.
Following the leaderboard and chip counts will help you stay ahead of your competition and alter your betting and decision-making accordingly on a hand-by-hand or round-by-round basis.
In an elimination tournament, comparisons are even more essential because you might need to make one big bet to stay in the game.
Use the Power of Position
Being the last to act has its advantages in a blackjack tournament. It's even more of a benefit toward the end of a round or competition.
You can evaluate your opponents' chip counts and standings and then later decide how you'll play your hand after they act.
Know When to Deviate from Optimal Blackjack Strategy
This tip is the ideal segue from the last one. When you're aware of what's happening with the other players and where you're at in the round, you'll know when to deviate from optimal blackjack strategy.
Here is an example of how you might deviate from conventional strategy. Let's say that it's the last hand of the round, and you're dealt a pair of 9s with a dealer 6 showing.
If you've built up a decent chip count, enough to all but guarantee your advancement to the next round, you may want to avoid splitting those 9s – just to play it safe.
However, if you're on the verge of elimination, you may want to play more aggressively. It would make sense to increase your wager before the hand started. Then you'll probably want to split those 9s. This will put more money on the table which, if you win, may be enough to move you on to the next round.
The big takeaway here isn't what to do with your 9s, but that your casino blackjack tournament strategies may change based on your standing (and your opponents' standings) in the tournament.
Here are a few more suggestions for how to alter your strategy based on how well you and your opponents are doing.
| | |
| --- | --- |
| Scenario | Tip |
| You're the chip leader and want to maintain the lead. | Keep your betting in line with the second and third place competitors, so they don't out-bet you and take your lead if they win. |
| You're in the second or third place position, attempting to take first. | Place a few big bets when you're last to act rather than small increases; if you're successful, you could take the lead in just one hand. |
| You're in the last few hands of the round (or the tournament) and need to catch-up. | If you're willing to take a substantial risk, you could bet half of your remaining chips, reserving the other half for a split or double-down, if necessary. |
| You're in second place in the last hand of the tournament. | Compare your bankroll to the chip leader and, if it makes sense, double-down on anything – at this point, you've got nothing to lose, but you could win with one longshot hand. |
| You're the chip leader in the last hand of the tournament by more than 2.5 times. | Keep your lead. Let the others take risks, but you've got a lock, so bet the minimum, don't double-down, and keep your first-place lead intact. |
| You're competing with players going all-in on the last hand. | Bet just short of all-in by holding back at least one chip and hoping for a dealer win. |
Where to Find the Best Blackjack Tournaments Online
Are you aware that online casinos offer blackjack tournaments just like land-based casinos do?
The tricky part is finding them. The best online casinos with blackjack tournaments are not publicly advertised, so a simple Google search won't return much.
You'll benefit more from expert recommendations like ours. So, here are a few real money blackjack tournament casinos online that we recommend you check out first.
SuperSlots
SuperSlots is a newer member of the online gambling community. It's under the same ownership umbrella as BetOnline, so it's a trustworthy choice.
They run two weekly blackjack tournaments. Their biggest blackjack tournament online runs on Wednesdays and their smallest tournament runs on the weekend.
Here are the details.
| | | |
| --- | --- | --- |
| | $25,000 Blackjack Tournament | $10,000 Blackjack Tournament |
| Date | Wednesdays | Weekends |
| Buy-in | $10 | $10 |
| Elimination or Non-Elimination | Non-Elimination | Non-Elimination |
| Rebuys | Unlimited, $5 each | Unlimited, $10 each |
| Notable Prizes | 1st – $5,000; 2nd – $3,000; 3rd-10th – $1,000 | 1st – $3,000; 2nd – $2,000; 3rd – $1,000 |
| Rollover | Yes | Yes |
Visit SuperSlots.ag now to check out their casino blackjack tournaments, or you can read our review to learn more about them.
Wild Casino
If you prefer a jungle-themed casino or if you're already a registered player at Wild Casino, then you'll be happy to know that they offer the same two weekly blackjack tournaments as SuperSlots.
So, it's just a matter of which site you prefer. Or, if you have an account with one and not the other, then you might join the one you're not registered with to give yourself a chance to claim another deposit bonus.
MyBookie
MyBookie is a full-service gambling site featuring a casino, sportsbook, and racebook. This is a good option if you have gambling interests outside of blackjack and other casino games.
Another reason why we like MyBookie is that they offer frequent online blackjack tournaments for real money. They run a daily blackjack tourney, a weekly $10k tourney, and a weekly $5k tourney.
Their tournaments have a generous pay structure. The payouts have a low rollover, too. MyBookie.ag is certainly worth checking out if you want to play blackjack tournaments online.
Here are all the details.
| | | | |
| --- | --- | --- | --- |
| | Daily $1,000 Tourney | Weekly $5,000 Tourney | Weekly $10,000 Tourney |
| Date | Daily | Check Schedule | Check Schedule |
| Buy-in | Free | Free | Free |
| Elimination or Non-Elimination | Non-Elimination | Non-Elimination | Non-Elimination |
| Notable Prizes | 1st – $100; 2nd – $75; 3rd– $50 | 1st – $1,000; 2nd – $850; 3rd – $700 | 1st – $1,000; 2nd – $750; 3rd – $500 |
| Rollover | Yes | Yes | Yes |
You can visit MyBookie.ag and play in their daily blackjack tournament today or tomorrow. Or you can read our review to learn more about them.
Play Your First Blackjack Tournament Now
If blackjack tournaments were new to you, you now have a much better idea of what to expect after reading our guide.
You know how blackjack tournaments differ from cash games, how they work, the different tournament variants you can play, and some strategies to help you outlast your competition.
We also showed you a few of the best online casinos for real money blackjack tournaments. All these casinos offer mobile blackjack tournaments, too. You're not limited to your PC.
All that is left for you to do is choose a place to play and then sign up. Depending on which casino you join, you could play your first online casino blackjack tournament as early as tomorrow.
There is no reason to wait. Choose an online casino site with blackjack tournaments and get signed up now. Tournament blackjack is a fun alternative to cash games. You won't regret giving it a shot.
AUGUST
Casino of the Month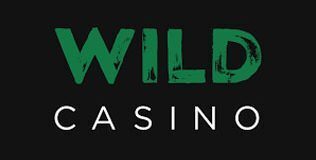 Welcome Bonus
250% up to $5,000
Read Review
Visit Site