The Ten Best Gambling Books I've Ever Read (With Reviews of Each)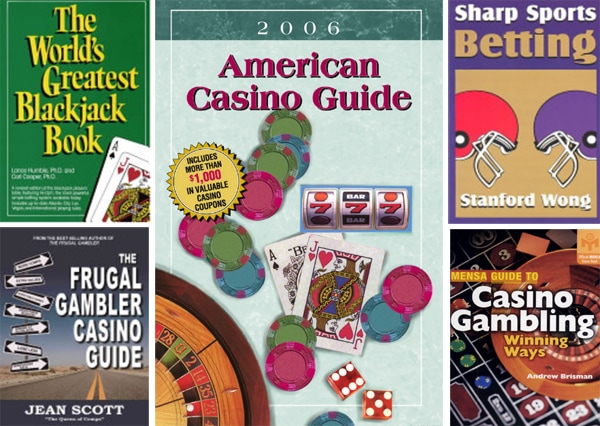 I'd have a hard time listing all the gambling books I've ever read.
As a professional gambling writer who's been in the business for almost 20 years, I've read countless books on the subject.
I don't have a hard time drawing a conclusion, though.
Most gambling books stink.
They'll waste your time with inaccurate information.
They'll waste your time with strategies that don't work.
They'll waste your time with silly anecdotes that don't apply to any current reality.
But some gambling books stand apart from the others. They offer accurate information, practical and effective strategies, and anecdotes that illustrate points which will help you achieve your gambling goals – no matter what those may be.
Below, I've listed the ten best gambling books I've ever read.
I've included brief reviews of each, along with their tables of contents. I feel like the table of contents gives you a sample of what you can expect from reading the book that a simple review can't match.
1 – Sharp Sports Betting by Stanford Wong
I can think of no better book about betting on sports than Sharp Sports Betting by Stanford Wong. In fact, no other book on the subject even comes close.
Most sports betting books are awful.
Sharp Sports Betting is excellent.
The reasons for this might not be immediately obvious, but here's the first thing that comes to mind: most books about sports betting are easy to read. They sacrifice usefulness and accuracy for readability.
Wong's book, on the other hand, is a tough read.
Some of these concepts are complicated and/or unfamiliar.
Reading Sharp Sports Betting requires effort and commitment.
But if you offer that book the effort and commitment required, the book will reward you with knowledge of how to win at sports betting that you won't easily find elsewhere. This might mean taking some notes and doing some re-reading.
Trust me.
It's worth it.
Here's a list of the chapters.
How to Place Bets
Money Management
Betting Sports on the Internet
Basic Math of Straight Bets
Handicapping
Fan Money
Testing W-L Records for Significance
Parlays
Poisson Props
Season Wins
March Madness O/U Props
NFL Home-Field Advantage
NFL Results Against the Spread
NFL Money Line vs. Spread
NFL Totals
NFL Teasers
Facing the Super Bowl Champion
Sharp Sports Betting also offers appendices, glossaries, and tables of data.
It's the only book about sports betting I know of that can actually help you gamble on sports with a positive expectation.
2 – Mensa Guide to Casino Gambling: Winning Ways by Andrew Brisman
The first detailed book about casino gambling I ever read was Mensa Guide to Casino Gambling: Winning Ways by Andrew Brisman.
It's still the best book on the subject I've ever read.
But since it was published in 2004, Mensa Guide to Casino Gambling: Winning Ways is dated in some places. In particular, it provides more information about some games that aren't really offered that much in most casinos.
Let It Ride might be the best example. The game just isn't popular enough to warrant an entire chapter, although I'm sure in 2004, it was.
Also, a number of similar house-banked card games based on poker have been rolled out into the casinos over the last 14 years. Obviously, these games are too new to have received coverage in this book.
The sections on probability and how casino gambling works are still the clearest explanations of those subjects I've read.
I've referred to this book repeatedly throughout my career as a gambling writer. It's still my favorite reference most of the time.
Here's a list of the chapters.
Welcome to the Casino
Becoming a Smart Player – Part I
Blackjack
Slot Machines
Video Poker
Craps
Baccarat
Roulette
Caribbean Stud Poker
Let It Ride
Pai Gow Poker
Poker
Sports Betting
Keno
Other Casino Games
Becoming a Smart Player – Part II
If you don't already know, Mensa is an organization of people with genius-level IQs. That's the overall theme of the book, too – gambling like you're a genius.
Unfortunately, with most casino games, there's no way to gamble like a genius. You can make all the best bets with the lowest house edge in the casino, but you'll still lose all your money eventually.
The only way to overcome the house edge is with some kind of advantage strategy.
Mensa Guide to Casino Gambling: Winning Ways is not really a guide to advantage gambling, although it does touch on the subject.
It's out of print now, but you can find used copies cheap on Amazon and/or eBay.
3 – American Casino Guide by Steve Bourie
If you're looking for a book that's updated annually with the latest travel information related to casino gambling, American Casino Guide by Steve Bourie is the book to look for.
The author has four decades of gambling industry experience, and he's recorded a series of incredibly popular YouTube videos about how to gamble. Besides his annually updated travel guide, Bourie occasionally writes features for various gambling, travel, and personal finance magazines about casinos and gambling.
Bourie is not the sole author of American Casino Guide. Contributing writers include experts like Anthony Curtis, Bob Dancer, John Grochowski, Max Rubin, and Jean Scott.
The editions change based on the changes in the casino industry throughout the United States each year, but you can expect detailed chapters covering the following subjects in any edition of American Casino Guide.
Best Casino Bets
Casino Comps
Slot Clubs
Casino Coupons
Casino Tournaments
Slot Machines
Slot Tournaments
Video Poker
Blackjack
Craps
Roulette
Baccarat
Poker
Also, each state with a "casino scene" is given an entire chapter.
These states include Arizona, California, Colorado, Connecticut, Delaware, Florida, Georgia, Idaho, Illinois, Indiana, Iowa, Kansas, Louisiana, Maine, Massachusetts, Michigan, Minnesota, Mississippi, Missouri, Montana, Nevada, New Jersey, New Mexico, New York, North Carolina, North Dakota, Oklahoma, Oregon, Pennsylvania, Rhode Island, South Carolina, South Dakota, Texas, Washington, West Virginia, and Wisconsin.
American Casino Guide is also one of the thickest tomes on this list, clocking in at almost 500 pages.
It's THE authority on casino gambling in the United States.
4 – The World's Greatest Blackjack Book by Lance Humble
In a former life, I had a job as a middle manager in corporate America. One day, I had an interesting conversation about counting cards with the company's attorney.
He was a card counter.
I was fascinated.
The first thing I wanted to know was how to learn how to count cards, too. He referred me to The World's Greatest Blackjack Book by Lance Humble.
It's still my favorite book on the subject. Humble's an interesting author because he's clearly from another generation.
His writing style reminds me of an old-school Frank Scoblete, only Lance Humble seems to understand gambling and advantage play more clearly than Scoblete does.
This book is dated in the extreme, but it's also entertaining as all get-out.
The strategy advice isn't dated, but the sections on game conditions can be safely ignored.
You can also ignore most of what Humble has to say about cheating in the casinos. It might have been a bigger problem when he was writing this book.
I LOVED the sections where he was sharing anecdotes about Lawrence Revere, another earlier blackjack card counter and notorious character. That was probably the most entertaining part of the book.
Here's the table of contents.
Cashing in on Blackjack Gold
The Game of Blackjack
Choosing a Place to Play
Dealing with the Dealer
How to Play Smart (Without a System)
Having Fun on Vacation: Basic Strategy
Winning in Occasional Casino Play: Hi-Opt I Card Counting
Professional Casino Play: Hi-Opt I Play Strategy
Blackjack Outside the Casino
Ten Tips for Hi-Opt I Players
Playing Courtesy of the Casino
Staying Ahead of the Game
The book also features a glossary and multiple basic strategy charts in the appendices.
You might be able to find a better book about card counting, but this one's at the top of my list.
5 – The Theory of Poker: A Professional Poker Player Teaches You How to Think Like One by David Sklansky
I don't know any serious poker player who suggests any book besides The Theory of Poker when asked about essential strategy guides.
It's safe to say that you could master everything in The Theory of Poker and never really need any other poker strategy book. You could figure everything else out you need for any poker variation by getting a complete grasp of the concepts in this book.
One of the virtues of Sklansky's writing style is clarity.
Another is simplicity.
The most important concept I learned from The Theory of Poker was the semi-bluff.
When you're bluffing, you have a hand that's dominated, but you're hoping your opponent will fold.
With a semi-bluff, you have a hand that's probably not the best hand, but it has potential to improve to a better hand.
You win if your opponents fold, but you also win if they call, and you hit your hand.
This makes a semi-bluff more profitable than a naked bluff.
I was completely unfamiliar with this concept before I read The Theory of Poker.
That might not be the most valuable topic inside the book; it was just the most valuable thing that I learned from it.
Here's the table of contents.
Beyond Beginning Poker
Expectation and Hourly Rate
The Fundamental Theorem of Poker
The Ante Structure
Pot Odds
Effective Odds
Implied Odds and Reverse Implied Odds
The Value of Deception
Win the Big Pots Right Away
The Free Card
The Semi-Bluff
Defense Against the Semi-Bluff
Raising
Check-Raising
Slowplaying
Loose and Tight Play
Position
Bluffing
Game Theory and Bluffing
Inducing and Stopping Bluffs
Heads-Up on the End
Reading Hands
The Psychology of Poker
Analysis at the Table
Evaluating the Game
The book also includes appendices with the rules for various poker games (5-card draw, 7-card stud, Texas hold'em, 5-card stud, draw lowball, razz, and high-low split) and a glossary of poker terms.
6 – The Frugal Gambler by Jean Scott
Most people spend little time thinking about how to become a successful low roller at the casinos. After all, it's the high rollers that get all the perks, right?
Wrong.
The Frugal Gambler is all about how Jean Scott uses her frugal approach to getting maximum value from her gambling activities in Las Vegas.
You can think of The Frugal Gambler as a modern, practical version of Max Rubin's Comp City (which is also worth reading, by the way).
Scott focuses largely on combining video poker with the best pay tables and comps programs to get a small mathematical edge over the casino.
But she also provides information about other casino games and how to use the same approach with those games – even if that approach works better with video poker.
It's as good a resource for anyone interested in coupons and comps in Las Vegas as anyone could ask for.
One of the best tips in the book involves intentionally getting bumped from flights so that you can get credit toward future travel. I've done this in the past, and it works.
Here's the table of contents.
Introduction – from Uncle Wiggley to Deuces Wild
Raining on the Casino's Parade
Great Expectations – A Reality Check
Slot Machines – Handle with Care
Video Poker – The Meat and Potatoes
Slot Clubs – Join or Else
Comps – Your Just Desserts
Promotions – Casino Gravy
The Bump – Airline Comps
Long Term in Las Vegas – or Having a Life
Pyramid Power
Ethics and Gambling – Strange Bedfellows
Breaking Even is a Terrific Thing
7 – The Man with the $100,000 Breasts and Other Gambling Stories by Michael Konik
Unlike most of the books on this list, The Man with the $100,000 Breasts and Other Gambling Stories isn't a how-to book.
It's a book of anecdotes and stories about gamblers.
You might be able to learn something from these stories that you can apply to your own gambling career, but you might not.
That's okay – because this book is more entertaining than almost any other volume recommended in this post.
And you're bound to be curious about the title.
It refers to a gambler who took a $100,000 prop bet involving getting breast implants and living with them for a year.
I'll let you read the book for more details on that story.
Here's the table of contents – this book is organized into sections
Introduction
The Man with the $100,000 Breasts
In the Casino
The Cold-Deck Crew
A Lot of Crap
Count on It!
Comp City
Out of the Oscars, Into the Pan
The $17 Million Man
At the Racetrack
The Andy-capper
Go, Greyhound!
On the Golf Course
The World's Greatest Golf Hustler
The Ultimate Comp
The Straight Dope
New, Different, and Unbeatable
The Best and the Worst
Taking Advantage
Sports Betting
The Line Maker
Living by the Book
Risky Business
The Biggest Game of the Year
1-900-NFL-SCAM
Poker
Shakin' Down the Sheiks
Trump Cards
The Grand Old Man
The Mozart of the Poker Table
The Adventures of Huckleberry Seed
The (New) Biggest Game in Town
The Hand You're Dealt
8 – Positively Fifth Street by James McManus
Most gamblers don't write well. I've worked with enough of them that I'm confident in this fact.
Most writers don't know much about gambling, either. I've worked with them, too. Apparently, it's a big learning curve.
James McManus, though, is not only a GREAT writer, but a solid gambler, too.
Positively Fifth Street is McManus's account of the World Series of Poker in 2000.
But the book also covers the murder trial of the topless dancer and her boyfriend, who were accused of killing Ted Binion, the owner of the Horseshoe Casino in Las Vegas.
Positively Fifth Street is easily the most literary book on this list.
You might not learn much about how to gamble, but you'll enjoy the book thoroughly nonetheless. The story's too good for anyone interested in gambling not to enjoy.
Here's the table of contents.
The End
Dead Money
Family, Career, Even Life
Black Magic
Urge Overkill
The Poker of Science
Nobody Said Anything
Chicks with Decks
Death in the Afternoon
Book-Learned
On the Bubble
Song for Two Jims
Tension-Discharge
The Last Supper
Either Way
Zombies Is Bawth of 'Em
Tons and Tons of Luck
There's also a poker terminology section as part of the afterword.
9 – The Professor, the Banker, and the Suicide King: Inside the Richest Poker Game of All Time by Michael Craig
Like Positively Fifth Street, Michael Craig's The Professor, the Banker, and the Suicide King: Inside the Richest Poker Game of All Time is literary in nature rather than instructional.
This is one of its strengths.
Michael Craig might not be the literary giant that James McManus is, but he's a solid writer.
His account of the biggest money poker games of all time is fascinating. It covers the action over several years between Andrew Beal, a Texas billionaire, and a consortium of pro poker players.
This group of poker pros is referred to in the book as "The Corporation," and their names are familiar to most poker fans.
Ted Forrest
Jennifer Harman
Doyle Brunson
Todd Brunson
Howard Lederer
Chip Reese
Gus Hansen
Phil Ivey
Barry Greenstein
Lyle Berman
They played for three years. Beal won some of the time, but the pros won most of the time.
Beal didn't quit until he hit a huge loss of $16 million during a single session.
He quit poker after that, but he returned to the game two years later.
Craig followed up with a sequel of sorts in the pages of Bluff magazine, where he chronicled Beal's return to the game.
Here's the table of contents.
Flipping Pennies
Heads Up
The Thursday Game
The Poker Conjecture
Picture Day
The Last Lesson of Professor Backwards
Gone
Jennifer Harman's Wake-Up Call
A Lawyer, Not a Gambler
The Big Game
The Next Best Thing
10 – How to Make $100,000 a Year Gambling for a Living by David Sklansky and Mason Malmuth
If I could only choose two books from this list, I'd choose How to Make $100,000 a Year Gambling for a Living by David Sklansky and Mason Malmuth as a follow-up to Mensa Guide to Casino Gambling: Winning Ways by Andrew Brisman.
Between those two books, you'll learn as much about the basics of gambling and advantage gambling as most people could ever hope to.
How to Make $100,000 a Year Gambling for a Living opened my eyes to the reality of how professional gamblers earn a living gambling.
The book clarifies that professional gambling is hard work.
It also clarifies that there's nothing glorious or glamorous about the life of a professional gambler.
It's a great book, but like my other favorite book on this list (the Brisman book), this one is dated.
Also, the authors don't do a good job of distinguishing between slots and video poker. I don't think anyone calls them "poker machines" in the United States, if they ever did.
That being said, I'd encourage you to read this book to get a grasp on the concepts contained within, rather than the specifics.
Casino game conditions change over time, but the fundamentals of getting an edge at gambling don't.
Those fundamentals are based on math.
If you understand those underlying mathematical principles, you'll be able to apply the lessons from this book to the modern gambling environment with little trouble.
Here's the table of contents.
Part One – Blackjack
Part Two – Betting Sports
Part Three – Horse Racing
Part Four – Slots and Poker Machines
Part Five – (Usually) Unbeatable Games
Part Six – Casino Promotions
Part Seven – Casino Tournaments
Part Eight – Poker and Poker Tournaments
Part Nine – Putting It All Together
Conclusion
Those are the ten best gambling books I've ever read, along with my reviews of each.
If you've done much reading in the field, you'll probably think I've left some worthy book off the list.
If that's you, please make your case for your favorite gambling book in the comments below.
Also, if you hate any of the volumes I've listed above, feel free to take me to task for recommending it, too.
I have a thick skin.