Reviewing the Best New Slot Games for 2022
If you are anything like me, you probably have a few favorite slot games that you return to repeatedly. The problem with that system is you may miss out on games you will enjoy even more, especially if those games are new to the market.
The best online casinos typically have a list of new games, but you have to spend time playing each one to figure out which ones are worth your time. I have already done the work for you to figure out which new releases are worth checking out.
So, I will recommend seven of the best new slot machines released in 2022. But, of course, there is no point in recommending particular games if you don't know where to play them. That is why I will also recommend the best online casino for each game so that you know where to find it.
Here is my new slots guide for 2022.
Play Lost: Mystery Chests on Wild Casino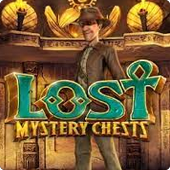 Software Provider: Betsoft
RTP: 95.37%
Release Date: 2/24/2022
Pay Lines: 10
Betting Limits: $0.10 to $150 per spin
You can win up to 2,520 times your bet amount when you play this sequel to the Lost game that Betsoft released in 2012.
Both Lost games feature the same Egyptian theme and Dr. Dakota Bones as the main character. But the new game has a higher RTP, modern graphics, and the mystery chests feature.
There are only three reels and ten pay lines on Lost: Mystery Chests, but you can bet up to $150 per spin. The Egyptian ankh (key of life) symbol is the highest-paying symbol, other than the wild symbol.
Mystery chests can land on the reels during any spin. If mystery chests are present on a particular spin, there will be at least three chests and no more than five. All of the chests for a single spin have the same prize. It could be high-paying symbols, instant cash prizes, wild symbols, or scatters.
You can get six to ten free spins with scatter symbols or buy the free spins feature. Every free spin is guaranteed to have up to ten mystery chests with additional prizes, and you can re-trigger the free spins if you get more scatter symbols.
The mystery chests and free spins make this game one of the top new slot games for 2022. I particularly appreciated that it is a bonus buy slot that lets you purchase the free spins. You can get right to the best feature if you are short on time. But it does cost at least 40x your bet amount, so use the bonus buy feature sparingly!
Wild Casino is the best online casino to play Lost: Mystery Chests. It is a fantastic casino with plenty of cryptocurrency banking options. You can get up to $9,000 in bonus funds using cryptocurrency for your first five deposits.
Check Out Thai Emerald on Las Atlantis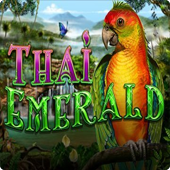 Software Provider: RealTime Gaming
RTP: 96%
Release Date: 2/16/2022
Pay Lines: 25
Betting Limits: $0.25 to $25 per spin
RealTime Gaming has released several new casino slot machines in 2022, but Thai Emerald is the one I like best. I prefer this game because it has a serene background with a rain forest and waterfalls, and all of the graphics are beautiful and realistic.
Thai Emerald has a wild symbol and mystery symbol that can turn into other symbols. Mystery symbols can appear as stacked symbols that take over an entire reel to increase your odds of winning multiple payouts. There is also a free spins feature that guarantees additional mystery symbols.
Like many other games from RTG, Thai Emerald is relatively simplistic. But the stunning graphics and excitement of mystery symbols make up for the lack of other features.
You can play Thai Emerald on Las Atlantis Casino. It is one of only a few casinos that strictly offer RTG casino games.
Las Atlantis is known for its fee-free transactions and incredible bonuses. The site's welcome bonus offers a spectacular 280% deposit match for your first five deposits, and you can collect up to $14,000 in bonus cash.
National Casino Offers Mega Fire Blaze Wild Pistolero
Software Provider: Playtech
RTP: 95.96%
Release Date: 1/03/2022
Pay Lines: 30
Betting Limits: $0.10 to $500 per spin
Not Available in the USA
Playtech has seven new casino slots for 2022, including my favorite Wild Pistolero. This Wild West-themed slot has four leveled jackpots that offer your bet amount between 20 and 2,000 times. Those jackpots are alluring, but you have to get lucky several times to win one of the top prizes.
Fortunately, the jackpots are only one of the features on the Wild Pistolero slot. This game also has respins, wild symbols, free spins, and prize multipliers. There are so many different features that it is hard to track what all special symbols do and how they work.
For Example
You can activate the Mega Fire Blaze respins feature with any combination of six gun-cylinder or bullet symbols. But you only need three scatter symbols to activate the free spins feature. Once you have gotten the hang of all the different features, you will enjoy the excitement and variety they each offer.
Wild Pistolero is one of the new slot machines for 2022 on National Casino. You will never run out of exciting games on National Casino because this site offers more than 4,000 games from more than 90 different software providers.
National Casino offers a 100% deposit match of up to $100 on your first deposit, convenient banking methods, and generous terms. We specifically recommend National Casino for jackpot slots like Wild Pistolero because this site pays all progressive jackpot prizes in full.
Play Lil Red at Red Dog Casino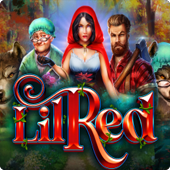 Software Provider: RealTime Gaming
RTP: 95%
Release Date: 1/26/2022
Pay Lines: 243
Betting Limits: $0.30 to $30 per spin
Lil Red is another of the new 2022 slot machines from RealTime Gaming. Despite the fairy-tale theme, Lil Red has creepily realistic images for the symbols of Red, the Hunter, and Granny. Those creepy symbols are why I wouldn't say I liked this game as much as Thai Emerald. But if you can look past them, you might like this game even better.
There are 243 pay lines on Lil Red, so you will win as long as your winning symbols line up on adjacent reels from left to right.
The wolf symbol is wild, but when the wolf is dressed up like a granny, it is a bursting wild that can spread additional wild symbols to nearby positions on the reels.
You can earn up to 60 free spins with the scatter symbols. The best part about the free spins on Lil Red is that the free spins have cascading reels so that you can win several times for each free spin. If you get consecutive wins from the cascading reels, you can also earn win multipliers of up to 5x.
Red Dog Casino is the perfect online casino for playing Lil Red. It is a modern casino site with a mobile site, convenient cryptocurrency banking options, and all the best games from RealTime Gaming. Check out our Red Dog Casino review to find out more.
Check Out Gold Tiger Ascent at BetUS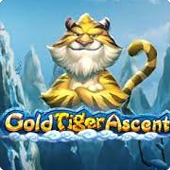 Software Provider: Dragon Gaming/Betsoft
RTP: 95.37%
Release Date: 1/20/2022
Pay Lines: 10
Betting Limits: $0.10 to $10 per spin
Because Betsoft has released several of the most popular new slots for 2022, I want to highlight another popular game from the same company. Gold Tiger Ascent is a Chinese-themed game that features a lucky gold tiger character smiling among the snowy mountains.
The magic red envelope symbols on the reels reveal high-paying symbols, cash prizes, wild symbols, or scatter symbols. You can earn free spins with the scatter symbols that the envelopes reveal or buy the free spins feature for 40x your bet amount. All free spins have at least three red envelopes.
Gold Tiger Ascent is similar to the Lost: Mystery Chests game. So if you like that one, you will most likely enjoy this game.
BetUS is the best online casino for new slots like Gold Tiger Ascent. It is one of the oldest sites in the online casino industry, so you can be sure that you can trust it. You can also enjoy a welcome bonus of up to $3,000 when you join BetUS for the first time.
Play Doggy Riches Megaways on Betway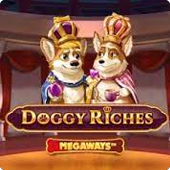 Software Provider: Red Tiger Gaming
RTP: 95.7%
Release Date: 2/17/2022
Pay Lines: Up to 117,649 Megaways
Betting Limits: $0.20 to $20 per spin
Not Available in the USA
Many slot games have common themes, such as Egyptians, Chinese mythology, and sports. Many new 2022 slot machines are trying to push the bounds of these themes to create something unique.
Doggy Riches Megaways from Red Tiger Gaming is one example that takes the animal theme and puts a twist on it by combining corgis with British royalty.
Because Doggy Riches is a mega ways game, the number of pay lines changes each spin. Each reel can contain between two and seven symbols. The number of symbols that land on the reels determines the number of possible pay lines. Some spins can have as many as 117,649 pay lines if all six reels have seven symbols.
In addition to mega ways pay lines,
Doggy Riches also features stacked multiplier wilds and a free spins feature. During the free spins feature, both the king and queen corgi wild will remain locked in place. They can send kisses to each other, which causes baby corgi wilds to land in other spaces.
With such a distinctive theme and exciting bonus features, it is easy to see why Doggy Riches is one of the best new slot machines for 2022.
You can play Doggy Riches on Betway.com and get a $250 welcome bonus when you sign up. Betway is one of the most well-trusted online gambling sites, with a license from the Malta Gambling Authority and the UK Gambling Commission.
Visit Woo Casino to Play Pushy Cats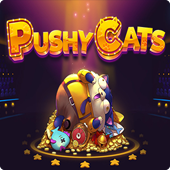 Software Provider: Yggdrasil
RTP: 96%
Release Date: 2/21/2022
Pay Lines: 20
Betting Limits: $0.30 to $150 per spin
Not Available in the USA
Pushy Cats is one of the new 2022 slot machines from Yggdrasil. It is perfect for you if you are more of a cat person than a dog person! The chubby cat is a wild symbol that automatically triggers a respin every time it lands on the reels.
There is a fun free spins feature with "walking" wilds that can move one space at a time.
During the free spins feature, bumpers around the outside of the reels get activated when a wild symbol lands on it. Each bumper has a different purpose, including prizes, multipliers, and more wilds. Some bumpers are vortexes that remove your wild symbols. The free spins continue until there are no more wild symbols.
The Pushy Cats base game is fun, but the free spins feature is the best part of the game. Fortunately, you can buy the bonus round for 10x your bet amount. You can also buy the bonus round at level four, which starts the feature with more wilds and more prize bumpers, but that costs 100x your bet.
Woo Casino is the best place to play Pushy Cats and other new slot machines in 2022. It is a massive online casino with more than 2,400 games from nearly 100 software providers.
I especially like Woo Casino because it has several e-wallet and cryptocurrency banking options and a convenient mobile app you can download to play Pushy Cats on the go.
2022 Slot Trends
Now that I have reviewed some of the best new slots machines from 2022, I want to highlight some of the trends I noticed.
Bonus buy slots, or slots that allow you to purchase the bonus round, are becoming more and more popular. These bonus buy features are expensive, typically around 50-100x your bet amount, but they make it easy to get the best features quickly.
Classic themes are here to stay. I sometimes wonder if software providers will ever run out of ways to incorporate Egyptian and Chinese themes and casino symbols. They certainly haven't run out of ideas yet because these common themes continue to dominate new slots in 2022.
Mystery symbols are becoming a popular bonus feature. Game developers are using mystery symbols instead of, and alongside, wild symbols to increase your odds of winning. I especially appreciate stacked mystery symbols.
These new slots 2022 trends should help you see game developers' direction. They rely on classic themes, but they incorporate new and unique bonus features to make the games more appealing.
Most of the latest slot games released in 2022 will disappoint you if you are looking for new themes and distinctive ideas. But if you are looking for new bonus features that add some variety to your favorite themes, you will want to check out some of these new games.
You can always go back to your standby favorites, but you might as well check out some of these new casino slots for 2022. They will add some variety and give you plenty of chances to win. Check out one of our recommended real money slots apps to get started.
September
Casino of the Month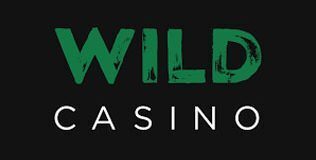 Welcome Bonus
250% up to $5,000