Top Tipster Reveals His Soccer Betting Strategy
Soccer is the most popular sport on the planet. With an estimated 3.5 billion soccer fans across the globe, almost 50% of the world's population follows "The Beautiful Game". It's no surprise that millions of people also bet on soccer.
Can you win real money betting on soccer? You sure can. Soccer betting is hard, no doubt about it. But with the right strategy, you can win more bets and put some extra cash in your pocket. Where should you look for soccer betting advice, though?
Right here! We share tons of expert strategies and tips for betting on soccer on this page. All the tips you're about to read come from one of our expert handicappers, Ben Morris.
Ben is a sportswriter and tipster who specializes in soccer. Based in England, he has travelled all around the world watching – and betting on – his beloved sport.
Ben has been writing soccer picks for GamblingSites.com for the last three years. He also publishes previews, predictions, and picks for cricket, Formula 1, snooker, Aussie rules, and darts.
With over a decade of experience behind him, you can rest assured that Ben will only give you soccer betting strategy that works. Here is an overview of the information he's going to cover in this guide.
Contents of This Soccer Betting Strategy Guide
Soccer Betting Strategy: Before You Get Started
Before we share our top strategies for betting on soccer with you, we want to make sure that you understand the very basics of sports betting. For example, there are several common sports betting mistakes you want to avoid. The good news is that you can easily avoid these mistakes if you follow these five simple steps.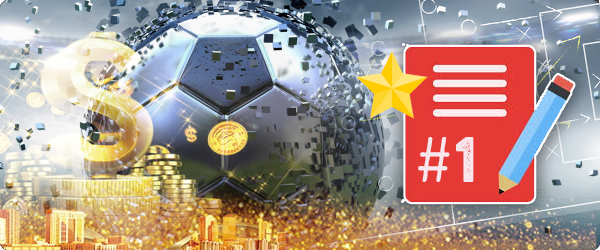 Start With Small Bets

First are foremost, we urge you to start with small stakes. Small is relative, so another way to think about this is to only gamble with what you can afford to lose. Besides, there's no point in laying down big wagers if you aren't familiar with soccer or sports betting since you're less likely to win.
Understand How to Find Value in Odds

Understanding betting odds is crucial when it comes to gambling on all sports. If you don't understand odds, you won't be able to build a successful soccer betting strategy. Read our guide to finding value in betting odds and you'll be well on your way to becoming a winning soccer bettor.
Shop Around to Find the Best Prices

There are literally hundreds of online bookmakers. Rather than always using the same bookie, we recommend joining multiple sportsbooks to compare prices. Odds vary from bookie to bookie and finding the best value for every single bet is one of the easiest ways to win with soccer betting.
Follow the Sport Closely

This may sound like an obvious thing to do, but it often gets overlooked. If you want to bet on soccer, why would you NOT follow the sport? The good news is if you have access to the internet or a television, following the latest developments and scores is easy.
Explore All the Possible Options

Don't just stick to the same type of wager every time you bet on soccer. Instead, make full use of all the soccer betting markets available to you. There are numerous ways to bet on sports, and in terms of soccer, there are hundreds of different markets to choose from. Exploring all your options will give yourself the best possible chance of winning cash.
These five steps are simple, but they're not always easy to follow. We totally get it – sometimes you just want to lay a HUGE bet or skip all the research it takes to compare odds and find the best soccer bets.
However, once you learn how to do all this, it'll eventually become second nature. You'll have a process for researching and making bets. Get this dialed in and you'll soon have a process for making winning soccer bets. How cool is that?
Now that we've covered a few of the basics, it's time to share our first soccer betting tip. This is one of the easiest tips to follow, but if you get it wrong, it can mean disaster for your betting record and bankroll.
First Tip: Choose the Right Sportsbook

It's all well and good having a strategy for betting on soccer. But if you don't know where to place your wagers, you won't be able to make the most of your money. Or, if you place your bets with the WRONG sportsbook, you could end up LOSING money.
Fear not! This is where the best soccer betting sites come into play.
Choosing the right sportsbooks can take your soccer betting strategy up a notch. The top bookmakers have tons of markets, the highest odds, and plenty of attractive bonuses and promotions.
When you throw factors like safety and security, top banking options, and first-rate customer support into the mix, there is absolutely no denying that betting with the best soccer sportsbooks is vital.
In all honesty, we could spend all day explaining how selecting the right sites is a crucial part of the best soccer betting strategies. We don't want to bore you with all the benefits, though.
Instead, we recommend checking out our top-ranked soccer sportsbooks for yourself.
The Different Types of Soccer Betting Markets
Now that you're up to speed with the basics, you need to learn about the different types of markets. After all, it's much easier to follow and use soccer betting tips when you're familiar with the terminology.
We decided to keep this section relatively short, as we want to get stuck into the best strategies for betting on soccer as quickly as possible. Still, there is plenty of useful information below – especially if you're a beginer.
Let's take a closer glance at all the various soccer betting markets that you can take advantage of.
Betting on Soccer Games
Result-based wagers are the simplest soccer bets out there. The most popular soccer wager is the moneyline, which enables you to predict the outcome of any given game. However, there are dozens of other markets for betting on individual soccer matches. The table below details several the most popular options.
MOST POPULAR BETTING MARKETS FOR SOCCER GAMES
Betting Market
Description
Moneyline
Simply pick a team and back them to win. Alternatively, select the draw option.
Both Teams to Score
There are two options here – yes and no. You decide whether both teams will score.
Correct Score
Predict the exact score of the game. For example, 2-1 or 3-4. This is one of the trickier markets.
First/Anytime Goalscorer
This market enables you to bet on a player scoring the first goal, or any point in a game.
Over/Under Goals
Bet on the total number of goals in a match. For instance, over 1.5 goals or under 3.5 goals.
Half-Time Result
Not only can you gamble on the result, but you can also bet on the half-time result.
Clean Sheet
If you think a team won't concede a goal, back them to keep a clean sheet.
Handicap Betting
Used to make a game more of an even contest, this market gets a team a virtual deficit.
Double Chance
This covers two of three possible results. Back a team to win or draw, or back either team to win.
Draw No Bet
Back a team to win the match. If the game is drawn, you get your stake back.
As you can see, there are lots of different goal-based wagers to take advantage of when it comes to betting on individual soccer games. These are just some of the many options available to you.
Futures and Outright Soccer Betting Markets
Although gambling on individual matches is the most mainstream option for soccer bettors, futures and outrights are another great way to win cash (especially if patience is a virtue). These are the futures and outright soccer markets we recommend you explore first.
Tournament Winner – This is undoubtedly the most popular soccer future. All you need to do is pick a team and back them to win the given competition.
To Reach the Final – Not only can you bet on the winner of the tournament, but you can also predict which teams will reach the final.
Promotion/Relegation – If the league you are betting on has promotion and relegation, you can wager on which teams will leave the league at both ends of the standings.
Top Goalscorer – This outright soccer betting market allows you to gamble on the top scorer in any given league or tournament.
Futures enable you to bet on a league or tournament before it gets underway. Since your wager isn't decided until the end of the event, these markets invariably offer great value.
Prop Bets and Specials
Prop bets – officially known as proposition bets – are another extremely popular way to gamble on soccer. Also known as a special, a prop is a wager made regarding the occurrence or non-occurrence of an event in a game or competition. Props are not generally tied to the final score or outcome of a game.
Here are a few examples of popular soccer specials and prop bets.
SOCCER PROPS AND SPECIALS TO LOOK OUT FOR
Betting Market
Description
Which Manager Will Be Sacked Next?
This is a common prop for the EPL. You can predict which manager will get fired next.
Total Number of Goals in a Tournament
You can wager on the total number of goals scored in a competition.
Nationality of Winning Team
This prop often appears for continental club competitions. You can select England, Spain, etc.
Player Transfers
The soccer special allows you to bet on which club a certain player will sign for next.
Will a Penalty Be Awarded?
Predict whether a penalty will be awarded in a game. Simply select Yes or No.
Will a Player Get Sent Off?
You can also predict whether you think a player will receive a red card in a match.
At the end of the day, there are always tons of soccer props and specials on offer. Most top sportsbooks dish up prop bets, while some bookies pride themselves on specials.
As we already mentioned, it pays to shop around to find the best options.
Live Soccer Betting
The popularity of live (or in-play) betting has skyrocketed in recent years. Thanks largely to the rise of mobile gambling, many bookmakers enable you to bet on soccer games while they're happening. Here are some of the live soccer betting markets you can expect to find online.
Next Goalscorer – This market is self-explanatory. All you need to do is pick a player and back them to score the next goal in a match.
Next Player to Receive a Card – If you think a player is on the verge of getting a booking, back them to receive the next yellow or red card.
Next Team to Score – As well as predicting the next goalscorer, you can wager on the next team to score a goal in any give game.
Next Team to Win a Corner – Multiple corners are awarded in every single soccer match. This market enables you to predict which team will get the next corner.
Time of Next Goal – You can also bet on the time of the next goal by selecting options such as 0-15 minutes and 75-90 minutes.
To find out more about in-play gambling, head over to our guide to live soccer betting.
Safest Soccer Betting Strategies for Beginners

Before we get to our advanced tips for soccer betting, it makes sense to check out some key soccer betting strategies for beginners. Of course, we all want to develop the most profitable soccer betting strategy possible. But before you move on to the more complex tips, you should familiarize yourself with the basic tips below.
Remember – some of the simplest strategies for soccer betting are also the most effective.
Study Recent Form
Studying the form of teams is one of the easiest ways to gain an edge over the oddsmakers. Consequently, it is also among the safest soccer betting strategies out there.
Soccer teams regularly dip in and out of form. Even the greatest clubs on the planet go through tough periods, while less favored sides often find themselves enjoying unlikely hot streaks.
By establishing which teams are in form – and which teams are enduring a poor run – you can find excellent value in the bookies' odds.
Finding out about any team's form is simple. Many stats sites, such as FlashScore, have form tables. You can select any league from around the world and view the standings from the last five or ten-game period. Naturally, the clubs at the top of these tables are in form, while the sides at the bottom of the standings are not playing well.
Momentum is key in soccer. If teams have a string of positive results behind them, they will likely head into their next game full of confidence. On the flip side, off-form teams often lack belief.
Consider Home-Field Advantage
Another soccer betting strategy that works (especially for beginners) concerns home-field advantage. It's no secret that teams and players generally perform better on home soil. There are several reasons why.
Home teams generally thrive on their own supporters motivating them and cheering them on.
Referees can often feel pressured to award decisions to home teams if the fans influence them.
Players usually perform better on home soil, as they are used to the pitch and the stadium.
Home teams don't have to travel far, whereas away teams may be fatigued after a long journey.
Home-field advantage isn't just a theory, though. Many studies have been carried out over the years to prove that home-field advantage is genuine. That is good news for people who want a solid strategy for soccer betting.

Top Tip
For Jim Albert and Ruud H. Koning's book, Statistical Thinking in Sports, almost 9000 international soccer games were analyzed between 1993 and 2004. Researchers found that, on average, home teams won 50.3% of the time, with away sides winning only 25.1% of the time. The remaining 24.6% of games were drawn.
It's also worth noting that, between 2009 and 2013, English Premier League games had a home win percentage of 47%. Away teams won 27% of matches in that time, while 26% of the games were tied.
In every soccer league around the world, home-field advantage has a big say in the outcome of matches. That's why it is vital that you consider home-field advantage when it comes to betting on soccer.
Analyze Head-to-Head Records
Another safe soccer betting strategy relates to head-to-head records. Often referred to as H2H, this is a straightforward method that can help you to get the better of the bookies.
Just like the form tables we mentioned earlier, you can easily find head-to-head records on sports sites across the internet. These help us to see how teams have fared against each other over time.

Tip
Why are H2H records important for soccer betting? Some teams enjoy facing certain opponents more than others – it's as simple as that. This can be for several reasons, including playing styles, tactics, or simply because one team is better the other.
By looking at the head-to-head record between two sides, you can assess previous results and use the history of the fixture to help you bet on the next meeting between the teams.
There is nothing complex about this strategy for betting on soccer. If a team consistently enjoys success against a particular opponent, the likelihood of the superior side winning the next encounter is high.
Research Teams and Players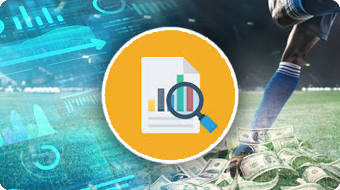 Researching teams and players is another simple way to enhance your soccer betting strategy. With tons of sites and other useful sources to choose from, learning about the sport has never been easier. Here are some of our favorite sites for studying players and teams.
Researching teams and players could prove to be one of the most important tips for betting on soccer that you ever learn. After all, the more you know about the sport, the more likely you are to win money.
It also pays to study the history of leagues and tournaments. Some events are dominated by certain teams, while other competitions tend to be more of a free-for-all.
Best Strategy for Advanced Soccer Bettors

Ready to take your soccer betting to the next level? Then it's time get stuck into our advanced strategies for soccer betting. In this section, we share a series of expert soccer betting strategy tips. From goal-based wagers to the double chance market, and from parlays to in-playing gambling, these advanced soccer betting strategies are not to be missed.
Making Full Use of Goal-Based Markets
Let's face it – goals are what make soccer so exciting.
Sure, low-scoring games can be intriguing, while skillful players are a joy to watch even when they aren't scoring. But there is no denying that goals are the best thing about soccer.
Bookmakers love goals, too. There are dozens of goal-based markets to take advantage of, and these wagers can prove to be very profitable if you know what you're doing. In this section, we explain how to make full use of some of the best goal-based markets out there.
Types of Goal-Based Markets
Over/Under Total Goals
Both Teams to Score
Total Goals Brackets
Exact Total Goals
Goals By Team/Half
First Team/Player to Score
Last Team/Player to Score
Anytime Goalscorer
Goals in Both Halves?
Using the over/under market is great way to win cash. You can get the most out of this wager by finding games that feature either high or low-scoring teams.
Naturally, selecting over 2.5 goals for a matchup that features two high-scoring sides is a good idea. On the other hand, opting for the under 1.5 goals option makes sense if you come across two low-scoring teams.
As well as being on the lookout for high/low-scoring sides, you should also be aware that certain tournaments and leagues produce more goals than others. The table below tells us that MLS is a high-scoring league.
2020 MAJOR LEAGUE SOCCER SEASON
Statistic
Number
Games Played
292
Goals Scored
835
Average Goals Per Game
2.86
Games With Over 1.5 Goals
76%
Games With Over 2.5 Goals
58%
Games With Over 3.5 Goals
31%
835 goals were scored across 292 games in the 2020 Major League Soccer season, producing a goals-per-game ratio of 2.86. Compared to many leagues around the world, that is a high average. By getting to grips with the scoring trends of as many teams and leagues as possible, you can use this soccer betting strategy to great effect.
Another goal-based wager we recommend using is "both teams to score" (BTTS). This market has the potential to land you a tasty profit if you analyze the scoring patterns of both sides before a game.
Some teams have a strong forward line, certain sides boast a strong defense, while others have both. If you're planning to use the BTTS market, make sure you know about the strengths and weaknesses of both sides.

Tip
If one team has a strong backline and the other has a weak attack, we suggest steering clear of BTTS. But if a game features two attacking teams with leaky defenses, backing both teams to score makes sense.
Ultimately, you can apply this kind of research to every goal-based market. Study scoring patterns and watch your betting strategy evolve.
Backing Away Teams Using "Double Chance"
Earlier, we detailed the importance of home-field advantage and how it can make a big difference when it comes to constructing the most profitable soccer betting strategy. It is no secret that home-field advantage often has a big say in the outcome of a match. However, there are instances where backing the away team makes more sense.
Bookies frequently give away teams inflated odds, simply because they are playing away from home. Even if the away side is in good form and stands a good chance of winning, they are usually priced higher than the home team.

When this is the case, the "double chance" wager is your best friend.
Let's say that Team A is priced at 2.00 to win on home soil. Meanwhile, the away side – Team B – is priced at 3.50 to claim the road victory. The two sides are level on points in the standings, but Team A is enduring a five-game winless run. On the flip side, Team B is coming into the clash on a three-game unbeaten streak.
Of course, if you're feeling lucky, backing the away side at 3.50 isn't a bad idea. But if you want to add an extra level of security to your wager, then using the double chance market is the way to go here.
As we mentioned earlier, double chance covers two of the three possible results. In this instance, you would select Team B and Draw – eliminating the home win option.
The double chance odds will be lower. But since the Team B win is already at 3.50, you will still get a price somewhere in the region of 1.80. Bearing in mind this market covers two of the three possible outcomes, that is excellent value!
In summary, this is arguably the best soccer betting strategy to use when an in-form away team is the bookies' underdog and the home side is also on a bad run.
Understanding Parlays/Accumulators
Multiples and combination wagers are hugely popular among soccer bettors. Yet, if you don't use the correct soccer betting strategies, you will almost certainly struggle to get these kinds of wagers right.
Usually referred to as a parlay in North America and an accumulator elsewhere in the world, a combination bet consists of multiple selections. Each selection must land to win the bet.
As you would expect, the more selections you add to your parlay, the higher the odds will be. At the same time, more selections give you a smaller chance of success.
The key with parlays is to find the right balance between probability and value. You want to include as few selections as possible while ensuring the odds will land you a rewarding profit.
Our Expert Soccer Betting Tips for Parlays
Here are a few of our top tips for betting on soccer parlays.
Avoid Heavy Favorites – There is no point in combining multiple heavy favorites. If teams are priced below 1.30 to win, they won't drastically enhance the overall odds of your parlay.
Combine Different Markets – Don't just stick to simple moneylines. Instead, use goal-based markets, props, and other options to boost the prices of your parlay.
Don't Select Too Many Legs – Adding four or five legs to your parlay is fine, but if you include nine or ten legs, your chances of winning will drop dramatically.
Consider Form and League Positions – Just because a team's odds enhance your parlay price, it doesn't always mean it's the right thing to do. That's why it's important to check form.
Think About Fixture Relevance – One leg can ruin your entire parlay. If a certain game in your parlay has nothing riding on it, you should consider removing it.
Not only can parlays be fun, but they can also be a great way to make money. Following the steps above to give yourself the best possible chance of winning.
Picking Players to Receive the Next Card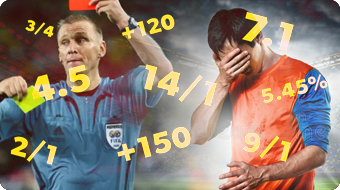 Our next advanced strategy for betting on soccer concerns a live wager that has the potential to be hugely lucrative. However, this market also requires you to watch the game you are gambling on, so if you enjoy watching soccer as well as betting on it, then this is one of the best soccer betting tips for you.
Most sportsbooks offer an in-play market that allows you to predict which player will receive the next card in a game. The odds for the favorite rarely go below 3.00, with the outsiders sometimes priced as high as 20.00.
By following the match closely, you can gauge which players are on the verge of going into the referee's notebook.
It's not uncommon to see a player receiving a straight yellow or red card for their very first offence of the game. If a player makes a rash tackle or disrespects the referee, they could get booked without any warning.
Still, players are normally given one or two warnings before receiving a card, and this "totting up" process gives you the chance to track players' foul counts and calculate when they will get booked.
If a player has already made one or two unpunished fouls and you can see they are fired up, the chances of them receiving the next card are high.
It can be difficult for bookmakers to follow every single game and adjust their in-play odds accordingly. If you're watching a match and are confident you know which player will get booked next, you can take advantage of the high prices before they go down.
Granted, this live soccer betting strategy is time-consuming. But if you've got the time, it can also prove to be extremely worthwhile.
More Strategies for Betting on Soccer
More soccer betting strategy tips? Why not! Having shared both our beginner and advanced soccer betting strategies with you, we thought it would be a good idea to give you a few bonus tips to consider.
Backing Heavy Favorites Using Handicaps
Backing heavy favorites is a safe betting strategy in itself. By and large, teams priced at 1.30 or lower tend to win soccer matches – that's just the way it goes. However, this isn't the most profitable betting strategy. If you want to back a team to win at 1.20, you would have to part ways with $100 just to make a $20 profit.
Some people can afford to risk $100 every time they bet. But if you're looking for a way to make a tasty profit WITHOUT placing big stakes, look no further than handicap betting.
If a team is priced at 1.30 or lower to win, the chances of them tasting victory are very high. When this is the case, the bookies' underdog will likely be priced around 9.00 or 10.00 – underlining the gulf in quality between the two sides.
Given the gulf in quality, you would expect the favorite to beat the outsider by a significant goal margin, right? This is when the handicaps come into play, but how do they work? Consider the following odds.
The –1 handicap gives the favorite a virtual one-goal deficit to overcome. This means they will need to win by two clear goals for the bet to land. As you can see, though, the odds are far more attractive.
Similarly, applying a –2 handicap means the favorite must win by three clear goals for your wager to be successful. As demonstrated, the price is even more appealing in this instance.
Handicap betting is a relatively safe soccer betting strategy that can help you transform low odds into profitable prices with ease.
Consider Climate and Altitude
When it comes to continental or international matchups, the climate and altitude at which a game is played can have a big bearing on the end result.
Certain players and teams are accustomed to playing at a high altitude, while others struggle to adapt. This is important to remember if you're serious about creating an effective soccer betting strategy.

Top Tip
During a 2014 FIFA World Cup qualification match between Bolivia and Argentina in La Paz (the highest capital city on earth), a number of Argentine players required oxygens masks mid-game, while others vomited.
Led by the legendary Lionel Messi, Argentina was ranked #3 in the world at the time, while Bolivia was ranked #37. Remarkably, the game ended 1-1, despite Argentina being the bookies' overwhelming favorite to win.
Always consider factors such as altitude and humidity before parting ways with your money. A team may be heavily favored to win, but that doesn't necessarily mean it is a formality.
Backing Underdogs to Win Tournaments
Gambling on entire soccer seasons can be predictable. Over the course of a 30 or 40-game campaign, the best teams nearly always come out on top.
If you don't mind waiting a year for a relatively probable bet to land, then backing favorites to win domestic leagues isn't the worst strategy for soccer betting.
But if you're looking for better value and a speedy return, backing underdogs to win tournaments such as the World Cup, Euros, Copa America, and Gold Cup is the way to go. Let's take the UEFA European Championship, for example.
UEFA EUROPEAN CHAMPIONSHIP WINNERS (1960-2020)
Team
Year(s)
Germany
1972, 1980, 1996
Spain
1964, 2008, 2012
Italy
1968, 2020
France
1984, 2000
Russia
1960
Czech Republic
1976
Portugal
2016
Netherlands
1988
Denmark
1992
Greece
2004
As the table above details, ten different teams have won Europe's leading international tournament over the years, with six countries triumphing on just one occasion.
Still, there have only been 16 editions of the competition to date. This emphasizes the competitiveness of the tournament, suggesting that smaller nations consistently upset the odds.
Denmark didn't even qualify for Euro '92 but was brought into the tournament following Yugoslavia's disqualification. Against all odds, the Danes ended up lifting the trophy. With no pressure on the team, they were able to go all the way.
In 2004, Greece was among the bookies' outsiders. But the minnows managed to beat host nation Portugal in the final, thanks largely to spirited team-work and squad cohesion.
These are just two examples of underdogs that upset the odds, but it happens all the time in different tournaments around the world. If you're prepared, you can take advantage of these kinds of situations. With that in mind, here are a few things to look out for if you want to make full use of this soccer betting strategy.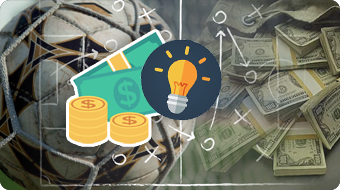 Consider team atmosphere and morale. If a favorite is experiencing unrest behind the scenes, back a less favored side. The underdogs are invariably in high spirits, as they have nothing to lose.
The coaching staff can have a big impact on the way a team plays. Just because a side is stacked with world-class players, that doesn't necessarily mean they will succeed.
Make sure you analyze entire squads and not just star power – remember what Denmark and Greece achieved!? They didn't have many big-name players, but they triumphed through teamwork and determination.
You can also consider the potential routes of teams in the tournament. If an outsider has an easy group and a favorable path through the knockout phase, back them to go far.
At the end of the day, anything can happen in knockout soccer. Favorites often get knocked out in the early rounds, while underdogs can upset the odds. If you can spot outsiders that have the potential to succeed, you could land yourself a tasty profit at the end of the tournament.
Putting Your Soccer Betting Strategy into Practice
We hope that you picked plenty of useful information while going through our top tips for soccer betting. It's now time for you to put your newly learned soccer betting strategies into practice!
There are countless soccer leagues and competitions to bet on across the world, so practicing various strategies won't be difficult. But if you're still unsure about where to start, why not read our soccer blog? Head over to the blog to find insight, previews, and other useful tidbits that will help you make your first profitable soccer bet.
Our writers also provide free betting picks and predictions on an almost daily basis in the soccer picks section of our site. You can find the latest picks below.
May
Sportsbook of the Month

Sign up Bonus
60% Up To $1,000
READ REVIEW
Visit Site
X