Habanero Slots and Where to Play Them Online
Low stakes, high stakes, jackpots, and crazy wild features are all part of the Habanero online slots experience.
Better yet, they're all only a few clicks away when you join one of the best Habanero casino slots sites.
Rank
Gambling Site
Exclusive Bonus
Get Started

#1

Bovada Casino

100% Up To

$3,000

Visit Site

Visit Site

#2

Las Atlantis

280% Up To

$14,000

Visit Site

Visit Site

#3

Wild Casino

250% Up To

$5,000

Visit Site

Visit Site

#4

Red Dog Casino

225% Up To

$12,250

Visit Site

Visit Site

#5

Ducky Luck

500% Up To

$2,500

Visit Site

Visit Site

#6

Super Slots

250% Up To

$6,000

Visit Site

Visit Site

#7

BetUS Casino

200% Up To

$5,000

Visit Site

Visit Site

#8

Ignition Casino

150% Up To

$1,500

Visit Site

Visit Site
These are the best options among all Habanero slot casinos online. We know this for a fact because we've researched and tested every site.
The real money online casinos we recommend are reviewed, monitored, and re-reviewed to ensure they're fair, safe, and secure – and that they stay that way.
Another reason these online casinos are top-notch is simply that they work with Habanero. Habanero is an excellent slot software provider because they cater to everyone with their wide range of betting limits, unusual slot themes, and feature-rich gameplay.
If you want to learn more about them, read our handy guide to Habanero slots below. We show you the best Habanero slot games based on RTP, mobile play, and 3D video graphics.
Once you're done reading this guide, you'll know exactly where to play Habanero slots online and the games you'll want to play first.
Habanero Slots with the Highest RTP
When you play Habanero slots online for real money, picking one with a high RTP gives you an edge. The RTP (return to player percentage) reveals what the casino's take is over an extended period.
For example, with an RTP of 95%, casinos make 5.00 for every 100.00 wagered. The higher the game's RTP, the more money players can squeeze from the house.
You'll find that most, if not all, online Habanero slots have a 96% RTP or higher.
Here are some of the best Habanero slots based on the RTP.
Hey Sushi – 96.75%
Loony Blox – 96.74%
Presto! – 96.54%
Now find out what we like about each of these online slots from Habanero.
Hey Sushi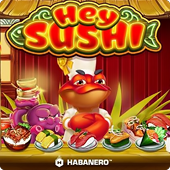 The first on our list of Habanero slots is Hey Sushi. This is an entertaining 25-line slot game based on a menu board of multipliers.
Every win prompts a cascade that, in turn, lights up the board.
If you hit the bonus trigger with a higher active multiplier, your free spins will get boosted by as much as 15x.
Hey Sushi offers betting limits of 0.25 to 5,000. This might shock you at first, but you'll get used to it.
You'll quickly learn that most real money Habanero online slots accommodate everyone – from recreational players to (the richest) high rollers.
Loony Blox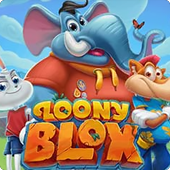 Is it a slot game? A cartoon? A board game? Loony Blox by Habanero is all three.
This one of Habanero's best slot games due to its high 96.74% RTP and unique gameplay.
Three cute little animated animals play a role in your gambling fate.
They take turns hosting, providing features, and moving along a bonus board reminiscent of Chutes and Ladders or Candyland.
Loony Blox has three game modes.
Main screen with character-driven features
The map features located on a separate game board behind the screen
Free spins
Depending on which of the Loony friends are in charge, you'll have synced reels, wild reels, or the opportunity to win both ways in this 243-ways-to-win Habanero online slot.
Presto!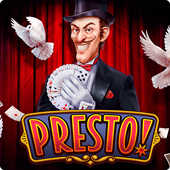 You'll probably agree that magic is an ideal theme for slot games because it leads to so many innovative features.
Of course, we've seen a few fall flat, but that's not the case with Presto! It's one of the best for slot illusions.
While you'll appreciate the entertaining magician and a fluffy white rabbit that scurries around the reels, Presto!'s big trick is the Illusion Countdown.
White feathers drop with every spin of the reels, counting you down to one of several illusions.
Magic Hat Re-spins
Crystal Ball scatters
Throwing Cards (turning wild)
Expanding Wild Reels
Synced Reels
These illusions will make frequent encores, too, as the feathers line up again.
How much can you bet? It's no trick – you can stake as much as 3,000.00 per spin!
Those are the top Habanero slots based on RTP. You should have no problems finding any one of those at our top-rated Habanero casinos.
But what if you want to play mobile slots? Which Habanero slots should you play then?
Best Habanero Slots on Mobile
While we're sharing a few of the top-rated mobile Habanero slots, the truth is, you can't go wrong with any of their slots.
Habanero is a multi-platform developer. This means every slot game is cross compatible. You can play them on any device, including your smartphone and tablet.
Even though you can play any Habanero slot on your smartphone or tablet, there are a few that stand out from the rest.
These are our favorite Habaerno mobile slots.
Wealth Inn
Techno Tumble
Knockout Football Rush
We prefer these slots because they're simpler games with smaller playing areas. You don't have to strain your eyes to see what's happening.
Here's what you can expect from each of these slots from Habanero.
Wealth Inn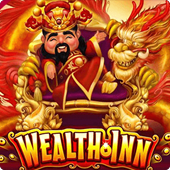 Wild, wilder, and wildest – Wealth Inn focuses exclusively on the wild symbol.
It's a perfect game to pull up on your mobile device with its three-reel setup and lack of a bonus game.
You'll keep the reels spinning for up to eight three-symbol payouts at a time.
But don't make the mistake of thinking this slot is monotonous and boring. It's not – the wilds help with that.
That's because, every time a wild symbol lands, it expands. If you're lucky enough to get three across the board, you've got eight of the top payouts in Wealth Inn – X188 each.
You can enjoy Wealth Inn at most casino sites with Habanero slots. It's one of many Asian-inspired slots in their collection.
Techno Tumble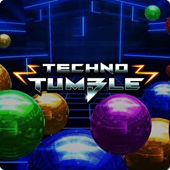 Grab your mobile device and your headphones for Techno Tumble, one of the best mobile Habanero slots.
It's a high-tech game without standard symbols or reels.
Instead, it's physics-based, with marbles dropping and rolling around until they settle in for the count. When matching marbles touch, you get paid.
Techno Tumble also includes winning cascades (or rolls, would be more descriptive). Matching marbles roll away, new ones drop into the active playing area, and the multiplier rises.
So, there's some big money to be made in this unique Habanero online slot game that lets you bet as much as 5,000.00 every time you click the spin button.
Knockout Football Rush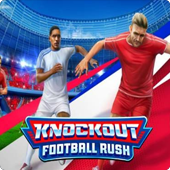 We're sticking with another three-reel, small-screen game for our top-rated Habanero slot games on iPhone, Android, and other mobile devices.
Knockout Football Rush is a slot sequel. The first version has five reels and 243 ways to win. But this new game is small screen-friendly with just three reels and six ways to win.
Here's why you'll like Knockout Football Rush – it's a sports-themed slot game, complete with a cheering crowd to amp you up for some game-winning action.
One unique feature to Knockout Football is that, instead of having to pay attention for a bonus to activate, you'll get random penalty kicks.
A player runs out and sends the ball sailing onto the screen. That ball is wild and sticks around for as many as three spins. With each new round, the wild moves up a row until it's eventually out of play.
These penalty kicks happen whether you're looking at the screen or not. They give you a little something to make the game more interesting, to keep you engaged.
But these penalty kicks will happen regardless, even if you set your phone to auto-play. This will give you the chance to check out other online Habanero slots – like the 3D slot games in the next section.
Top 3D Online Slot Machines from Habanero
Like every other slot provider, you can tell the difference between the list of Habanero slots produced in the first few years compared to their most recent releases.
The biggest different with the newer Habanero video slots is that they're designed with 3D graphics and animation. We love this because it makes every theme come alive.
For example, The Dead Escape slot from Habanero would fall flat without 3D special effects.
Let's look at the best 3D slot games from Habanero.
London Hunter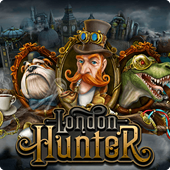 The theme and 3D graphics are unusual, to say the least. London Hunter is a Habanero slot game where Cyberpunk meets a wild dinosaur wearing googles.
You can't say that slot developers aren't creative!
The 25-line game features gauges on both sides of the reels. Collect symbols and fill one of the meters with blue water, which gives you wild expansions. The other gauge is good for triple payouts.
It's one of those slots you have to play to really get a feel for it. After all, Cyberpunk meets wild dinosaur doesn't do it justice (or does it?).
Once again, you can bet up to 5,000.00 a spin, so you've got that Habanero slot consistency.
The Dead Escape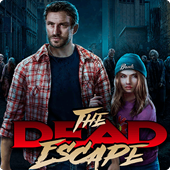 A guy, a girl, and a zombie walk onto a slot screen…
No, it's not The Walking Dead. Or The Last of Us. But it's close.
Once you join one of our recommended casino sites with Habanero online slot games, you'll definitely want to look for The Dead Escape.
It's a 3D video slot with sizzling special effects and on-screen duels that lead to expanding wilds or zombie domination.
The undead goes wild in a 30-line slot experience with a top payout worth X50 based on your stake.
This is a great budget slot machine, with a minimum bet of 0.30. If you got a smaller bankroll, or if you just like to be caught off guard, then give this zombie slot from Habanero a spin.
Ruffled Up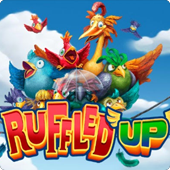 You must have a good bird-themed slot to be a contender as a top-rated slot provider.
OK, we just made that up. But some of the best real money slots do feature fine feathered friends flying on and off the screen.
Ruffled Up is a Habanero slot machine that looks and plays like Betsoft's Birds! or Thunderkick's Birds on a Wire.
It's got excellent 3D graphics with cute little characters that float in and fly away.
You'll find that Ruffled Up is frequently on the list of best Habanero slots for both its visuals and gameplay, specifically its 243 ways to win feature.
Here's one of the things we enjoyed about playing this Habanero slot for real money.
Every so often, you'll see the little birds hop off the wires because a big wild one forces its way onto the screen. The cute little birdie with an umbrella can lead you into bonus play, but every game will feel like a reward.
Ruffled Up is a must-play in Habanero slots casinos.
More Top-Rated Habanero Video Slots
Our lists of favored Habanero slot machines pale in comparison to all the online slots they have in their library.
Here are a few more games we recommend you play once you visit a Habanero online casino site.
| | | | |
| --- | --- | --- | --- |
| Habanero Slot Games | Paylines | Highlights | RTP |
| Egyptian Dreams Deluxe | 243 to 3,125 ways | Four progressive jackpots, unlock feature, free spins, re-spins | 96.70% |
| Lucky Fortune Cat | 28 | Win-both-ways, Lucky spins | 96.65% |
| Jump! | 192 to 1,024 ways | Expanding reels, symbol collection, re-spins, stacked spins | 96.79% |
| Scopa | 27 | A tour of Italy with different features – expanding symbols, multiplying wilds, graduated reels | 96.67% |
| Koi Gate | 18 | Win-both-ways, progressive jackpot, double-pay re-spins, | 96.26% |
| Gold Rush | 25 | Mine collapses with matching symbols, scatter pays, free spins | 96.00% |
| Naughty Santa Milk and Cookies | 432 | Random multipliers, colossal symbols, exploding wilds | 96.78% |
| Totem Towers | 25 to 101 | Wild reels, expanding reels, scatter pays | 96.63% |
| Jellyfish Flow Ultra | 27 to 823,543 ways | Expanding reels, reverse-direction reels | 96.78% |
| Fa Cai Shen | 28 | Triple pay wilds, scatter pays, Jackpot Race | 96.00% |
Notice the variety of themes, paylines, features, and how every Habanero slot machine has an RTP higher than 96%.
Those are just a few of the many reasons to play Habanero slot games for real money.
Why Play Real Money Habanero Slots?
Habanero isn't as big of a household name as others like NetEnt, Playtech, and Microgaming. The studio has only been around since 2012, so they haven't been around as long as those guys, either.
Sometimes it's challenging to figure out what makes one slot provider stand out from the rest. But Habanero slot games are distinctive. The themes are all over the place, but a few slot features remain consistent.
Common Features of Habanero Slots
Wagering
Jackpot Races
Special Features
Asian-themed Slots
Mobile Responsive Slot Games
Let's talk about each one of these features.
Wagering
If you read any of our Habanero slot game reviews, you'll see that we mention wagering many times. That's because Habanero is one of the best casino slot software providers for betting limits.
Quite a few online slots stick to a range in the vicinity of 0.25 to 100.00 per spin. A few studios, like Playtech and IGT, raise the ceiling to something like 500.00 or 1,000.00.
But Habanero online slots allow for as little as 0.20, 0.10, or even 0.08 per spin. However, high rolling online punters aren't ignored – they can risk as much as 5,000.00 in a single click of a button.
One of the things that make Habanero and Habanero slots casino sites unique is that they cater to both recreational and high roller slot players all around the world.
Jackpot Races
Another feature you'll frequently come across as you play Habanero slots online for real money is called a Jackpot Race.
Jackpot Races are short-term competitions with shared progressive jackpots.
For example, the casino could take a slot like London Hunter and attach a progressive jackpot that is guaranteed to pay daily.
But instead of a slot-specific payout awarded to one player, the Jackpot Race prize could be divided amongst all active players at the time it's triggered.
These are an exclusive feature, but not every casino operator has to offer them. That's why it's so important to join a quality Habanero online slot casino.
Special Features
Like other software providers, Habanero takes advantage of a broad range of features. They do a good job selecting features that work well with a particular theme and payline count.
We noticed that some of the most common slot features are win-both-ways and expanding wilds. Quite a few games combine those modifiers with other features to create custom gameplay.
For example, a slot like Ruffled Up, which features birds flying on and off the screen, has a stacked wild bird that doesn't spin the reels.
Instead, once the birds are in place, the wild bird randomly steps on their heads and takes over an entire column, creating a wild reel.
Slot features like these can lead to bigger payouts for you.
Asian-themed Slots
Habanero Systems specializes in providing slots for Western and Asian markets.
You'll find that quite a few slots creatively adopt Asian themes. This is why you'll come across lucky number payouts like X188.
Hey Sushi, Wealth Inn, Koi Gate, Fa Cai Shen Deluxe, and Lucky Fortune Cat are just a few of the "luck-inspired" slots you can play at Habanero online casinos.
Mobile Responsive Slot Games
These days, all online slot developers design casino games for multi-format access. So, whether you pull up a slot on a smartphone, tablet, PC, or laptop, you'll get the same quality gaming experience.
Habanero has consistently developed its games in HTML5. That means all Habanero slot games for iPhones look the same as Android devices.
And those slot games look the same as the ones you can play on a full-blown Habanero casino using your PC or laptop.
But Habanero takes it one step further than that. They design their mobile slots to be played in both portrait and landscape mode. Few slot software providers do this (or do this well).
That's why you want to select one of the best places to play Habanero slots online for money. That way you know it's a great choice for mobile gambling as well.
About Habanero Systems
Habanero Systems, aka Habanero Games, is one of the newer kids on the online casino block. Habanero started in 2012 and has been producing slots, video poker, and table games ever since.
Even though you could come across a few online Habanero slots here and there in the studio's early days, there are many more casino sites with Habanero slot machines now.
And can you blame them? What online casino wouldn't want to work with a multi-licensed, multi-award-nominated casino software studio?
Here are all the major achievements and milestones Habanero has hit since opening its doors in 2012.
2012
Habanero Systems founded as a privately owned software studio.
2018
Expansion into the Italian market.
2018
An MGA Awards nomination is the first for Habanero.
2018
Koi Gate is nominated for the Best Casino Product at the Global Gaming Awards in London.
2019
The studio introduces its Jackpot Race concept with shared progressive jackpots.
2019 Habanero releases its 100th slot, Colossal Gems.
2020
Habanero is recognized at the EGR B2B Awards with nominations for both Mobile Supplier. and Slot Supplier of the Year.
We think it's safe to assume that the hits will keep on coming.
Play a Habanero Online Slot Today
As you can see, most of the innovation and recognition is recent. It took Habanero a few years to get going, but that's okay – nothing great happens overnight.
Besides, Habanero Systems can now boast the following.
More than 100 slot titles built in HTML5 for multi-platform access
Certification in 16 markets
Slots, table games, and video poker
Dual licensing in Malta and Romania
Slot games on iPhone and Android available in both portrait and landscape modes
Games available in 16 languages
Cryptocurrency acceptance
At least one new game added monthly
Certification by iTech Labs and BMM Test Labs
Habanero is clearly an up-and-comer. They're not household names yet, not like Microgaming, Playtech, or even Realtime Gaming. But give them time; they'll get there.
We enjoyed playing their slots, and think you will, too. The only way to know for certain, though, is to join one of our top-rated casino sites with Habanero slot games and test them for yourself.
Head to one of our recommendations at the top of this page, or check out our list of the best slots apps for some more great options.

Sign up Bonus
250% Up To $5,000
READ REVIEW
Visit Site
X