KISS Slots
Known for their wild outfits and makeup, KISS has risen to become one of the most iconic bands in history. The band quit wearing makeup and costumes in the mid-1980s, but they're often stilldepicted this way in pop culture.
Such is the case with WMS' KISS slots, a 5 reel, 100 pay line game that shows the band rocking out in their black and white makeup.
The most noticeable aspect of KISS slots is the strange reel setup, with a 5 x 4 grid on one side, and a 5 x 12 grid on the right side. You can also expect some cool bonus features along withanimations that pay tribute to the band.
Let's continue discussing these aspects and more in this KISS slots review.
Overview
KISS gets you excited to play right away with an introduction showing the band performing live among their screaming fans. You're then taken to the main screen, which features KISS in lightedletters in front of a steel background.
You'll also notice the odd reel setup, which allows for 100 pay lines and is called Colossal Reels.
The obvious benefit to all these pay lines is that they give you many chances to win. The downside is that they take up so much space on the screen that there's little room for backgroundartwork.
Not surprisingly, this game features some of KISS' hit songs, including "Detroit Rock City," "Rock and Roll All Nite," and "Shout It Out Loud." Detroit Rock City and Shout It Out Loud playduring spins in the main game, while Rock and Roll All Nite plays during the bonus.
You'll also see a few entertaining animations when you hit winning combinations. The most notable animations include Gene Simmons breathing fire to turn more symbols wild, and explosions on theregular wild symbols.
KISS Pay Table and Graphics
Here are the symbols and payouts available in KISS slots:
Wild

A picture of all four band members standing together and looking upwards is the wild symbol. Wilds substitute for all other symbols except the Feature, and they don't offer any payouts ontheir own.

Paul Stanley

Featuring a black star painted over his right eye, Paul Stanley pays 250 credits for 5 symbols, 50 for 4, and 25 for 3. Stanley is also one of two stacked symbols in this game that stand 8squares high.

Gene Simmons

Featuring wild hair and a chain across his chest, Simmons is the other stacked symbol. He pays 200 credits for 5 symbols, 40 for 4, and 20 for 3.

Gene Simmons' Tongue

Simmons is infamous for having a long tongue that he frequently darts out onstage and when posing in pictures. His tongue pays 100 credits for 5 symbols, 20 for 4, and 10 for 3.

Ace Frehley

A member of KISS from 1973 to 82, and from 1996 2002, Frehley has two black stars painted over his eyes. The lead guitarist pays the same as Simmons' tongue.

Guitar, KISS Icon

Both the guitar and KISS icon pay 75 credits for 5 symbols, 15 for 4, and 5 for 3.

A, K, Q, J

All four of these letters pay 50 credits for 5 symbols, 15 for 4, and 5 for 3.
Symbol Graphics
With its animations and live performance footage, the presentation in KISS slots is good. That's why we're surprised that the symbol graphics are average at best.
Some symbols look good, like Stanley, Frehley, and the wild. But Simmons, Simmons' tongue, the guitar, and the KISS icon have poor detail.
The animations and background graphics help make up for this. But it's hard to ignore that KISS doesn't have great looking symbols while you're playing.
KISS Slots Bonus Features
The KISS icon on fire is the Feature symbol, and 3 or more Feature symbols trigger the free spins along with a multiplier. Here are the number of spins and multiplier that you'll get:
3 Feature Symbols – 8 free spins, 2x total bet
4 Feature Symbols – 12 free spins, 5x total bet
5 Feature Symbols – 20 free spins, 20x total bet
Feature symbols only appear on reels 1, 3, and 5 on both the 5 x 4 and 5 x 12 grids. One strange thing we noticed is that you can actually get 6 Feature symbols, although the sixth one won't doanything.
When you unlock free spins, you'll see the same introduction video that plays at the beginning of the game. Free spins transfer stacked wilds and Feature symbols from the 5 x 4 grid over to theColossal reels, improving your chances of winning big payouts.
Because Feature symbols can land on six different reels, the free spins come up often in comparison to other slots.
Even when you don't get free spins, are suspenseful times where you'll have two Feature symbols in the 5 x 4 grid, and the reels slowdown in the 5 x 12 grid, with your bonus fate hanging in thebalance. When this happens, the crowd chants KISS, KISS, KISS as the reels slowly come to a stop.
Once all of your spins have expired, a video screen pop ups with KISS on stage. They thank you for playing, and you're taken back to the main game.
Thanks to the many wilds that transfer over to the 5 x 12 grid, we got decent wins from the bonus. Making $0.01 bets per 2 pay lines, we picked up $7.50 credits on just 8 free spins one time.
The only downside is that we didn't find any other bonuses while playing beyond the free spins. In a game with Colossal reels, we expected at least one more bonus feature.
Betting Options
You can change pay lines from 20 to 100, with pay lines increasing or decreasing in 20 line increments. The 20 line increments are a drawback because they give you less control over how muchmoney you want to bet.
You can adjust your coin denomination from $0.01 to $5.00 using the plus and minus arrows. The coin denomination is based on your bet per 2 pay lines, i.e. $0.01 per 2 lines.
KISS doesn't include the QuickBet Panel option, which allows you to cycle through larger coin denominations to speed up the betting process.
This game offers an auto spin option that allows you to keep the reels spinning until you choose to stop them. This is handy if you want to get the bonus feature without having to manually spinthe reels every time.
Other Options
Most of the other options in KISS deal with setting stopping points for your play.
These include: stop when you've played X number of spins, when X number of minutes have passed, when your balance increases by X, when your balance decreases by X, when any of your wins exceed X,or after any big win is awarded.
One other gameplay option that you have includes turning the sound on/off. But in a game featuring KISS, we can't see why one would play this game if they don't want to listen to the music.
Comparison to Other Band Themed Slots
We're seeing more and more slots based on famous bands lately.
NetEnt has been releasing band themed slots under their rock 'n' roll series. And Leander Gaming created a 5 reel slot based on Megadeth.
Below you can see how KISS compares to these other slots, which all feature traditional 5 reel setups, rather than Colossal Reels.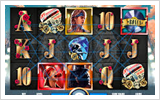 Guns N' Roses
Guns N' Roses was the first game to come out in NetEnt's Rock series. And Guns N' Roses slots has been an online hit thanks to a variety of features.
The Set List is our favorite feature because it allows you to pick which songs you want playing during the game. Options include "Chinese Democracy," "November Rain," "Paradise City," and"Sweet Child o' Mind."
The Appetite for Destruction Wild is also unique because it features a cross shaped wild symbol spread out in reels 2, 3, and 4.
Another feature is the Multi Award Bonus Reel, which consists of a record with prizes spinning around. When the record comes to a stop, you win the prize that the cartridge points to.
Also note that your big payouts will bring up a screen with Guns N' Roses having a concert. This doesn't result in any extra rewards, but it's still fun to see.
We like Guns N' Roses more than KISS because it has more to offer in terms of features, most notably the Set List. Add in the fact that this is a new slot with better graphics, and we recommendthat you give it a try.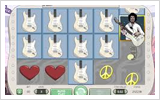 NetEnt's Jimi Hendrix
Jimi Hendrix had a short, but sweet music career that included legendary hits like "Foxy Lady" and "Purple Haze." And NetEnt felt that Hendrix was the perfect artist for the second game intheir Rock series.
The big thing to like about Jimi Hendrix slots is the animations, including how you see a larger version of Hendrix playing his guitar during winning combinations. In some cases, you even go toa different screen to watch Jimi play while your wins are added up.
Different Hendrix songs that you'll hear include Foxy Lady, Purple Haze, "Crosstown Traffic," and "Little Wing."
This slot also features some solid bonuses, including a pick'em round, guitar re spins, and Crosstown Traffic spins. The latter sees Hendrix's guitar expand to fill an entire reel with wildsymbols.
Perhaps the best thing that this game offers is symbols of 1960s counter culture, like flowers, peace signs, and psychedelic designs. Not everybody is a fan of this, but it speaks to Hendrixand his time period.
Jimi Hendrix is another winner in the NetEnt series, although we don't think that it brings the same energy and excitement as Guns N' Roses. That said, KISS comes closer to matching JimiHendrix slots.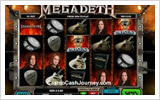 Leander's Megadeth
As the name implies, Megadeth is a darker mainstream band than the acts that we've discussed so far.
The background reflects this because you'll see chains holding the reels in place along with a dark stage behind the reels. You'll also notice that every symbol space is either decorated withfire or a solid black background.
We're not a fan of the color scheme and think that it makes the game feel dingy; but the graphics are a step up from KISS.
The area where Megadeth shines the most is its bonus features.
First off, you can bet extra money to enact the Mega Nudge feature. Mega Nudge will nudge reels 2 and 4 up to three times to help you get a better winning combination. If no better combo can beformed, the reels won't nudge.
If you get 3 or more bonus symbols on the reels, you'll trigger the Multilevel and Multigame bonus. This sees you spin the Mega Wheel to unlock the Hangar 18 bonus (free spins) or the HeadCrusher instant win.
Again, we're not a big fan of Megadeth's background and overall atmosphere. But this game does have enough bonuses to rank around KISS and Jimi Hendrix in terms of quality.
Conclusion
KISS has built their fame and fortune on throwing wild concerts that energize fans. WMS' slot machine brings some of this same energy, just with a few less features than we'd like.
Simmons blowing fire on the reels, and wild symbols exploding are where the main entertainment value lies. It's also fun to see the cut scene of a KISS concert when you unlock free spins.
We also like the Colossal Reels setup, although it seems like more theatrics than something that'll net you frequent payouts. Even when playing 100 pay lines, we had plenty of spins that didn'tresult in any payouts.
The music selection has decent variety, with Detroit Rock City, Rock and Roll All Nite, and Shout It Out Loud all playing at various points. But it would be nice to see another 1 2 songs to matchthe number that Jimi Hendrix and Guns N' Roses offer.
KISS slots could also use another bonus round beyond the free spins. Even though we don't like the dark atmosphere of Megadeth, we appreciate the multiple bonus rounds offered.
Our Thoughts:
If KISS offered 2 to 3 bonus rounds, it would definitely be a winner in our book. But as is, KISS is an above average slot machine that mainly relies on Simmons' fire blowing and a cut scene todeliver something unique.

Sign up Bonus
250% Up To $5,000
READ REVIEW
Visit Site
X