Eye of Ra Slot Machine
Produced by Amatic, Eye of Ra is a 5 reel, 720 ways to win slot machine that was originally made for land based casinos, then later adapted for online play.
The first thing that sticks out about Eye of Ra is its unique 3 4 5 4 3 reel setup. These staggered reels might remind you of the pyramids of Egypt, and they also serve a greater purpose thatwe'll cover later.
As for the game's theme, the Eye of Ra represents a feminine counterpart to the Egyptian sun god Ra. The eye is a destructive force that deals with enemies who threaten the god.
Portraying symbolism this deep is hard for a slot machine, especially an older one like Amatic's Eye of Ra. But we can say that this game at least nails down some aspects of Egyptian culture.
What else does Eye of Ra slot have to offer beyond its theme?
Find out as we cover this game's reels, music, animations, pay table, bonuses, and comparisons to other Egyptian themed slots.
Eye of Ra Slot Machines Overview
720 Ways to Win
The reason for the 3 4 5 4 3 reel setup is that Amatic wanted to give players 720 different ways to win.
This is not only accomplished through the staggered reels, but also by allowing payouts to form left to right and right to left. Most games only allow you to form wins from left to right.
Another aspect that helps give you 720 payout possibilities is that wins don't appear in pay lines. Instead, the same symbols only have to be in adjacent reels that are touching.
Atmosphere / Background
The background offers a nighttime scene in Egypt, with pyramids, stars, and palm trees in the distance. You'll also see decorated columns on each side that display how there are 720 ways to win.
We've seen older Amatic slot machine adaptations that don't do a good job with the background. Eye of Ra is an exception, though, since it creates a bold Egyptian theme.
This game doesn't go deep enough to portray the Eye of Ra and its destructive power. But that's alright because the Eye of Ra has also become a general Egyptian symbol that's merely used toidentify the culture.
Music and Sound Effects
While the game opens with an Egyptian jingle, you won't hear any other music / sound effects until you spin the reels.
Sound effects range from the stereotypical variety that are heard in many slot machines, to more unique sounds that remind you of ancient Egypt.
One thing we don't like is the music that plays after every win. It sounds like change clanging together, and it doesn't stop until you either choose to gamble your winnings or collect them.
Another annoying beat happens during the Gamble feature, where you'll hear the sound of a playing card rapidly switching back and forth. This is not only obnoxious, but also unnecessary.
Animations
You'll see several notable animations while playing this game, including the Eye of Ra flashing and turning wild, Apophis snake head turning blue, Ra bird head turning green, Hathor cow headturning purple, Bast cat head turning red, the sky behind pyramids changing, the gold scarab turning into a real scarab, and the letters and numbers changing colors.
Eye of Ra Pay Table and Graphics
The following payouts are based on a 10 credit bet:

Eye of Ra
The Eye of Ra substitutes for all symbols except the pyramids bonus to form a winning combination. This symbol doesn't offer any payouts on its own.

Pyramids Bonus
3 or more pyramids anywhere on the reels triggers the bonus round. Pyramids also pay 500 credits for 5 symbols, 100 for 4, and 20 for 3.

King Tut
King Tut pays 250 credits for 5 symbols, 50 for 4, and 25 for 3.

Cleopatra
The Queen of the Nile pays 100 for 5 symbols, 40 for 4, and 20 for 3.

Hathor, Ra
These cow headed and bird headed gods both pay 75 credits for 5 symbols, 25 for 4, and 15 for 3.

Bast
This cat headed god pays 50 credits for 5 symbols, 20 for 4, and 10 for 3.

Apophis
This snake headed god pays 50 credits for 5 symbols, 15 for 4, and 10 for 3.

Scarab
Believed to be a guide to the cosmic universe, the scarab pays 20 credits for 5 symbols, 10 for 4, and 5 for 3.

A, K
These symbols pay the same amount at 10 credits for 5 symbols, 5 for 4, and 2 for 3.

Q, J
These symbols pay 5 credits for 5 symbols, 2 for 4, and 1 for 3
Symbol Graphics
It would've been nice if Eye of Ra included the names of the gods, but we looked each one up when filling out the pay table.
Aside from not having listed names, most of the symbols look good. We especially like Apophis, Bast, King Tut, and the Eye of Ra. The only bad looking symbol is Cleopatra, which doesn't have thesame quality as the other symbols.
Eye of Ra Slot Bonus Features
Free Spins
You earn 5 free spins when triggering the bonus with 3 or more pyramids.
The background changes to a nighttime scene with pyramids and palm trees on the ground, and smoky Eye of Ra pictures in the sky.
You'll also hear fast paced Egyptian music throughout the bonus, which adds a special touch.
One big perk to the free spins is that the middle reel exclusively features Eye of Ra wild symbols. This makes it easy to form big wins during the bonus, which we did by winning 18,400 credits.
Stacked Symbols
Symbols can appear stacked to fill an entire reel and help you form big wins. This happens randomly and is especially common in the first and last reel since they're only 3 spaces high.
As discussed above, the Eye of Ra is a stacked wild symbol throughout the free spins bonus.
Gamble Feature
You can click the Gamble button at the bottom of the screen to double or quadruple your winning payouts.
You double wins by selecting whether a card color will be black or red, and you quadruple a payout by choosing if a card suit will be clubs, diamonds, hearts, or spades.
You can win up to eight straight times in the Gamble option before you're forced to return to the main game. If you lose at any point during this feature, you lose your triggering payoutand any wins accrued during the Gamble feature too.
Betting Options
Although this game gives you 720 ways to win, it works like a 10 pay line penny slot machine.
The minimum bet is $0.10 per spin, and you can turn it up to a maximum of $50.00.
When you're happy with your bet, you can click Auto Start to keep the reels spinning automatically. If at any point you want to control the reels yourself, just click Auto Start again.
Other Options
You can turn sound on and off, and change the language by clicking the thin black bar at the top of the screen.
The default language is English, but you can also pick German, Greek, Hungarian, Russian, Spanish, and Turkish. Once you make a selection, any words that appear will be in the chosenlanguage.
Win Frequency
The win frequency in Eye of Ra is high, and you'll pick up lots of small wins when playing this game. We won on over half our spins, which really helped sustain our bankroll during thesession.
Most of our wins involved the letters, but the Eye of Ra wild also appeared frequently and helped us form payouts.
Return to Player RTP
RTP for Eye of Ra ranges from 95% to 97%, which differs based on the online casino.
At either range of the RTP, you're going to win frequently enough that your bankroll will rarely be in danger.
Comparison to Other Egyptian Slot Machines
As mentioned in the introduction, there are plenty of Egyptian themed slot machines, many of which revolve around Cleopatra. That said, we've chosen Realtime Gaming's Cleopatra's Gold andAristocrat's Queen of the Nile to offer comparisons.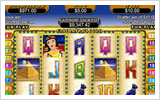 Cleopatra's Gold
Released in the mid 2000s, Cleopatra's Gold is one of the most successful online slots of all time.
One thing that sticks out about this 5 reel, 20 pay line game is how richly colored the symbols and reels are. You'll see little hieroglyphs on the reels, and the symbols appear bright,detailed, and bold.
Symbols like the cat, Eye of Horus, and scarab look outstanding, and you'd never know that they're from an older online slot. The background doesn't look as impressive as the symbols, andwe like Eye of Ra's background graphics better.
If you land 3 or more pyramid scatter symbols anywhere on the reels, you'll trigger 15 free spins. These free games also come with a 3x multiplier on any of your wins.
Cleopatra's Gold offers a progressive jackpot that can be won randomly on any bet, regardless of if you win or what you wager. Beyond this and the free spins, there are no extra frills tothis slot.
In summary, this game's biggest advantage is its symbol graphics and unique reel designs. But due to the limited bonus features and poor background graphics, we don't think that Cleopatra'sGold offers much that Eye of Ra doesn't.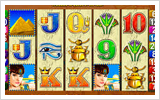 Queen of the Nile
Queen of the Nile is a 5 reel, 20 pay line slot machine that opens in a sandy desert, with a pyramid and the Nile River in the background. This game keeps the theme going during the maingame, as you'll hear an Egyptian tune and sands sweeping across the background.
The symbol graphics look decent, but not as good as either Eye of Ra or Cleopatra's Gold. Symbols that you'll see include Cleopatra, a gold pharaoh mask, gold bracelet, scarab, pyramids,and the Eye of Ra.
Queen of the Nile features some fun animations, including the sky changing from day to night behind Cleopatra, and light shooting out the tops of the pyramids.
If you land 3 or more pyramids scatters anywhere on the reels, you'll trigger 15 free spins with a 3x multiplier.
Due to the weaker symbol graphics and overall simplicity of this slot, we'd put it on a lower level than Eye of Ra and Cleopatra's Gold.
Conclusion
Egyptian slot machines are certainly nothing new in the gaming world. But Eye of Ra does differ from most games in this genre through a few ways.
For one, it offers players 720 ways to win on any spin. This is an exciting proposition that will see you win more frequently than many slot machines.
Another interesting aspect is the 3 4 5 4 3 reel setup, which is not only unique, but also allows you to see more of the pyramids and nighttime sky in the background.
We also like the symbol graphics, which depict Cleopatra, several Egyptian gods, and the Eye of Ra.
More things to like about this slot include how you can trigger free spins, get stacked symbols, and gamble your winnings after any payout. It also doesn't hurt that RTP ranges between 95%and 97%, and you'll win frequently enough to sustain your bankroll.
The negative aspects to this game are that you'll hear annoying sound effects, and the bonus features are limited compared to modern games.
As for the music and sound effects, we hate what you hear following winning payouts and during the Gamble feature.
Regarding bonus features, the free spins and stacked wilds are nice, but it'd be better if there were a second screen bonus too.
Our Thoughts:
If you like Egyptian themed slot machines, then Eye of Ra is certainly worth playing. But you probably won't spend more than an hour on this game because it doesn't have many specialfeatures to hold your interest.

Sign up Bonus
250% Up To $5,000
READ REVIEW
Visit Site
X