Montana Gambling – History, Laws and Regulation
Montana Gambling Law Overview
Casino Gambling: Not Legal
Tribal Gambling: Legal
Poker: Legal
Horse Racing Betting: Legal
Dog Racing Betting: Not Legal
Lottery: Legal
Daily Fantasy Sports: Not Legal
Charitable Gaming: Legal
Social Gambling: Legal
Online Gambling: Not Legal
Montana has some of the country's most-liberal laws on charity and social gambling. They also offer tribal casinos, horse racing, legal sports betting, and a lottery.
Overall, Big Sky Country has more than enough gaming options for its small population.
But one thing you won't be able to enjoy is online gambling. Montana is one of the few states that explicitly bans internet gaming.
Is there any way around this law for Montanans? Are there stiff punishments for anybody caught playing online casino games in the state?
Find out as we take a deeper look at Montana's gambling laws and review what you can expect from their gaming industry.
Montana has one of America's lowest population densities, with 1.033 million people spread out across 147,000 square miles. This is why we're surprised that Montana offers 292 different gambling establishments.
The vast majority of these operations consist of video gaming machines found in bars and restaurants. Video gaming is actually a big source of tax revenue for Montana, generating approximately $60 million in taxes every year.
Montana's other big source of gaming revenue is the lottery, which sells $60 million in tickets per year. While this is the lowest amount out of all 45 states with a lottery, the Montana Lottery still generates $14 to $15 million for their General Fund.
Montana Gambling Stats & Key Info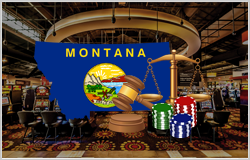 Age Requirements: 18
Approximate Annual Gambling Revenue: $1 billion
Approximate Annual Gambling Taxes: $120 million
Number of Commercial Casinos: 0
Number of Poker Rooms: 0
Number of Tribal Casinos: 6
Casino Regulatory Body: Montana Gaming Control Division
Lottery National Rankings: 45th
Transition to Legal Status of Gambling
Despite having so many gaming establishments, Montana doesn't have any major casino resorts.
Still under construction, Buffalo Rivers is set to be the largest casino with over 400 slot machines. While this is a nice-sized casino, it's not significant when compared to the biggest casinos from other states.
Montana is one of only a handful of states that allows 18-year-olds to play casino games. But the catch is that the vast majority of these games are in the Class II category, including bingo, poker, prize drawings, and raffles.
Legal Status of Gambling in Montana
The Montana Constitution starts off with one of the simplest definitions of illegal gambling that we've seen. Here's the definition, as per Article III, Section 9:
"All forms of gambling, lotteries, and gift enterprises are prohibited unless authorized by acts of the legislature or by the people through initiative or referendum."
This is an easy way to say that any gambling outside of Montana's licensed establishments or private gaming should be considered legal.
The state also offers a simple definition of what constitutes gambling in section 23-5-112 (13)(a):
"Gambling or gambling activity means risking any money, credit, deposit, check, property, or other thing of value for a gain that is contingent in whole or in part upon lot, chance, or the operation of a gambling device or gambling enterprise."
As for what constitutes an illegal gaming device, statue 23-5-112 (14) states that it's a "mechanical, electromechanical, or electronic device, machine, slot machine, instrument, apparatus, contrivance, scheme, or system used or intended for use in any gambling activity."
This covers pretty much every possible gambling device, including a slot machine, table, computer, smartphone, or tablets.
While it might seem like Montana's gaming laws are strict, they make exceptions for a number of activities, which you can read about below.

Charitable Gaming
Montana has a separate section that governs their charity gaming laws, which are among the most-lenient in the US. These liberal laws allow hundreds of businesses across the state to offer gambling.
Approved charities are allowed to offer bingo, casino nights, keno, and raffles. Thanks to amendments over the years, they can also feature the following card games:
Bridge
Cribbage
Hearts
Panguingue
Pinochle
Poker
Rummy
Solo
Whist
Of these games, poker is the most-relevant because it's widely played today.
The main stipulation for charity gaming is that 100% of proceeds must go to the stated cause. Other stipulations that you should be aware of include:
The permit fee for conducting charitable gaming is $250 (statue 23-5-407).
Charity gambling games must be closed between 2am and 8am, unless otherwise approved by a local ordinance (statue 23-5-408).
Charities must keep records of proceeds and expenses at all times (statue 23-5-409).
Price for buying bingo and keno cards can't exceed $0.50 (statue 23-5-412).
Total prizes for a single bingo or keno game can't exceed $100.
Individual raffle prizes can't exceed $5,000 (statue 23-5-413).
A casino night can't last for more than 12 consecutive hours (statue 23-5-710).

Horse Racing
Montana's pari-mutuel industry is governed by the Board of Horse racing. The only active racetrack we can find is Yellowstone Downs, which features summer races.
The state also offers multiple off-track betting locations in bars and casinos that offer simulcast racing.

Horse Racing
As covered earlier, the Montana Lottery generates the lowest revenue out of all 45 states with a lottery.
This is strange considering that Montana has a full range of lottery products, including scratch-offs, in-state lotteries, and multi-state games like Mega Millions and Powerball.
Our guess is that Montana's sparse population makes it a hassle for some people to drive to lottery retailers.

Live Poker
Bars and saloons with gaming licenses are the biggest source of poker action in Montana. Many popular charity poker tournaments are held around the state every year.
The Treasure State also offers several small poker rooms, including Buffalo Rivers (being built), Casey's Whitefish, Crystal Lounge, Montana Nugget, Oxford Saloon, Silver Creek Casino, and Slivertip.
Missuola's Silver Creek has the largest poker room with three tables. When it opens, Buffalo Rivers' room will be the biggest with four tables.
In either case, Montana's poker rooms aren't very large, meaning the best poker games are held in bars.

Social Gambling
Montana's constitution exempts social gaming from illegal gambling in section 23-5-112 (13)(c), which you can see below:
"The term does not include social card games of bridge, cribbage, hearts, pinochle, pitch, rummy, solo, and whist played solely for prizes of minimal value."
Statue 23-5-306 mentions that "a permit is not required for social games played for prizes of minimal value."
This means that you're free to play home poker, have office betting pools, and engage in any other form of private gaming in Montana. Just be sure that nobody is banking the games, charging fees, or profiting in any other way.

Sports Betting
Along with Delaware, Nevada, and Oregon, Montana is one of the few states that can offer legal sports betting.
The reason why is because they were grandfathered into the Professional and Amateur Sports Protection Act (PASPA) of 1992, which bans sports betting on a federal level.
Unlike Nevada, Montana isn't allowed to offer full-blown sports betting. Instead, they offer fantasy football and racing games, where you choose individual players/drivers.

Tribal Casinos
Tribal casinos make up a small minority of the gaming establishments across Montana.
Most of the tribal casinos offer electronic gaming, including slot machines and electronic blackjack & roulette tables.
These venues have a couple of advantages over Montana's non-tribal casinos, including no limit on video lottery machines and being exempt from the statewide smoking ban.
Where Can I Gamble in Montana?
Online Gambling Options in Montana
In 2005, Montana banned online gaming and left no room for interpretation. Here's their definition of illegal online gaming, as per statue 23-5-112 (21)(a):
"Internet gambling, by whatever name known, includes but is not limited to the conduct of any legal or illegal gambling enterprise through the use of communications technology that allows a person using money, paper checks, electronic checks, electronic transfers of money, credit cards, debit cards, or any other instrumentality to transmit to a computer information to assist in the placing of a bet or wager and corresponding information related to the display of the game, game outcomes, or other similar information."
The only exceptions for this law include licensed simulcast facilities, state lottery tickets, and "advance deposit wagering with a licensed advance deposit wagering hub operator allowed by Title 23."
The language of Montana's criminal code is aimed at iGaming operators. And they've covered every loophole to ensure that operators know it's illegal to offer services here.
We imagine that this language could be used to an online gambler in Montana, or at least get a judge to listen.
But we can't find one instance of Montana arresting an online gambler or illegal iGaming operator. For this reason, you'll find offshore casinos, poker sites, and online sports betting in Montana.
We're not saying that the Big Sky Country will never pursue an operator or individual over online gaming. But for the time being, they don't seem concerned with busting anybody.
Daily Fantasy Sports are Illegal in Montana
We've seen states that outlaw online gaming, but treat daily fantasy sports (DFS) differently by ignoring the activity.
But Montana isn't one of these states because they ban DFS in section 23-5-802:
"Fantasy sports leagues authorized. It is lawful to conduct or participate in a fantasy sports league, including a fantasy sports league that is operated under a parimutuel system of wagering regulated under Title 23, chapter 4. It is unlawful to wager on a fantasy sports league by telephone or by the internet."
As you can see, season-long fantasy sports and pari-mutuel leagues are legal in Montana. But DFS sites like DraftKings and FanDuel are illegal in the Treasure State.
In 2005, State Rep. Forest Mandeville made legislative efforts to legalize DFS through House Bill 181. But HB 181 never made it out of a committee hearing.
Since then, no serious legislative efforts have been made to legalize DFS.
Montana Gambling FAQ
Why Doesn't Montana Have Any Sportsbooks?
As covered before, Montana is exempt from the federal ban on sports betting. Because of this, they offer Sports Action products that are hybrids of fantasy sports and pari-mutuel wagering.
But unlike Nevada, you won't find any legal sportsbooks in Montana.
One reason why is because Montana's voters and legislators aren't obsessed with gambling. Another reason is because the Treasure State would face legal backlash from professional and collegiate sports leagues if they tried to expand sports betting.
Ever since the Chicago Black Sox Scandal of 1919, pro sports leagues have been leery of sports wagering. And Oregon continually faced backlash over their Sports Action program until 2007, when their lottery abolished it.
Today, Nevada is the only state with full-service sportsbooks. Meanwhile, Delaware and Montana offer limited Sports Action betting.
Is My Poker Game Legal in Montana?
Yes. The Treasure State offers some of the most-liberal laws on social gaming in the country.
The main restriction is that the host can't take a cut of the action, or profit in other ways like selling drinks and food. You also want to avoid having drugs and/or illegal firearms on the premises, which give police cause for raiding poker games.
As long as you keep everything within the law, you won't have a problem with holding a private gambling function in your home.
Why do so Many Bars in Montana Offer Gambling?
Nobody will mistake Montana for Nevada in terms of gambling. But you might be surprised to know that they offer almost as many licensed gaming establishments.
The reason why is because any bar can apply for a gambling license. The license fees are cheap, and this is a good way to bring in more customers and keep them entertained.
Unlike tribal casinos, bars and other liquor establishments are limited on how many video lottery terminals they can have. This rule helps tribal casinos compete in Montana's saturated gambling market.
History of Montana Gambling Laws
Montana bans all forms of gambling
Horse racing begins without legal grounds
State passes Hickey Act, which allows counties to approve table games
Voters overwhelmingly reject bill to legalize casino gaming
Congress approves Card Game, Bingo, Raffles and Sports Pool Act
Voters reject bill to create gaming commission
Montana Supreme Court declares that video poker games are illegal like slots
Legislatures approves Video Poker Machine Act, which allows bars to offer 5 video poker machines
Voters approve Montana Lottery, and tickets go on sale the following year
Senate Judiciary Committee votes down blackjack legislation
State signs casino compacts with four tribes, including Cheyenne, Crow, Fort Peck, and Rocky Boy
Congress votes to ban online gaming
Bill to legalize daily fantasy sports is voted down
Conclusion
Since approving a tribal gaming compact in the mid-1900s, Montana has made few changes to their gambling industry. The only major change includes banning online gaming, making them one of the few states to do so.
But this doesn't mean that Montanans are void of gambling options. In fact, they have a thriving bar and charity gaming industry, with over 300 casinos across the state.
None of these casinos are very big, but they at least give residents the ability to play bingo, keno, poker, raffles, sports-style games, and video lottery terminals.
Montana is also lenient with their social gaming laws, allowing you to host private gambling as long as you're not taking a cut.
The one thing we'd like to see, though, is state legislators revisiting the online gaming subject. If Montana doesn't want offshore sites operating in their state – which is happening by the way – they should legalize and regulate the activity.
This would not only give Montanans another gambling option but also generate more tax revenue for the state.
But until that happens, your best online gaming options in the Big Sky State remain offshore casinos and poker sites.