Deal Draw Poker
Deal Draw Poker is a variation of classic video poker where you get action on both the hand you're first dealt and on the hand after the machine has processed your discards. It's similar (but slightly different) from another, older variation called Double Pay Poker.
The purpose of this page is to describe in detail how to play Deal Draw Poker. We've included everything you need to know about the game, including details of the pay tables and the correct strategy to use when playing. We also offer a section with advice about where to play online for free or for real money.
How to Play Deal Draw Poker
Deal Draw Poker is played almost exactly like any other video poker game, but with a couple of differences. (This could be said for most video poker variants, in fact.)
In a standard video poker game, you'd place a bet of between 1 and 5 coins. In Deal Draw Poker, you get paid off twice, so you start off by placing a bet of between 2 and 10 coins. This pays for the action on both hands.
If you've read any of the other pages on this site, you probably already know that you should always play for max coins—you probably already know why, too. But if you missed it, here's why:
When you play for max coins, the payoff for a royal flush is 800 to 1. If you play for fewer coins, the payoff for that hand drops to 250 to 1. That's a huge difference, and it has a serious effect on the game's payback percentage.
Once you've placed your bet, you're dealt a hand of 5 playing cards. In any other game, you'd immediately decide which cards to keep and which ones to discard. But in Deal Draw Poker, there's an extra step in the middle—you get paid based on the value of your initial hand.
THEN you get to discard and try to improve your hand. Based on the final value of your hand after replacing those cards, you get paid off again.
It's entirely possible to win nothing on either hand. It's also entirely possible to get a royal flush on your initial deal and get paid for it twice. Anything in between is possible, also.
You'll notice a couple of aspects of video poker in general that apply to Deal Draw to a greater or lesser extent, too:
The first is that this is a game of skill. When you're playing a slot machine, you have no decisions of any consequence to make. But during any hand of Deal Draw Poker, you have 32 possible combinations to choose from when it comes to which cards to keep and throw away. Only one of those combinations is the one with the best expected return.
The second is that unlike slot machines, the odds in Deal Draw Poker are transparent. That's because the game is based on a 52 card deck. We know what the odds are of getting any particular card or hand. But when you're playing a slot machine, you have no way of knowing the probability of getting any particular symbol.

This means you can pick and choose video poker games—Deal Draw Poker games included—based on which games offer the best odds.

One final gameplay wrinkle to consider is this:

Many video poker games can be played in multi-line form, and Deal Draw Poker is one of these. In fact, this is one of the improvements they made in this game versus Double Pay Poker—the latter wasn't available in a multi-line version.
You can play 3 hands, 5 hands, or 10 hands, all at the same time. You're dealt the same 5 cards on each of those lines for your initial hand, but then when it's time to draw replacement cards, each line is treated separately and gets different cards.
This increases the amount of money you can get into action on every hand dramatically. In fact, Deal Draw Poker probably isn't ideal for low rollers. You're already doubling the size of your standard bet, but now you're doubling the size of that bet and betting on multiple hands.
Deal Draw Poker Pay Tables and Odds
The pay tables for these games are unusual, because you have one set of payouts for the hands on the deal and a different set of payouts for the hands after the draw. Deal Draw Poker, like many of these new video poker variations, adds its gimmick on top of an existing game. You can find Deal Draw Poker in the following variations:
Bonus Poker
Bonus Poker Deluxe
Jacks or Better
Deuces Wild
Double Bonus
Double Double Bonus
Triple Double Bonus
Here's an example of a possible pay table for a Deal Draw Deuces Wild game—this pay table is for the initial hand, only: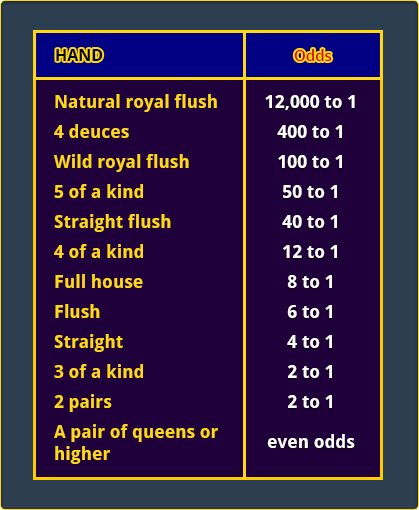 You'll notice that those payouts are quite different from what you'd normally see on a Deuces Wild game. That's because these are the payouts based on getting this hand on an initial deal. They're easier to get when you're able to discard cards and draw new ones, and the payouts reflect that.
The payback percentage for the pay table above is 96.15%, which is nothing to write home about. But keep in mind that this payback percentage is also going to be combined with a payback percentage for the pay table that applies after the draw.
We haven't included pay tables for these games after the draw, because you can find them on the appropriate game pages for each of these games.
If you know much about gambling math, you're probably familiar with what the payback percentage is. But if not, here's a quick explanation:
When a casino manager, a slot machine designer, or a gambling writer discusses a gambling machine, the math is defined by the payback percentage. This number is simply 100% minus the house edge. It's the amount of each bet that, over enough time, the machine should pay back to the player—hence the name.
In almost all instances, this number is less than 100%. This should surprise no one, as casinos wouldn't be able to stay in business long if they didn't have an edge over the player.
The nice thing about video poker is that the house edge is relatively low, the payback percentage is relatively high, and the games are a lot of fun—especially if you know how to play with the appropriate strategy.
Deal Draw Poker Strategy
The strategy for Deal Draw Poker doesn't differ from the strategy for the base game. You're not making any decisions which can affect your payout on the deal, so the pay table is what the pay table is.
But once you start deciding which cards to keep and which cards to discard, you should just follow the correct basic strategy for that game. You can find strategy charts for the various games on our pages devoted to each of those games here on the site.
These strategy charts are really nothing more than lists of hands in order from best expected results to worst. You start at the top with the hands that offer you the best expected results and keep those when you can. Then you move on to the lower ranked hands until you find a hand that matches the cards you have. Those are the cards you keep.
Where Can You Play Online for Free or for Real Money
Deal Draw Poker is an IGT game. As such, you can find a version of it you can play for free at VideoPoker.com. But most online casinos—especially those that cater to customers in the United States—don't offer this game for real money.
If you think this game sounds interesting, look for versions of the base games at the online casinos we recommend here on the site. Ignition Casino and Slots.lv are 2 great casinos for video poker players. They offer state of the art software and realistic games.
We always prefer playing gambling games for real money versus playing them for free. A play money version of a game might work as a training tool, but it's no substitute for the thrill of actually risking money and potentially winning money.
Conclusion
Deal Draw Poker isn't one of the most fascinating video poker variations we've found, but it has its charms. The idea of getting paid (at least potentially getting paid) twice on each hand has a certain appeal to it.
Like many variations, this isn't a game unto itself. It has a base game underneath it, like Jacks or Better or Deuces Wild. We suggest using the appropriate strategy for whichever base game you're playing.
Our Recommendation
We don't know of any Internet casinos offering real money versions of Deal Draw Poker, but you can find any of the base games at most of the reputable casinos we recommend on this site.

Sign up Bonus
250% Up To $5,000
READ REVIEW
Visit Site
X