Live Dealer Baccarat at Online Casinos
Baccarat is an exciting card game that is easy to learn and fun to play. One fun way to enjoy the game is to play live dealer baccarat at the top online casinos.
If you're ready to start playing, these are the best live baccarat sites online right now.
Rank
Online Casino
Exclusive Bonus
Get Started

#1

Wild Casino

250% Up To

$5,000

Visit Site

Visit Site

#2

Las Atlantis

280% Up To

$14,000

Visit Site

Visit Site

#3

El Royale

250% Up To

$12,500

Visit Site

Visit Site

#4

Bovada Casino

100% Up To

$3,000

Visit Site

Visit Site

#5

Ducky Luck

500% Up To

$7,500

Visit Site

Visit Site

#6

Super Slots

250% Up To

$6,000

Visit Site

Visit Site

#7

Drake Casino

300% Up To

$6,000

Visit Site

Visit Site

#8

BetUS Casino

200% Up To

$5,000

Visit Site

Visit Site

#9

Ignition Casino

150% Up To

$1,500

Visit Site

Visit Site
You can trust that these are the best online casinos for live baccarat because of the extensive process we use to rank real money gambling sites.
We have a team of experienced gamblers who try out each site and rank it based on several factors to determine which sites offer the best value.
Trying the game is especially important for online live baccarat because the quality varies significantly from one casino to the next.
If you are ready to start playing live baccarat online for money, simply choose of the live casinos above. Once you make a deposit, visit the live dealer section and start playing!
We will use the rest of this page to answer any questions you may have about playing live baccarat games online.
Best Live Baccarat Games Online
Baccarat started in Italy, but it spread across the world, with new countries creating their own versions along the way. Today, there are many variants of baccarat that you can play.
Each live baccarat online casino has several options to choose from. Let's take a look at a few of the different variations that are available from different software providers.
Live Super Six from Visionary iGaming
Visionary iGaming, or ViG, is a software developer that specializes in live dealer casino games, including live baccarat.
They offer a few different side bets and customization options, but all of ViG's live online baccarat games are based on the super six variation.
Super six is a no commission variation of baccarat. In traditional baccarat games, the casino charges a commission on banker bets. The commission is there to ensure that the casinos make a profit.
Instead of charging a commission, super six baccarat has different rules. All banker and player bets pay even money unless the banker wins with a six. In that case, the payout is only 50% of your initial stake.
If your baccarat strategy is to always bet on the banker, you will appreciate super six because most of your payouts will be the full amount. Instead of winning $9.50 on a $10 bet, you will get $10.
You may have a few disappointing wins if the banker happens to win with a six. But, because that happens rarely, your bankroll shouldn't take too much of a hit when playing live baccarat for money.
Visionary iGaming also offers side bets on their live baccarat apps. They also offer players several different roadmap options to track how many times the banker or the player bet has won.
One side bet offers insurance against a banker six. If you play the side bet, you can win 12 to 1 on your side bet to make up for the banker bet's 50% payout.
Visionary iGaming games are available at most of the top US online casinos.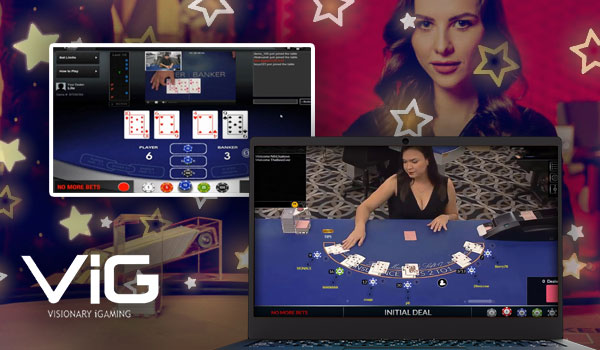 Fresh Deck Studios Punto Banco
Fresh Deck is another software developer that specializes in live dealer casino games. They strive to offer a more sophisticated, luxurious, and premium product than traditional live dealer games.
Punto banco is the most popular baccarat variation in the United States, so that is the only variation that Fresh Deck studios offer.
It is the most straightforward baccarat variant. There are three betting options, as follows.
You can bet that the banker hand will win
You can bet that the player hand will win
You bet on the tie
Both the banker hand and player hand should have an almost equal chance of winning, but the rules about when each hand will get a third card favor the banker.
So, the banker hand typically wins more often than the player hand. Because the casino doesn't want players to take advantage of these statistics, they charge a commission on banker bets.
The player hand pays even money if it wins, but the banker hand only pays 95%. If you bet $10, you would receive $9.50 in return.
Most players choose to bet on either the player or the banker, but you can also bet on a tie. If you happen to win a tie bet, the payout is 8 to 1 or 9 to 1, depending on the casino rules.
Fresh Deck's live dealer baccarat games are sophisticated and straightforward. They have high-quality graphics, real-time streaming, and well-trained dealers who will interact with each player.
If you are looking for a classy and straightforward live dealer baccarat casino, you will enjoy the sites that use Fresh Deck software.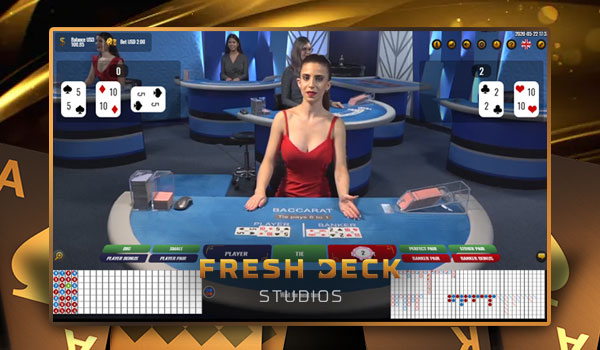 Baccarat Squeeze from Playtech
Baccarat squeeze is another prevalent variation that allows players to interact with the cards. It is available from several software providers in different formats, including Playtech.
They offer four different baccarat live variations, but baccarat squeeze is the most popular.
To understand baccarat squeeze, you need to understand how the game works in land-based casinos, specifically in Asian countries.
East Asian gamblers are particularly superstitious and have created several rituals that they incorporate when they play baccarat.
Superstitious players often take the cards from the dealer and carefully bend them to see how many suit symbols are on each edge.
They cover up the number in the corner, so they don't know the exact number. But the player can figure out if the card is close to the number they need based on the number of symbols on each edge.
| | | |
| --- | --- | --- |
| Symbols on Short Edge | Symbols on Long Edge | Potential Numbers |
| 1 | 0 | 2 or 3 |
| 2 | 2 | 4 or 5 |
| 2 | 3 | 6, 7, or 8 |
| 2 | 4 | 9 or 10 |
| 0 | 0 | Ace |
| Square Edge | Square Edge | Face card |
Once they have figured out if the card has a possibility of being the card they need, these players have different rituals that they use.
Some players might blow on the cards to blow away a high number or rub it on the table to make the number they need appear.
Whether you believe in superstitions or not, the rituals of bending and folding the cards is a fun and exciting part of baccarat tradition. But, you cannot handle the cards yourself when you gamble online.
Software developers realized that players were missing out on the excitement of these rituals, so they created a live casino variation of baccarat squeeze to give players the same feeling.
You still cannot touch the cards yourself, but when you play live online baccarat squeeze, the dealer will bend the cards toward the camera so that you can see the suit symbols before the card gets revealed.
Playtech's baccarat squeeze is a slow-paced and relaxing way to play live baccarat for real money.
You can enjoy the superstitions and anticipation that comes from seeing a card revealed slowly, and the slower pace of the game will allow you to play longer without spending as much money.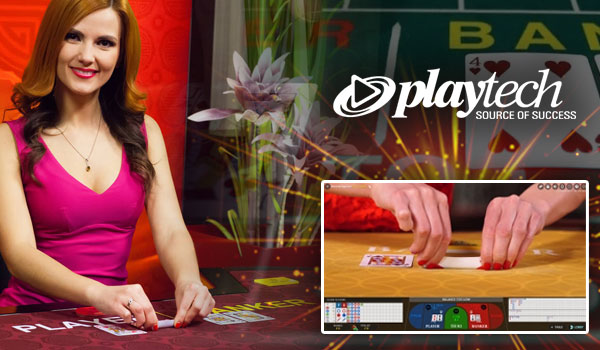 Lightning Baccarat from Evolution Gaming
Another baccarat variation that adds a lot of excitement to the game is Lightning Baccarat from Evolution Gaming.
This software developer has ten different variations of live dealer baccarat online, but no one else offers this particular option. Actually, you can't find Lightning Baccarat in land-based casinos, so it is truly one of a kind.
Lightning Baccarat follows the same rules as punto banco, except it has a lightning multiplier option.
Before the dealer starts dealing, but after bets have been placed, a random number generator will randomly select between one to five cards. Those cards will be randomly assigned a multiplier amount of 2x, 3x, 4x, 5x, or 8x.
If the lightning card is part of your winning hand, the payout will be multiplied by the assigned multiplier.
The best part of Lightning Baccarat is that the multipliers compound. If you happen to get two or three multiplier cards in one hand, each of the multipliers will be multiplied before being applied to your payout.
If you got two 8x multipliers, your payout would be multiplied by 64x. If you had three 8x multipliers in a single hand, your payout could get multiplied by 512x.
This compounding effect also applies to tie bets. If you bet on a tie and have lightning cards in both the banker and player hands, you could potentially win up to £500,000 in a single hand.
Those instances are rare, but they do happen. Even if you only have a single multiplier, it still gives you an easy way to increase your payout.
You do not need to do anything to qualify for the lightning option. It is not a side bet where you have to choose to play it or not. Everyone at the table automatically participates in the lightning multiplier.
However, there is a fee involved. Instead of collecting random side bets, Lightning Baccarat charges a 20% commission on all bets, whether they win or lose.
That 20% fee is the only way that the live dealer casinos can make a profit on a game with such massive potential payouts with such low risk.
Lightning Baccarat is a fun variation that adds a lot of excitement because it can offer significant payouts without increased risk. The 20% commission is a small price to pay if you collect one of those multipliers!
It is only available at online casinos with live dealer baccarat from Evolution Gaming, so it is quite an exclusive game.
If you are lucky enough to have an Evolution Gaming casino available, you will be sure to enjoy playing this live casino baccarat game for real money.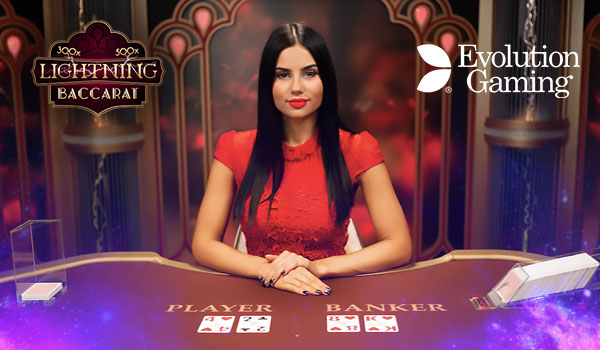 Seven Up Baccarat from Opus Gaming
Opus Gaming offers another impressive online live baccarat variation that is fantastic for players that want to avoid paying the 5% commission on banker bets.
Seven up baccarat follows the same rules as punto banco, but it has different payouts for specific situations.
Banker wins with any number other than seven: pays 1:1
Banker wins with a seven: pays 1.5:1
The player wins with any number other than seven: pays 1:1
The player wins with a seven: pays 0.5:1
Tie with any number other than seven: pays 7:1
Tie with a seven: pays 9:1
You may win a smaller amount on individual hands, but it lets you avoid paying the commission every time the banker wins.
This variation is particularly beneficial for players that bet on the banker every time. The lower than average payouts only apply on the player and tie bets, so those will not affect you.
The fact that the banker payout is higher than expected when the banker wins with seven means that you have an excellent chance of winning more hands and money, as long as you bet consistently.
There is also an additional side bet that lets you win additional payouts if multiple sevens get dealt in a row. This side bet is unique because it covers multiple hands, and it is not dependent on winning the main bet.
Seven up baccarat is a unique variation that is particularly beneficial to real money live baccarat players who always bet on the banker.
Other live casino sites have a different version with the same name, so make sure you find one that uses Opus Gaming software if you want to play this particular format of live baccarat online.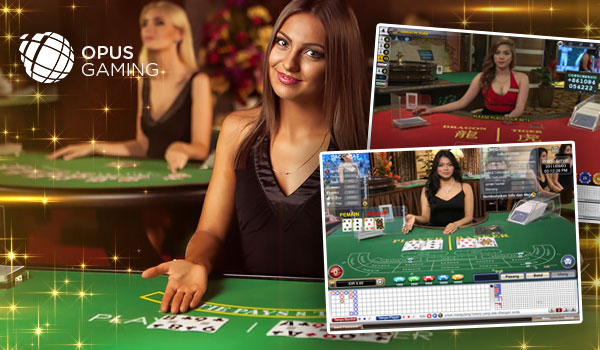 Other Live Dealer Baccarat Games Online
Those are five examples of some of the unique and popular baccarat games you can enjoy at the top live baccarat websites.
Here are a few more options that are available on several live casinos with baccarat.
Dragon Tiger is a two-card version of live baccarat, where each hand only gets one card. Whichever card is higher automatically wins because there is no third card draw.
No commission or EZ baccarat is the same as punto banco, except they do not charge a commission on winning banker bets. Instead, the payout is only 0.5:1 every time the banker wins with a six.
Speed baccarat is the same as punto banco, except that it is faster. The dealer deals the cards face up, and they don't leave as much time between bets. Standard baccarat games typically last 48 seconds, but speed baccarat lasts only 27 seconds.
Controlled squeeze baccarat is similar to squeeze baccarat, but it puts the action in the player's hands. The cards will be dealt face down on a camera that blurs the numbers. Players get to click on parts of the card to reveal the long edge or short edge before seeing the card.
Multiplay allows players to join several live baccarat tables simultaneously. The roadmap will be smaller and will only show the layout you choose. That makes it easy to check all of the tables to see patterns at a glance.
Each of these live dealer baccarat games offers a unique experience that is tailor-made for online players.
Try a few variants at our top-rated live casino baccarat sites to find the one that you like best.
Side Bets for Live Dealer Baccarat
In addition to the many variations of baccarat live online, there are also several side betting options.
The side bet options available to you vary depending on the live baccarat casino sites you use.
Here are a few side bets that you can play.
Big/Small: A bet on the total number of cards in play (small = four, big = five or six)
Pairs: This side bet is a bet on whether the first two cards in a hand will be the same number. You have to choose whether you think the player or banker will get a pair. Some casinos offer an either pair option.
Perfect Pairs: The same as the pairs bet, except that perfect pairs pay more if the pair happens to be suited.
Dragon Bonus: A unique side bet that is similar to spread bets in sports betting. If you win your main bet, you can win more money by playing the dragon bonus. The payout depends on how much higher the winning hand is than the losing hand.
Dragon Seven or Panda Eight: Both of these side bets apply if the banker's hand wins. If the banker wins with a three-card seven, that is called a dragon seven. When the banker wins with a three-card eight, that is a panda eight.
Super Six Side Bet: This side bet only applies when you are playing the super six variation. It essentially offers insurance so that you don't get a smaller payout if the banker wins with a six.
Color in Majority or All Red vs. All Black: These bets are not as popular, but they refer to the number of cards of a specific color. You can either bet that all of the cards in play will be black or red, or you can bet that one color will have the majority.
This is what the payouts and the house edge look like for these baccarat side bets.
| | | |
| --- | --- | --- |
| Side Bet | Payout | House Edge |
| Big/Small | Small: 1.5:1/Big: 0.54:1 | Small: 5.38%/Big: 4.35% |
| Pairs | 9:1 or 11:1 | 10.36% |
| Perfect Pairs | 25:1 | 14.53% |
| Dragon Bonus | Varies | Banker: 9.37%/Player: 2.65% |
| Dragon Seven or Panda Eight | 40:1 and 25:1 | Dragon 7: 7.61%/Panda 8: 10.19% |
| Super Six Side Bet | 12:1 | 29.98% |
| Color in Majority or All Red vs. All Black | Varies | 4.21% – 14% |
You will have to decide for yourself which side bets are worth the risk. They are all riskier than the traditional baccarat bets, but they are an excellent way to add some variety to your online baccarat live dealer experience.
Live Baccarat Compared
Live baccarat online is very different from the digital version of the game that is also available online.
Both of those versions are also different from a land-based gambling experience.
Live vs. Digital Baccarat
When you gamble online, you typically have two options. You can play online baccarat with a live dealer or play a digital version of the game.
Live casinos with baccarat have a human dealer who is filmed dealing the cards in a studio or at a land-based casino. The video feed is live-streamed to your computer or mobile device.
Digital baccarat uses a random number generator to deal the cards. It is a solitary game with no interaction with other people. The whole scene is animated instead of filmed.
The lack of interaction with other people is the most significant difference between digital and live casino baccarat online.
Live dealer games give you a chance to interact with the dealer through the chat feature, and the dealer can respond in real-time.
You also get to choose the dealer, and you can interact with other players through the chat as well. Digital baccarat does not offer that option because there is no one to interact with.
Most people prefer to play live baccarat online, but there are also advantages to the digital version. Here are the benefits of each kind of baccarat.
| | |
| --- | --- |
| Live Baccarat Advantages | Digital Baccarat Advantages |
| Interaction with the dealer and other players | No need to tip the dealer |
| More variations and side betting options | More on-screen customization: choose your deck, color schemes, sound effects, etc. |
| Authentic casino experience | No distractions |
| Higher betting limits | Go at your own pace: pause the game when you want to |
You can also choose to play most digital baccarat games for free, whereas most online casinos only allow you to play live baccarat for real money.
Whichever way you go, baccarat is always a fun and exciting game. But the live dealer version offers you a more social experience that is closer to what you would experience in a land-based casino.
Live Baccarat Online vs. Land-based Baccarat
Land-based gambling is an entirely different experience than gambling online, especially when you are playing baccarat.
Playing live baccarat online in the USA is a lot easier than visiting a land-based casino. Depending on where you live, you may have to travel a few hours or more to get to a land-based casino.
Once you get to the casino, there is no guarantee that baccarat will be available. Baccarat is becoming more popular, but many casinos in the US still do not offer it.
Tribal casinos, in particular, have fewer baccarat tables than commercial casinos.
If you do find a land-based casino that offers baccarat, you might be intimidated to join the game. Live table games are always intimidating if you've never played before, but that's even truer for baccarat.
Many land-based casinos have designated baccarat rooms. These high-class rooms are incredibly luxurious.
Players often get free champagne, and there are extra VIP services available in the baccarat room.
Some casinos have dealers in tuxedos and women in ball gowns in the baccarat room to add to the ambiance.
The sophistication in the baccarat room might make some people feel elegant, but it is also overwhelming for some players. You might feel underdressed, or like you don't fit in with the other players.
All of the opulence in the baccarat room comes at a cost. Land-based casinos have much higher betting minimums for baccarat players than online casinos.
Most land-based casinos require baccarat players to play at least $25 per hand. When you play online, you can typically play for $1 or $5, depending on the casino.
Those lower minimum bets are significant for low-stakes players and beginner baccarat players.
If you have never played before, you may want to try online baccarat for free to get used to the game. From there, you can gradually increase your bet size, but that is only possible when you play online.
Some people do prefer playing baccarat in a land-based casino, of course.
There is a certain excitement and social experience to playing baccarat live that is undeniable.
Those same factors can be intimidating for many players. When you play live baccarat online for money, you can interact as much as or as little as you want to.
There is no pressure to fit in with other players or meet specific etiquette requirements. You don't have to get dressed up when you play live casino baccarat online.
Some live baccarat sites give you the option of seeing what other players bet on. You can see other players that won at the same time as you did and congratulate them in the chatbox.
These features give you the option of interacting with other players, but you can also close the chatbox and ignore everyone if that is what you prefer.
Some people may prefer the land-based casino atmosphere, but live online baccarat games are far less intimidating and far more convenient for most players.
Play Live Dealer Baccarat for High Stakes
When you play live casino baccarat online for money, it is crucial that you find a game that works for your bankroll.
Low stakes players can typically find any bets they are comfortable with when they play online, but it is sometimes more challenging for high stakes baccarat players.
Fortunately, the best live dealer baccarat sites offer games that work for most high stakes players.
Digital baccarat games often have lower betting limits, typically around $1,000. But most live dealer casinos typically allow bets between $2,000 and $10,000.
High stakes players are used to getting the VIP treatment from land-based casinos, so online casinos have tried to find ways to meet their needs as well.
If you regularly play at or above the maximum betting amounts, some high roller online casinos have private games available. You can choose your dealer and interact with them, one-on-one at your own private table.
These high-limit online tables have much higher betting limits, up to $50,000 per hand in most cases.
Because it is a private table, there is no need to wait for anyone else. The dealer will deal the cards as soon as you have placed your bets.
They also offer dedicated customer service, with an on-site room manager who is there to address any concerns you might have.
However, you have to get special approval from the online casino to get invited to these high-limit live baccarat sites.
Once you get high stakes player status, you will get other perks from the casino. They will often remove deposit limits, offer prioritized customer service, and give you special bonus offers.
The Best Live Baccarat Online Casinos are Waiting
Baccarat is one of the best casino games available because there are so many variations and a relatively low house edge.
Live dealer online baccarat is the best way to play this fantastic casino game because it offers the convenience of online gambling with the interactive experience you get in a land-based casino.
You can start playing live casino baccarat for real money by joining any one of the sites we recommended.
They are the best online casinos with live baccarat. All you have to do is create an account and make a deposit. You will be playing baccarat in no time!
Live Online Baccarat FAQ
How Do You Play Baccarat?

Can I Play Live Baccarat on Mobile?

A

Playing live baccarat on a mobile device is the same as playing on your computer. You just need to visit one of the top-rated live dealer baccarat sites that we recommend from your phone or tablet's internet browser, or use a

live dealer casino app

.

What is a Baccarat Roadmap?

A

In baccarat, the roadmap is the board that tracks the results of all the previous hands. Players use the roadmap to look for patterns like a banker-heavy shoe, or several player wins in a row. Live baccarat sites offer many roadmap options, each with a different way to track information to help you win.

What is the Best Strategy for Live Baccarat?

A

The best strategy will depend on which baccarat variation you choose to play. In most cases, betting on the banker is the better bet because the third-card rules favor the banker. However, there are instances when you might want to

reconsider betting on the banker in baccarat

.

How Many Baccarat Hands Can I Play Per Hour?

A

One of the benefits of playing baccarat online is that you can play much faster than you would in a land-based casino, which means you can play more hands per hour. You can play 75-100 hands per hour at a live dealer baccarat table, which is about double what you can play in a land-based casino.

Sign up Bonus
250% Up To $5,000
READ REVIEW
Visit Site
X