Slot Review of Avalon 2 from Microgaming
You are probably familiar with some part of the legend of King Arthur. Most people recognize the name of his sword, Excalibur, and Merlin, the wizard who helps him.
One detail that often gets overlooked is where Excalibur comes from. According to the legend, Excalibur was forged on an island called Avalon. When he died, King Arthur chose to be buried on the same island.
This mythical island is the setting for the Avalon 2 slot machine from Microgaming. The whole game centers around the theme of King Arthur and other characters from his story.
Avalon 2 Slot – Key Details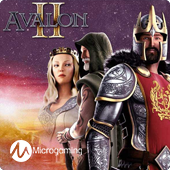 Theme: King Arthur/Merlin
Manufacturer: Microgaming
RTP: 96.5%
Reels/Rows: 5/3
Paylines: 243
Minimum bet: $0.30
Maximum bet: $7.50
Maximum Prize: 120,000 coins
Progressive Jackpot: No
Volatility: Medium
Mobile Compatible: Yes
Microgaming is known for creating incredible casino games, and Avalon 2 is no exception. This exciting slot includes 243 pay lines and an opportunity to win jackpot prizes of up to 120,000 coins.
Avalon 2 is the perfect game for low-stakes players. You can start playing Avalon 2 for only $0.30 per spin, and the max bet amount is $7.50 per spin.
High-stakes players might be frustrated by these low limits. But if you can get past the low betting limits long enough to try it, you will see that this game still has a lot to offer.
The bonus features on Avalon 2 are incredible. There are multiple random features that can get triggered at any time, and a Grail Quest bonus offers eight different bonus options.
Keep reading out Avalon 2 slot review to find out more information about this fascinating slot game and all of its bonus features.
Avalon 2 Slot Game Overview
Avalon 2 sticks to the King Arthur theme with detailed graphics and symbols that represent characters from the story.
Behind the reels, you can see a murky forest on the bottom with a cloudy sunset sky on the top. There are castle towers on both sides of the reels.
These are the high-paying symbols.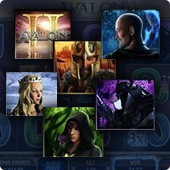 Avalon 2 logo
King Arthur
Merlin
Guinevere
Morgan
Black Knight
Each of these symbols has something that represents the Dark Ages time period. King Arthur and the Black Knight both have knight's armor. Guinevere has a small crown, and Morgan is wearing a cloak.
While those details evoke the time period, the overall appearance of the symbols is far more modern. Microgaming has created amazingly lifelike 3D symbols.
If you strip away the armor and other Dark Ages references, these symbols look like they could be models from a modern magazine. They are incredibly detailed and well-designed.
In contrast, the low-paying symbols are surprisingly plain. The nine through ace symbols are basic symbols. Some of the low-paying symbols have embellishments like a crown or grail, but they don't stand out as particularly Arthurian.
There are three special symbols on the Avalon 2 slot game. First, the game's logo is a wild symbol that can substitute for any of the regular symbols.
Avalon 2 has a holy grail scatter symbol that activates the Grail Quest bonus feature. It also has a Lady of the Lake symbol that turns into an expanding wild symbol.
Avalon 2 Online Slot Machine Features
Now that you know the basics of how to play Avalon 2 let's explore the bonus features in more detail.
We will answer a few of your most essential questions in this section, including information about how to win Avalon 2. Then we will look at the features on the Avalon 2 online slot machine.
What Is the Maximum Win on Avalon 2?
The maximum win on Avalon 2 is 120,000 coins. To win that much, you have to get the maximum multipliers from one of the game's bonus features.
What Are the Avalon 2 Bonus Features?
Avalon 2 has multiple bonus features, including multipliers, wild symbols, and free spins. The Merlin bonus and Lady of the Lake features are available during the base game.
All of the other bonus features are part of the Grail Quest. There are eight options in the Grail Quest, and you have to get three scatter symbols to activate it.
Wild Symbols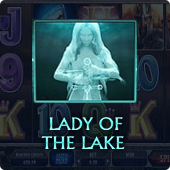 The Avalon 2 logo is the primary wild symbol, but the Lady of the Lake symbol is another wild symbol.
Any time the Lady of the Lake symbol appears, it will expand to cover the entire third reel. You get more wins as she takes over the reel and substitutes for any symbol other than the scatter symbol.
There are some critical distinctions between the Avalon 2 wild symbol and the Lady of the Lake wild symbol. One of the most crucial details is that the Lady of the Lake wild symbol can substitute for the Avalon 2 wild symbol.
If there are already two Avalon 2 wild symbols on the reels, the Lady of the Lake wild will act as a third. That means you get a payout of 25x.
| | |
| --- | --- |
| Avalon 2 Wild | Lady of the Lake Wild |
| It can appear on any reel | It only appears on the third reel |
| Substitutes for any symbol other than scatter and Lady of the Lake | Substitutes for any symbol other than the scatter |
| Does not expand | Expands to cover the whole reel |
| Offers a cash prize for multiple wilds | Does not offer a cash prize for multiple wilds |
The Lady of the Lake wild symbol tends to be more exciting because it takes over the reels with an ethereal animation. But both of these wild symbols have a lot to offer.
Merlin Bonus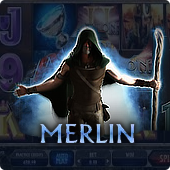 Whenever the Merlin bonus icon appears on the Avalon 2 online slot, you get another bonus feature. Keep in mind that the Merlin bonus icon is different from the Merlin symbol on the paytable.
The Merlin bonus is entirely random, so it can appear at the end of any winning or non-winning spin.
If Merlin appears on a winning spin, you will earn a multiplier that will be applied to that prize. When Merlin appears on a non-winning spin, you get an automatic cash prize of up to 20 times your bet.
No matter when Merlin appears, you will be glad to see him because he always offers a bonus. Those bonuses are especially valuable when you play the real money Avalon 2 slot.
Grail Quest Bonus
The Grail Quest bonus feature is the Holy Grail of slot bonuses. Any time you get three scatters on the reels, you will have a chance to help King Arthur on his quest to recover the Holy Grail.
There are eight bonuses as part of the Grail Quest. Sometimes, you will get to choose which bonus you want. Other times it will be selected for you.
Lake of Legend is always the first bonus game, and the Avalon bonus is the last one you can earn after you have activated all the other bonuses.
Here is more information about each of the bonuses that are part of the Grail Quest.
| | | |
| --- | --- | --- |
| Bonus | Type | Details |
| Lake of Legend | Dice mini-game | Reforge Excalibur by rolling the dice. Each number on the dice represents a fragment and a multiplier. You have ten chances to rebuild Excalibur. |
| Misty Vale | Free spins | Choose a symbol to be wild during 15 free spins. Any win with your wild symbol gets an automatic 2x multiplier. |
| Whispering Woods | Pick-and-click | There are five shields with different multipliers. You must pick one. |
| Forest Falls | Free spins | You get 20 free spins with trailing/expanding wilds. |
| Dusky Moors | Pick-and-click | Click cards to reveal helmets. You will earn a multiplier for each helmet that you collect. The game ends when you click two of the same helmet. |
| Morgan's Keep | Free spins | You get 20 free spins with a 2x multiplier and rolling reels. The reels will re-spin after every winning spin. You get higher multipliers for each consecutive win. |
| Hall of Shadows | Battle mini-game | You must face the Black Knight. Each successful blow offers a cash payout. |
| Avalon Bonus | Wheel Game | The final bonus is a Wheel of Fortune style wheel with four tiers. You will earn a prize based on what each wheel lands on. |
All of these incredible bonus features make the Avalon 2 casino slot machine a spectacular game. There are so many different ways to win.
The variety of mini-games will keep you interested no matter how long you decide to play. With free spins, pick-and-click games, and other bonuses, there is something for everyone.
How Does Avalon 2 Compare to Avalon?
There are two Avalon casino slot games. This review has been focused on Avalon 2, which is the sequel to Avalon.
Both of these games are based on King Arthur, and there are some familiar characters that are incorporated in both games.
However, some of those characters take on different roles. For example, the Lady of the Lake is the scatter symbol in Avalon, but she is an expanding wild symbol in Avalon 2.
Here are some other similarities and differences between these two games.
Avalon
Avalon 2
Release Date
2006
2014
Theme and Symbols
Symbols related to King Arthur, like a crown, treasure chests, and a coat of arms
Characters from King Arthur's Legend
Wild Symbols
Avalon logo
Treasure Chest (only during free spins)
Avalon 2 logo
Lady of the Lake expanding wild
Scatter Symbol
Lady of the Lake
Holy Grail
Bonus Features
Free spins feature with 7x multipliers
Merlin Bonus
Eight Grail Quest bonus games
Pay Lines
20
243
Maximum Prize
30,000 coins
120,000 coins
Betting Limits
$0.40-$200
$0.30-$7.50
Both the Avalon games are exciting slots with the unique King Arthur theme. The Avalon 2 online casino slot is far more advanced because of technological advances between 2006 and 2014.
If there is one area where the Avalon 2 online slot game clearly outshines its predecessor, it is in the graphics.
The Avalon slot has outdated and cartoonish graphics that cannot compete with the high-quality 3D graphics of the Avalon 2 slot.
We think both Avalon games have something exciting to offer, but Avalon 2 is far more modern and exciting. The various bonus levels games add more variety and valuable bonus features.
Avalon 2 Slot Review Conclusion
That wraps up our review of Avalon 2 by Microgaming. What do we think of it?
Playing Avalon 2 online for real money is an exciting and rewarding experience. Overall, it is an excellent slot game with high-quality graphics and fantastic bonus features.
You can find Avalon 2 at any online casino with Microgaming slots.
We only recommend trustworthy online casinos with Avalon 2. They are licensed and have excellent reputations. Their casino software is as secure as it gets, too.
Every casino we recommend also offers new customer promotions, such as deposit bonuses, free spins, and rebates.
If you're going to play Avalon 2 for real money, you might as well claim a bonus and add some free cash to your bankroll.
So, if you're ready to check it out, then visit one of our recommended online casino sites with Avalon 2 now. If not, here are a few more details about the different aspects of the Avalon 2 slot we didn't cover above.
RTP and Volatility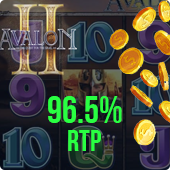 When you play the Avalon 2 slot online, you may notice that you go several spins without any big wins on the base game.
You will most likely get a few smaller wins periodically, but it takes a while to earn anything significant.
On the other hand, if you are lucky enough to activate the Grail Quest bonus features, you will see the wins start piling up.
That is because Avalon 2 is a medium volatility slot machine. The base game offers small, frequent wins, and the bonus features offer more significant payouts. Together, these features equal medium volatility.
The theoretical Return to Player percentage on the Avalon 2 real money slot is 96.5%. That is a decent RTP, which indicates you have good odds of winning in the long run.
Remember that RTP is calculated based on thousands of spins over time. Therefore, it is not a guarantee of the returns you will experience personally.
Graphics and User Experience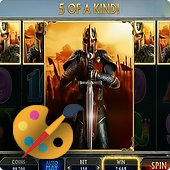 The graphics on the Avalon 2 casino slot are incredibly detailed and realistic. They certainly represent the Dark Ages theme well.
However, it can take some time to get used to them. Some of the characters look far too modern compared to the dreary background.
Playing Avalon 2 for real money is an intuitive experience. The game has features like autoplay that make your experience easier.
It is easy to figure out the betting options and game settings.
Avalon 2 Bonus Features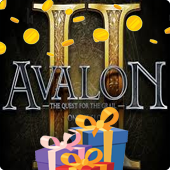 The bonus features are undoubtedly the best part of playing the Avalon 2 slot game on mobile or desktop devices.
There are two excellent bonus features that are randomly triggered during the base game. They add excitement just when the base game starts to get repetitive.
Of course, the Grail Quest feature is the shining star. With eight different mini-games, including five different categories, there is something for everyone.
On top of all of the bonus features that it offers, the Grail Quest gives players a challenge to get to the Island of Avalon. It will motivate you to keep playing to see what happens at each level of the quest.
We think Avalon 2 is a thrilling and well-designed slot game. Now that you have finished reading our Avalon 2 review, you can start playing the game for yourself. You are sure to enjoy it.

Sign up Bonus
250% Up To $5,000
READ REVIEW
Visit Site
X