Aladdin's Wishes Slots
In 1992, Disney released one of the greatest animated movies ever in Aladdin, which grossed $504 million worldwide and won multiple awards.
Audiences were captivated by Aladdin, who, through the help of his genie, rose from a street peasant to marry the beautiful Princess Jasmine.
Realtime Gaming's Aladdin's Wishes follows this story and focuses on how he got three wishes from the lamp's genie. And one aspect that immediately sticks out about this game is how the graphicsare better than most Realtime slots.
What else is good about Aladdin's Wishes?
Find out as we cover this game's pay table, graphics, bonus features, betting options, and offer comparisons to other Arabian slots.
Overview
Aladdin's Wishes takes place in the desert at nighttime. If we follow the movie storyline, the background could describe the scene where Aladdin goes to a desert cave to retrieve the genie lamp.
The background also shows pink genie smoke rising off the reels, and pink rays bursting out of the nighttime sky. The background isn't overly impressive from a visual standpoint, but it's alrightwhen compared to other slots.
This game features a couple of animations combined with music. One animation involves Aladdin floating through the air on his magic carpet with the genie lamp in hand. You'll also hear whatsounds like snake charmer music playing when Aladdin appears in wins.
The other animation involves the genie lamp spinning around with pink rays flashing behind it. You'll also hear music that's similar to beats from many treasure hunting movies.
The only other sound effects include what sounds like a lawn mower cord being pulled during spins, and a ring when your spins finish.
Like most Realtime slots, Aladdin's Wishes won't astound you with its animations and music. But the two animations in this slot are double what you'll find in many Realtime games.
Aladdin's Wishes Slots Pay Table and Graphics
Although Aladdin's Wishes is a generic slot that's not licensed by Disney, we can assume that their symbols are based on the movie characters. We've reflected this notion in the game's symbolsand payouts below.
Also note that there are two pay tables – one for winning combinations without Aladdin involved, and one for wins that include the prince.
Aladdin Wild

Aladdin was both a prince and street peasant in the film. This game depicts him in the latter role, wearing a red bandana, sleeveless vest, and necklace. Aladdin only appears on reels 2, 3,and 4, and he substitutes for everything except the scattered genie lamp.

Jasmine

The lovely princess pays 5,000 credits for 5 symbols, 500 for 4, 100 for 3, 5 for 2, and 2 for 1. With Aladdin, Jasmine pays 10,000 credits for 5 symbols, 1,000 for 4, 200 for 3, and 10 for2.

Genie

The wise cracking genie from Aladdin eventually gained his freedom at the end of the movie. But he's still a genie in this game and pays 1,000 credits for 5 symbols, 150 for 4, 50 for 3, and3 for 2. With Aladdin, he pays 2,000 credits for 5 symbols, 300 for 4, 100 for 3, and 6 for 2.

Abu Monkey and the Palace

Abu is Aladdin's best friend and partner in crime throughout the movie. Abu and the palace pay 500 credits for 5 symbols, 75 for 4, 20 for 3, and 3 for 2. With Aladdin, these symbols pay1,000 credits for 5 symbols, 150 for 4, 40 for 3, and 6 for 2.

Magic Carpet and Sword

The magic carpet and sword both pay 250 credits for 5 symbols, 20 for 4, and 10 for 3. With Aladdin, they pay 500 for 5, 40 for 4, and 20 for 3.

Gold Coins and Crown

These symbols both pay 200 credits for 5 symbols, 15 for 4, and 5 for 3. With Aladdin, they pay 400 for 5, 30 for 4, and 10 for 3.

Vase and Mixed Fruit

The vase and mixed fruit both pay 100 credits for 5 symbols, 15 for 4, and 5 for 3. With Aladdin, they pay 200 for 5, 30 for 4, and 10 for 3.
Symbol Graphics
The symbol graphics are the biggest reason to play this game since they look great. We especially like the detail in Abu, Aladdin, Jasmine, magic carpet, and the genie.
The crown, gold coins, palace, and mixed fruit are less detailed, but they still look nice in the grand scheme of slots.
One more aspect to like about the symbols is that they're all original. Unlike most slots, Realtime resisted the urge to insert generic letters and numbers for the low paying symbols.
The large number of unique symbols make this a much more enjoyable game.
Aladdin's Wishes Bonus Features
The Aladdin's Wishes bonus feature is triggered when you get 3 or more genie lamps on the reels. When this happens, you're taken to a room filled with gold coins and 5 genie lamps on the floor.
The number of lamps that you can choose from depends upon how many lamp scatter symbols triggered the bonus. We only got 3 lamps each time, but choosing three out of five lamps seems like plenty.
The ultimate goal is to pick the lamp that awards you 25 free spins. The bonus feature can be retriggered during these free spins by getting 3 more lamps.
You can also get credit prizes ranging from 2x to 100x your triggering bet.
The volume of Aladdin's Wishes' bonus features isn't high, but we like how the lone bonus has multiple levels and a second screen.
Random Progressive Jackpot
Like many Realtime games, Aladdin's Wishes features a random progressive jackpot that can be won on any spin. This means that even if you only bet one cent per spin or don't form a winningcombination, you're still eligible to win the jackpot.
Many low rollers appreciate this aspect because other jackpot slots can be expensive and/or require a side bet.
When we played Aladdin's Wishes, the jackpot was only sitting at $1,656. But based on other Realtime games that we've seen, this amount will surely grow.
Betting Options
You can change pay lines from 1 20 and adjust your coin denomination from $0.01 to $0.25. This makes for a minimum bet of $0.01 and a max wager of $5.00 per spin.
The $5 max bet is lower than most other Realtime games, but unless you're a high roller, this aspect won't bother you.
You can use auto spin to keep the reels spinning with your selected betting options.
The auto spin feature stops based on your preset conditions, including the following: stop after X number of spins, when a jackpot is won, when a win exceeds X, when your balance increases by X,when your balance decreases by X, and/or when the bonus feature is triggered.
You also have the option to turn the sound volume higher or lower with a sliding bar. Just click the menu button and choose Player Options to bring up the sound bar.
Comparison to Similar Slots
The theme of Aladdin's Wishes is not original because there are a number of slots that either have the Arabian and/or genie angle. Below you can see some of the slots that focus on the sametheme: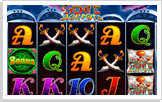 Genie Jackpots
This 5 reel, 20 pay line game's graphics are on par with Aladdin's Wishes, and we especially like the cloudy, purple background.
You can expect some good features from Genie Jackpots, including the 3 Wishes Power Spin. This spin is triggered randomly and allows you to choose a magic lamp that offers you a guaranteed 5symbol payout or a Genie Wild, which expands to fill a reel.
Another feature is the Magic Carpet Bonus, which lets you choose between flying carpets that give you a chance to win up to 1,000x your bet. One more bonus is the Mystery Win round, whichallows you to pick a chest that could award you up to 100x your wager.
Based on the multiple bonus rounds and good graphics, Genie Jackpots compares well to Aladdin's Wishes. And your preference will likely come down to which style of graphics you like the best.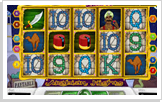 Arabian Nights
This NetEnt game is one of the few Arabian slots we've seen that doesn't involve a genie. Instead, this 5 reel, 10 pay line game lives up to the title by taking players into an ancient deserttown at night.
Symbols that you'll see include a turban wearing man, golden lamp, pointy shoes, sword, fez, and camel. The Arabian man smiles to reveal a gold tooth whenever he appears in a winningcombination.
If 3 or more lamps appear anywhere on the reels, you unlock 15 free spins with a 3x multiplier. These free spins are basic and don't incorporate any theatrics like Aladdin's Wishes does.
Basic is a good word to describe Arabian Nights because it doesn't offer any impressive features or unique aspects that'll leave you wanting to play again and again. Furthermore, the graphicsand animations aren't as good as what Aladdin's Wishes offers.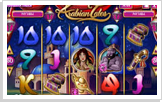 Arabian Tales
An introduction shows you the main characters of Arabian Tales, including an eye patch wearing bad guy, snake wearing woman, genie, sultan, and a tiger.
As the introduction video proves, this is a high quality slot with excellent graphics and animations. The animations include: the genie lamp blowing a puff of purple smoke to make other symbolswild, the sultan laughing with his drink in hand, the snake moving on the woman's shoulders, the tiger roaring, and the bad guy waving his sword back and forth.
Every time that you spin the reels, little stars float up until the reels come to a stop. One more frill is the Arabian music, which sounds like something from the movie Prince of Persia.
The bonus feature is triggered when you land 3 or more genies anywhere on the reels. You'll be taken to a cave filled with gold, and you get anywhere from 12 50 spins based on how many geniesappear on the reels.
When comparing bonuses, Aladdin's Wishes is better because it not only gives you free spins, but also a pick'em round beforehand. But in terms of graphics, music, and animations, Arabian Talesis one of the best slots that you'll find.
Conclusion
It's been a long time since Aladdin graced movie theaters, but the film still remains popular today. And Aladdin's Wishes is a nice generic adaptation of this movie since it features goodgraphics and animations.
We also like the bonus round a lot because it has you choose lamps in a gold filled room. And if you uncover free spins, you get the second level of this bonus.
Another perk to this game is that you can play for a random progressive jackpot. Given that the prize can be randomly awarded after any spin, you always have a chance to win regardless of howmuch you're betting.
Aladdin's Wishes doesn't have any glaring weaknesses. But a couple of aspects that could be improved include adding another bonus feature or two, and a better looking background.
If these upgrades were made, Aladdin's Wishes would arguably be the best Arabian themed slot that we've played.
Our Thoughts:
As is, Aladdin's Wishes is above average and will probably only entertain you for 1 to 2 hours given the low number of bonus features.

Sign up Bonus
250% Up To $5,000
READ REVIEW
Visit Site
X