Sports Betting Laws From Around the World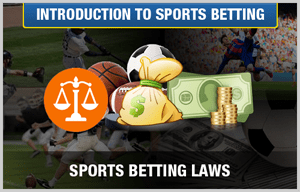 Is it legal to bet on sports?
You'd think this would be an easy question to answer. Either it is legal, or it isn't. Unfortunately, it's not that simple. Sports betting law is a confusing and complex subject, because every country has its own legislation relating to sports betting. The majority of this legislation fails to make it clear exactly what's legal and what's not, especially when it comes to ONLINE sports betting.
Luckily, we're here to simplify things for you. In this article, we sift through all the complicated aspects of sports betting legislation and provide you with only what you need to focus on. We don't use the difficult to understand legal language, as we want the relevant laws in various regions to be as clear and concise as possible. We will also want you to know exactly how those laws will affect you, as that's what really matters.
Please note that this article is the result of extensive and ongoing research. We're not lawyers though, or qualified to provide legal advice in any way. The information found here is a combination of our own interpretations and opinions.
The following regions are covered on this page. Use the appropriate link if you want to jump straight to a specific region.
Sports Betting Laws in the United States
There are two pieces of federal legislation in the United States that apply specifically to sports betting. These are as follows.
The Interstate Wire Act of 1961
The Professional and Amateur Sports Protection Act of 1992
Let's take a quick look at these two laws.

Interstate Wire Act
The Interstate Wire Act of 1961 is often referred to as the Federal Wire Act. This act made it illegal to place or receive wagers on sports events using "wire communication." In 1961, that basically meant the telephone. Nowadays it also applies to the internet, but we'll get to that later.
In theory, the Wire Act affects anyone and everyone who bets on sports. However, the opening text of the act stated, "whoever being engaged in the business of betting or wagering." The key word here is BUSINESS. This act targeted people and organizations that were involved in sports betting as a business – i.e. bookmakers. It did NOT target individuals who bet on sports for recreation.
This was clarified during the House of Representatives debate on the bill, before the act was passed. This quote from the Chairman of the House Judiciary Committee, Emanuel Celler, made that very clear.
"This bill only gets after the bookmaker, the gambler who makes it his business to take bets or lay off bets. It does not go after the casual gambler."
As you can see, Celler SPECIFICALLY stated that this act was never intended to be a tool for prosecuting recreational sports bettors. This has been confirmed by the FBI, who have acknowledged that their only interest with this act is in going after illegal bookmaking operations.
That's why it's not surprising that we've never heard of a single case where the Wire Act has been used to prosecute an individual for placing a sports wager.

Professional and Amateur Sports Protection Act
Commonly abbreviated to PASPA, this act was (supposedly) introduced to protect sports from the influence of gambling. It was intended to make all forms of sports betting illegal across the entire nation.
Again, though, the act did not target the individuals that actually place the wagers. PASPA did not explicitly make it illegal to bet on sports. Instead it made it illegal for a "governmental entity" to operate or authorize sports betting.
PASPA essentially prevents any state from running their own sports betting operations, or passing laws that legalize sports betting in any way. Nevada was made exempt from the act, due to their existing sports betting legislation. That's why sports betting is still 100% legal in Nevada.
The following three states were made exempt too.
These states also had existing sports betting legislation, but only for limited forms of sports betting. In Delaware, for example, it's only legal to bet parlays on NFL games. Any other type of betting, on any other sport, is prohibited.
Delaware tried to expand the scope of their sports betting laws a few years ago. The state wanted to introduce single game wagers, and allow betting on college football and other sports too. The courts rejected their proposal though, citing PASPA.
According to one of the judges, "….any effort by Delaware to allow wagering on athletic contests involving sports beyond the NFL would violate PASPA."
They weren't the only state to be affected by the PASPA, as New Jersey has also run into issues on behalf of this act. The state was given a one year temporary exemption when the act passed, to allow it to implement its own laws allowing sports betting in Atlantic City casinos. The state didn't respond quickly enough though, and missed its opportunity. When Governor Christie tried to introduce new laws recently, the move was blocked by the courts. PASPA was again the reason given.
In light of this evidence, and the wording of the act itself, it's pretty clear to us that PASPA is aimed solely at state governments. Just like the Interstate Wire Act, it neither targets nor directly affects individuals who like to place sports wagers.
What about ONLINE sports betting?
When these two laws were passed, online sports betting didn't exist, which is why neither of them make any direct reference to using the internet to place wagers. There has been plenty of debate as to whether the term "wire communication" used in the Wire Act should apply to the internet, although the Department of Justice (DOJ) has always insisted that it does.
Initially, the DOJ claimed that the Wire Act applied to ALL forms of gambling. However, in 2011 they changed their stance. The Deputy Attorney General at the time, James Cole, made the following statement.
"The Department's Office of Legal Counsel has analyzed the scope of the Wire Act, and concluded that it is limited only to sports betting."
While this was good news for poker players and those who enjoy casino games, it was not so good news for sports bettors. Remember what we said earlier about the Wire Act? It targets those who provide betting services, not those who use such services. So in relation to online betting, it targets those who operate online betting sites instead of those sites' customers.
There have been numerous occasions when federal authorities have cited the Wire Act in relation to actions taken against those involved with providing online betting services. In 2006, for example, the chief executive of betting site BetOnSports was arrested and charged with participating in an illegal gambling enterprise. Later that same year, the chairman of SportingBet was arrested for similar charges. Several more arrests followed in subsequent years.
How many customers of betting sites do you think have been arrested under the terms of the Wire Act? To the best of our knowledge, not a single one. That's just one more reason why we believe this act doesn't specifically apply to individuals that bet on sports, even when they're betting online.
There's no federal legislation that specifically makes it illegal to place a bet online.
The only relevant piece of federal legislation that applies specifically to online gambling is the Unlawful Internet Gaming Enforcement Act (UIGEA). This was passed in 2006, and it was widely believed that the act made it illegal to engage in ANY form of online gambling from within the US.
It didn't.
The UIGEA made it illegal for organizations to facilitate financial transactions relating to online gambling. As a result, it made it difficult for US residents to deposit and withdraw at betting sites (and other gambling sites). It also prompted many betting sites to stop taking wagers from US customers. What it did NOT do is make it illegal to bet on sports online.
Not convinced? Then take a look at the transcript below. It's from an exchange that took place during a hearing by the US House Judiciary Committee, the year after the UIGEA was passed. The purposes of the hearing was to clarify the legal state of online gambling. This particular exchange was between US Representative David Scott and US Attorney Catherine Hanaway.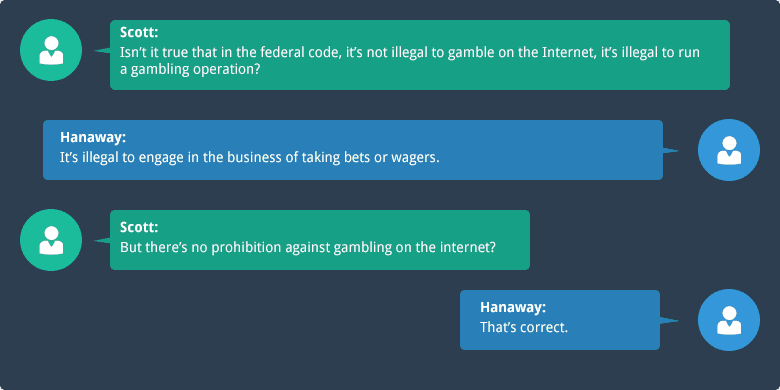 So there you have it. Straight from the mouth of a US Attorney. There is NO prohibition against gambling online, and that includes betting on sports. It's not explicitly legal, but it's not explicitly illegal either.
Here's a concise summary of the key points we've covered here.
The Interstate Wire Act targets bookmakers and those who provide betting services, not those who choose to bet on sports.
PASPA prevents state governments from passing new laws that authorize sports betting.
Four states are exempt from PASPA, including Nevada where both offline and online sports betting is legalized and regulated.
The UIGEA makes it illegal to process financial transactions relating to online gambling.
There are no federal laws that specifically make it illegal to bet online.
How does all this affect YOU? Well, in our view it means you're free to bet on sports without the fear of prosecution.
Please note: if you do choose to bet online, it's important to make sure that you use a betting site that's operating legally. Since it's currently illegal to offer online sports betting within the US (excluding Nevada), you need to use an offshore site that's based in a jurisdiction where online betting is legal and regulated. For a list of our recommended sites, please see the following page.
Sports Betting Laws in Canada
The national sports betting laws in Canada are laid out in the Canadian Criminal Code. You can read the relevant legislation here. Be warned, it's not exactly easy to follow. That's why we outlined the key points for you below.
It's illegal to own or operate a "common betting house" (without government approval).
It's illegal to visit an unlawful "common betting house."
It's illegal to operate any form of bookmaking business (without government approval).
It's illegal to place bets on behalf of someone else.
We found nothing that makes it explicitly illegal to bet on sports as an individual.
There is no reference to online betting.
A common betting house refers to any place where unauthorized sports betting takes place. Canada's entire criminal code was first enacted back in the 19th century, and although it has been amended several times since then, it still would be considered outdated.
One significant amendment came in the 1970's, and signaled a big change in the attitude towards gambling in Canada. Individual provinces within the nation were given the powers to authorize, license and regulate gambling within their own borders.
The land-based casinos throughout Canada were built as a result of this change. Most provincial governments launched lotteries too, many of which are still in operation today. Several of them also authorized sports betting, but only in a limited form.
Today, you can legally bet on a variety of different sports at authorized outlets throughout the country. Most of these outlets are operated by Sport Select, although the outlets have different names in different provinces.
This seems like good news for sports bettors in Canada. However, there are some major drawbacks to betting with Sports Select outlets. Coverage is limited to just a few sports, and only a few different wagers are available. Single game betting isn't allowed either, so all wagers must include multiple selections. This makes it much harder to win, and the odds on offer aren't very appealing either.
Are there any legal alternatives to Sports Select?
In our opinion, yes there are.
Canadian residents are free to use online betting sites, providing those betting sites aren't located within Canada. It's illegal to operate a betting site in Canada (unless authorized), and it could be considered illegal to use a betting site that's operating unlawfully. However, the use of OFFSHORE betting sites appears to be perfectly legal.
This is something of a legal grey area, but there IS evidence to support our view. For starters, there are no laws that explicitly make using offshore betting sites illegal. Then there's the fact that no Canadian has ever been prosecuted for using an offshore betting site (as far as we know). Last but not least, we were excited to discover that the biggest names in online betting accept Canadian customers.
Our view is therefore that you can definitely bet online from Canada without breaking the law. Will the laws change in the future? That's always a possibility. To date, though, the Canadian government hasn't tried to prevent their residents from using offshore betting sites.
Please see the following page for a list of offshore sites that are legal, regulated and accept Canadian customers.
Sports Betting Laws in the United Kingdom
The United Kingdom is one of the most gambling friendly regions in the world. Various forms of gambling are legalized, including sports betting. Online gambling is also legal, and fully regulated.
There are no grey areas here. It's completely legal for you to bet on sports with a land-based bookmaker, and it's completely legal for you to bet with an online betting site. The only stipulation is that you must be at least 18 years of age.
Most land-based bookmakers come in the form of bookmaking shops. There are thousands of these throughout the region, from small independent shops to large chains operated by multi-national companies. Most of them accept a wide variety of wagers on a wide variety of sports.
Online betting sites must be licensed by the UK Gambling Commission before they can legally accept UK customers, regardless of where their operations are actually based. The Gambling Commission maintains a list of licensed operators, each of which must adhere to strict regulation.
The following page features our recommended UK betting sites, all of which are licensed appropriately.
That's all you NEED to know about sports betting laws in the United Kingdom. Here's a little more information though, for anyone who wants a few of those more specific details.
The two pieces of legislation that apply to sports betting in the United Kingdom are as follows.
The Gambling Act 2005
The Gambling (Licensing & Advertising) Act 2014
The Gambling Act 2005 governs all forms of gambling in the UK, both online and offline. It was this act that established the Gambling Commission as the official organization responsible for regulating gambling in the region. It didn't really change much regarding the existing sports betting laws, as sports betting was already legal in the UK (since 1963).
The Gambling (Licensing & Advertising) Act 2014 introduced some new licensing rules. One of the most contentious was that ALL gambling sites had to be directly licensed by the UK Gambling Commission to operate within the region. Sites could be previously licensed by any regulatory body that was on the UK whitelist, such as the Gibraltar Gambling Commission and the Lotteries and Gambling Authority of Malta.
This rule caused some resistance from a number of established operators. They argued that they were already regulated by reputable authorities, and that the additional layer of regulation could potentially HARM consumers. Maybe they had a point, but it's more likely that they were actually concerned with the new "Point of Consumption Tax" that the act also introduced. This meant they were liable for an extra 15% levy on all online bets.
At the time of writing, the new rules introduced by this act are all still in place.
Sports Betting Laws in Australia
The sports betting laws in Australia are reasonably straightforward. At a national level, online and offline sports betting are both legal. Providing you bet with an approved bookmaker or betting site, you are no longer in danger of breaking the law.
Offline bookmakers are commonplace throughout the country. Most of them offer pari-mutuel betting, and some offer a more complete range of wagering options. Sports betting is also available in some casino venues.
There are several licensed betting sites operating in Australia too. These are legal under the terms of the Interactive Gambling Act 2001. This act made it an offence to provide interactive online gambling to Australian residents, with the key word here being "interactive."
The act specifies that sports betting is NOT considered an interactive form of gambling.
Although online casino and poker games are prohibited by the Interactive Gambling Act, sports betting is perfectly legal. The only stipulation is that live betting is prohibited, as this is considered interactive. This doesn't make a lot of sense to us, but it's just the way it is.
Where online sports betting in Australia gets a little more complicated is the use of overseas sites. It isn't 100% clear whether the Interactive Gambling Act applies to companies that operate outside of Australian borders.
Either way, the good news is that the act doesn't apply to the individual. There is nothing that makes it illegal to actually USE an online betting site, or any kind of gambling site for that matter.
This means you're free to use an overseas site to bet on sports. We've made some recommendations for the best sites on the following page. These all accept Australian customers, and are all operating legally in the region where they're based.
You may prefer to use a site that's licensed in Australia of course, but remember that you won't be able to enjoy the benefits of live betting.
Please Note :
Gambling in Australia is also governed and regulated at state level and national level. This means that each state can pass its own laws relating to sports betting, and many have done exactly that. However, to the best of our knowledge there are no state laws that override the national laws and make it illegal to bet on sports.
Sports Betting Laws in Europe
There are 50 countries in Europe. Each one of them is responsible for their own legislation, so there are no sports betting laws that apply to the continent as a whole: not for offline betting, and not for online betting. The rules and regulations are different in each and every country.
At some point we'll expand this page and detail the sports betting laws for every country in Europe. This is difficult to do at the moment, as many European countries are in the process of amending their gambling legislation, specifically targeting online gambling. As time goes on, these laws should become more concise. As of right now, though, there's still a great deal of uncertainty.
Here's what we do know.
The majority of all sports betting laws target those who take wagers (the bookmakers) rather than those who place them.
It's rare for a country to make it explicitly illegal for an individual to bet on sports.
We're not aware that anyone has ever been arrested, charged or convicted for using an online sports betting site.
Many online betting sites that are legally operated accept customers from European countries.
With these four points in mind, we think it's fair to say that you can probably bet online from Europe without breaking any laws. To be absolutely sure, check your local laws. We doubt that you'll find anything worth worrying about, but it doesn't hurt to check.
Think about this way. A lot of betting sites are owned and managed by publicly listed companies that HAVE to operate within the confines of the law. If it was illegal for them to accept customers from a certain country, then they would simply stop accepting them. This is why many countries don't accept customers from the US.
If you only use betting sites that are properly licensed and regulated, there's really no need for concern. If they're acting legally by accepting your business, then what you're doing would probably be considered legal too.
The sites we recommend on the following page all accept customers from most, if not all, European countries. They are all licensed in an appropriate jurisdiction, and therefore operating legally.
Best European Betting Sites
June
Sportsbook of the Month

Sign up Bonus
60% Up To $1,000
READ REVIEW
Visit Site
X