Review of the Rave Riches Slot from RTG
A little bit of electronic music, some neon lights, a few dancers, and you've got a party on the reels.
Well, it's actually a rave in Rave Riches, RealTime Gaming's 243 ways to win online slot. The DJ spins the winning tunes while you compete for top payouts of up to X2,000 in a single spin.
If you want to know how that's possible, then keep reading our Rave Riches online slot review as we give you the inside track to this upbeat, techno-driven game.
US Players Can Party on the Rave Riches Slot
If you're an avid online slot player from the United States, then you probably follow new slot releases from Betsoft, Rival, and RealTime Gaming, the big three software providers for Americans.
RealTime Gaming (RTG) is the provider behind Rave Riches. If you want to play Rave Riches for real money, then you need to find casinos with RTG slots.
Not only that, but you also want to make sure you find safe and trustworthy casinos, with good bonuses and promotions.
These are our recommendations.
Recommended Casinos With Rave Riches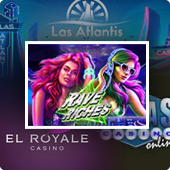 These are the best online casinos with Rave Riches and other RTG slots games. US slot players will struggle to find a casino with more games and larger and more frequent promotions than these.
You can also visit the following page to learn more about RealTime Gaming slots, as well as to find more online casino recommendations.
Overview of the Rave Riches Real Money Slot
Did you know that raves started in the late 80s in the United Kingdom? They were (and still are) underground parties with strobe lights, loud electronic music, plenty of dancing, and drugs.
The Rave Riches real money slot doesn't provide the heart-thumping tunes nor the hallucinogens. What you will experience, though, are neon lights, some dancers popping on and off the screen, and a few beats when you get a winning combination.
The music isn't as prevalent as it probably should be in a game based on underground raves, though. The DJ doesn't spin until the reels stop spinning.
A massive crowd with oversized speakers is the background bookending the 5 x 3 reels. A DJ, partygoers, and a sound system are the main symbols. Neon royals (A through 9) fill in the gaps.
Key Details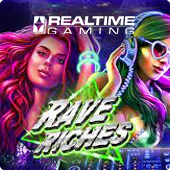 Software: RealTime Gaming
Paylines: 243 ways to win
RTP: 95%
Reels: 5
Minimum bet: 0.30
Maximum bet: 150.00
Multipliers: Yes
Scatter pays: Yes
Progressive Jackpot: No
Maximum win: X2,000
Available for US players: Yes
Hundreds of Ways to Win on the Rave Riches Slot Game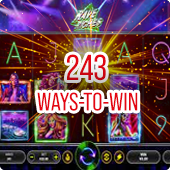 While the visuals are imaginative, the gameplay will feel familiar if you've previously played any non-payline games. The Rave Riches slot game throws paylines right out the door.
Instead, you get 243 ways to win. You still need matching symbols running from the left to the right. However, they don't need to follow a designated pattern, just occupy adjacent reels.
Keep that in mind when we tell you how much you can win playing Rave Riches for real money stakes.
Instead of a few five-symbol payouts at a time, you've got so many more possibilities – plus multipliers!
How Much Can You Bet on Rave Riches?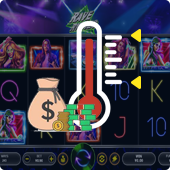 Of course, how much you can win depends on what you're risking.
This isn't a one-for-one credit to payline game. You don't need to stake 243 credits. Instead, Rave Riches uses a 1/30 formula for betting.
That means, if you're wagering 3.00 per spin, your prize multiplier (aka credit or coin value) is 0.10. With a minimum of 0.30, it's 0.01.
On the opposite end of the betting spectrum, you can risk as much as 150.00 per spin, giving you a 5.00 payout multiplier.
That wraps up the basics. Next up in our Rave Riches slot review, we'll look at the game's features.
Special Features in the Rave Riches Casino Slot
Our slot review of Rave Riches is a bit shorter than most. We typically devote individual sections to the base game and bonus features. However, Rave Riches sticks to a simple formula with two popular slots features.
243 ways to win
Stacked multiplying wilds
We've already explained how 243 ways to win works. Here's a look at the multiplying wilds feature.
Stacked Multiplying Wilds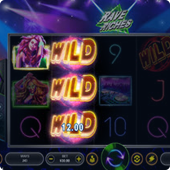 The stacked multiplying wild feature is active on reels 2 and 4. You'll probably notice that they appear quite often, and that you usually get at least two if not three of them.
More wild symbols mean completing more winning combinations and they also bump up the number of prizes you receive.
Whenever a wild participates in a payout in the base game, it morphs into an X2 multiplier. A 150-credit award instantly becomes 300.
Multiplying wilds can be more valuable in the bonus game, depending on how you decide to play it. There's a possibility of X8 in the Rave Riches free spins feature.
Free Spins in Rave Riches
Aside from the multiplying wilds and 243 ways to win, there's not much more to the base game on the Rave Riches online slot machine.
We mentioned that the stacked multiplier wild feature is in action in both the base and bonus rounds, but we didn't tell you everything.
What we didn't tell you is that the Rave Riches bonus allows you to strategize your gameplay. Once you trigger the free spins round, you get to decide how large of a multiplier you want.
The multiplier you choose will determine the number of free spins you get.
| | |
| --- | --- |
| Rave Riches Free Games | Stacked Multiplying Wild Value |
| 15 | X2 |
| 12 | X3 |
| 10 | X4 |
| 8 | X5 |
| 5 | X8 |
There are several ways you can play this.
You can play it safe and stick to the double pay from the base game and play Rave Riches for free 15 times.
You could also take more of a medium risk approach with 10 free games and an X4 payout boost.
If you're more of a gambler, then take the 8x multiplier, cross your fingers, and hope for a big hit within 5 spins.
It all comes down to how much risk you want to take on. We appreciate that the Rave Riches online slot game gives you the choice. Not every online slot game does.
Retriggering Free Spins and Scatter Pays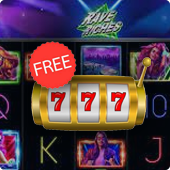 The spotlight is on the stacked multiplying wild instead of the dance floor. However, two little bonus features can also make a difference to your payout potential.
Free spins retriggers
Scatter pays
Rave Riches allows for bonus retriggers. If three or more scatters pop up during your free play, then you will reactivate your Rave Riches free slot spins at the same level you chose.
For example, if you opted for a dozen games with a 3x multiplier, your retrigger adds 12 more with the same X3 boost.
Scatter pays also crossover from the main game to the Rave Riches bonus round. But in the bonus, just two scatters will get you an X1 prize.
How Much Can You Win Playing Rave Riches?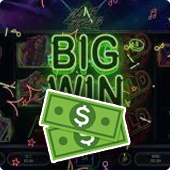 With hundreds of ways to win and multipliers ranging from X2 to X8, it's not a straightforward math equation to figure out how much you can win playing the real money Rave Riches slot.
Or is it?
There is a max payout per-round payout of X2,000 in this RTG online slot. Even if you hit the hottest streak of your life playing Rave Riches free spins with an X8 multiplier, X2,000 is the ceiling.
With a maximum bet in place, the X2,000 payout translates to 300,000.00 cash in your pocket. With that amount of money, you could throw your own rave (or several!).
That X8 multiplier certainly helps the cause when you're on the hunt for big-money rewards. But it's not the only path you can take to collecting significant rewards.
Here are the payouts for the other major symbols in the Rave Riches online casino slot.
| | | | | |
| --- | --- | --- | --- | --- |
| | Five-symbol win | Four-symbol win | Three-symbol win | Two-symbol win |
| Dancer #1 | 750 | 200 | 100 | 5 |
| Dancer #2 | 300 | 75 | 40 | 5 |
| Dancer #3 | 150 | 40 | 20 | 2 |
| Dancer #4 | 80 | 20 | 8 | X |
| DJ Equipment | 80 | 20 | 8 | X |
| Scatter Symbol | 200 | 20 | 2 | 1 (bonus only) |
Women may not always receive equal pay, but they payout more in Rave Riches.
Dancers one through three are the females on the floor. They're not only the three highest paying symbols, but they also reward you for just appearing on the first two reels.
The above numbers are the paytable prizes. Keep in mind that a wild in the mix doubles each of them.
A Rave Review of Rave Riches?
This is a slot review of Rave Riches, and we've been relatively neutral throughout. But we do have a few opinions on this particular RealTime Gaming online slot.
The following breaks down the pros and cons as we see them.
Pros
243 ways to win
Stacked wilds
Scatter pays
Five different bonus options
Wilds double the payouts
Up to X8 multiplier in the bonus round
High-value symbols pay for two-symbol combinations
3D special effects
Excellent slot for mobile play
Available for online players from the US
A minimum bet of just 0.30
Cons
Not overly feature-rich
RTP under 96%
Stacked multiplying wilds are on reels 2 and 4 only
Very very very bad
We appreciate Rave Riches because it is more streamlined with a singular focus on the stacked multiplying wilds in both the base and bonus rounds.
We're also in favor of hundreds of ways to win, but that feature comes with lower prize payouts. It's more of a quantity over quality situation unless you've got an active multiplier changing the scene.
All in all, our Rave Riches slot review reveals an overall solid slot game. There are plenty of ways to claim competitive payouts. You get to strategize your bonus round and play it the way you want, too.
So, what are you waiting for? Check out the Rave Riches slot online today!

Sign up Bonus
250% Up To $5,000
READ REVIEW
Visit Site
X