Review of the Primal Hunt Slot from Betsoft
Primal Hunt is a slot machine by Betsoft. It was created in 2020 and has a Stone Age theme.
This game has some neat features you may not find on other slots you are playing. We give you all the ins and outs right here in our Primal Hunt slot review.
Contents of This Review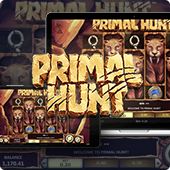 Finding slot machines to play on your computer or mobile device is straightforward. However, sifting through them all to find your favorites is time-consuming.
Instead of spending hours playing games online you don't really like, you can simply read slot reviews like this one to find the best games. This will save you a bunch of time.
By the end of this review, you will definitively know if you want to play the Primal Hunt online slot from Betsoft or not.
What we'll say now is this – testing Primal Hunt online was a lot of fun. We think you will like this epic adventure.
Overview of the Primal Hunt Slot Machine
Here is a glance at some of the critical components of Primal Hunt.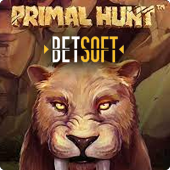 Manufacturer: Betsoft
Theme: Stone age
Reels: 5
Paylines: 80
Compatibility: Desktop (HTML5), Mobile (Android and iOS)
Betting limits: $0.20-$22
Max win: 96x
RTP: 96.10%
Features: Free spins, multiplying multipliers, wilds, scatter pays
When we looked over the product sheet for the Primal Hunt slot machine, one of the first things that caught our eye was the multiplying multipliers.
Multipliers are an awesome slot feature because they can take an otherwise nominal, humdrum payout and turn it into an exciting and profitable win.
Primal Hunt takes multipliers to another level, though. They give you a chance to take a normal 3x multiplier and turn it into 9x or even 27x. Multipliers this large can turn any payout into a BIG WIN!
Another thing that caught our attention is the theme. Online slot providers use a variety of slot themes, but a stone age or prehistoric theme is not common.
These two things take what would be a standard online slot and turn it into a game worth checking out. You can see it in action by checking out this short game trailer.
How to Play the Primal Hunt Casino Slot
Like most online slots, Primal Hunt is simple. You will get used to its layout and controls quickly.
The bottom of the screen shows you all the options. This is where you can control your bet, the volume, and how you spin (manual or automatic). Additionally, you can get extra information about the game.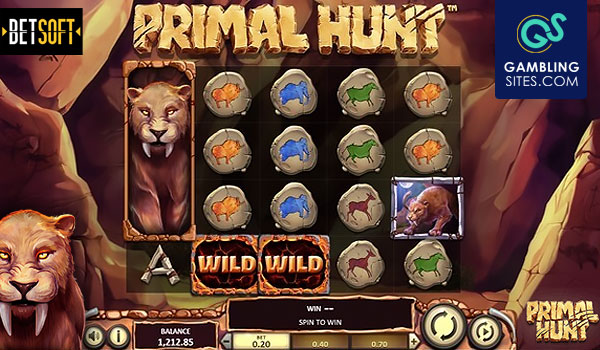 The first thing you want to do after looking at the screen's layout is set the bet amount. You have quite a few options for what you can wager per spin.
$0.20
$0.40
$0.70
$1.50
$3.00
$5.00
$7.00
$10.00
$13.00
$17.50
$22.00
Sure, the intervals are a bit odd. However, what we like about them is that there is a betting amount that will work for everyone regardless of the size of your casino bankroll.
You will also need to decide if you want to manually spin the reels or if you want to utilize the auto-play feature.
If you choose the auto-play feature, you will decide how many spins to play and the amount you want to bet per spin. It shows you what your total cost is going to be.
Auto-play is a good feature if you like to play more than one game simultaneously. However, it's not a good option if you want to experience all the nuances that a slot like Primal Hunt has to offer.
We opted not to use auto-play while writing this Primal Hunt slot review.
Primal Hunt Symbols and Payouts
With a stone age theme, there are certain things you expect to see. The good news is that Primal Hunt fulfills those expectations – mostly.
Here are the symbols for the Primal Hunt slot game.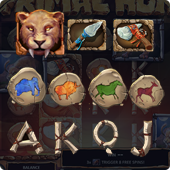 Cave Lion
2x and 3x Wild Cards
Spear
Hatchet
Elephant
Buffalo
Deer
Horse
A (Ace)
K (King)
Q (Queen)
J (Jack)
The playing card symbols are a bit of a bummer, as there is nothing prehistoric or stone age about aces, kings, or queens. That said, Betsoft did do a good job designing them to compliment the theme.
As for payouts, the game pays from left to right, and the highest win per line is what will pay. The Cave Lion pays out the highest, and the jack pays the least.
This game offers a maximum single combination win of 96x your bet. This will require scatter symbols and a reasonably high bet. However, you can win much more if you make more than one combination.
Of course, you can play Primal Hunt for free online – just like all Betsoft slots. However, to hit the jackpot and bring home the cash, you need to play Primal Hunt online for real money.
Primal Hunt Slot Features
The Primal Hunt online slot machine has two unique features that you may come across while playing. These features can turn a losing streak into some seriously profitable wins.
Here is what you need to know about each feature.
Hunting the Cave Lion
This is the free spins feature. When you trigger this feature, you will receive a payout and some free spins. How many you get depends on the number of Cave Lion symbols you get.
3x – 8 free spins.
4x – 12 free spins.
5x – 20 free spins.
You want to trigger this feature as often as possible because there are many opportunities to win during a free spins round.
Free Spins
There are a couple of reasons why the free spins feature on Primal Hunt is so awesome.
You qualify for the 2x and 3x multipliers.
You can multiply your multipliers. For example, get two 3x wilds to multiply your winnings by 9x. Get three of them to multiply them by 27x.
You can retrigger free spins during the free spins round. So, while 8, 12, or even 20 free spins may not sound like a lot, you can get many more than that with a little bit of luck.
Where to Play Primal Hunt Online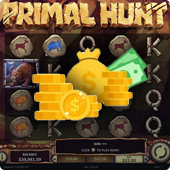 If you have access to the internet, you can play Primal Hunt slots at any time. All you need to do is head to the casino of your choice and decide if you want to play for free or play Primal Hunt for real money.
How do you find online casinos with Primal Hunt? That's the easy part.
All you need to do is find online casinos with Betsoft games. There are three ways you can go about this. You can read our casino reviews, check out our Betsoft slots page, and/or join one of our recommended casinos listed below.
Let's talk about each option now.
Read Our Casino Reviews
The first is to read our casino site reviews. Your goal here is to find casinos with Betsoft software. This isn't a bad approach, since you'll learn a lot about each casino.
The downside is that not every casino we review has casino games from Betsoft. This approach will take longer than the others because you need to weed out the casinos that don't.
That's why we don't recommend this approach – not if you want to play Primal Hunt online now instead of a few days (or weeks!) from now.
Check Out Our Betsoft Slots Page
Another option is to visit our page about Betsoft slots. Not only will you find top-rated casino sites with Primal Hunt and other Betsoft slots, but you'll learn more about who Betsoft is and the slots they create.
There really is no downside to this approach – other than maybe falling down a rabbit hole and learning about the company behind the Primal Hunt online slot game.
Join One of Our Recommended Casinos
If you want to play the Primal Hunt slot online now, the fastest way to start is to join one of these online casinos.
BetUS – This is an excellent choice because they have loads of real money casino games, as well as a sportsbook. New customers can also claim a welcome bonus worth more than $3,000.
SuperSlots.ag – There are many reasons to check out SuperSlots.ag, such as their $6,000 welcome bonus, 10% weekly rebates, 5% boosts on your cryptocurrency deposits.
Wild Casino – You can play Primal Hunt for real money here, as well as dozens of other online slots and table games. You can also claim a bonus worth as much as $5,000 when you join.
These are the best online casino sites with Primal Hunt for the following reasons.
They accept US gamblers.
You can use cryptocurrencies like Bitcoin or Litecoin.
They have huge new customer welcome bonuses worth thousands of dollars.
There are hundreds of games to choose from.
There isn't a bad approach to finding an online casino with Primal Hunt, so long as you find one. But if you want to play the Primal Hunt real money slot NOW, joining one of these casinos is the fastest way to do it.
Playing Primal Hunt on Mobile Devices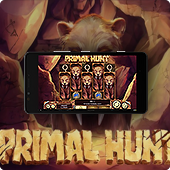 Playing slots on a mobile device isn't always as fun as playing online. How the game was developed will determine whether it will function well on mobile or not.
So, with that in mind, we decided it was imperative to try the mobile version out. What we found is that Primal Hunt on mobile is just as much fun as it is online.
The game loads quickly and gives you all the same options as the online version. You don't need to download a Primal Hunt app, either. All you need to play is your mobile device's web browser.
When you decide to play the mobile version of Primal Hunt, you can choose whether to play it in landscape or portrait mode. Again, this is a wonderful commodity that you won't find with all online slot games.
Regardless of which direction you prefer your screen, the graphics look great on the mobile Primal Hunt slot game. It runs smoothly and allows you to play regardless of where you are.
While playing the mobile version, you will still have easy access to on-screen needs.
Settings
Game Information
Pay Tables
Rules
Overall, Betsoft did a great job on the mobile version of this slot. It offers smooth gameplay and good graphics. If you want to use a dedicated app to play it, check out our recommended slots apps.
The Bottom Line
That wraps it up for our Primal Hunt slot review. So, what do we think of it?
We feel that Betsoft developed a thrilling game when they brought Primal Hunt to the table. The graphics and sounds are solid, and the gameplay is fun.
It doesn't offer progressive jackpots. However, you can win some serious money while playing. The amount you win, of course, will depend on how much you want to bet.
Of course, you don't have to gamble with your hard-earned cash when you play this game. While not all online slots offer free play, you can play the Primal Hunt slot for free.
Either way, we believe you will enjoy playing the Primal Hunt slot machine. Between the multiplying multipliers and free spins, this game delivers consistent payouts AND excitement.

Sign up Bonus
250% Up To $5,000
READ REVIEW
Visit Site
X