Review of the Ox Bonanza Slot From Realtime Gaming
According to Chinese custom, the year of the ox is a lucky year where those who work hard get rewarded. 2021 is the year of the ox in the zodiac calendar.
In the spirit of offering lucky rewards, Realtime Gaming created the Ox Bonanza progressive slot game. It is a new slot that was released just in time to help us all forget about the misfortunes of 2020.
Ox Bonanza is an exciting slot machine that is full of features. You are sure to enjoy good fortune while playing this game with morphing wilds, free spins, and two progressive jackpots.
This Ox Bonanza slot review tells you everything you need to know about this new and exciting slot game.
We cover how to play, the bonus features, and where to play Ox Bonanza online for money.
Overview of the Ox Bonanza Slot from RTG
Theme: Chinese New Year
Manufacturer: Realtime Gaming
RTP: 96.1%
Reels/Rows: 5/3
Paylines: 25
Minimum bet: $2.50 (25 x $0.10)
Maximum bet: $125 (25 x $5)
Maximum Prize: 5,000 coins
Jackpot: Yes, two levels
Volatility: Very High
Mobile Compatible: Yes
Playing the Ox Bonanza Slot Online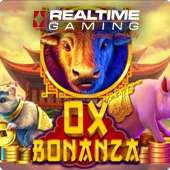 The Ox Bonanza slot game is available in many online casinos and mobile slots apps. To start playing, you need to set your bet size.
You can choose your coin denomination between $0.10 to $5. The Ox Bonanza online slot has 25 pay lines. They are fixed pay lines, which means you have to play all 25 pay lines every time.
The minimum bet is $2.50 (ten-cent coins times 25 pay lines), and the maximum bet is $125 ($5 times 25).
Once you have set your wager, it is time to start spinning the reels. You can manually press the spin button each time or set the game on auto-play.
If you want to play faster, you can push the lightning bolt button to the left of the spin button. It will activate the quick spin feature.
However, you need to be mindful of your bankroll. Ox Bonanza is a high-volatility slot machine. That means that it pays out less frequently, but the payouts tend to be more significant.
If you are playing with the quick spin and autoplay features, you may go through your entire bankroll within a few minutes. Be mindful of that possibility, and never bet with money you can't afford to lose.
Symbols and Paytable
While the reels are turning, you will be hoping for symbols representing the different years of the zodiac.
There are three high-paying symbols, including the ox, the rat, and the pig. The year of the dog gets demoted to become one of the low-paying symbols, along with the nine-ace symbols.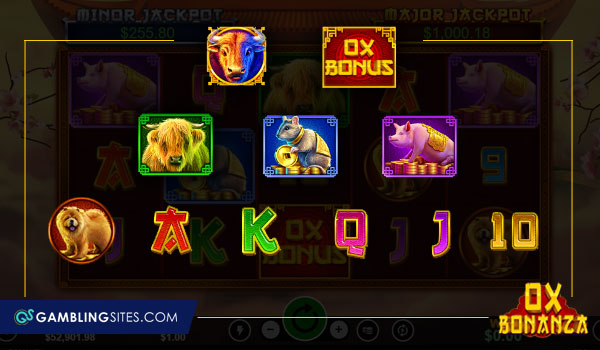 There are two ox symbols on the Ox Bonanza online slot game. The shaggy-haired ox with a green background is the highest-paying symbol. Don't confuse that ox with the golden bull ox that acts as the game's wild symbol.
The last remaining symbol is the OX BONUS scatter symbol.
Those two symbols deserve their own section in our Ox Bonanza review. That's because they help you trigger the game's bonus features.
Ox Bonanza Bonus Features
There are three bonus features available on the Ox Bonanza casino slot. Each one gives you a chance to increase your payouts in different ways.
Morphing Wilds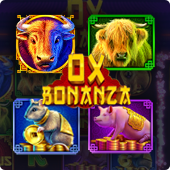 The golden bull ox is the wild symbol on Ox Bonanza. This symbol only appears on the first reel. However, it is a morphing wild symbol.
That means that it can turn other symbols into wilds, as well. The number and placement of morphed symbols are random.
There are only three symbols that can get morphed. The golden ox can change the green ox, the rat, or the pig into a wild.
In addition to being able to morph other symbols, the golden bull ox also automatically doubles the payout of any winning combination it is a part of.
At first, you might be disappointed by the fact that the wild symbol is only on the first reel. But the ability to morph other symbols and the double payout makes up for that fact.
Another benefit that the Ox Bonanza online slot machine offers is that the morphing wilds are available during the base game and free spins.
Free Spins
The free spins feature on the Ox Bonanza casino slot game is generous – if you can trigger it.
You can earn free spins by collecting three or more of the Ox Bonus scatter symbols.
Three scatter symbols offers ten free spins
Four scatter symbols trigger twenty free spins and an instant prize of ten coins
Five scatter symbols offer one hundred free spins and an instant prize of two hundred coins
There are very few slot games that offer the ability to win that many free spins. But you will need all of the ox's good luck to get five scatter symbols.
The scatter symbols are available on all five reels, but they do not appear frequently. It is rare to trigger the free spins at all, let alone get enough scatters to earn one hundred free spins.
You can retrigger the free spins, but again, you would have to be very lucky to get three or more scatters twice.
Unfortunately, we didn't pull it off during our Ox Bonanza slot review.
Progressive Jackpot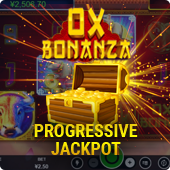 The last bonus feature you can trigger when you play Ox Bonanza online for real money is the progressive jackpot.
There are two progressive jackpots in the game. Realtime Gaming has not published the minimum payout amounts for each jackpot.
But when we were writing this Ox Bonanza slot machine review, the minor jackpot was worth $3485.50, and the major jackpot offered a prize of $11,031.57.
That makes us think that the minimum payout on the minor jackpot is probably $1,000, and the major jackpot probably has a minimum of $10,000.
Both of the progressive jackpots are programmed to pay out randomly. You don't have to collect certain symbols or play a mini-game to qualify for the jackpot.
The progressive jackpots can be triggered at the end of any spin. You could even win both jackpots at the same time!
However, you must play the real money Ox Bonanza slot if you want a chance at the jackpot. Progressive jackpots are not available when playing free-play versions of slot games.
The Ox Bonanza progressive slot has only been on the market since January 2021. As of April of the same year, the Ox Bonanza jackpots have not paid out.
Our Ox Bonanza Verdict
There is a lot that we appreciate about the Ox Bonanza slot. But, there are a few things that we think could make the game even better.
Here are a few of the positives and negatives we found while writing our review of the Ox Bonanza slot game.
Pros
Two randomly triggered progressive jackpots
Morphing wilds with 2x multiplier
Generous free spins feature with retriggers, instant prizes, and morphing wilds
Good graphics that correlate with the theme
Autoplay and quick-spin features
Average 96% RTP
Cons
Wilds only appear on the first reel
The wild symbol is too close to the other ox symbol. It would be better if it were a different animal or symbol
Morphing wilds only replace the high-paying symbols
Free spins are challenging to get
High-volatility slot
There are eight low-paying symbols and only three high-paying symbols. We would like to see a more balanced pay table
The overall verdict of our Ox Bonanza slot review is that it is an exciting game with a good variety of bonus features.
We appreciate that the progressive jackpot and morphing wilds features are available throughout the game.
However, we wish that the paytable had a balance of high-paying and low-paying symbols. We also wish the wilds and scatter symbols were more prevalent on the reels.
There are hundreds of slot machines with Chinese themes. But the specific focus on the Chinese New Year gives the Ox Bonanza online slot a more distinctive subject matter.
Ox Bonanza Alternatives
We have a feeling that you are going to enjoy the Ox Bonanza online game. If we are right about that, we want to suggest a few other games you might be interested in.
Here are a some slot games that are similar to the Ox Bonanza slot.
If you specifically enjoy the Chinese New Year theme, you will definitely enjoy the game Chinese New Year from Play N Go. The graphics in this game are spectacular, and it has multiple bonus features, just like Ox Bonanza.
Chinese Zodiac is a slot game from GameART that focuses on the animals of the Chinese New Year calendar. It features second chance stacks, free spins, and a gamble feature.
Fortunium Gold is a slot game with a unique steampunk theme. It doesn't have the same Chinese theme, but it does have a randomly triggered progressive jackpot with multiple levels. If the jackpot feature is your favorite part of Ox Bonanza, you will enjoy Fortunium Gold.
Fei Cui Gong Zhu is a Japanese-themed slot from Playtech that also offers four random progressive jackpots.
Witchy Wins is another slot created by Realtime Gaming. It is a Halloween-themed slot that also features morphing wilds with multipliers.
These are just a few other games that you may enjoy if you like playing Ox Bonanza. You can find other similar slot games by checking out our slot machine reviews.
Where Can I Play Ox Bonanza Online?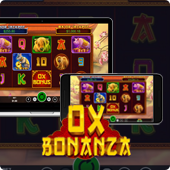 Now that you have read our Ox Bonanza online slot review, you probably want to start playing as quickly as possible. All that is left is to find out where you can play Ox Bonanza.
Ox Bonanza is available from online casinos with Realtime Gaming slots.
That is good news for American gamblers because Realtime Gaming is one of the only casino software providers that are available throughout the United States.
There are also plenty of international online casinos with Ox Bonanza and other Realtime Gaming games.
The easiest way to find Ox Bonanza casinos online is to check out our reviews. You can also play Ox Bonanza on mobile.
There is no need to download a specific Ox Bonanza app when you join one of the top online casinos because the software is optimized for mobile internet browsers.
However you prefer to play slots, just make sure to check out Ox Bonanza if you're into Chinese-themed casino games.
So, what are you waiting for? Join an online casino site with Ox Bonanza and start playing it today!

Sign up Bonus
250% Up To $5,000
READ REVIEW
Visit Site
X