Android Slot Games
Contrary to what it sounds like, this article will not be discussing slot machines that are robots, or even the slot games that robots like to play.
Instead, we will be examining online casinos that allow gamblers to play slot games from the popular type of phone known as the Android phone.
If you have accidentally come to the wrong mobile slot page, don't worry we have got you covered. For those of you who have an iPhone, you can check our iPhone slot games* page here, and forthose who have a Windows phone*, you can check our Windows phone slot games page here.
When it comes to mobile phones, Android is one of the most prevalent types that you can find around the world. In the United States, Android accounts for about 30 percent of the mobile phonemarket, which is a huge chunk. This means that a large percentage of online gamblers are looking for a reliable online casino to play from their Android phone.
Below, you can find a list of our recommended online casinos for playing slot games from an Android phone:
As Android lovers ourselves, we did a ton of studying to find the best list of online casinos for slot gamers who own Android phones. We are positive that you will not be disappointed with thechoices we have made since we have tested them out ourselves and found them to be extremely satisfactory.
You might be wondering, "what exactly makes an online casino satisfactory for someone who plays slot games?" Well, we'll now explore exactly what to consider when it comes to game selection, gamequality, banking options and disconnect protection.
Game Quality
When making the transition from playing slot games on a computer to playing slot games on an Android phone, there are not many differences as far as game quality is concerned.
The quality gap between the two is getting smaller by the day as technology becomes more advanced. Eventually, it might get to the point where playing on a phone is preferable to playing on acomputer!
The screens on Android phones are usually wider than the average
competitor's phone, which is great for slot gaming.
These phones also have a very high processing power, so the graphics do not take much of a downgrade compared to the computer screen.
Due to the fact that mobile casinos have been around for a few years, the game designers have had plenty of time to work on making the mobile experience better. This means that mobile casinosare improving every year, so this entire section will become less and less important as time goes on.
Game Selection
It is currently not feasible for an online casino to put all of their games in their Android app. This is just an unfortunate circumstance of our current technological capabilities.
However, we predict that this will not be the case for much longer as mobile technology improves dramatically each year.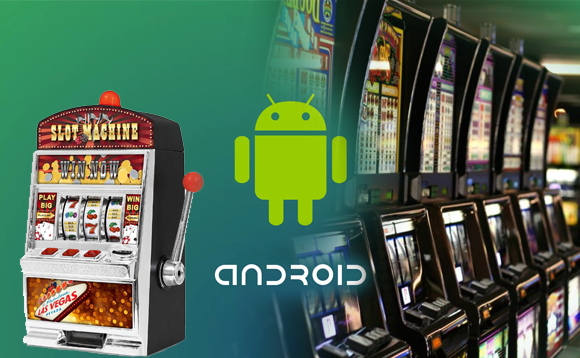 The best thing that these online casinos can do is to include their most popular games in the app, and that is exactly what happens. Each site knows which of their games draws the most customers,so it is a no-brainer to include the games that will make the most people happy.
One thing you will never have to worry about is whether or not an online casino offers slot games for their Android app. These types of games are a dominant force when it comes to attractingplayers, which is backed up by the fact that at least two-thirds of each casino's library consists of slot games.
You might have trouble finding other types of games from time to time, but slot games are immune to this inconvenience.
Banking Options
For mobile users, moving money in and out of online casinos is just as easy as it is for computer users. This is the one area of online gambling that remains the same whether you are using anAndroid phone or any other device.
Any banking method that was working for you from a computer
will work just as well from a mobile phone.
The cashier is just as simple to find, and the deposit and withdrawal buttons are just as easy to press from a mobile phone.
We do recommend putting some advanced password or fingerprint security measure onto your phone so that if you lose it someday, you don't have to worry about someone gambling away your lifesavings.
Outside of this, you will have no security issues whatsoever when it comes to personal banking information, just like if you were completing the transaction from a personal computer.
Disconnect Protection
One of our main fears that we used to have regarding Android casino apps was that we could somehow get disconnected in the middle of playing on them. This could happen through the Internet losingconnection or losing battery power on our phone.
Luckily, this is not an issue on Android slot games for a number of reasons. First of all, being disconnected in the middle of a slot game is not nearly as bad as being disconnected in the middleof a blackjack hand before you make your decision.
Once you pull the lever on a slot game, your job is done whether the Internet goes out or not.
On top of that, nearly every online casino will provide their users with disconnect protection in the event that they are forced to leave a game.
This means that no money will be lost, and in some cases,
you will be able to return to the exact spot
in the game that you were in before the disconnect.
Abusing this disconnect protection by constantly disconnecting when you think a wager will lose is not advisable since it will result in you being immediately banned from using the casino.
This protection is in place for people who are actually having issues with staying connected to their app.
Verdict
Considering that Android phones are one of the most popular types of mobile phones on the planet, it is not a shock that you can play some of the best slot games in the world onone of them.
By simply downloading the app from the app store and finding a reliable Internet connection, you can be pulling slot levers and raking in the cash in no time.
Before choosing a site from our recommended list above, you should be aware that your banking transfers will be secure, and your overall gaming experience will be very similar to the experienceon a computer.
The main difference is that you need to take extra security precautions, such as the fingerprint reading option that is a feature of Androids, so that you do not get robbed blind by someone whogets ahold of your mobile phone.

Sign up Bonus
250% Up To $5,000
READ REVIEW
Visit Site
X