Online Fruit Machines and Fruit Slots
Why are lemons and cherries on slot reels? What's the difference between a fruit machine and a slot machine? Which casinos have the best fruit slots online?
We answer those questions, as well as explain why fruit machines and slot machines with fruit are like apples and oranges. But first, here are the best online casinos with fruit machines.
Rank
Gambling Site
Exclusive Bonus
Get Started

#1

Wild Casino

250% Up To

$5,000

Visit Site

Visit Site

#2

Las Atlantis

280% Up To

$14,000

Visit Site

Visit Site

#3

El Royale

250% Up To

$12,500

Visit Site

Visit Site

#4

Bovada Casino

100% Up To

$3,000

Visit Site

Visit Site

#5

Ducky Luck

500% Up To

$7,500

Visit Site

Visit Site

#6

Super Slots

250% Up To

$6,000

Visit Site

Visit Site

#7

Drake Casino

300% Up To

$6,000

Visit Site

Visit Site

#8

BetUS Casino

200% Up To

$5,000

Visit Site

Visit Site

#9

Ignition Casino

150% Up To

$1,500

Visit Site

Visit Site
If you go online and search for fruit slots, you might end up more lost than when you started.
That's not your fault. There are two types of fruit slots, and few sites do a good job of explaining the differences between the two or giving you recommendations for fruits slots to play.
We're going to try to buck that trend here with our guide to fruit slot games. Here is what we cover.
Overview of the two types of fruit slots.
The pub-style fruit slots we recommend you play first.
Characteristics of online fruit machines.
Our recommendations for which online slots with fruit symbols to play.
The differences between fruit machines and slots with fruit.
By the time you're done with this guide, not only will you know the difference between pub-style fruit machines and slots with fruit, but you'll know which games to play and where to find them online.
Slots with Fruit vs Fruit Machines
Before we get to the game recommendations so that you can start playing fruit slots online for real money, you should know the difference between the two types of fruit slots.
Slots with fruit symbols. These are like any other slot machine. They do not have any skill-based features.
Fruit machines. These are also known as "fruities" or "pub slots" and they do have one or two skill-based features (though they are still predominantly luck-based games).
The interesting thing about both types of fruit slot machines is they were initially created to get around gambling laws.
Slots with Fruit Pay in Gum Instead of Cash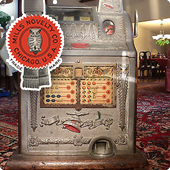 The slot machine was invented in the United States in the late 1800s. However, prohibition in the US not only banned alcohol but all forms of gambling by 1910.
Players anxious to pull the lever were temporarily out of luck.
The Industry Novelty Company came up with a solution, though. Instead of cash, they designed their slots to award prizes like gum. This allowed them to skirt the law.
So, why the fruit symbols?
Fruit symbols aligned with the gum flavors – cherries for a cherry-flavored gum payout, etc. For a while, the one-armed bandits, loaded up with sweet treats, were referred to as gum machines.
The concept worked in the interim. The Mills Novelty Company, another premier slot game provider, jumped on board the next year with its fruit series, further satisfying players' cravings.
Today, slots with fruit online and in land-based casinos display the familiar fruit symbols, but you have to settle for cash payouts instead of sticks of gum.
Fruit Machines in the UK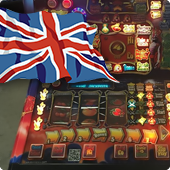 The second type of fruit slots is prevalent in the UK. They're known as fruit machines, fruit slots, fruities, or pub slots, and are commonly found in pubs across the country.
Fruit machines are an offshoot of slot machines. They were invented because slot gambling was prohibited in the UK.
Fruit slots took advantage of a loophole in the 1960s British Betting and Gaming Act that allowed low-limit skill-based gambling for real money.
Instead of eliminating cash wins, fruit machines changed the game by adding some features that required some decision-making or skills from the player.
Nudges – The nudge feature lets the player push symbols sitting just below the playing area onto the screen if it'll turn a loss into a win.
Holds – You can hold a reel or two in place and re-spin the other reel(s) to try to make a winning payline.
These skill-based features made fruit machines compliant with the UK's gambling laws, even though the games were and still are predominantly luck-based.
Fruit Machines Today
Fruities started popping up in the UK in the 1960s and gained momentum over the next three decades. Early fruit machines were like classic slots.
These days, fruit machines retain the hold and nudge features but also showcase the latest modifiers.
Bonus rounds
Wild symbols
Multipliers
Some of the most popular pub-based fruit machines today are licensed slot brands. Popular titles include The Simpsons, EastEnders, James Bond, and Deal or No Deal.
These fruit machines are fun, but they are not what we'd consider to be the best fruit machines online.
The Best Pub-Style Fruit Slots Online
Online fruit slots that are facsimiles of pub-style fruit machines are few and far between. But some games offer the option to nudge or hold, providing a pub fruit machine-type experience.
If you're a fan of those skill-based elements and the control they give you over the game, then we've got a few recommendations for online fruit slots to check out the next time you play slots online.
Jackpot Jester Wild Nudge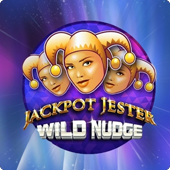 You won't have the option to hold, but you can nudge the reels in Jackpot Jester Wild Nudge. The nudge feature isn't why we added Jackpot Jester to our list of the best real money fruit machines, though.
Jackpot Jester made the list for its Super Game feature. Here's how it works.
Jackpot Jester Wild Nudge has two sets of 3×3 reels. The one at the bottom is for primary gameplay. Whenever you accumulate 100 credits, you can transfer them for a spin on the top reels.
The top is where the stacked jesters, jester nudges, and a grand prize worth 100,000 credits reside.
But it's up to you how to play it. You don't have to take a shot. You might not want to. After all, the Super Game will run you 100 credits a spin.
If you do want to play it, plan accordingly. The cost to play the top reels will get you between 5-10 spins on the bottom reels.
| | |
| --- | --- |
| Slot | Jackpot Jester Wild Nudge |
| Provider | NextGen / SG Digital |
| Theme | Classic Vegas |
| Paylines | 5 |
| Betting Limits | 0.01 to 2.50 credits |
| RTP | 95.08% |
| Features | Super Game with wild nudges |
Pub Fruity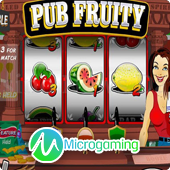 If you want to play real money fruit slot machines, you should check out Pub Fruity from Microgaming.
Pub Fruity doesn't feel like a modern video slot. It feels more like a fruit machine from decades ago between its one payline, symbols (bars, fruits, etc.), and classic nudge and hold features
But hidden in this simple looking fruit slot machine game are a couple of bonus rounds that can pay big.
Darts Contest
Drinks Trail
The first is the Darts Contest, which you trigger by collecting three dart. In this game, you pick who you think will win a game of darts. Each person throws three darts. The one with the best score wins.
The first-place winner will award a X1000 multiplier, second place is worth X100, and third is worth X50.
The second bonus game is called Drinks Trail. You will trigger this Pub Fruit bonus game when you get one or more of the Drinks Trail symbols.
The idea behind this game is that you're on a pub crawl. Every stop (symbolized with a glass/mug) you make will have one of the following outcomes.
Blank drink = no win
Free spin
X2 multiplier
X4 multiplier
Bonus nudge
Cocktail shaker
X10 multiplier
Win spin (free guaranteed spin)
X25 multiplier
X100 multiplier
X500 jackpot
Every outcome is added to your total win. The further you go, the more you will win.
On the surface, Pub Fruity seems like your run-of-the-mill pub fruit slot. It's not until you play it and trigger its bonus games that you realize this is a unique online fruit machine.
| | |
| --- | --- |
| Slot | Pub Fruity |
| Provider | Microgaming |
| Theme | Pub Games |
| Paylines | 1 |
| Betting Limits | 0.10 to 10.00 credits |
| RTP | Unknown |
| Features | Nudges, holds, cash ladder, bonus game |
Ted Pub Fruit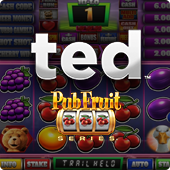 Blueprint Gaming's Ted Pub Fruit doesn't have the classic symbols, but it does have some traditional fruit machine features like the Trail Bonus.
Pub Fruit is a five-reel, five-payline game based on the adult teddy bear film starring Mark Wahlberg and Seth MacFarlane. But you don't get as much of Ted as you do in the standard slot version.
Symbols with numbers light up the trail, leading to cherry spins, reel rushes, and a super shot square.
You can also decide how significant a risk you want to take in a Take It or Leave it bonus hosted by Ted, adding a touch of "Deal or No Deal" to this pub fruit slot game.
If you're a fan of the movie Ted and fruit machines, this is a match made in heaven.
| | |
| --- | --- |
| Slot | Ted Pub Fruit |
| Provider | Blueprint Gaming |
| Theme | Movie |
| Paylines | 5 |
| Betting Limits | 0.10 to 10.00 credits |
| RTP | 96.57% |
| Features | Trail bonus, cash ladder |
Characteristics of Online Fruit Machine Slots
Online slots are customized by any number or combination of special features, including multipliers, expanding reels, spreading wilds, and synced reels. Fruit slots typically have only a few modifiers.
Nudges
Holds
Bonus Trails
Cash Ladders
Gamble Feature
Here's what you need to know about each modifier.
Nudges and Holds
We already talked about nudges and holds, which allow you to push outlying symbols onto the screen or secure one or more reels in place before you spin again.
Bonus Trails
The bonus trails feature is either tied to some of the symbols that appear on screen or it can activate randomly.
Depending on the game, you might move step by step on the path, collecting prizes along the way.
More often, though, a flashing light will move along the trail, and you will click the stop button to claim a prize.
Bonus trail prizes include the holds and nudges we've been discussing. Other common prizes include multipliers and extra cash.
Cash Ladders
The cash ladder concept is similar to the trail, with a flashing light that stops on the prize. But instead of various possibilities, like multipliers, holds, and nudges, cash ladders stick to cash rewards.
Gamble Feature
Like standard slots, the optional gamble feature allows players to increase their winnings through various games, like high-low or matching card suits. You can expect to find this feature on many fruit slots online and in-person.
These aren't the only distinguishable features of online fruit machines. If you play fruit slots online, you'll notice that most of them share the following characteristics.
Lower betting limits
Smaller payline count
Classic symbols
More three-reel versions than five
Variable paylines
That wraps it up for the fruit machine portion of this guide. Let's change gears and look at some slot machines with fruit symbols that that you can play online.
Try These Three Fruit Slots Online
We've listed a few of the best online fruit slots that resemble the pub-style, skill-based games that are standard throughout the UK.
As we mentioned, though, some players also refer to classic slots with fruit symbols as fruit slots, so we're sharing a few of the best non-skill-based fruit slots online as well.
You'll see that they run the gamut from a three-reel game without any special features to five-reel fruit slots with bonus rounds.
Let's start with an online slot from 1X2Gaming.
Classic Fruit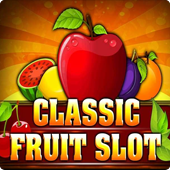 You can't always figure out the premise of a game based on its title. But 1X2Gaming's Classic Fruit is exactly what it says on the tin.
If you want to play online fruit video slots that are as simple as they come, then Classic Fruit is your new go-to. It's a three-reel, five-payline slot with no features. It's not one of those fruit slots with bonus rounds, nor does it have a modifier or even a wild symbol.
Classic Fruit is all about matching up cherries, plums, watermelon, and other sweet, delicious treats for two and three symbol payouts. The highest-value symbol – 777 – isn't edible, though it is worth X200.
Classic Fruit is slot simplicity at its best. It has a relatively high RTP and a top payout of X1,000 if you're staking five credits per payline.
| | |
| --- | --- |
| Provider | 1X2Gaming |
| Theme | Classic Vegas |
| Paylines | 5 |
| Betting Limits | 0.01 to 25.00 credits |
| RTP | 97.37% |
| Features | None |
All Ways Fruits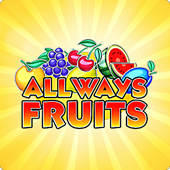 All Ways Fruits is a Vegas fruit slot developed by Amatic for both online and mobile play. This game is a night and day difference compared to Classic Fruit.
All Ways Fruit is a modern fruit slot machine with adjacent way pays, a free spins round, and an X2 multiplier.
Vitamin-enriched symbols dominate the reels, but the sevens are the number one paying symbol with a 500-credit payout.
Bonus symbols will get you as much as 15 free games and a 50-credit bonus boost. The best part of the bonus is that the adjacent reel rule doesn't apply. Symbols can be anywhere on the screen and still count for prize awards.
This is an excellent choice if you want to play a fruity-themed slot machine with a few modern twists.
| | |
| --- | --- |
| Provider | Amatic |
| Theme | Classic Vegas |
| Paylines | 243 Ways to Win |
| Betting Limits | 1 to 1000.00 credits |
| RTP | 96% |
| Features | Double-pay multiplier, free spins, all-ways bonus |
Fruit Zen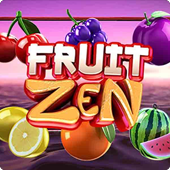 Fruit slot apps tend to stick to 2D designs. But since Fruit Zen is part of Betsoft's SLOTS3 series, the fruit looks good enough to eat.
The setting is a bit unusual, though. Transparent reels overlay an animated beach scene with waves washing onto the shore.
This ten-payline 3D slot circles nothing but fruit symbols and lei-covered wild symbols. Whenever the wild lands, it expands and prompts a free re-spin.
Aside from the wild-driven features, Fruit Zen pays in both directions. Oranges are number one on the paytable, leading to a 250,000-coin payout.
If you're looking to play online fruit video slots that are visually impressive, then Fruit Zen is one of the best. Even better yet, it is available at many online casinos that accept US players.
| | |
| --- | --- |
| Provider | Betsoft |
| Theme | Beach |
| Paylines | 10 |
| Betting Limits | 0.10 to 100.00 credits |
| RTP | 95.96% |
| Features | Wild reels, both ways pay, wild re-spins |
Comparing Fruit Slots and Fruit Machines
When you access casino sites online with fruit slots, the line is blurred between classic fruit slots and UK-style fruit machines. They look similar and nowadays have nearly identical features.
Nonetheless, there are still a few distinctions.
| | | |
| --- | --- | --- |
| | Classic Fruit Slots | Pub-Style Fruit Machines |
| Availability | Online and in land-based casinos worldwide | In pubs and entertainment venues across the United Kingdom; online for worldwide player access |
| Skill | No skill-based components required – but some classic fruit slots could include player interaction | At least some measure of skill (holds, nudges) is mandatory for in-person play; online fruities don't have the same requirements, but nudges are common |
| Themes | Classic fruit slots typically stick to Vegas-style symbols, supplementing cherries, lemons, plums, watermelon, etc. with sevens, bars, and diamonds | Pub-style fruit machines adopt a variety of themes, including licensed brands |
| Features | Not over-the-top feature-wise; primarily wild symbols, free spins, multipliers | Bonus trails, cash ladders, and gamble features are the most prevalent |
| Stakes | Low minimums and high maximums available, based on the provider | Low minimum and high maximums online; pub-based fruit machines are capped at £1 stakes |
| Payouts | Game-based paytables that could include progressive jackpots | Online payouts aren't limited; in-person, pub-based games have £100 award ceilings |
Play Fruit Slot Games Online for Real Money Now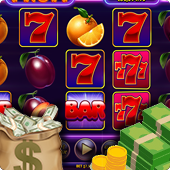 We've covered everything from British-based fruit machines to classic slot gaming with fruity symbols. The only thing left is for you to find the best fruit slots online and start spinning the reels.
You can't control the outcome when you play online fruit slots for real money, but you can swing shift the advantage in your direction by selecting a top-rated casino site.
The most reputable online casinos provide you with the games you're looking for, as well as plenty of banking and bonus options.
New player welcome bonuses and other incentives typically extend to online fruit slots. So, if you choose wisely, you can get some free cash and spins for your favorite fruit-themed game.
It's easy to get started. Simply choose a casino from our list of recommendations, create an account, make a deposit, and then start playing.
Alternatively, you can read our online casino reviews to learn more about the sites you're thinking about joining.
Either way, you are moments away from playing fruit slots for real money online.

Sign up Bonus
250% Up To $5,000
READ REVIEW
Visit Site
X