Loyalty Schemes & Rewards With Poker Sites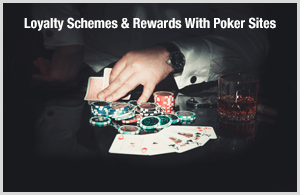 Good poker players look for edges wherever they can find them. Sometimes that means table selecting. Other times that's finding tournaments with overlays.
But sometimes a good edge will not come from a game, but instead come from the poker room itself. One of the best examples of this is in the form of a loyalty scheme – also referred to as a rewards or VIP program.
If you've never heard of one of these programs, here's the lowdown of what they are and how they work.
A loyalty scheme rewards players for being "loyal" to a poker room. For spending money with them. In return they give you money and other perks. Stuff we'll dive into more detail in just a second.
The more money you spend, the more you'll get in return.
For pro players, the rewards earned (whether cash or items with a cash value) can be a variance buster. Other pros play to break even and then (only) profit from the rewards they earn.
And for recreational players, rewards are a way to keep your bankroll afloat. We can't begin to describe the feeling of busting your bankroll, only to find that you get to turn in points for cash so you can play another game.
The bottom line? Never pass over a VIP program when it's offered.
2 Examples of Real Poker VIP Programs
VIP programs come in all shapes and sizes. Let's look at a couple examples of what's available to online poker players.
The first one we'll look at comes from PokerStars.


PokerStars has one of the best VIP programs out there. Their program has 6 tiers.
They go in this order:
Bronzestar
Chromestar
Silverstar
Goldstar
Platinumstar
Supernova
The more you play, the more points you earn and the higher up you go. As you climb and hit each tier, you'll be given unique and more valuable perks.
Let's look at examples for each tier.
Bronzestar
You'll earn tickets to use for tournaments and SNGs. You can play in satellites for a chance to play in tournaments with larger prize pools. And you can play in the weekly $2,500 or monthly $5,000 tournament.
Chromestar
You earn 100% more than Bronzestar. You can play in the weekly $10,000 freeroll or VIP Super Saturday $20,000 tourney.
Silverstar
Earn 15-21% rake back each month. You can use your StarsCoin to play in VIP Bash satellites to major online and live poker events. You also get access to the weekly $10k freeroll or $30k Super Saturday tourney.
Goldstar
You'll get as much as 25% rake back each month. You can convert your coins for more than $300 cash. And you'll get access to the monthly $100,000 freeroll.
Platinumstar
Earn as much as 25% rake back. You'll also be able to use your coins to buy packages to live poker events. And you'll be able to play for more than $100,000 in prizes every month.
Supernova
Once you reach Supernova you'll get an entire year to complete your steps (instead of monthly). You'll also play for more than $150,000 in guaranteed prize pools every month, plus get as much as 30% rake back.
Not too shabby, eh?
As you move up you get to play in more – and higher value – tournaments. You can also earn more of the money you contribute to rake back – as much as 30% – depending on your VIP status, and how you choose to spend your rewards.
Let's look at one more example.

PokerStars has one of the best VIP programs out there. Their program has 6 tiers. They go in this order:
Bet365 awards "Merit" points whenever you play a real money game. You'll earn approximately 15 points for every $1 in rake/fees you pay. Points will be used to determine your VIP level, which in turn determines what perks you're eligible for.
Here's how the points / VIP level works:
Points and your (required) VIP will determine how much of a cash reward you can get. Here's what that looks like:

7,500 points / $75 / Bronze
20,000 points / $200 / Silver
50,000 points / $500 / Silver
100,000 points / $1,000 / Gold
200,000 points / $2,000 / Gold
375,000 points / $3,750 / Platinum

Then there are the Bonus Rewards:

7,500 points / $150 / bronze
20,000 points / $400 / silver
50,000 points / $1,000 / silver
100,000 points / $2,000 / gold
200,000 points / $4,000 / gold
375,000 points / $7,500 / platinum
Then they also have loyalty rewards – which sounds like it's just cash. They also have Tournament Token Rewards. This looks similar to the cash and bonus rewards above, only smaller in value.
What's interesting about these is you can choose your rewards based on how much you want to earn and how long you're willing to wait until you have enough points and right status.
Neither of these examples are to say these are the best programs, or even the type of program to look for. Instead, we want to give you an idea of what a VIP program may look like, how different they'll look, and to give you an idea of the research you may have to put in to find a poker site + VIP combo that's a good fit for you.
That's the general idea behind VIP programs.
Poker Loyalty Scheme FAQ
Here are some questions we get about online poker VIP programs.
How do I register for a VIP program?
It depends on the room, but at many rooms you'll automatically be signed up and placed on the lowest tier. At other rooms you'll need to play and earn enough points to meet the lowest tier.
How can you earn more points, or earn points faster?
Probably the easiest way is to do one of two things:
You can play more tables. Play as many tables/hands as you can, and you'll earn points faster. This option has no cap/limit unless the poker room caps the number of tables you can play.

The potential downside here, is if you play more tables than you can handle and lose more money than you stand to gain from the VIP program.

That's a bad idea. Don't do that.

You can play higher stakes. Higher stakes mean you'll pay more in tournament fees or rake. The downside to this option is that the rake is usually capped. So, moving up in levels will only do so much. Plus, you don't want to move up if you're not capable of playing at – and beating – a higher level.a
What does contributed rake mean?
Poker rooms figure rake differently.
(Rake is the money the poker room takes as their fee. It's how they make money.)
Some rooms will look at the total pot. It doesn't matter if you were involved in the hand or not, so long as you were dealt a hand. This is called dealt rake.
Others will look at the number of players in the hand, the total rake, and divide it equally amongst them (as far as who contributed what). This is called contributed rake.
And others will look at what each player specifically put in the pot. This is called weighted contributed rake.
You can probably see how each level would be easier/harder than the others when it comes to earning points. The dealt method favors all players, but especially players who are tight. The opposite – weighted contributed – favors loose players.
The contributed method is somewhere in-between. Basically, as it applies to VIP programs, if there are 2 players in the pot and $1 total in rake, each player is assumed to have paid .50 of it – even if that's not technically the case. They're then given points for that .50 in rake.
What kinds of perks can you get from a VIP program?
All kinds.
The most common is cash back. This may also be called rake back.
Depending on where you play, you can earn as much as 30-50% of the rake you pay. This is great for all players, but especially for pros who spend thousands to tens of thousands – maybe more – in fees.
Other perks can include things like using points in the poker site's store for physical items like electronics, apparel, video games, and even cars.
You might also get reload bonuses, 1-on-1 service, all expenses paid trips, free tournament entries, satellite entries, and lots more.
It really depends on the program.
How do you choose a VIP program?
One way is to look at the percentage you'll get back. The best way to do that is to figure out what it costs to earn a point, then what each point is worth.
To figure out what a point costs you to earn, find out how many points you get for every $1 you pay in rake. Using our Bet365 example above, you'll receive 15 points for every $1 you pay in rake. This comes out to roughly .065 cents paid per point.
Now you look at the value per point you get. One example is a $55 tournament entry in exchange for 7,500 points. This brings the value of each point to .007.
When you do the math you'll see that we get just a touch more than 10% of our money back.
The point of all this is you can do the math for the top poker sites you want to join, then compare them to see which offers the best return. Just make sure you look at and compare how you'll use the points.
Another option is to look at the perks you can get. Maybe you really want the option to win a car or buy electronics.
Another option is to think about the number of games you'll play. PokerStars – even with their recent changes – still seems to appeal to higher volume players. You'll earn as much as 30% of your rake back at the highest levels. Plus, you'll have access to all their tournaments and freerolls.
A lot of it depends on you, what you plan to play, and the volume you'll put in. You may need to do some math on a few different programs and then compare them to find the best value for you.
You'll also want to look at playing style and the way rake is figured out. The looser you are, the more you want to find a contributed or weighted contributed rake system, since you'll be awarded more the more you play.
But if you're a tighter player it'll make sense to find something with a dealt or contributed system.
Whatever you do, just make sure you sign up for a VIP program SOMEWHERE.