Gambling in North Carolina: Is it Legal to Gamble in the State?
North Carolina Gambling Law Overview
Casino Gambling: Legal
Tribal Gaminb: Legal
Poker: Legal
Horse Racing Betting: Not Legal
Dog Racing Betting: Not Legal
Lottery: Legal
Daily Fantasy Sports: Not Specified
Charitable Gaming: Legal
Social Gambling: Not Legal
Online Gambling: Not Specified
Located in the American South, North Carolina doesn't have to lot of gaming competition. This is especially the case with the anti-gambling South Carolina on their southern border.
That said, the Tar Heel State has been slow to adopt new forms of gaming. But this has changed in recent decades, with North Carolina looking for ways to fund their schools and education.
Their lottery has played a role in saving the state's higher education system, while tribal gaming creates thousands of jobs.
This isn't to say that North Carolina is suddenly the new Vegas. But they're trending in the right direction when compared to the rest of the conservative South.
Let's discuss what gambling options you have in the Old North State along with info and stats on their gaming industry.
North Carolina's biggest source of gambling is their lottery, which generates between $1.5 billion and $1.9 billion every year. Minus fees and commissions, 26% of this amount goes towards the K-12 school and higher education funds.
Facing a budget shortfall in the mid-2000s, this revenue has been instrumental in keeping North Carolina's schools running, and college students receiving scholarship money.
The state features two tribal casinos – both which are on Cherokee lands – along with several bingo parlors. These establishments collectively bring in around $500 million every year.
North Carolina used to allow video poker machines in businesses throughout the state. But many businesses tried taking advantage of the law by offering more machines than they should, or offering video poker without approval.
State officials and law enforcement grew tired of the battle and eventually banned video poker machines altogether in 2007.
North Carolina Gambling Stats & Key Info
Age Requirements

18 for lottery; 21 for tribal casinos

Approximate Annual Gambling Revenue

$1.5 billion

Approximate Annual Gambling Taxes

$400 million

Number of Commercial Casinos

0

Number of Racinos

0

Number of Tribal Casinos

2

Casino Regulatory Body

North Carolina Education Lottery

Lottery National Rankings

14th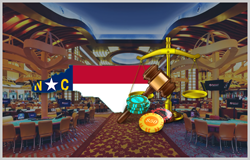 Transition to Legal Status of Gambling
North Carolina features over 4,300 slot machines and 170 table games. This isn't a lot when considering that their population is 9.95 million, but it's significant when compared to neighbors like Georgie, South Carolina, and Tennessee.
The biggest casino is Harrah's Cherokee, which features 3,300 slot machines and 100 table games. The next largest is Harrah's Cherokee Valley, with 1,050 machines and 70 table games.
Both casinos are located in the Smokey Mountains on the eastern side of the state. North Carolina residents can also find tribal bingo venues located throughout the state too.
Legal Status of Gambling in North Carolina
Article 37 of North Carolina's criminal code defines what's legal and illegal with regard to gambling. The best place to start here is with status 14-292:
" … any person or organization that operates any game of chance or any person who plays at or bets on any game of chance at which any money, property or other thing of value is bet, whether the same be in stake or not, shall be guilty of a Class 2 misdemeanor."
As you can see, both operators and gamblers are addressed in statue 14-292. Examples of other gambling violations discussed in Article 37 include:
Advertising and / or dealing lotteries as an unlicensed agent.
Selling "numbers" tickets, such as raffles and certificates.
Establishing or participating in a pyramid scheme.
Allowing illegal gambling on your property or business.
Dealing illegal slot machines and / or gambling tables.
Manufacturing illegal slots and / or gambling devices.
Other sections of the gambling code state that residents should abstain from keeping illegal gambling tables, faro tables, punchboards, and slot machines.
Of course, exceptions are made for state-approved forms of gaming like the lottery, tribal gaming, and charities.
One more point worth addressing here is statue 14-7.20 (a), which covers the worst gaming crimes:
"Any person who engages in a continuing criminal enterprise shall be punished as a Class H felon and in addition shall be subject to the forfeiture prescribed in subsection (b) of this section."
North Carolina has one of the most straightforward criminal codes we've seen, and it addresses lots of common sense points.
While this state isn't bursting with gaming options, they offer enough that you can gamble without breaking any laws.
Casino Gambling
The only federally recognized tribe in North Carolina is the Eastern Band of Cherokee Indians, who own both casinos.
Harrah's Cherokee Casino is located in the Qualla Boundary territory, while Harrah's Cherokee Valley River Casino & Hotel is located in the Nantahala National Forest. These establishments are operated in conjunction with Caesars Entertainment Corp, which owns the Harrah's brand.
Both casinos offer a full range of games, including blackjack, craps, roulette, slot machines, and bingo.
If the state had their way, there might not be any casinos in North Carolina. The Cherokees began offering bingo in 1982 without permission, and were validated by the Indian Gaming Regulatory Act (IGRA), which allows tribes to negotiate gaming compacts with states.
They negotiated a compact with North Carolina in 1994, allowing them to open Harrah's Cherokee Casino in 1997, followed by Valley River in 2015.
The Catawba Tribe is also pushing to open a casino, gaining support for their proposed King's Mountain resort in 2016.
The casino would be built in the Charlotte area, about an hour and a half from both of the Cherokees' casinos. That said, it's little surprise that the Cherokee Tribe is heavily opposing a third casino.
Bingo
North Carolina features three bingo establishments, including Cherokee Tribal Bingo in the Cherokee territory; Eastway Beach Bingo in suburban Charlotte; and Stumbilicious BINGO!! in Greensboro.
We expected these to be Class II bingo facilities, meaning they could offer slot machines that determine results through bingo cards. But all three venues are strictly bingo parlors with side entertainment.
Charitable Gaming
The state constitution has a different section for charity gambling called Charitable Gaming Statues of North Carolina.
Statue 14-309.6 (1) covers which organizations can offer charity gaming, including "civic, religious, fraternal, patriotic or veteran's organizations or as a nonprofit volunteer fire department, or as a nonprofit volunteer rescue squad or a bona fide homeowners' or property owners' association."
Accepted charities are limited to bingo and raffles, and they must adhere to more stipulations, as defined in statues 14-309.9 and 14-309.15(d). These include:
Bingo prizes not exceeding $500 for a single game.
Not exceeding $1,500 in total bingo prizes for a single session.
Raffle prizes not exceeding $10,000 for a single raffle.
Not exceeding $10,000 in rafflecash prizes for an entire calendar year.
Not exceeding $50,000 in raffle non-cash prizes for a calendar year.
Other stipulations include that participants must be members of the organization; 100% of the proceeds must go to the charity's cause; and charities are limited to eight or fewer fundraisers every month.
We've thoroughly read charitable gaming sections from many different states. And while it's good that North Carolina allows this type of gambling, they're also among the most-restrictive states in this capacity.
Horse and Dog Racing
Horseracing has always been outlawed in North Carolina, while greyhound racing had a brief legality window from 1948 to 1954.
The state has two racetracks in Moyock and Morehead City where greyhounds raced. But the North Carolina Supreme Court shut both of them down amid allegations that special privileges were given to a private company.
The state's racing industry has been dormant ever since. And with racing declining in many states across the US, we don't see North Carolina ever attempting to revive greyhound betting.
State Lottery
North Carolina is one of the youngest lotteries in the country, having legalized it in 2005.
This operation has been a huge boon for the state's school system, having contributed almost $5 billion to various levels of education since being created.
While the vast majority of school funding still comes from municipal taxes, funds from the North Carolina Education Lottery have put a fortune towards teacher salaries, assistant salaries, K-12 school operational budgets, school construction, and scholarship funds.
Games offered by the lottery include scratch cards, Pick 3, Pick 4, Pick 5, Mega Millions, Powerball, and Lucky for Life.
Poker
The only legal poker room in North Carolina is found at Harrah's Cherokee Casino.
Launched in 2012, this poker room offers 20 tables and regular tournaments. Harrah's Cherokee also offers World Series of Poker Circuit events every year.
Other businesses have tried to offer poker but to no avail. The Poker Tavern League was one such entity, which grew a membership base of over 2,500 and wanted to host poker tournaments in different North Carolina bars.
While there's nothing wrong with playing free poker with no prizes, the Tavern League offered small cash prizes, which violates state laws.
5th Street Entertainment began holding poker tournaments in Charlotte, with non-cash prizes being given to top players. They were eventually shut down by law enforcement and launched an unsuccessful lawsuit in 2005.
Social Gambling
As covered in the Legal Status section, statue 14-292 makes any bet in unlicensed games of chance illegal. No exception is given for private gaming, meaning it's illegal to hold gambling functions in your home or business.
Law enforcement is unlikely concerned with a low-stakes poker game among friends – especially if the host isn't collecting rake. But this is still something you need to be aware of, given North Carolina's history of busting home poker games.
A simple Google search reveals several news stories and forum discussions on home games being raided. And while this is a tiny percentage of all the home poker games happening in North Carolina, it shows that you do need to be careful.
If you're going to engage in private gaming, our tips are to keep the stakes low, avoid bringing drugs and / or weapons, and keep the game as low-key as possible.
Video Gambling
For a state that's concerned with illegal gambling, North Carolina has an odd history of tolerating video gambling at businesses.
In the late 1990s, numerous video poker machines could be found at bars and other business. State lawmakers tried to curb the problem in 2000 by imposing a limit of three machines per property, while requiring that no new gambling machines be installed.
The limitations didn't work, though, because businesses continued adding more machines and exacerbating the problem. A StarNews report from 2006 estimated that there were 20,000 illegal video poker machines in the state, compared to only 10,000 legal machines.
With politicians and law enforcement growing tired of the problem, North Carolina eventually solved the dilemma by banning video poker machines in 2007.
Sweepstakes Cafes
No sooner did lawmakers get rid of illegal video gambling that they dealt with a new problem: sweepstakes cafes.
Sweepstakes shops exploit a loophole in the gambling criminal code by selling internet time to players, then giving them an opportunity to win prizes through slots-like games.
As reported by TheTimesNews, lawmakers responded by shutting down these cafes under the banner that they amount to illegal gambling. But more sweepstakes cafes continued cropping up around the state.
Congress attempted to ban the cafes in 2010, but they fought back in court and won. The matter was then taken to the North Carolina Supreme Court, where they upheld the ban and many sweepstakes cafes were shut down afterward.
Despite the ban, Royal Palace Theatre in Roanoke Rapids attempted to challenge the state by using a new type of "pre-reveal software" that shows prizes before playing.
A 2015 report from the RR Daily Herald states that the business was ordered to shut down sweepstakes-style games by U.S. Attorney Thomas G. Walker.
Where Can I Gamble in North Carolina?
Online Gambling Options in North Carolina
North Carolina makes no mention of online gaming in its criminal code.
While this isn't uncommon, many states often have an excerpt(s) that could potentially make a smartphone or computer an illegal gambling device. But the Tar Heel State doesn't even have this in their statues.
And given that North Carolina has never busted somebody just for gambling online, you're likely safe to play at offshore casino, poker, and sports betting sites.
Nevertheless, North Carolina has set a precedent for pursing internet gaming operators. Here are a couple of incidents we found:
One element of the state's battle against sweepstakes cafes is that they were offering internet-based forms of gambling. But the unique aspect of this is how the cafes exploited a loophole by having players purchase internet time, rather than slots spins.
Police executed an "online gambling" warrant to arrest Chan Ji Byung in 2014. The Vietnamese man was offering sweepstakes games and accused of offering internet gaming.
The key takeaway here is that these businesses were prosecuted for some level of internet gaming. On the other hand, police only went after the operators of sweepstakes cafes over offering online gaming.
Based on the fact that North Carolina criminal code doesn't include any language that applies to online gamblers, computers, or mobile devices, we feel confident that residents can bet online without concern.
Attempt to Legalize Daily Fantasy Sports
At the time of this writing, there's currently a bill circulating through North Carolina's legislature that would legalize daily fantasy sports (DFS).
Sponsored by Rep. Jason Saine, House Bill 279 seeks to allow anybody 18 and older to play DFS in the state. Furthermore, operators would pay a registration free worth between $2,500 and $10,000 to operate in North Carolina.
We have little idea on if HB 279 has a chance because it's a new bill. But given that North Carolina is on the conservative side regarding gambling, we don't see HB 279 gaining much traction.
Fight for King's Mountain Casino
As mentioned earlier, the Catawba Indian Nation wants to build a casino in the Charlotte area. Dubbed King's Mountain, this $600 million project would be a joint operation with Orlando's Hard Rock International.
The arrangement would be similar to what the Cherokee Indians have with the Vegas-based Caesars Entertainment.
The Catawba Tribe is also building a $350 million movie studio just south of Charlotte, which may enhance their odds of gaining local support. But they must also gain approval from the U.S. Department of Interior Justice before opening King's Mountain.
The Cherokees are currently protesting the casino, as are some residents in the Charlotte area. At this time, no decision has been made on whether or not King's Mountain will become a reality.
North Carolina Gambling FAQ
Is Online Gambling Illegal in North Carolina?
No. We see nothing in the state's criminal code that specifically points to online gaming being illegal. Furthermore, North Carolina's constitution doesn't even have vague language that could apply to internet gaming.
The only statue that law enforcement could use to prosecute you is 14-292, which basically outlines anything outside licensed gaming options as an illegal bet.
But this is a reach considering that North Carolina has never arrested somebody for online gambling. The only thing that they seem concerned with in this regard is arresting operators, namely anybody who continues running a sweepstakes cafe.
For this reason, many residents continue to play at offshore sportsbooks, poker rooms, and online casinos.
No. This is an area where statue 14-292 is enforced because state lawmakers don't want residents engaging in private gambling.
We see several instances where law enforcement has cracked down on home poker games. Of course, one of these private games had 39 players; but others were low-stakes affairs that police raided.
Based on the raided games, we don't recommend that you engage in private gambling. But odds are very slim that you're in danger of being arrested if you keep stakes low and don't advertise the game.
Why doesn't North Carolina offer Dog or Horse Racing?
The Tar Heel State had a short time period where they offered greyhound racing from 1948 to 1954. But they closed down the only two tracks in Morehead City and Moyock amid allegations that a private business was being given special favors.
Horse racing has never been legal in North Carolina, which makes them one of the few states without a pari-mutuel industry right now.
Odds are that this will never change for two reasons:
North Carolina isn't crazy about new forms of gambling.
The US pari-mutuel industry is declining as a whole, so this would be a bad time to start horseracing.
Can My Charity Offer Gambling?
Yes, but there are a number of restrictions that you must be aware of first.
For starters, the only approved forms of charity gaming are bingo and raffles. This means that even skill-based games like poker are off the table.
You also need to keep bingo and raffle prizes under certain amounts to ensure that you're not violating any laws.
We strongly urge you to look over statues 14-309.9 through 14-309.15(d) to see what restrictions apply. Also note that only certain organizations are approved to run charity gaming, which is covered in statue 14-309.6 (1).
Can I Buy Lottery Tickets with a Credit Card?
No. You can only purchase lottery tickets from North Carolina retailers with cash, check, debit card, and gift card.
This is a common rule among many state lottery retailers so that addicted players don't overspend on tickets.
History of North Carolina Gambling Laws
1753
Pubic gambling is banned, and private gambling losses are capped
1784
State loosens anti-gaming restrictions and taxes public gambling
1939
North Carolina legalizes greyhound racing
1945
Mecklenburg County allows charity bingo
1954
Greyhound racing is banned
1977
Charity raffles approved
1982
Eastern Band of Cherokees opens bingo parlor
1994
State signs casino compact with Cherokee Tribe
2000
North Carolina restricts video poker machines
2007
State bans video poker machines
2012
Cherokee Indians allowed to offer table games
2013
Sweepstakes cafes banned under "illegal internet gambling"
Conclusion
Once again, North Carolina is located in a region that's been slow to embrace gambling. The fact that the Tar Heel State offers tribal casinos, charitable gambling, and a lottery makes them stand out in the American South.
Nevertheless, North Carolina isn't a progressive gaming state when compared to the United States as a whole. They only offer two tribal casinos on one side of the state along with a handful of bingo establishments.
Based on their criminal code, this state also frowns upon social gambling and includes a number of restrictions on charitable gaming. Throw in the fact that North Carolina only has one poker room, and they don't have as many options as their large population would suggest.
The one bright spot is that the Old North State takes a lax approach to online gambling. While they've busted sweepstakes cafes for offering internet gaming, they appear to have little interest in pursuing online bettors.
Because of this, North Carolina residents should be fine to continue playing at internet casino and poker sites.