Meydan Racecourse – A Truly Stunning Horse Racing Venue
We have researched a plethora of horse racing venues all over the globe. A handful of them stand out as being supreme and top-notch when it comes to their design and capabilities. And then there is Meydan Racecourse in Meydan City, Dubai. To be fair, you'll need to read an entire guide about Meydan to get a full grasp of how majestic this property is.
Well, guess what? You landed on the perfect page! Our intentions are to deliver an organized page on all things having to do with Meydan Racecourse. We're going to talk about how and why the jaw-dropping facility was opened, as well as describe the layout of the racecourse in great detail.
An all-inclusive catalog of Meydan Racecourse would be pretty incomplete if we failed to reference the Dubai World Cup. Don't you think a world-renowned race with a purse of 10 million US dollars is worth mentioning? Rather than just brief you on their marquee event, we'll lead you to a full-blown handbook that's devoted to this one-of-a-kind event.
We are going to inform you of some of the most popular attractions and must-see places that surround Meydan Racecourse. Once you hear it all, you will be itching to make some plans to see it for yourself. We'll leave you with some tips and advice on traveling to Dubai so you can make those dreams a reality.
Depending on where you are, it might be a long way away. You might as well tease yourself with this in-depth page to Meydan Racecourse first!
Overview of Meydan Racecourse
Year Opened

March 27, 2010

Location

Meydan City, Dubai

Owners

Dubai Racing Club

Course Type

Flat

Notable Races

Dubai World Cup, Dubai Turf, Dubai Sheema Classic, Dubai Golden Shaheen

Official Website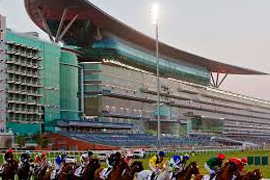 Nad Al Sheba Turns into Meydan Racecourse
We might as well just start from the beginning of Thoroughbred racing in Dubai. The Camel Track presented the first series of horse races in 1981 thanks to the direction and guidance from the ruler of Dubai.
It took 10 years until the Dubai Racing Club was established under the leadership of the Air Force Commander of the United Arab Emirates (UAE), Colonel Ali Khamis Al Jafleh. Just a month or so later, the Nad Al Sheba Racecourse was officially opened. When this racecourse was built in March 1992, it was Dubai's way of saying they were entering the world of Thoroughbred racing.
By 2007, the sport was becoming so big in the area that a new and improved racecourse was in need. This is where we bring you to the transformation from Nad Al Sheba to Meydan.
If you think the 34-month and more than $1.25 billion project was just a small renovation, boy are you wrong.
It reopened as Meydan Racecourse on March 27, 2010, and this time, it wasn't just a place for horses to race one another. We are talking about a five-star hotel, a horse racing museum, a nine-hole golf course, and art galleries, just to name a few of the new features.
Forget about the grounds just being a place to go watch some prestigious Thoroughbred competitions; this place is a full-on complex fit for a plethora of activities! When there aren't acclaimed races going on, you better believe the property is being used for an alternative purpose. For anything from large business conferences to being used to film scenes of the film Star Trek Beyond, this is as unique and versatile as a horse racing venue that you will ever encounter.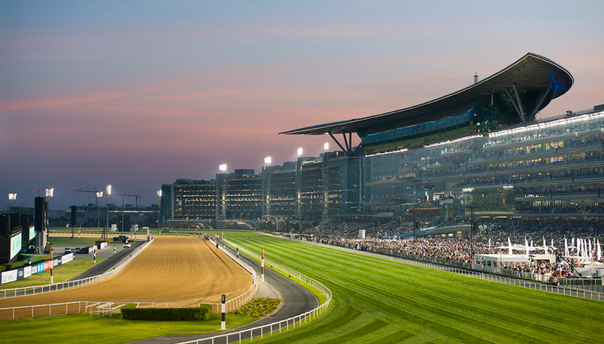 Speaking of all the features, let's start examining the track that the horses gallop on.
A Portrayal of the Racecourse at Meydan
The magnificent racecourse at Meydan isn't actually just one single course. To be entirely truthful, they even have a completely separate training racecourse off to the side that is used as the preparation for the Thoroughbreds. For now, let's focus on the main racing area, where all the action unfolds.
The oval-shaped dirt track is actually enclosed by a larger, main turf course. Allow us to elaborate on both of the left-handed designs.
Turf Course
The overall circumference is 2,400 meters, which is essentially 1.5 miles. That's 12 furlongs, for our avid horse racing fans. The width of the track is 30 meters, and the two chutes are 1,200 and 2,000 meters respectively.
The distance from the final turn to the winning post is 450 meters, meaning plenty of time for a thrilling finish. The course is made up of Bermuda grass that is over-sewn with rye.
Dirt Course
With a perimeter of 1,750 meters, the dirt track at Meydan Racecourse is nearly a half-mile shorter in length; however, the inside track wasn't always comprised of dirt. Meydan transitioned from synthetic to dirt before the 2014-2015 racing season.
"This is a decision that will be best for the future of Meydan racing and the Dubai World Cup Carnival."
That's what chairman and CEO of the Meydan Group Saeed H. Al Tayer told bloodhorse.com at the time.
At 25 meters wide, the 400 meters from the last turn to the finishing line is about a quarter-mile. If horses haven't made their move by the final turn, they better start galloping!
The Meydan Grandstand
Now that you have a pretty good idea of what the tracks look like at Meydan, what about the grandstand? Because this grandstand is unlike any other on the planet.
Nearly a full mile in length, the facility underneath a crescent-shaped roof is coated with solar panels. The 1.5-km-long grandstand can seat up to 80,000 fans and has 72 corporate suites that can be rented out for private entertainment. The lavish hotel has 280+ rooms and consists of a plethora of restaurants and bars. How's that for a place to go watch horse races?
There is so much fun to be had at Meydan that it can be easy to forget that this venue was designed for Thoroughbred events. When you take into account that well-known artists like Elton John and Janet Jackson have performed here, you realize why so many people want to come to Meydan every year. Lady Gaga even showed up as part of her "Artrave: The Artpop Ball" tour in 2014.
So by now, you may be wondering, why is this grandstand built out so royally? Once you consider that they have a single day of races with nearly 30 million US dollars up for grabs, we think you'll have a better understanding.
The Dubai World Cup
Sorry for spoiling the intro, but you read that figure correctly. The final Saturday in March is known as the Dubai World Cup Day, and there is right around $30 million on the line, spread across 12 events. The flagship race is the culminating competition of the day, and it's a biggie.
The $10 million Dubai World Cup was the richest horse race on Earth up until the Pegasus World Cup surpassed it in 2017. Inaugurated in 1996, this isn't just the most celebrated Thoroughbred race in Dubai, ladies and gentlemen. The Dubai World Cup is recognized and respected across the entire horse racing industry, no matter what region of the world you are in.
We have a lot to get to when it comes to this race, including sharing some highlights of the most impressive performances. In order to do so in an organized fashion, we decided to create an all-in-one catalog for everything that is significant to the Dubai World Cup.
We'll cover the different rules regarding who is eligible to participate and reveal some records that have been set. If you want to learn all about the Dubai World Cup and how and why the purse has gotten so massive, click the button below!
If you want to learn about some of the other big-time races on the big night in March, continue in this segment.
Dubai Turf
The Dubai Turf is an esteemed horse race that takes place on Dubai World Cup Night. Thoroughbreds who have reached their fourth birthdays are eligible to compete, but they need to be prepared to run 1,800 meters.
There is a caveat to the age requirement of the Thoroughbreds that we should probably include. Technically, horses born and bred in the Southern Hemisphere can race in the Dubai Turf as long as they are at least three years old. Those bred in the Northern Hemisphere must wait until their fourth birthday for a chance to win the Dubai Turf.
This event used to be called the Dubai Duty Free when it was first run in 1996, and it remained that way through 2014. The Group 1 flat race was actually held on dirt and contested over 2,000 meters until 2000 when it was moved to the turf course. The Dubai Turf is the second event in a four-race series known as the Asian Mile Challenge and boasts a whopping $5 million prize pool.
No horse has won this event multiple times, although we have seen some incredible exhibitions over the years. The record for the fastest time came at the feet of Japanese stallion Just A Way in 2014. His time of 1:45.52 was almost beaten out by the 2018 Dubai Turf winner, Benbatl, whose victory in the Dubai Turf marked the fourth win in the event for owner Godolphin Racing.
Dubai Sheema Classic
Ready for another 5-million-dollar horse race on Dubai World Cup Night? Here we have the Dubai Sheema Classic, a 1 ½-mile event that has the same guidelines as the Dubai Turf when it comes to who can participate. Southern Hemisphere-bred horses only have to be three years old, while the Northern Hemisphere Thoroughbreds must be at least four.
The Dubai Sheema Classic started out in 1998 as the Dubai Turf Classic. In 2000, it was changed to the Dubai Sheema Classic, and by 2002, it was regarded as a Group 1 status race.
Godolphin Racing has claimed three titles here, more than any other Thoroughbred owner. Godolphin Racing is the controlling group of the Maktoum family, the ruling family of Dubai.
Now you get a better idea why at $5 million, the Dubai Sheema Classic and the Dubai Turf are the two richest events held on turf in the entire world other than Australia's $7.4-million marquee event, The Everest.
Postponed crossed the finish line in 2:26.97 in 2016, edging out Gentildonna's 2014 winning time of 2:27.25. Both horses were five years old at the time of their victories.
Dubai Golden Shaheen
There is one more event from Dubai World Cup Night that we want to shed light on. You might be disappointed when you find out the purse is only $2 million, but bear with us.
This time, it's more of a sprint than a marathon for the Thoroughbreds. At only 6 furlongs (¾ of a mile), the Dubai Golden Shaheen doesn't have that same (age requirement) rule as the aforementioned races do. This time, they don't care which hemisphere the horses are bred in. At the Dubai Golden Shaheen, all three-year-old and up horses can try to qualify, no discrimination.
Like the Dubai World Cup and the Dubai Turf, this competition came along in 1996 as part of the festivities of Dubai World Cup Night. A pair of horses have won the Dubai Golden Shaheen twice, most recently when Mind Your Biscuits went back-to-back in 2017 and 2018. Caller One was the first horse to accomplish the feat when the gelding won it consecutively in 2001 and 2002.
The only time faster than Caller One's 2001 winning time was seven-year-old Big Jag's the year before. This California-bred gelding whipped around Meydan in 1:08.10 in 2000 while being ridden by Hall of Fame jockey Alex Solis.
What Else Is There to See?
The better question is "What isn't there to see?" If you live in Dubai or have been fortunate to visit the luxurious United Arab Emirates' city, you know how extravagant and ultra-modern this place is. If you have no clue where Dubai is or what the area is all about, allow us to enlighten you. First, we'll unveil some pretty exciting things that are part of the racecourse.
Do you and your friends like to go out and have fun at night? What about playing golf? Come to Meydan Racecourse, and you and your pals can do both at the same time! The Track, Meydan Golf, is a lit-up golf course that can be played till 11:00 pm!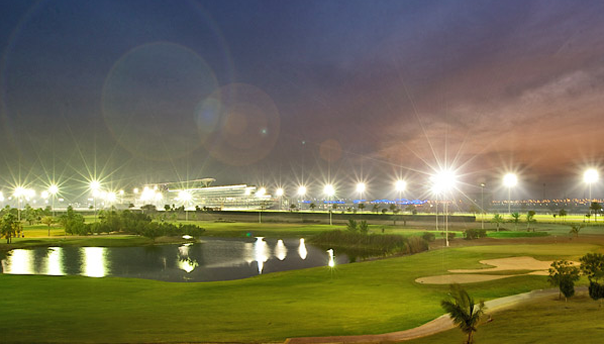 Once you're done, head into the Qube Sports Bar to watch some sports and share some food. Feel free to keep the competition going at the dart boards or shuffleboard tables while enjoying some beverages. Open till 2:30 am on the weekdays and 3:00 am on the weekends, the fun never stops at Meydan Racecourse!
Once you step outside the facility, there's a lot more to explore. The Dubai Fountains and the Burj Khalifa will offer sights that you likely won't get to experience anywhere else. Shoppers can find paradise at the Dubai Mall; just make sure you have a lot of spare time when you arrive.
You can see the incredibly striking Aquarium and Underwater Zoo, followed by satisfying your hunger with the mouth-watering flavors at eateries such as Social House or Aubaine. And of course, there's the virtual reality park that can entertain just about anyone, not to mention an ice rink and movie theater. The bottom line is that you shouldn't even think about going to Meydan City without stopping by the illustrious Dubai Mall.
Now that we've brought up traveling to Meydan City, let's help you out a bit.
Traveling to Dubai
It's fairly simple, folks; if you don't live in Dubai, you'll need to fly into Dubai International Airport. We have some good news, though. For starters, once you land, you will only be about a 15-minute drive from Meydan Racecourse.
The second piece of good news is that no matter where you live or where you are coming from, you shouldn't have any issues finding flights that land in Dubai.
After all, Dubai International Airport is the busiest airport in the world according to international traffic. More than 83 million passengers passed through the terminals at the Dubai Airport in 2016 – 12 million more than the next busiest, which was London Heathrow.
In terms of overall passengers, Dubai was third behind Hartsfield-Jackson in Atlanta, Georgia, and the Beijing Capital International Airport in China.
The point is that there are a bunch of airlines and an inordinate number of flights that come in and out of Dubai daily. Do your best to find one that works for you. If you are truly a horse racing enthusiast that wants to know what's really out there nowadays, do yourself a favor. Check out Meydan Racecourse. You won't be disappointed.
Recapping Meydan Racecourse
The racecourse at Meydan is anything but an ordinary horse racing facility. It's impossible to justify how grand the property is by just reading some words on computer screen or piece of paper, but we wanted to do our best to point out how incredible this place is.
Most racetracks are lucky just to have a dirt and a turf course. This one not only has both, but it is fully equipped with a separate training center and a mile-long grandstand!
For crying out loud, there is an opulent, 285-room hotel on site and a golf course that stretches out to over 7,400 yards from the tips. Oh yeah, and it stays lit up until 11:00 pm!
The Dubai Mall is largest mall found anywhere, with more than 1,200 shops scattered throughout. Have fun perusing around, but don't forget to be in your seats at the track in time for the multi-million-dollar events that run annually.
It's not just the Dubai World Cup that is worth watching, either. Both the Dubai Turf and Dubai Sheema Classic sport $5 million prize pools and garner plenty of attention.
When it comes to a horse racing destination, we genuinely can't think of a more complete and more superb place than Meydan City.
We hope you get to see it in person one day. At the very least, you have this guide to you help imagine what it would be like.
May
Sportsbook of the Month

Sign up Bonus
60% Up To $1,000
READ REVIEW
Visit Site
X