Hide Bonus Offers
| | | | | |
| --- | --- | --- | --- | --- |
| #1 | Bovada Sports | 50% Up To $250 | Visit Site | Bovada Sports |
| #2 | BetUS | 125% Up To $2,500 | Visit Site | BetUS |
| #3 | MyBookie | 100% Up To $1,000 | Visit Site | MyBookie |
| #4 | Everygame | 100% Up To $500 | Visit Site | Everygame |
| #5 | BetOnline Sports | 60% Up To $1,000 | Visit Site | BetOnline Sports |
Ranking the Ten Worst Champions in UFC History

How would you rank the UFC's worst champions of all time?
Would you target the most awful fighters to win a UFC title? Or focus strictly on defenses?
You could consider both the caliber of the fighter and their defenses. Additionally, you could look at the performance of their duties as champions.
In reality, there are tons of different factors that could determine where the least likely UFC champions of all time sit on your list. But sometimes, it simply comes down to your own opinion of what makes a great champ, and what doesn't.
You might find some controversial names on this list. I was conscious of that when I took on the task of ranking the worst champions in UFC history, but have not purposefully set out to raise eyebrows.
Saying that, let's kick things off with a familiar name at number ten…
10. Conor McGregor
Titles: UFC Featherweight & UFC Lightweight
Successful Defenses: N/A
As a fighter, Conor McGregor is an electric, wildly entertaining knockout artist that is assured of his place in the UFC Hall of Fame.
But as a titleholder? Some will say that McGregor is the worst UFC champion of all time.
How so? Well, he climbed to the summit of the featherweight division by knocking pound-for-pound #1 Jose Aldo out in 13-seconds at UFC 194. Quite the achievement.
But rather than defend the 145-pound strap, he almost immediately announced his intention to move up and take the UFC lightweight title from the incumbent king, Rafael dos Anjos.
When the champ was injured, McGregor fought Nate Diaz in a non-title fight at welterweight in March 2016 instead.
He was choked out by the Stockton bad boy, but scraped the rematch in August of the same year, setting up a shot at the newly-crowned boss, Eddie Alvarez, at UFC 205 that November.
Conor McGregor's Title Defenses Record
Title
Won
Defenses
Successful Defenses
UFC Lightweight
November 2016
0
N/A
UFC Featherweight
December 2015
0
N/A
Cage Warriors Lightweight
December 2012
0
N/A
Cage Warriors Featherweight
June 2012
0
N/A
McGregor knocked out Alvarez to win the lightweight strap, making him the first simultaneous two-division champ in the promotion's history.
Then he took a money-spinning fight against Floyd Mayweather, leaving both the featherweight and lightweight divisions on lockdown.
Did McGregor ever defend his title in the UFC? Nope. He made zero defenses at featherweight or lightweight. And as you can see by the stats above, he did the exact same with his Cage Warriors belts.
There are plenty of reasons to bet on Conor McGregor, but when it comes to defending belts, it's a pass from me.
I wouldn't say McGregor is the worst champion in UFC history, mostly due to his overall contribution to the sport. But in these rankings, he takes 10th place.
9. Tim Sylvia
Titles: UFC Heavyweight (x2)
Successful Defenses: 2
Sylvia wasn't the most technical, or well-rounded mixed martial artist ever.
He wasn't greatly popular, either, especially due to some of the circumstances that played out in his career.
The knockout loss to the once excellent but well over-the-hill boxer Ray Mercer, in an MMA fight, was a particular embarrassment for the fight community. But it's unfair to say any man that won two UFC titles at heavyweight completely sucked.
Still, Sylvia deserves to be regarded as one of the worst UFC champions of all time. And I'll explain why.
First, he won the first of his UFC titles against Rico Rodriguez before successfully defending his strap against Gan McGee in September 2013. So far, so good. Until he was popped for steroids and stripped of the strap.
Sylvia was beaten by Frank Mir in a title shot in his next fight. But two years later he won the strap again.
The "Maine-iac" made two successful defenses of his title before he was knocked out by Randy Couture. After this, things really went downhill.
One of the UFC's worst-ever champions? It's hard to say no.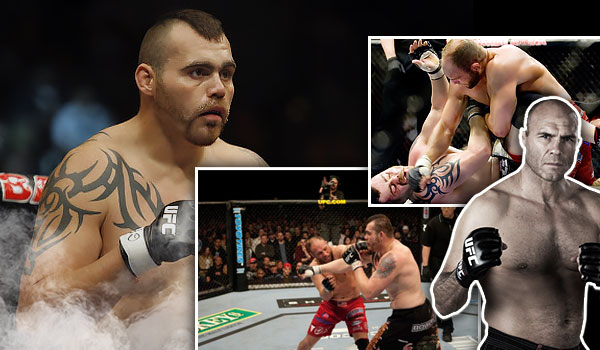 8. Luke Rockhold
Title: UFC Middleweight
Successful Defenses: 0
A very gifted mixed martial artist with Hollywood looks, Luke Rockhold had most of the ingredients required to be a household name.
Most.
Rockhold had beat the living crap out of Chris Weidman on the co-main of McGregor vs. Aldo at UFC 194, ending Weidman's unbeaten run and setting himself up for a long reign at the top of the division.
Because Weidman had dethroned a legendary UFC champion at 185 in Anderson Silva, he was granted a rematch with Rockhold at UFC 199. However, Weidman was ruled out with injury, meaning Rockhold needed a stand-in opponent.
Silva would have likely got the shot. But as he was beaten in controversial circumstances by Michael Bisping in February 2016, the Brit finally had a chance to fight for a UFC title.
The kicker was that it would be against Rockhold, who had choked him out in 2014.
When the pre-fight build-up was in full swing, Bisping was reveling in "taking the piss" out of the arrogant and out of touch Rockhold. You can view some of the best exchanges in the video above, but be warned that it contains bad language.
So, Bisping was a huge betting underdog and was not considered championship quality. Rockhold was certainly not considered to be in the rankings for the worst UFC champions in history at that time, as was expected to win.
Conversely, many thought Bisping would be one of the worst UFC champions of all time if he got his hands on the title. But that couldn't happen, surely.
Well, the Brit made everyone eat their words, knocking the -900 favorite, Rockhold, out in the first round.
For all his self-confidence and mystical "ninja" talk, Rockhold's reign as king lasted less than four minutes of fight time.
7. Michael Bisping
Title: UFC Middleweight
Successful Defenses: 1
OK, it's an easy segue to move onto Bisping next.
But naming Bisping as the worst champion in the promotion? I know that would rub some up the wrong way. Still, he makes seventh place on this list, so calm down.
The Manc was the most controversial UFC champion of all time, maybe. The most popular UFC champion of all time? I'm lukewarm on that. But what I will say is that, when it came to acting like a champion, Bisping could be given a C grade, at best.
I was happy for The Count when he won the title. It was nice to see a stalwart get rewarded for their hard work, especially when he was fighting with one eye!
Michael Bisping's UFC Record – Final Five Fights
Opponent
Result
Method
Event
Date
Record
Kelvin Gastelum
Loss
KO
UFC Fight Night: Bisping vs. Gastelum
Nov. 25, 2017
30-9
Georges St-Pierre
Loss
Technical Submission (rear-naked choke)
UFC 217
Nov. 4, 2017
30-8
Dan Henderson
Win
Submission (neck crank)
UFC 204
Oct. 8, 2016
30-7
Luke Rockhold
Win
Submission (armbar)
UFC 199
Jun. 4, 2016
29-7
Anderson Silva
Win
Submission (punches)
UFC Fight Night: Silva vs. Bisping
Feb. 27, 2016
28-7
On that basis, I understood why he chose a 78-year-old Dan Henderson for his first defense. After all, there was beef there. But he just about won that fight, and things could have easily gone the other way.
He took on a blown-up welterweight in Georges St-Pierre in his second defense, and lost to GSP, despite it being over four years since the Canadian last fought.
So, while I wouldn't class Bisping as the most awful, or flukiest UFC champion of all time, I would say that his avoidance of Yoel Romero and Jacare arguably robbed one of those men of a chance to rule over the division
6. Forrest Griffin
Title: UFC Light Heavyweight
Successful Defenses: 0
Although not the greatest fighter you have ever seen, Griffin is a legend.
You can probably understand why I feel particularly bad adding him to this list of the worst UFC champions of all time.
If there was a list of the most untalented UFC champs of all time or the luckiest title winners in MMA history, I'd feel the same way. So, I guess it's probably best to just get to the point.
Griffin ruled over the light heavyweight division from July 5 to December 8, 2008, having beaten Rampage Jackson by decision to take the strap.
He never made a single successful defense of that title, however, as he was starched by Rashad Evans in the third round of their UFC 92.
The dream, albeit a short one, was over.
Griffin would go on to continue to inspire MMA fans, just as he did when he helped popularize the sport in the 2000s.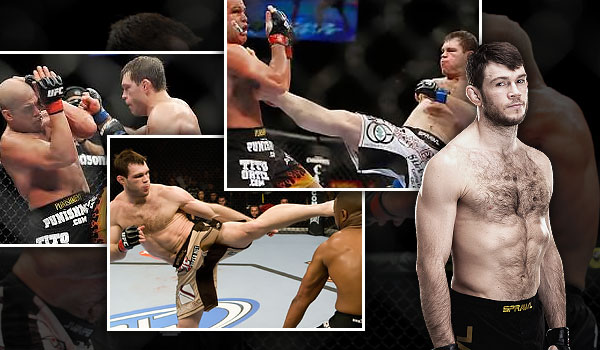 5. Carla Esparza
Title: UFC Women's Strawweight
Successful Defenses: 0
No list of the worst champions of all time in the UFC can be complete without mention of Carla Esparza.
Perhaps Esparza was a better champion than others on this list, particularly Conor McGregor.
I mean, at least you could count on her to defend her strap. You would not bet on McGregor doing the same, especially as he has failed to defend any of his four titles at all.
Esparza does deserve her place on this list, however. And the reason why is that she is one of the two weakest UFC champions, in the history of the female ranks. The other is on this list, and we'll get to her soon.
The inaugural UFC women's strawweight queen, Esparza submitted an undeveloped Rose Namajunas to take the title. She was matched up with Joanna Jedrzejczyk for her first defense and was simply brutalized.
4. Dave Menne
Titles: UFC Lightweight
Successful Defenses: 0
Like Esparza, Menne's name was always going to be found among the worst UFC champions ever.
But that's not where the comparisons between Esparza and Menne end, as you might have guessed.
Sure, both can claim to be up there with the weakest title holders in UFC history, but they are also inaugural champions. Menne was the first-ever middleweight titlist in the promotion, and will always be remembered for that alone.
But as a champion? Well, that's a lot more forgettable.
The Warrior beat Gil Castillo on September 28, 2001, at UFC 33 and was crowned king. But life as the top man in the division lasted just 18 seconds of fight time when he was knocked out by Murilo Bustamente at UFC 35 in January 2002.
Menne is a part of the history of fights and fighters in the UFC middleweight division.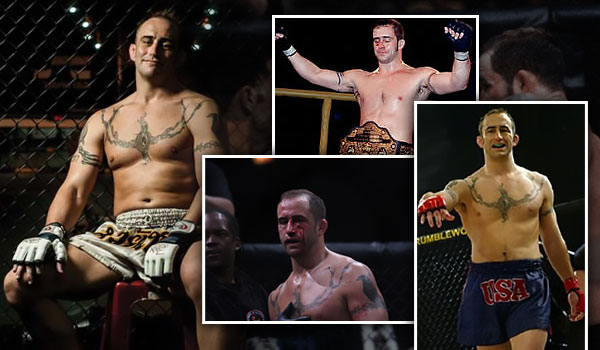 3. Steve Jennum
Title: UFC 3 Tournament Champion
Successful Defenses: N/A
A cop, Steve Jennum won the UFC 3 tournament in 1993, submitted Harold Howard with punches to take the mantle.
It's funny, as fight fans didn't know him then. And those that know the name Steve Jennum now recognize him as arguably the worst UFC champion of all time. This is a little bit of a shame because the guy's story is pretty cool.
Basically, Jennum got lucky. When Ken Shamrock made it to the finals but got injured, he got his chance by standing in for Shamrock. That meant that he only had to win one fight to win the tournament! Usually, it would be three matches to win the UFC tournament.
Steve Jennum's MMA Record
Opponent
Result
Method
Event
Date
Record
Jason Godsey
Loss
Submission (choke)
Extreme Challenge 4
Feb. 22, 1997
2–3
Marco Ruas
Loss
Submission (punches)
World Vale Tudo Championship
Aug 14. 1996
2–2
Tank Abbott
Loss
Submission (neck crank)
Ultimate Ultimate 1995
Dec. 16, 1995
2–1
Melton Bowen
Win
Submission (armbar)
UFC 4
Dec. 16, 1994
2–0
Harold Howard
Win
Submission (punches)
UFC 3
Sep. 9, 1994
1–0
It was a cool thing for Jennum to experience, but something that the UFC didn't think should happen again.
So, they changed the rules going forward to take the advantage away from being an alternate. Anyone of that status had to win a preliminary scrap before competing in the final.
Pretty cool, huh?
Still, Steve Jennum has one of the worst UFC records of all time and deserves his place among the weakest champions in MMA history.
2. Nicco Montano
Depending on who you ask, Nicco Montano just might be the worst UFC champion of all time.
But I'm going to give her a pass, hence why I'll rank her second on this list of MMA's awful champions.
Montano caught the attention of fight fans when she won the promotion's inaugural women's flyweight title at The Ultimate Fighter 26. But life at the top was, like many on this list, not something that would last.
Montano was stripped of her strap when she suffered a botched weight cut before her first defense against Valentina Shevchenko at UFC 226.
Yes, Montano is up there with the worst UFC champs in history. But it's not as if she was going to beat Shevchenko.
I've made an allowance for Montano, as I don't believe she purposefully "planned" to run away from the challenge from a bona fide WMMA all-time great.
Unlike someone else on this list…
1. Germaine de Randamie
Title: UFC Women's Featherweight
Successful Defenses: N/A
Is Germaine de Randamie the worst UFC champion in the history of the promotion?
Well, let's start by saying that she is far from the worst fighter the UFC has ever had. On the contrary, she is one of the elite strikers in MMA history, with a solid background in Muay Thai and kickboxing.
But for all her talent, de Randamie is among the least popular fighters of all time. Not just for the dirty shots landed on Holly Holm, after the bell, in the inaugural women's featherweight title fight, of course.
The reason why I class de Randamie as an awful UFC champion is for her flat-out refusal to fight Cris Cyborg in what should have been the first defense of her 145-pound crown. Instead of fighting Cyborg, she shamelessly and unapologetically ducked the Brazilian, in an act of cowardice that turned fans off her overnight.
An excellent fighter, sure, but the worst champion in UFC history. At least, in my eyes.
Are These the Worst UFC Champions Ever?
That's it for my list ranking the worst champions in UFC history.
I've presented my cases for the likes of Conor McGregor, Tim Sylvia, and Germaine de Randamie.
I know not everyone will agree with the order of the names on this list, but it will be very difficult to argue in favor of anyone on this list being anything less than a candidate for the worst UFC champions in history.
If you think differently, the comments section is open, below.
However, if you're looking for more top MMA content, you will find more pieces like this on our UFC Blog.
I'll leave you with a taste of what's popular right now!