NBA Totals Betting
One of the most popular NBA betting markets is the totals, or over/unders, for individual games.
These wagers are offered by all bookmakers that cover the league, and you can find them for every single game in both the regular season and the playoffs.
That means you have thousands of opportunities for placing NBA over/under bets throughout the campaign. If you have a working strategy, there's a lot of money to be made!
In this guide to betting NBA totals, we help you understand how the market works. We also provide strategy tips for NBA over/under bets and show you where to place these wagers online.
If you're simply looking for NBA over/under picks, you can head straight to our NBA betting picks section. During the season, our basketball gambling experts provide recommended bets for games on a daily basis, including over under predictions.
NBA Over/Under Betting Explained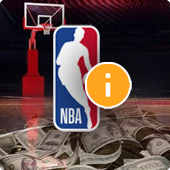 If you have experience with NBA over/under betting, you could probably skip this section.
We're going to explain how NBA totals betting works for beginners, as many of our readers are new to sports gambling.
The main concept of this wager is implied by its name. You are betting on the number of points that will be scored by both teams in a specific NBA game.
Sportsbooks that offer NBA over/under bets provide a starting point called the totals line. You have to place a wager on one of two options.
The total number of points to be higher than the line (the over)
The total number of points to be lower than the line (the under)
Here's how a typical NBA totals market looks.
Spurs vs. Rockets, Over 214.5 points
-110
Spurs vs. Rockets, Under 214.5 points
-110
If you backed the over in this market, the total number of points scored in the game must be 215 or higher for you to win.
If you went for the under, the total must be 214 or lower for your wager to be successful.
Remember, it's the points scored by both teams that count. For this market, a final score of 115-100 is essentially the same as 108-107 or any other score that includes a total of 215 points.
When betting NBA over/unders, it doesn't matter which team wins. Only the points matter.
Another factor to consider with NBA totals betting is that over is that the points scored in overtime count, too.
If the game is tied after the end of the fourth quarter, everything scored after that is added to the number.
Variations of NBA Over/Unders
The classic NBA totals betting market applies to the number of points scored by both teams for the duration of the whole game.
However, several variations are available in most online betting sites. Let's take a look at them.
Team totals: You can place a wager on the number of points scored by only one of the teams instead of both
First/second half totals: You can bet on the number of points scored in the first or second half only
Quarter under/overs: You can also bet on the number of points scored in a selected quarter of an NBA game
There are often other options, too, such as betting on the total points scored by one team in a specific quarter.
The basic principle is the same for all variations of basketball totals betting.
Betting on Totals With Round Numbers
The example we provided earlier included a line with half a point. It's possible that the line for an over/under can be a round number, such as 215 points.
In such cases, there's a special condition. If the game ends with the exact same points as the original line, your wager is pushed and returned to you.
Best Sites for Betting NBA Totals
If you are eager to start betting on NBA totals and simply want to find trusted betting sites that offer the market, here are our top suggestions.
These top online betting sites for NBA totals stand out as the best among the hundreds of bookmakers and sportsbooks we have reviewed.
Each one operates under a legit gambling license and has installed the necessary security measures to protect their customers. That makes them safe to use, and safety is important when betting online.
All of them offer betting on NBA under/overs, of course, along with other benefits.
Particularly valuable is the fact that these sites offer higher NBA over under odds than average. Throw in the attractive bonuses and promotions they offer and the fast payments, and you'll understand why we rate them so highly.
For more information about how we rank sports betting sites in general, check out the following page.
How to Bet on NBA Totals Online
Now that you know how the totals market works and which betting sites are the best options, it's time to learn how to start placing your NBA over/under bets online.
The process is simple enough, with just a few steps to follow.
Select a Betting Site and Join
You should find a trustworthy online sportsbook that offers NBA totals betting. Our recommended bookies are all excellent, as we've explained. Once you've made your choice, you'll need to open a new account by providing a few personal details and choosing a username and password.
Deposit Some Funds
You need to add cash to your account to bet real money on NBA totals. The top betting sites offer plenty of reliable payment providers such as credit and debit cards, e-wallets,
crypto
, and more. The complete list depends on your country of residence, but you should be able to find a suitable option.
Claim Your Bonus
All respected online sportsbooks on the web provide their customers with excellent promotions. The best among them is usually the welcome bonus that comes with your first real money deposit. It could be worth hundreds of dollars, and you can use the extra cash for betting NBA over unders.
Place Your Wagers
Simply open the NBA section of your online sportsbook and click on the game you want to bet on. The totals market is offered for all games from the league. Make your selection, choose your stakes, then submit your betting slip.
Withdraw Your Winnings
If you make money betting on NBA totals, you can then withdraw your winnings using the same methods that were available for deposits.
As you can see, getting started with NBA totals is easy. Making money is the hard part.
That leads us to the next section of this guide.
Tips for NBA Over/Under Bets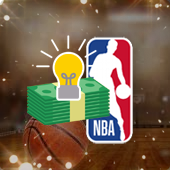 Most people who bet on NBA totals lose. Let's be very clear about that before we go any further.
This may be a simple betting market, but the bookmakers are extremely accurate with their lines. They also have their built-in margin, of course, which makes the over/unders hard to beat in the long run.
Beating them is not impossible, though. It requires dedication and hard work, along with the right strategies, but it can be achieved for sure.
The following NBA totals betting tips can help you learn how to find value in over/under wagers and apply a strategy for long-term and consistent profits.
Fundamentals of Sport Gambling
There are certain basics that almost always apply to placing real money wagers, no matter what sport or event you're betting on.
We cover these basics extensively in our main sports betting guide, so we won't spent too long on them here. Here's just a quick look at some of the fundamentals you should always bear in mind when betting NBA totals.
Bet for value: Don't just try to guess what's going to happen. Work with probabilities and study the odds carefully.
Bankroll management: You have to pick a staking plan that suits your needs and protects your bankroll.
Bet online: The basketball odds and lines are better on the internet, so be sure to place your wagers online.
Use multiple betting sites: If you join several different sportsbooks, you will have consistent access to higher odds and more promotions, which can be the difference between winning and losing.
With the basics out of the way, let's move on to some totals-specific strategy advice.
Examine the Numbers
You won't win money by betting NBA over/unders unless you do some statistical analysis. Hard data is important for these wagers.
Luckily, there is plenty of data available on the web. Much of it is free, so there's no reason not to take advantage of it.
The most important stats to look at here are average points scored and average points against. It would be best if you also considered the overall strengths and weaknesses of each team in games you are betting on.
Study previous results over a long period of time, as well as head-to-head records. Then look more closely at the last few games to see what the short-term trends look like.
Are any key players running especially hot or cold?
What are the recent shooting percentages?
How has a team been playing against opponents with a similar style?
These are just a few of the questions you need to try to answer. The more data you analyze, the better.
Check the Schedule
The NBA has been trying to ensure that the schedule is as balanced as possible each season. Ideally, no team should get any significant advantage or disadvantage from the way the games fall.
In reality, the schedule is always going to have an impact on teams.
Teams will sometimes look to preserve energy in a game because of a more important clash the next day. Some teams will suffer fatigue after a long road trip or face an especially challenging run of games.
Make sure that you pay attention to the schedule, and try to consider the kind of impact it's going to have on any game you're betting on.
Anything that can affect a team's overall performance will affect the number of points scored.
Keep on Top of Team News
A single missing player can completely change the context of an NBA game. Many offenses rely heavily on just one or two players, and some teams only have one or two players who are strong defensively.
Take out one of the key offensive players for a team, and they're likely to score fewer points. Take out of their best defensive players, and their opponents are likely to score more.
Even the absence of a role player that provides spacing can be a huge problem for a team in the modern NBA.
This is all obviously important stuff to think about when betting on NBA over/unders. Not only do you need to know the players and their roles, but you also need to stay up to date with team news to see who's playing.
Make sure you know which players are likely to step out on the court before you put any money down on a game.
More NBA Betting Advice
NBA over unders are a great way to bet on professional basketball games for sure. But they're not the only option you have.
If you want the best chance of making long-term profits from betting on the NBA, you'll want to be looking for value in various markets.
Here's some more NBA betting advice we recommend taking a look at.
How to Bet on NBA Games: Learn all the different ways of betting on NBA games, and how to take advantage of them.
Betting NBA Futures: If you are interested in long-term wagers, you can learn more about them on this page.
NBA Prop Bets: We cover NBA props and provide tips on how to make money from them.
NBA Playoffs Betting: A page that's dedicated to the NBA playoffs and the specifics of betting on them.
NBA Finals Betting: The NBA Finals is one of the biggest sporting events, and we have some specific advice for betting on it.
NBA Betting Tips: Some general tips that apply across the board to NBA betting strategies.