Tips for Betting on the NBA
The NBA is the biggest and best basketball league in the world. The brightest stars of the sport compete over the long regular season before the top teams meet in the NBA playoffs to determine the champion.
It's loads of fun for the fans and there are countless opportunities for betting on the NBA season. With the proper knowledge and strategy, there is great potential to make money from NBA betting.
Our team of basketball betting experts can help you. In addition to providing regular NBA betting picks for individual games, futures, and other markets, we've also compiled this collection of NBA betting tips.
These tips are primarily targeted at beginners. We cover the basics of betting on the NBA that you should know before getting started, including the different wagering options available. We also look at some of the things you need to do to find good bets.
There's some advice here that even experienced bettors will likely find useful, too. If nothing else, it pays to revisit the fundamentals every now and then. You can't make money by betting on NBA basketball without them, and they always apply no matter what other systems and strategies you use.
Bet on the NBA Online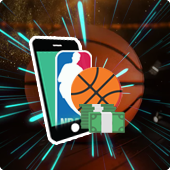 We'll start with a tip that is perhaps an obvious one in this day and age. We strongly advise that you bet on the NBA online, as there are multiple advantages to doing so.
Online sportsbooks are better than their land-based counterparts, and they ultimately give you a better chance to win. Here are some of the main advantages of betting on the NBA online.
Bet anywhere, anytime
Higher NBA odds
More NBA betting markets
Bonuses and promotions
Betting on the internet is simply more convenient and should bring you a better return in the long run. If you 're serious about making money from the NBA, you should move your action to the web. That's where the majority of successful bettors are.
Of course, you need to choose the right online sportsbooks or betting apps. We can help you there, as we have recommendations for both.
Learn the Different NBA Wagers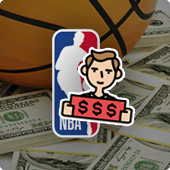 One of the advantages of betting on the NBA online is all the different wagering options you'll find. The top online sportsbooks and bookmakers have a ton of NBA betting markets, making it easier to identify profitable spots to get your money down.
You need to understand how all these wagers work if you're going to win money from them. So, let's take a look at the most popular options.
Betting Options for NBA Games
Much of your betting is likely to be on individual NBA games. That's a viable approach, as there are over 1,000 of them during the regular season along. Working strategies for wagering on individual games can bring great returns in the long run.
Here are the main betting markets for NBA games.
Moneylines: Simply pick the winner of the NBA game and that's it.
Totals: Bet on whether the total number of points will go over or under a specified line
Point Spreads: The weaker team starts with a handicap, and you decide if the favorite can overcome it or not.
We've provided more information on each of these types of wagers on the following pages.
There are often other NBA markets available for individual games, too. Our advice is to stick with these three, though, at least until you have some solid experience in NBA basketball betting.
Please see the following page for more advice on betting on NBA games.
NBA Futures
There are multiple long-term NBA wagers you can bet on. These include things like backing a specific franchise to win the NBA Championship, or a specific player to be MVP.
These wagers are known as futures, or outrights. They can often provide really good value, especially if you bet on them early enough.
A downside is that you have to wait for longer for your payouts, but that's a small price to pay if you can pick the right wagers.
We definitely recommend that futures should form part of your overall NBA betting strategy, and you can get more advice on them on the following page.
NBA Prop Bets
NBA prop bets, or props, represent a large group of NBA betting markets. They cover all sorts of wagers. Examples include the statistical performance of a player in a game, a coach getting fired, or who will sign a player.
Many people believe that props are mostly for fun, and it's true that they can be highly entertaining. However, they can also be profitable too. There are various ways to attack them and if you focus on the best bets then there's money to be made for sure.
Here are some examples of wagers where you can make reasoned assessments of the most likely outcome.
James Harden to score more than 300 3-pointers in a season
Spurs over/under 34.5 rebounds vs. Knicks
LeBron over/under 3.5 triple-doubles in the NBA playoffs
We encourage you to constantly explore the NBA props available and look for any where you think you can find some value. Check out the following page for more.
Shop for the Best NBA Odds and Lines
Before we get into the NBA betting tips that will help you make good selections, here's a very important piece of advice that you should always bear in mind.
Shopping around for the best NBA odds and betting lines is one of the single best ways to improve your overall chances of making money.
The process of line shopping is incredibly simple, and yet vastly underrated. Many bettors, especially recreational ones, don't think it's that important. Others simply don't want to spend the time comparing odds, or don't want to have accounts at multiple online betting sites.
Sticking with one sportsbook is certainly easier, but you could be missing out on a ton of value.
By using even just two or three different online bookmakers, you can consistently find higher odds or better lines. The differences are typically rather small, and they won't make much difference over a couple of bets.
But, in the long run, just a couple of extra percentage points on your winnings can add up to a very significant amount of cash.
Exploit Bonuses and Promotions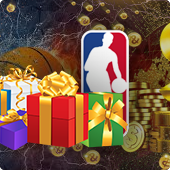 Most of our tips for betting on the NBA are ultimately about ensuring you place the best value wagers. This one is also about getting better value, but in a different way.
Online betting is extremely popular, not just for the NBA but for a wide range of other sports and leagues. It's also very competitive, with hundreds of gambling sites all competing with each other to attract new customers.
One of the ways that sites try to get new customers is by offering bonuses for signing up. Most of them offer a large welcome offer for joining and making your first deposit, and such offers are great for getting more money to bet with.
The extra value doesn't stop there, either, especially when betting on basketball. Because it's such a popular sport, and so many people bet on it, you'll often find additional bonuses and promotions available.
There are reload bonuses, exclusive promos around the NBA playoffs, contests, and so much more. You should shamelessly grab every opportunity for some cash on the side, and that's another good reason to join multiple betting sites.
Study NBA Stats and Trends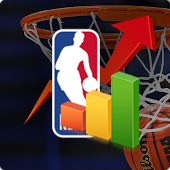 No list of NBA betting tips would be complete without discussing data analysis. You have access to tons of stats for free nowadays, and they're a powerful tool for helping you find winning wagers.
Just open up your browser and look through resources such as this NBA database or similar websites. They provide all the statistics you need for both individual players and NBA teams, and you should use those numbers in your betting strategies for sure.
Stats are one of the most reliable indicators of the true qualities of all teams and players. They obviously don't guarantee future performances, but they certainly provide some useful insight.
We recommend that to split your analysis into two parts. The first is to look at the big picture and check the stats over long periods of time. Those are good for assessing the underlying strengths and weaknesses of teams and individuals.
You also need to look at the more recent numbers, and understand current form. Form can change at any time, of course, but it's useful to understand what the latest performances have been like.
This kind of analysis helps you to make accurate predictions for upcoming games and for how well teams and players will do over the course of a season. It can also help you to spot specific trends that might be worth following.
For example, you might find that a team is especially strong (or weak) on the road. Or that a team's home games are typically higher-scoring than the average.
There are all kinds of trends that you can uncover if you look hard enough. That's why data analysis should play a significant role in your NBA betting strategies and systems. It will almost certainly improve your chances of winning money.
Analyze the Teams and the Players
Our next piece of NBA betting advice is to learn how to effectively analyze the teams and the players. Statistical analysis is a big part of that, but there's more than JUST the numbers to consider.
Ideally you should watch as much of the action as you can. Whether in real time or via highlights. This helps you to keep in touch what's really happening on the court, as the stats don't always paint the full picture.
You should also be constantly assessing things like the strengths and weaknesses of teams and players, the depth of rosters, and the overall influence of star players on a team.
For the best chance of making money from NBA betting, you need excellent knowledge of every single team.
Most people who bet on the NBA are already fans, and know a lot already. That's a great foundation to build from, but be careful about assuming you know more than you actually do.
It's easy to think you know all about a team, only to dig into the detail and be surprised by what you learn. Always be prepared to challenge your existing perceptions and adjust them as needed.
Consider the Schedule
Another key factor in NBA betting is understanding the importance of the NBA schedule.
The league has been trying to change things so that teams are not involved in consecutive road games too often. This used to be something that could really affect performances, but is less so now.
That hasn't wiped out the impact of the schedule has overall, though. Teams still face tough periods with lots of encounters against strong opponents, and easier periods when they are mostly facing weaker opposition.
Identifying such periods and assessing how they might affect performances and results is vital. That's why you should always study the NBA schedule and evaluate the impact it might have on each team. You also need to consider the impact on individual players, especially those with injury issues.
The official NBA website is the best place to get the scheduling information you need.
Choose Your NBA Wagers Carefully
This is perhaps one of the most obvious NBA betting tips. Its importance should not be under-estimated, though.
The league provides countless opportunities and the temptation to place a lot of bets can be strong. This is rarely the right approach, though.
When betting on the NBA, or ANY sports, it's important to be selective with your wagers.
Successful sports gambling is all about the concept of finding value, and not simply about trying to predict as many as outcomes as possible and betting on them all.
Without considering value, it's entirely possible that you can be right more often than not with your predictions and STILL lose money in the long run. You must consider the odds when deciding whether to bet or not.
Essentially, you should only place NBA wagers when the probability of an outcome is higher than the odds suggest. That's not always easy to calculate, but our odds converter can help.
It will help you turn NBA odds into implied probabilities. Once you've done that, you can then go for the bets that make sense.
A related tip for betting on the NBA is to be careful about WHEN you choose your wagers. You should always get your money down with a cool head. If you are angry after a loss, or you have been drinking, it's not a good time to bet.
Many people lose cash because of such mistakes. It's hard enough to find profitable opportunities when you're at your best. It becomes almost impossible when you're not.
A Word on Bankroll Management
You will find something relating bankroll management in many of our gambling guides and it's part of our advice for betting on the NBA, too.
Proper bankroll management is one of the most important concepts for successful betting and should always be considered. No exceptions.
No matter how good you are at selecting profitable NBA wagers, you will lose every now and then. In fact, you will lose often. And there will likely be some downright nasty losing streaks. The only way to survive them and get back to winning ways is to have a solid staking plan.
You should only ever have a small percentage of your bankroll at risk, and you need a safety net for the inevitable downswings. Don't allow a single bad spell to bankrupt you.
For more information about bankroll management and staking plans, please read the following page.
NBA Betting Advice on Our Blog
If you want to learn how to find the best NBA wagers on your own, we salute you! The NBA basketball betting tips included here are an excellent start and will help you to develop successful betting strategies over time.
You can also rely on our basketball writers for a constant flow of information and advice that will further assist you. We provide all kinds of expert analysis and insight on our blog, including additional tips for betting on the NBA. Some of our latest pieces are below, and you can check them all out here.