AFCON Betting – How and Where to Bet
The Africa Cup of Nations may not be the most glamorous international soccer tournament. But when it comes to betting on AFCON, it ranks right up there among the most exciting competitions on the planet.
Every two years, the Africa Cup of Nations provides us with countless opportunities to make money. However, you need a proper soccer gambling strategy to maximize your chances of AFCON betting success.
Fortunately, this Africa Cup of Nations betting guide gives you all the information you need for wagering on the tournament.
If you're unsure about where to bet on the Africa Cup of Nations, we've got you covered. Here's what you can find on this page.
Betting on the 2021 Africa Cup of Nations
If you are going to bet on AFCON 2021, you need to know all the facts. Let's begin with the basic info about the competition.
Tournament dates: January 2022 – February 2022
Host nation: Cameroon
Total teams: 24
Defending champions: Algeria
The first thing to note here is that the 2021 edition of the Africa Cup of Nations will actually take place in 2022.
AFCON 2021 was scheduled to kick off on January 9, 2021, with the final originally set for February 6. But due to the global situation, the Confederation of African Football (CAF) made the decision to postpone the tournament for a year.
Five teams have already booked their spot at AFCON 2021, with host nation Cameroon qualifying automatically. But with the final rounds of qualifiers not taking place until March, there are still 19 places up for grabs.
That's why betting on the AFCON winner at this point is tricky and probably not the best idea unless you have an excellent reason to back a certain nation. We don't have a good pick right now which is why we will abstain for any Africa Cup of Nations predictions at this point.
Make sure to check this betting guide as the tournament draws closer because we will be following the latest AFCON odds and this section will be updated with picks and analysis multiple times before the competition starts.
You can also keep up to date with all the latest qualification news over at CAF's official website. For now, let's check out which teams have already booked their place and how they performed in the past.
CONFIRMED TEAMS FOR AFCON 2021
Team
AFCON Appearances
AFCON Titles
Algeria
18
2
Cameroon
19
5
Mali
11
0
Senegal
15
0
Tunisia
19
1
As you can see, Algeria, Mali, Senegal, and Tunisia will all be heading to Cameroon next year and some of these nations will be among the favorites to win.
Algeria will be looking to defend their title, while Tunisia will be hoping to add to their sole AFCON triumph. Mali and Senegal are yet to get their hands on the biggest prize in African soccer, while Cameroon is one of the most successful nations on the continent.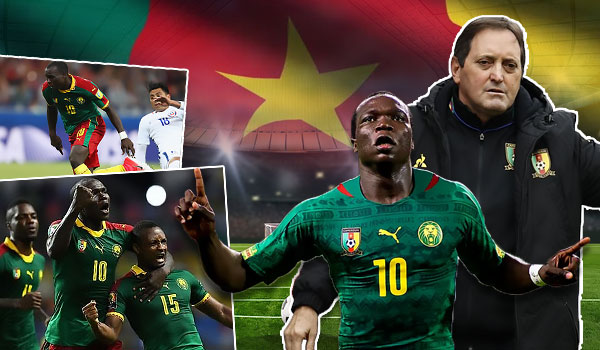 For a more in-depth look the upcoming tournament and the betting opportunities it should bring, head over to our tournament guide for the 2021 Africa Cup of Nations.
This page tells you everything you need to know about AFCON 2021 betting, including teams, players to watch, stadiums, and much more.
As soon as we have more updates with predictions and analysis based on the latest Africa Cup of Nations odds, you will find them here.
Where to Bet on the Africa Cup of Nations
You may already have your favorite online betting sites – and that's fine. But when it comes to wagering on the Africa Cup of Nations, are they really going to help you make the most of your money?
There are hundreds of sportsbooks online nowadays, all claiming to offer the best odds and promotions. However, the best AFCON betting sites listed below will undoubtedly give you an edge.
Rank
Betting Site
Exclusive Bonus
Get Started

#1

BetOnline Sports

60% Up To

$1,000

Visit Site

Visit Site

#2

Bovada Sports

50% Up To

$250

Visit Site

Visit Site

#3

BetUS

125% Up To

$2,500

Visit Site

Visit Site

#4

Everygame

100% Up To

$500

Visit Site

Visit Site

#5

MyBookie

100% Up To

$1,000

Visit Site

Visit Site
There are a number of different factors that you need to consider when it comes to choosing where to bet on the Africa Cup of Nations. Thankfully, our recommended sites tick all the boxes.
So, what can you expect from our leading AFCON betting sites?
Safe and secure transactions
Competitive Africa Cup of Nations odds
Trustworthy payment options
A wide range of markets
Tasty bonuses and promotions
Swift payouts
First-rate customer service
You could spend hours doing your own research and looking for sites that provide you with the best possible Africa Cup of Nations gambling experience. But why not trust the soccer betting experts?
Basic Africa Cup of Nations Betting Tips
Before getting into some advanced AFCON betting strategy, let's start by taking a look at some basic Africa Cup of Nations wagering tips.
History Often Repeats Itself
The inaugural Africa Cup of Nations was held all the way back in 1957. There have been 32 editions of the tournament over the years, yet only seven countries have won the trophy more than once.
This means that if you know absolutely nothing about betting on AFCON, you can always look back at the past winners to point you in the right direction. Here's a quick look at the nations that went all the way twice or more.
Egypt – 7 titles
Cameroon – 5 titles
Ghana – 4 titles
Nigeria – 3 titles
Ivory Coast, Algeria, Ghana – 2 titles
With seven titles to their name, Egypt holds the record for the most AFCON triumphs. Cameroon is the second-most successful team in the tournament's history, having clinched the trophy five times.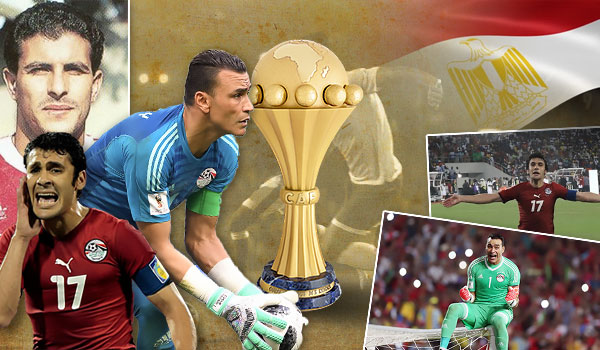 Ghana has four AFCON titles, Nigeria has three, while three countries – Ivory Coast, Algeria, and Ghana – have won the Africa Cup of Nations on two occasions.
Naturally, if you're wagering on the outright winner of the Africa Cup of Nations, the countries with multiple titles under their belt aren't likely to have the most attractive odds. Still, it is always worth considering the history books.
We have a special section that does it in more detail below, so there will be more useful records covered in this AFCON betting guide.
Consider Home Advantage
It is important to remember that host nations have often performed well in the Africa Cup of Nations.
In all sports, playing on home soil generally gives teams an advantage. But when you look at past editions of AFCON, there is no denying that host nations have excelled.
Over the years, 11 of the 32 AFCON titles have been won by the team hosting the tournament. That means that over a third of the triumphs have come on home soil. When you compare those statistics to other major international soccer tournaments, it is clear that African teams thrive on their own patch.
Three of the Pharaohs' seven titles have been won in Egypt, while two of the Black Stars' four triumphs have come in Ghana. Interestingly, four of the seven countries with one AFCON title to their name secured the trophy at home.
Here is the full list of home Africa Cup of Nations winners.
| | |
| --- | --- |
| Team | Home titles |
| Egypt | 1959, 1986, 2006 |
| Ghana | 1963, 1978 |
| Ethiopia | 1962 |
| Sudan | 1970 |
| Nigeria | 1980 |
| Algeria | 1990 |
| South Africa | 1996 |
| Tunisia | 2004 |
When it comes to betting on the Africa Cup of Nations, backing the host nation is likely to stand you in good stead.
Examine Pre-Tournament Form
This may sound like an obvious thing to do, but paying attention to the form of teams leading up to the tournament can give you a head start when gambling on AFCON.
Sure, it is all well and good backing powerhouses like Egypt and Cameroon to finish top of their group and go deep into the competition. But what if they are coming into the Africa Cup of Nations on the back of a few poor results?
Every country will play at least one or two warm-up friendlies before the tournament gets underway, giving us a good idea of what to expect when the group stage kicks off.
Keeping an eye on pre-tournament games – and studying results, goalscorers, and shutouts – is only going to put you in a stronger position to bet on the Africa Cup of Nations.
Advanced AFCON Betting Strategy
In this section, we cover a number of expert tips for betting on the Africa Cup of Nations. By following them, you could carry your AFCON betting game to the next level.
Big-Name Stars Don't Always Shine
Keep an Eye on Domestic Seasons
Don't Be Afraid to Bet Early
Consider Unrest Behind the Scenes
Let's dig a bit deeper to see what each of them means exactly and how it can help when you bet on AFCON.
Big-Name Stars Don't Always Shine
Even if you're not an avid follower of soccer, the chances are that you've heard of the top players. With the rise of social media and the global coverage of the sport, it is difficult not to learn a bit about soccer's biggest stars.
Many of Europe's top teams are packed with world-class stars, yet African teams don't tend to have more than a handful of household names in the same generation.
Inexperienced AFCON bettors are likely to back countries with notable players, but that isn't always a good idea.
Smaller nations with fewer big-name players could have a better work ethic and a greater sense of togetherness, making them equally as dangerous as a team with one or two standout performers.
A good example of that is the Algerian triumph from 2019. While the country did have a superstar in Riyad Mahrez, the impeccable teamwork brought the title. And the performance in the final shows clearly that the unity in the squad was the key success.
Make sure to evaluate each squad in its entirety, not just focus on a couple of top players that you're familiar with.
Keep an Eye on Domestic Seasons
Most major international soccer tournaments take place during club soccer's offseason. This means that there is a decent break between the end of domestic campaigns and the start of competitions like the World Cup and Copa America.
But with the Africa Cup of Nations historically kicking off in January, many of the players participating in the tournament will have to leave their club midway through the season.
If a player has been scoring bags of goals for their club in November and December, they are likely to carry that form into a mid-season Africa Cup of Nations and your wagers should acknowledge that.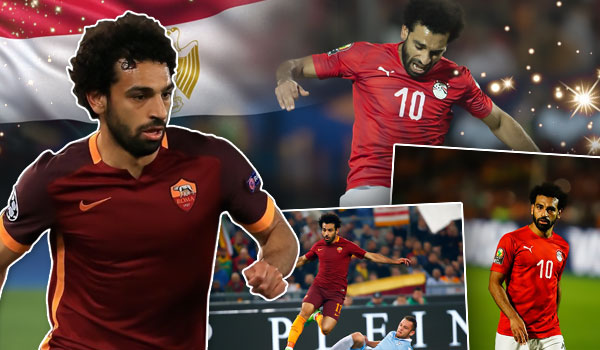 Conversely, if a player has been struggling to make an impact domestically, they could find it difficult to hit the ground running on the international stage.
Don't Be Afraid to Bet Early
The next edition of the Africa Cup of Nations may feel like a lifetime away. Still, the leading betting sites roll out their AFCON odds for the upcoming tournament months – or sometimes years – in advance.
So, what's the point in betting on something that isn't going to happen in the foreseeable future?
Well, providing that you're willing to be patient, placing your AFCON wagers before most other bettors have even considered checking out the Africa Cup of Nations betting odds can prove to be hugely profitable.
After all, the further away you are from the tournament start date, the more attractive the bookies' odds are likely to be.
If you follow African soccer closely, you might be able to accurately predict each nation's trajectory. For example, a country with a strong U-23 team and multiple young players in top European leagues is likely to grow dramatically over a short period of time.
Consider Unrest Behind the Scenes
Over the years, African soccer has gained a reputation for being pretty unstable. With persistent off-field issues negatively impacting many of the continent's soccer teams in recent times, it pays to keep an eye on what's going on behind the scenes.
Financial disagreements, health concerns, and political problems are not uncommon in African soccer. Below is a list of notable off-field moments that impacted the Africa Cup of Nations.
2010
Togo withdraws from AFCON 2010 following a deadly gun attack on the team bus
2010
Togo banned from AFCON 2012 and AFCON 2013
2011
Swaziland pulls out of qualifying for AFCON 2013 for financial reasons
2015
Morocco withdraws as AFCON 2015 hosts due to fears over Ebola
2015
Morocco banned from AFCON 2017 and AFCON 2019
2015
Morocco's ban upheld by the court of arbitration for sport
2016
Chad pulls out of AFCON 2017 due to financial constraints
2019
Sierra Leone disqualified from AFCON 2019 qualifying after government interference
2019
Multiple teams embroiled in disputes over payments at AFCON 2019
Hopefully, we won't see any problems leading up to future editions. But given the recent AFCON history, it is difficult to completely rule out teams being handed bans or being forced to withdraw, possibly through no fault of their own.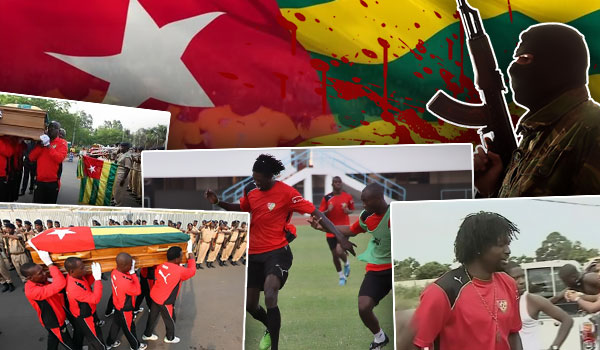 With that in mind, you should keep up to date with all the latest off-field news before betting on the Africa Cup of Nations.
With our main tips on finding the best AFCON bets out of the way, let's proceed to learn more about the competition's history and records.
Africa Cup of Nations History
Founded in 1957, the Cup of Nations is the most prestigious soccer tournament on the African continent. The AFCON, as it is known, is comprised of men's association football teams competing every two years for the title of best in Africa.
The tournament is overseen by the Confederation of African Football, which has been, and continues to be, the controlling body for international competitions within the continent.
The Confederation was organized in 1956, and soon after created the Africa Cup of Nations to increase both the quality of play and interest in the sport throughout the continent.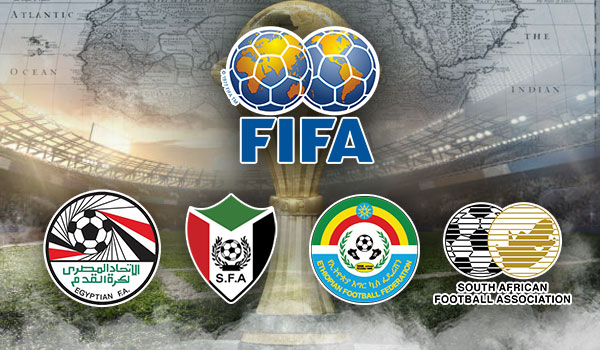 The tournament began with only four countries participating: Sudan, Ethiopia, South Africa, and Egypt. By 1962 there were nine nations, and a qualifying round was introduced. Interest in the Cup was growing, and other teams from across Africa were expressing a readiness to compete for the title.
By 1998, the Cup had established itself as the defining tournament in the continent's football arena, and 16 teams were now participating. The field has since expanded to 24 teams that fight for the most prestigious soccer prize in the region.
AFCON Stats and Records
Here is a review of the standout statistics achieved within the Africa Cup of Nations since its inception.
Most Successful Teams
As you can see, Egypt has been the dominant team, with their seven wins. But if you notice, Nigeria has a larger presence among the top three places as a whole, having finished in the top three, 14 times, to Egypt's 12.
| | | | |
| --- | --- | --- | --- |
| Team | Titles | 2nd Place | 3rd Place |
| Egypt | 7 | 2 | 3 |
| Cameroon | 5 | 2 | 1 |
| Ghana | 4 | 5 | 1 |
| Nigeria | 3 | 4 | 7 |
| Ivory Coast | 2 | 2 | 4 |
| DR Congo | 2 | 0 | 2 |
Ghana, too, holds a very respectable number of second-place finishes; something to think about when you are placing your sports bets for the next Cup.
Having said that, there always seem to be teams that excel at making it to the quarter and semifinals, but never seem to leap the hurdle to the finals.
There are several teams who have taken one title, reminding us that no team can ever be counted out. Ethiopia (1962), Sudan (1970), Congo (1972), Morocco (1976), South Africa (1996), Tunisia (2004), and Zambia (2012) all managed lift the AFCON title.
Top Goalscorers of the Africa Cup of Nations
When we talk about AFCON goals, no one has yet come close to challenging Cameroonian striker Samuel Eto'o, with his dramatic 18 goals record.
| | | |
| --- | --- | --- |
| Name | Team | AFCON Goals Scored |
| Samuel Eto'o | Cameroon | 18 |
| Laurent Pokou | Ivory Coast | 14 |
| Rashidi Yekini | Nigeria | 13 |
| Hassan El-Shazly | Egypt | 12 |
| Didier Drogba | Ivory Coast | 11 |
| Hossam Hassan | Egypt | 11 |
| Patrick Mboma | Cameroon | 11 |
Samuel Eto'o —18 Goals
Eto'o is considered the best African striker, an honor he earned in his two-decade-plus pro career on teams from Madrid to Qatar. His performances with Barcelona, Inter, and the Cameroonian national side make him an icon of African soccer.
Laurent Pokou—14 Goals
Born in the Ivory Coast, a former French Equatorial colony, Pokou has made his name not only in the AFCON but also in France. Pokou was a striker, and he played for nearly twenty years on club and international levels.
Twice has Pokou been the top goalscorer at an AFCON, in 1968 and again in 1970 (where he scored five goals in a single match against Ethiopia).
Rashidi Yekini—13 Goals
Yekini was luminous in 1994 when he became the first player to score a goal for Nigeria at the World Cup, making him an instant national treasure.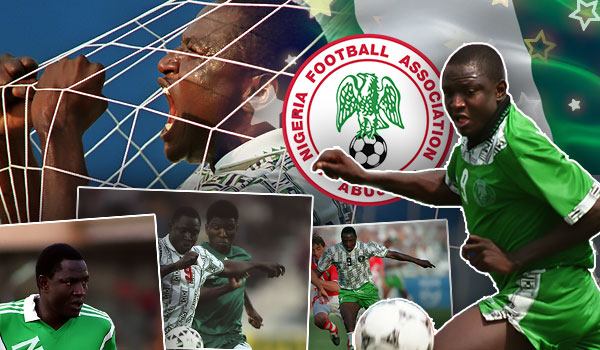 In addition to scoring that first Nigerian goal, he took the team to the ultimate victory in the 1994 AFCON, sweeping every match up to and including the final.
If those achievements were not enough to etch his name into the history books, Yekini also finished the tournament as the top scorer, as well as the recipient of the Best Player award.
Hassan El-Shazly—12 Goals
Considered equally talented with his left and right feet, El-Shazly scored six goals in the 1963 AFCON. The striker also made a name for himself in the Egyptian Premier League, where he was top goalscorer several times, finding the net more than 30 times in his best season.
Didier Drogba—11 Goals
One of the most famous players both within Africa and around the world, Drogba was born in the Ivory Coast. The legend captained that team, and is still the top scorer for the nation.
Drogba played for Chelsea, where he won the English Premier League, and he also scored the winning penalty to gain the Champions League trophy for the team.
Off the pitch, Drogba is known for his charity work that has helped many African communities.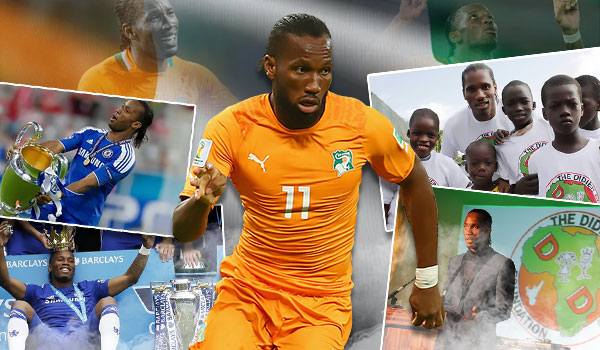 Hossam Hassan—11 Goals
A hero to Egyptians and soccer fans alike, Hassan continues to hold his record as Egypt's most impressive goalscorer, at 68 goals in 176 appearances.
Hassan has played in the African Cup of Nations seven times, scoring 11 goals in the process. Since 2008 he's been focusing on managing teams, but has yet to lead the Egyptian national side.
Patrick Mboma—11 Goals
A striker out of Cameroon, Mboma has been the top scorer for his country's team, as well as a strong contributor to a number of clubs, such as Gamba Osaka, Paris Saint-Germaine, and Sunderland.
Nations that Produce the Most Top Goalscorers
Among the top 15 AFCON goal scorers, here are the countries that have produced the most players on the list.
| | |
| --- | --- |
| Team | Number of Top Goalscorers |
| Ivory Coast | 4 |
| Cameroon | 2 |
| Egypt | 2 |
There are a number of Egyptian scorers, however, who are climbing the ranks and are worth watching. Something to think about when you place your next AFCON bets for future editions.
Betting on Other Popular Soccer Tournaments
Make sure to check our African Cup of Nations betting guide regularly because we update the information here all the time. Our team follows the news and every nation, so when a good wager is available, this is where you'll find it.
We also make sure to keep all the stats up to date, so they are refreshed with the latest information after every AFCON edition.
If you like this page and would like to explore similar ones for betting on soccer, check out the following.
We also would like to remind you that the following sites for betting on AFCON offer the most opportunities for the tournament, so feel free to to go ahead and join them.
June
Sportsbook of the Month

Sign up Bonus
60% Up To $1,000
READ REVIEW
Visit Site
X