Guide to Betting on the A-League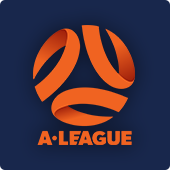 Soccer might not be the most popular sport in Australia, but the A-League has been on the rise for years.
If you're a fan and would like to try to make some cash from betting on the A-League, we have the advice to help with that.
Our A-League betting guide includes plenty of useful information that can help you build a winning strategy. We explore the betting markets available online and share our top Australian soccer strategy tips for all of them.
We also have a list of the best A-League betting sites and apps where you can get maximum value for your real money wagers.
Here's the full list of sections if you want to jump straight to something specific.
Best A-League Betting Sites in 2022
Rank
Betting Site
Exclusive Bonus
Get Started

#1

BetOnline Sports

60% Up To

$1,000

Visit Site

Visit Site

#2

Bovada Sports

50% Up To

$250

Visit Site

Visit Site

#3

BetUS

125% Up To

$2,500

Visit Site

Visit Site

#4

Everygame

100% Up To

$500

Visit Site

Visit Site

#5

MyBookie

100% Up To

$1,000

Visit Site

Visit Site
If you want to know where to bet on the A-League, the answer is in the table above. We've spent a lot of time finding the top A-League gambling sites, and we recommend that you check them out.
Even if you conduct your own search for the best sites to bet on the A-League bets, you will likely reach the same conclusion as us and spend unnecessary time and energy in the process.
If you choose to trust our top-rated A-League betting sites, your money will be in safe hands. In fact, our recommendations are among the most secure and safest sportsbooks online.
These are reputable sports betting sites that are legit, and they also offer the best A-League odds along with some attractive promotions and bonuses.
Here are just a few of the reasons we recommend them for betting on the A-League online.
Advantages of the Top A-League Betting Sites
Competitive A-League Odds – Our recommended sites consistently provide the best A-League odds online.
Safety and Security – Your money and personal information are protected at our top-rated A-League betting sites.
A-League Betting Apps – The best soccer gambling sites offer great mobile betting apps that are compatible with all modern devices.
Numerous A-League Betting Markets – You can find a wide range of betting options at all the leading A-League sportsbooks online.
Bonuses and Promotions – Wagering on Australian soccer is even better with the tasty bonuses at the top A-League apps and betting sites.
Speedy Payments – Fast payouts and quick transactions make online betting on the A-League for money more convenient.
As you can see, you'll get excellent returns from your A-League picks and enjoy a great overall experience if you pick one of our recommended betting websites.
Betting Options for the A-League
There are multiple options when it comes to betting on the A-League. With the best Australian soccer sportsbooks offering outright, match, in-play markets, and more, there is no shortage of opportunities to make money.
Let's take a closer look at the main betting options you can find at all the top A-League online betting sites.
A-League Futures
Gambling on A-League futures can earn you a tasty profit. These bets are usually placed before the start of the season, although you can still take advantage of most outright markets while the season is taking place.
Basically, A-League futures enable you to bet money on many of the league's long-term events, including the outright winner and top goalscorer.
A-LEAGUE OUTRIGHT MARKETS
Market
Explanation
A-League Premiership Winner
Backing a team to finish first in the regular season
A-League Championship Winner
You back a team to win the Grand Final
To Finish in the Top Six
Back one or more teams to finish in the top six
A-League Golden Boot Winner
Betting on the top goalscorer in a season
Betting on the A-League Premiership winner effectively means you're wagering on a team to finish at the top of the ladder at the end of the regular season. This is different from the Championship, which takes place after the regular season.
The top six teams at the end of the regular season qualify for the postseason, and you can also bet on which sides will achieve that feat.
Betting on the A-League Golden Boot winner is another attractive futures option. With this market, you are wagering cash on the top goalscorer in the league and the odds are usually excellent before the start of the season, even for the favorites.
Betting Markets for A-League Matches
With over 300 games in the regular season alone, real money betting on A-League matches individually is hugely popular among soccer gamblers.
Given that there are so many opportunities, we recommend familiarizing yourself with the options. Here are some of the main match markets, along with some information about each.
Moneylines – It doesn't get any easier than this. Simply pick the winner of the game or opt for the draw.
Both Teams to Score – There are two options here – yes and no. Decide whether you think both teams will score.
Over/Under Total Goals – You can bet on the total number of goals scored in an A-League match.
Correct Score – One of the toughest markets for betting on the A-League, you need to predict the exact score of a game.
First/Anytime Goalscorer – This market allows you to wager on a player scoring the first goal, or at any point during the match.
Half Time Result – As well as gambling on the final outcome of a game, you can also predict the result at half time.
Clean Sheet – If you think a team won't concede any goals, you can back them to keep a clean sheet.
Some of the leading sites and apps for betting on the A-League offer even more markets than the ones covered above.
If you're new to soccer betting, we recommend testing out some of the simpler A-League bets before getting involved with the more complex wagers.
To learn more about the latter, check out our guide to soccer specials and props.
A-League Live Betting
Placing pre-game bets on individual Australian soccer games is all well and good, but there is another way to win real money betting on the A-League – live gambling.
The best online sportsbooks for the A-League all offer the traditional pre-game markets, such as moneylines, goals, and both teams to score. However, there is also a host of in-play markets to discover.
Let's check out some of the top A-League live betting markets and in-play options.
LIVE BETTING MARKETS FOR THE A-LEAGUE
Market
Explanation
Next Team to Score
Betting on a team to score the next goal
Next Player to be Carded
If a player is close to going in the book, back them to pick up the next card
Next Player to Score
You can wager on any player to score the next goal
No More Goals
Use this market if you think the result will stay the same
It is worth noting that live A-League betting is risky. After all, a game can change in an instant, meaning the in-play odds often fluctuate massively throughout a match.
But if you use these markets wisely, placing in-play wagers on A-League games can prove to be very profitable.
A-League Betting Strategy
You need to adhere to all the basic principles of sports betting when wagering real money on the A-League. However, there are many factors that make Australian soccer – and betting on the A-League – unique.
Here are some A-League betting tips that are specific to the league.
Consider Travel Distances and Home Advantage
Believe it or not – the A-League is home to the world's longest away trip in top-flight soccer.
At least three times every season, the "Distance Derby" is contested by Perth Glory and Wellington Phoenix.
In case you didn't know, the distance between Perth (Western Australia) and Wellington (New Zealand) is a whopping 5,300 km!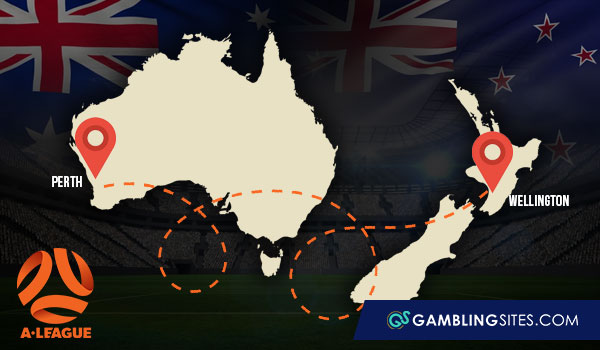 Honorary mentions go to the distances between other Australian cities such as Adelaide (South Australia), Melbourne (Victoria), Sydney (New South Wales), and Brisbane (Queensland).
Australia is an enormous country, yet every team plays in the same division Down Under. By contrast, the top-flight soccer league in the US is split into two conferences; Eastern and Western. This limits the travel between games.
Now, imagine how you feel after a long-haul flight – not so great, right? Well, some A-League clubs have to take an eight-hour plane ride just to play 90 minutes of soccer!
At the end of the day, a traveling A-League team is always going to be at a disadvantage, while the home side will naturally be fresher.
When it comes to assessing the A-League betting odds and gambling on Australian soccer games, always consider the distance between the teams.
Learn About the A-League Season Format
One of the first things you should do when learning how to bet on the A-League online is familiarize yourself with the format of the season.
All the major European soccer leagues generally run in the same way. For example, every team plays their opponents home and away, with the final standings used to decide the winner. But in Australia, they do things differently.
Let's take a closer look at the A-League format.
The Regular Season
With a total of 12 teams in the A-League, every club plays 33 games during the regular season. As well as facing each opponent home and away, every team plays an extra game against their competitors – either home or away.
The final standings are then used to determine which clubs qualify for the postseason, commonly known as the finals series.
The Finals Series
The finals series is the A-League's postseason knockout competition, consisting of three phases; the eliminations finals, semi-finals, and grand final.
Here's how each one works.
| | |
| --- | --- |
| Stage | Teams |
| Elimination finals | From 3rd to 6th in the regular season |
| Semi-finals | Elimination finals winners + top two |
| Grand Final | The winners of the semi-finals |
The top two teams from the regular season enter the finals series at the semi-finals, with the teams ranked third to sixth heading into the elimination finals. In the end, the last two clubs standing battle it out for the Championship in the grand final.
Betting on the A-League regular season is different from the finals series. While every team participates in the regular season, only the best sides make it to the postseason, so you'll need to consider that when placing your A-League wagers.
On top of that, the series in the postseason are all in the best-of-one format, so one defeat is enough to get eliminated. The pressure is high and that's important when you prepare your A-league bets for this part of the season.
Look Out for New Teams
Soccer bettors will be familiar with the concept of promotion and relegation, with nearly every major league around the world operating along those lines.
Australian soccer is growing. While teams can't get relegated from the A-League, expansion clubs can join.
Since 2010, the A-League has grown from eight teams to 12. Melbourne City and Western Sydney Wanderers joined in the early 2010s, with Western United and Macarthur FC further bolstering the league in recent years.
NEWEST A-LEAGUE TEAMS
Team
Year of Entry
Macarthur FC
2020
Western United
2019
Western Sydney Wanderers
2012
Melbourne City
2010
Western United defied the A-League odds in their maiden campaign, making it all the way to the semi-finals in the 2019/20 season. However, future expansion clubs may find it more difficult to adapt to the demands of top-flight soccer.
The best betting sites for the A-League are likely to initially give new teams big odds, both in the match markets and the futures markets. But if you think an expansion club is destined to thrive, back them early on – and you could make some serious money on your A-League bets.
With tentative plans in place for more expansion teams to eventually join the A-League, it is worth keeping up to date with all the latest Australian soccer news.
Reference the History Books
The A-League is by no means the oldest soccer league in the world. Still, looking back at the history of the league will only improve your chances of landing your A-League bets.
Since its inception in 2005, the A-League has produced plenty of trends and patterns you can use to create an efficient – and profitable – A-League betting strategy.
As an example, let's take a look at the nationality of Golden Boot winners over the years.
NATIONALITIES OF A-LEAGUE GOLDEN BOOT WINNERS
Nation
A-League Golden Boot Winners
Australia
9
New Zealand
2
Albania
1
Austria
1
Brazil
1
Fiji
1
Kosovo
1
Netherlands
1
Scotland
1
Uruguay
1
The A-League has been home to a host of top overseas players. But as you can see, homegrown players have dominated the Golden Boot since the award was introduced.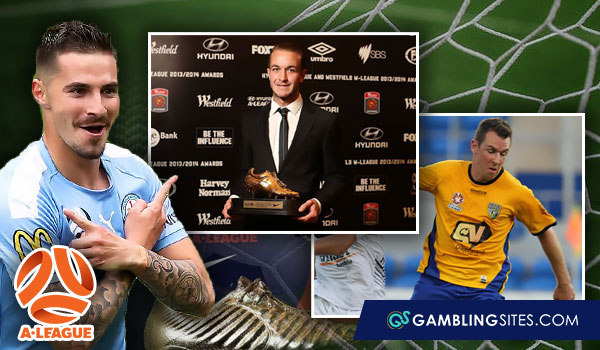 In other worldwide leagues like the EPL and MLS, the scoring charts are often dominated by overseas players. But in the A-League, native players have clearly enjoyed more success in the Golden Boot race.
So, if you're wagering on the A-League top scorer, backing an Aussie striker to scoop the prize is a good place to start.
Of course, this is just one example of how using the history books can enhance your A-League betting experience. You can also apply this strategy to the Premiership winner, Championship winner, and much more.
Keep reading for more stats and records that could help you to make your A-League predictions.
Stats and Records for the Australian Soccer League
In this section, we cover a range of stats and records that can aid your A-League gambling adventure.
As we mentioned above, using trends will ultimately help you win money while betting on Australian soccer.
Most Successful Teams in A-League History
Sydney FC has won more A-League titles than any other side, having clinched five Championships and four Premierships.
Still, there are plenty of other clubs that have enjoyed success over the years.
TEAMS WITH THE MOST A-LEAGUE TITLES
Team
Championships
Premierships
Total
Sydney FC
5
4
9
Melbourne Victory
4
3
7
Perth Glory
2
4
6
Brisbane Roar
3
2
5
Adelaide United
1
2
3
Central Coast Mariners
1
2
3
Western Sydney Wanders
–
1
1
Melbourne Victory is renowned for being one of the most successful teams in A-League history, along with Perth Glory and Brisbane Roar.
Adelaide United and Central Coast Mariners each have won Championship and two Premierships to their name. Western Sydney Wanderers won the Premiership back in 2013 but eventually lost to the Mariners in the grand final.
Overall, five current A-League sides have never won a title. If you're betting on A-League futures, it makes sense to back a team with a strong history.
Recent A-League Title Winners
It's all well and good looking at the records from years gone by, but it is also worth considering the recent history books. After all, some A-League teams have enjoyed periods of success before dropping off, while other sides only rose to prominence in recent times.
Let's check out the premiers and champions from the past five seasons.
RECENT A-LEAGUE CHAMPIONS AND PREMIERS (LAST 5 SEASONS)
Season
Premiers
Champions
2019/20
Sydney FC
Sydney FC
2018/19
Perth Glory
Sydney FC
2017/18
Sydney FC
Melbourne Victory
2016/17
Sydney FC
Sydney FC
2015/16
Adelaide United
Adelaide United
To say that Sydney FC has dominated the A-League in recent years would be an understatement.
The Sky Blues have won three of the last four Premierships, as well as three of the last four Championships.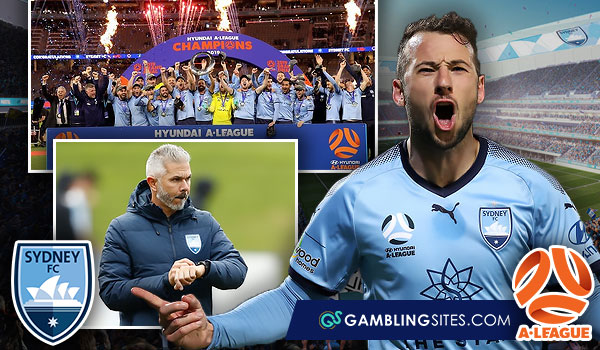 As you would expect, the best sites to bet on the A-League have favored Sydney FC in recent times. But when it comes to betting on the A-League champion, don't forget about the other teams with successful histories.
Clubs like Perth and Victory are bound to bounce back, so you should consider your options when wagering on the A-League title.
Best Win Percentages in A-League History
The table below shows the teams with the best win percentages in A-League history. All seven clubs have been in the A-League since its inception in 2005, so this gives you an idea of the most consistent sides.
It is worth noting that this table is accurate as of the end of the 2019/20 A-League season. With every passing season, our team will update these rankings.
TEAMS WITH THE BEST WIN % IN THE A-LEAGUE (2005-2020)
Team
Games
Wins
Win %
Sydney FC
383
181
0.47%
Melbourne Victory
383
168
0.44%
Brisbane Roar
383
159
0.42%
Adelaide United
383
156
0.41%
Perth Glory
383
143
0.37%
Newcastle Jets
383
127
0.33%
Central Coast Mariners
383
123
0.32%
You probably won't be surprised to see Sydney FC leading the way here. However, teams like Victory, Brisbane, and Adelaide could overtake the Sky Blues in the not-too-distant future.
This particular metric is useful for building a successful strategy for betting on A-League games individually. The percentages show that the league has been relatively close, and the differences aren't that big.
Useful Team Records
Here are some notable A-League records that could help when you try to win money betting on Australian soccer.
Most Points in a Season – Sydney FC (66)
Most Home Points in a Season – Brisbane Roar (33)
Most Away Points in a Season – Sydney FC (34)
Most Consecutive Wins – Western Sydney Wanders (10)
Most Consecutive Home Wins – Melbourne Victory (8)
Most Consecutive Away Wins – Melbourne Victory (8)
Most Goals Scored in a Season – Sydney FC (64)
Most Goals Conceded in a Season – Central Coast Mariners (70)
A-League Player Records
Getting to know the team records will give you an upper hand when it comes to gambling on the A-League. It is also worth familiarizing yourself with some records by individual players.
Most Goals in a Season – Bobo (27)
Longest Goalscoring Streak – Marc Janko (7)
Most Goals in a Match – Archie Thompson (5)
Most Hat-Tricks – Besart Berisha, Jamie Maclaren (5)
Most A-League Appearances – Andrew Durante (342)
Most A–League Goals – Besart Berisha (135)
A-League Betting in 2022
The 2020/21 A-League season runs from December 28, 2020, to June 30, 2021.
For the first time ever, the A-League will be home to 12 teams this year, with expansion club Macarthur FC joining the league.
Following double success last season, Sydney FC headed into the 2020/21 A-League season as both the reigning premier and reigning champion. Unsurprisingly, the top A-League sportsbooks are expecting the Sky Blues to defend their crown this year.
But with teams like Melbourne City and Perth Glory also likely to be in the mix, betting on the A-League in 2021 is bound to be exciting.
As the season unfolds, we will be providing regular A-League updates in our soccer blog, along with all the best A-League betting opportunities. We cover other leagues too, as you can see from our latest posts.
Better still, our experts provide picks for every single A-League game in our soccer picks section, so we offer plenty of A-League betting advice!
We also cover other soccer leagues from around the world, too. You can check out our latest soccer picks below.
July
Sportsbook of the Month

Sign up Bonus
60% Up To $1,000
READ REVIEW
Visit Site
X