24 Hours of Le Mans Betting Guide
Many believe that the 24 Hours of Le Mans is the greatest race in the world. It's exhausting for the drivers, challenging for the cars, and exciting for the fans.
Following the race is great. It's even more thrilling when you've bet some money on it. If that appeals to you, we recommend using the services of the best sites for betting on the 24 Hours of Le Mans online.
Rank
Betting Site
Exclusive Bonus
Get Started

#1

Bovada Sports

50% Up To

$250

Visit Site

Visit Site

#2

BetUS

125% Up To

$2,500

Visit Site

Visit Site

#3

MyBookie

100% Up To

$1,000

Visit Site

Visit Site

#4

Everygame

100% Up To

$500

Visit Site

Visit Site

#5

BetOnline Sports

60% Up To

$1,000

Visit Site

Visit Site
The top-rated online betting sites for the 24 Hours of Le Mans offer many perks that we we discuss later on this page. The include great odds, generous bonuses, and much more.
We also share betting tips for the 24 Hours of Le Mans on this page. Our goal is to help you build a winning betting strategy for the famous competition.
Our Guide to Betting on the 24 Hours of Le Mans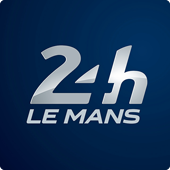 How to Bet on the 24 Hours of Le Mans Online
If you don't know how to bet on the 24 Hours of Le Mans online, we have good news! The process is simple and you will get used to it before you know it.
You can begin by following the steps below.
Pick a Sportsbook
Finding an online bookmaker that offers 24 Hours of Le Mans odds is the first thing you need to do.
You can proceed with your search alone and that's fine, but our recommendation is to check the best 24 Hours of Le Mans betting sites selected by our team.
We picked these sites after long hours of research and testing. They impressed on multiple fronts. For a start, they are all safe and secure, which is the single most important thing when you're betting online for real money.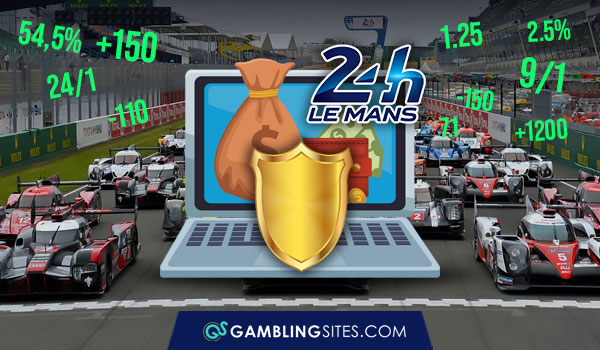 Furthermore, they offer a good number of 24 Hours of Le Mans bets, high odds, and promotions that can help you earn more when gambling on the race.
You can add to their perks things like fast payouts, a good variety of banking methods, and a reliable customer support service.
If you want action on the move, they also deliver the best apps for betting on the 24 Hours of Le Mans online. Some of them are native apps for popular devices like iPhone, and Android smartphones, while others offer mobile responsive sites that work on all mainstream phones and tablets.
Open an Account and Deposit
Once you've made your pick for where to bet on the 24 Hours of Le Mans online, you need to open a new account and make a deposit.
The process of joining an online bookie only takes a few minutes and you will be asked to fill in certain personal information like name, country of residence, email address, and so on.
When you're done with that, it's time to deposit so you can bet on the 24 Hours of Le Mans for money. Most sportsbooks online support different options, such as the following.
Common Banking Options at Online Betting Sites
Credit and Debit Cards: Visa, MasterCard, Maestro
Crypto: Bitcoin, Ethereum, Bitcoin Cash, Litecoin
E-Wallets: PayPal, Skrill, Neteller
Other: Wire transfers, cash transfers, checks, prepaid cards
Simply select the one that suits you best and deposit cash to your account. Our top selections all offer 24 Hours of Le Mans betting bonuses to new customers, so don't forget to claim the extra money.
Place Your 24 Hours of Le Mans Wagers
At this point, nothing stops you from gambling on the 24 Hours of Le Mans for real money. It's time to explore the different markets and place your wagers.
Here's what betting options are available at the best 24 Hours of Le Mans apps and sites.
Race Winner – You can back any team to finish first in the competition.
Top Finish – A good alternative is to back a team to finish in the top 3/5/10.
Winning Constructor – You can place a wager on the engine manufacturer of the winning car.
Class Winner – There are four different classes at Le Mans: LMP1, LMP2, GT Endurance Pro, and GT Endurance AM. You can bet on the winner in each class.
24 Hours of Le Mans Props – The top-rated online 24 Hours of Le Mans betting sites have interesting prop bets on the number of cars to finish, how many laps the winners make, and other unique propositions.
Head-to-Head Betting – You will also find different pairs of teams where you can pick one of them to finish ahead of the other.
Live 24 Hours of Le Mans Betting – You can place your wagers before the start of the competition or enjoy 24 Hours of Le Mans live betting. With so many twists and turns during the race, live betting might be the best option.
The 24 Hours of Le Mans betting odds offered by the top online bookmakers for motorsports are usually pretty standard, but they might surprise you every now and then.
That's why we recommend that you carefully check all of the markets at your disposal. With that in mind, let's move on to our tips for 24 Hours of Le Mans betting online.
We've split them into three different sections based on your timing.
Early Betting on the 24 Hours of Le Mans
The best 24 Hours of Le Mans betting apps and sites release their odds for the winner market relatively early. You can usually place wagers weeks or even months in advance.
Many people prefer this approach. It can be tricky, but it's also a good opportunity to find some betting value. The bookmakers usually don't know too much about many teams at this point.
They usually try to play it safe and offer low odds for the favorites, so picking one of the main contenders early is not always the best strategy.
You should be looking for underdogs that have a shot instead. Here are examples of factors that could hint at a surprise winner.
Old Teams Missing Out – When some of the stronger teams decide to miss the race for whatever reason, such as losing sponsors for example, that might open things up for the rest of the field.
New Teams with Strong Resources – Every now and then, a new organization with a lot of cash appears and changes the whole balance of power at Le Mans.
Driver Lineups – The 24 Hours of Le Mans is a one-off race and it's not part of a serial competition like Formula 1, IndyCar Series, and similar. The driver lineups change dramatically each year and you should be looking for new big names on the quest to the title.
Manufacturer Investment – Audi and Porsche dominated the race in the 2000s and early 2010s, but they stopped investing as much and Toyota took over, winning three in a row between 2018 and 2020. When a manufacturer is ready to splash the cash, that could be a game-changer.
You should follow the news and look for signs of changes if you want to bet money on the 24 Hours of Le Mans early. If you can't find a good reason to bet, you should probably save your money until things become clearer.
Betting on the 24 Hours of Le Mans at the Start
Many gamblers prefer to bet on the 24 Hours of Le Mans online in the last few days before the competition starts.
The main advantage of doing this instead of going for early wagers is that you have a lot more to work with. You know the teams, the drivers, and you can find plenty of useful information if you're ready to dig deep. There are also more markets available.
Here are our main tips that can help you make the best decisions with your late Le Mans 24 Hours bets.
Explore All Markets
In the last few days before the race, the top 24 Hours of Le Mans gambling sites already have all of their markets up. It's no longer only about backing the overall winner.
There are head-to-head options, different classes to bet on, prop bets, and all of the types of wagers we discussed earlier. You should go through all of them and not dismiss any option without careful consideration.
The most profitable 24 Hours of Le Mans online betting opportunities are often not in the traditional markets.
Analyze Every Team Carefully
The core of your 24 Hours of Le Mans predictions should be related to the strength of each team. You need to carefully analyze the different factors that contribute to their likely performance before risking your cash.
Here are the main criteria that can help you determine what to expect.
Evaluate the Cars – You should obviously start with the car. How many resources were used to build it? Is it a new machine or was it developed in previous years and only improved for this one? What's the manufacturer behind it? These are all questions that need answers.
Assesss the Drivers – The rules of the 24 Hours of Le Mans suggest that each team could use two drivers, but most prefer three for the best chance to win. Be sure to check them out and don't underestimate F1 drivers, even if they're new to Le Mans.
Overall Resources – The organizations with the most resources usually have a stronger team. They employ faster and more competent mechanics, top-notch strategists, and other people that you don't always hear about. Their roles all play a big part.
Once you have a clear idea of what to expect, it's time to check some numbers and see if your initial expectations are confirmed by the early data.
Follow the Qualifiers and the Practice Sessions
The 24 Hours of Le Mans includes a week of preparations with multiple practice sessions, a main qualifier, and a Hyper-Pole session that determines the final grid at the start of the race.
While the final starting positions barely matter in endurance races like the 24 Hours of Le Mans, the performance of the cars during qualifying can tell you a lot.
Look for both top speed and durability. A car that's very fast in short stints and struggles to keep consistent tempo over longer ones is simply not going to do well in the most challenging race of motorsports triple crown.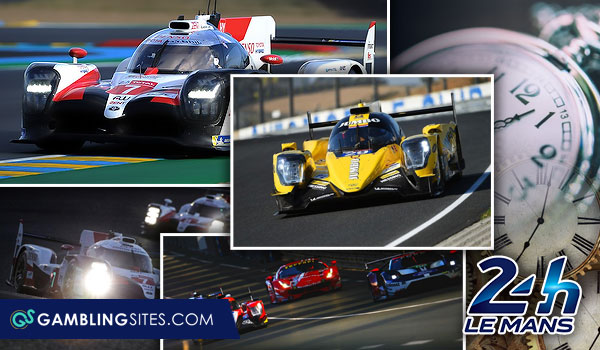 Live Le Mans 24 Hour Betting
Another good option is to bet on the 24 Hours of Le Mans live. With the race running for an entire day, there are plenty of twists and turns that can help you find good opportunities and high odds.
Making money is still not an easy task, but we have several tips that can significantly increase your chances of success.
Prepare Properly – The fact that you intend to bet while the race is running doesn't mean you can ignore the initial preparation. Make sure you know the teams and the drivers well, at the very least.
Follow the Stats – Once the race is on, you can find various stats relating to top speed, lap times, and similar. Hard numbers deliver an objective view of each team's performance.
Check the Weather Reports – It's possible that the weather is fine the entire time during the 24 Hours of Le Mans. However, we've seen rain, strong winds, and other extreme conditions that can impact the race dramatically.
Incoming Drivers – Most teams feature three drivers that rotate. Make sure you know who's going to take over when the current ones are done and how their performance could affect the outcome of the competition.
Watch the Race – If you're going to bet money on Le Mans live, you should watch the race. Not necessarily the entire competition, but at least for a while before you place your wagers.
Another big factor here is to stay calm and pick the best timing. The odds will move, the teams will have their ups and downs, and the overall dynamic can change at any time.
Stay patient and wait for the best moments to get your money down.
More Resources for Motorsports Betting
If you are interested in Le Mans betting, you're probably a fan of motorsports in general. Our site features many interesting pages that can help you win cash.
You should start with a look at our main motorsports betting guide. It covers fundamentals that apply to all forms of racing, as well as other useful information.
We also have in-depth guides for different motorsports and races that you will find helpful, so feel free to check them out.
Finally, we offer motorsports betting picks where our writers share their recommended wagers for various races. Here are their latest posts.
May
Sportsbook of the Month

Sign up Bonus
60% Up To $1,000
READ REVIEW
Visit Site
X