Review of Playtech's Ugga Bugga Slot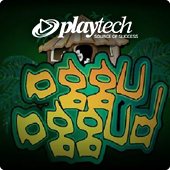 Doesn't it feel like many slot machines are interchangeable? All you have to do is trade the fruit symbols for some other theme and add some background music and – voila! – you have a "new" slot.
But the Ugga Bugga slot machine from Playtech is different. For starters, it has an entirely different reel structure. The setup is so unique that it may be confusing at first.
Once you get the hang of it, though, you will understand why Ugga Bugga is one of the best slot machines available.
In our Ugga Bugga slot review, we explain how the reel structure works and how to take advantage of the game's features.
Let's kick things off by exploring how to play Ugga Bugga.
Ugga Bugga Overview
We want to explain everything you need to know to start playing Ugga Bugga online. That includes the technical details, the symbols, and how the hold feature works.
The first thing you need to understand about the Ugga Bugga online slot is the structure.
Ugga Bugga Slot Structure
Seeing the screen is necessary to help you understand how to play Ugga Bugga. Here is an example of what you will see when you start playing the game.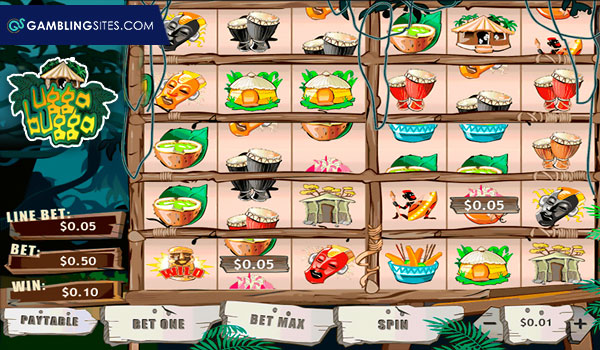 You will notice that there are ten sections with three symbols in each section. The wooden frames separate each section into a 3×1 row. Each 3×1 section represents one pay line.
How do you win on Ugga Bugga? The only way to win is to line up three of the same symbol in one of those 3×1 sections.
You can adjust the number of coins you play and the coin value. But the number of pay lines stays the same no matter what.
Playing Ugga Bugga online is almost like getting ten chances to win even though you are only playing the game one time.
It can be challenging to win because the symbols have to line up perfectly on the reels. Partial symbols do not count.
Fortunately, the hold feature that the Ugga Bugga casino game has makes it a little easier.
Holding Symbols on Ugga Bugga
When you press the spin button, only the reels in the first 3×1 section will spin. Then you will have the chance to hold symbols and spin again.
Any symbols you hold will automatically expand to the same position on the other nine 3×1 sections.
The Ugga Bugga online slot will automatically recommend which symbols you should hold. But the decision is up to you.
You can click the hold button underneath each symbol to choose the symbols you want to hold. When it is yellow, those symbols will hold. If it is white, those reels will spin again.
After you have decided which symbols to hold, press the spin button again. The game will spin the reels for the other 3×1 sections.
What's great is that the Ugga Bugga slot only collects your bet on the first spin. You don't have to spend more money on the second spin. But you will receive a payout for every winning combo that shows up in any of the nine other sections.
Neat, right?
Let's go over the symbols and paytable now so you know which symbols are worth holding.
Ugga Bugga Symbols and Paytable
The Ugga Bugga slot symbols are tiki-themed. It is easiest to think of the Ugga Bugga symbols in four groups; masks, drums, huts, and food bowls. That does not include the wild and scatter symbols.
There are three symbols in each of these categories. The payouts vary depending on the color. You can also earn payouts by combining different colors.
Here is a breakdown of the payouts for the Ugga Bugga online slot game. Each payout will be multiplied by your total line bet.
| | | | | | |
| --- | --- | --- | --- | --- | --- |
| Category | Masks | Drums | Huts | Food | Other |
| Symbol 1 | Black Mask (125x) | Black Drum (50x) | Brown Hut (30x) | Blue Food Bowl 15x | Wild Idol (1,000x for three) |
| Symbol 2 | Red Mask (100x) | Red Drum (35x) | Yellow Hut (20x) | Coconut/Green Food Bowl (10x) | Tribesmen/Warrior Scatter Symbol; (3 = 5x/2 = 2x/1 = 1x |
| Symbol 3 | Orange Mask (75x) | Brown Drum (20x) | Grey Hut (10x) | Pink Food Bowl (5x) | |
| Combinations | Any 3 Masks (75x) | Any 3 Drums (10x) | Any 3 Huts (5x) | Any 3 Food Bowls (2x) | Any Combination of Masks and Drums (5x) |
You always need at least three of a symbol to earn a payout. There are no smaller payouts for getting two of the same symbol, except the scatter and wild symbols.
Playing Ugga Bugga online for real money is different than playing other slot games. This game offers payouts for combinations of various symbols, making it easier to cash in on wins.
When the Ugga Bugga casino slot makes suggestions of which symbols to hold, it will always suggest the highest-paying symbols.
However, that might not always be the best suggestion. You may have better luck going for a combination of symbols.
Some players prefer to hold the lower-paying symbols because they have better luck getting multiple wins that way. Here is an example.
The grey hut only pays 10x. But if you get three grey huts on four or more of the reels, it will offer a better payout than three brown huts.
If you're wondering how to win on Ugga Bugga, you have to ask yourself if you want several small wins or a few larger wins. Keep the paytable in mind, and choose your hold symbols accordingly.
Ugga Bugga RTP
No matter which strategy you choose, you have an excellent chance of winning when you play Ugga Bugga for real money.
That is because Ugga Bugga has a Return to Player (RTP) percentage of 99.07%! It is the highest RTP of any slot game from Playtech. In fact, it is one of the highest RTPs on any online slot.
It is crucial to understand how the RTP gets calculated. You need to know that RTP is not a guarantee of how much you can expect to get back in winnings.
But slots with a high RTP, such as the Ugga Bugga online slot machine, offer better returns than other games. You can learn more about high RTP slots elsewhere on our site.
The high RTP is one of the best features of Ugga Bugga. Here are some other technical details about the Ugga Bugga casino slot game.
Ugga Bugga Technical Details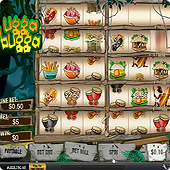 Theme: Tiki Jungle
Manufacturer: Playtech
RTP: 99.07%
Reels/Rows: 3/1
Paylines: 10 (1 Pay Line per Section)
Minimum bet: $0.10
Maximum bet: $50.00
Maximum Prize: 1,000 coins per pay line, 10,000 coins overall
Jackpot: No
Volatility: Low
Mobile Compatible: Yes
Technically, Ugga Bugga is classified as a low-volatility slot. That means that it tends to pay frequent small wins instead of infrequent large wins.
However, that is based on the payouts for each 3×1 section. You could get up to ten payouts per spin, which will make those small wins add up quickly.
Some people automatically write off the Ugga Bugga online slot machine when they see it has a small number of pay lines, low volatility, and only three reels.
But those details don't take the Ugga Bugga slot structure into account.
Don't make the mistake of missing out on this exciting, high RTP game just because the technical details make it look less thrilling than it really is.
Ugga Bugga Bonus Features
Ugga Bugga is not a progressive slot, and some people don't like that it doesn't have bonus features like free spins or bonus games.
We think the uncommonly high RTP more than makes up for the lack of a jackpot. By the same token, we also think the ability to hold symbols before your second spin is better than a free spins feature.
More importantly, the Ugga Bugga real money online slot DOES have some bonus features. They just work differently than the bonus features on many other slot games.
Expandable Wilds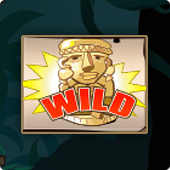 The Ugga Bugga slot game features a tiki idol as the wild symbol. It can take the place of any symbol on the reels, except the scatter symbol.
Our Ugga Bugga slot review already explained how the expanding holds feature works. Because you have the option of holding wilds, they can expand to all of the other pay lines.
This system is not the same as expanding wilds in other slot games. But it is an exciting bonus feature nonetheless.
If you manage to hold two wilds on the first spin, you are sure to win multiple payouts. You could earn ten payouts as long as you don't get partial symbols on any of the reels.
When you have two wilds, you can also earn a smaller payout of 2x your line bet. However, in most cases, you will get a higher payout based on the value of the third symbol.
The only time the two wilds' payout is beneficial is if the third reel has a partial symbol.
Warrior Scatter Symbol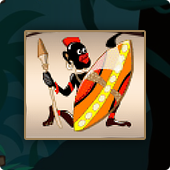 Some Ugga Bugga reviews say that Ugga Bugga does not have a scatter symbol, but they are mistaken. The warrior or tribesmen symbol is the Ugga Bugga scatter.
In typical 5 x 3 slot games, the scatter symbols payout anytime you get three or more anywhere on any of the reels. They do not have to be on one of the game's approved pay lines.
The Ugga Bugga slot machine does not have traditional pay lines. It cannot offer payouts for symbols that don't fall on a pay line because there is only one pay line for each section.
Instead, the Ugga Bugga scatter symbol offers frequent payouts. It pays out any time you get at least one symbol in a pay line section.
Many modern online slots use the scatter symbols to trigger additional slot features like free spins or bonus mini-games. The Ugga Bugga slot game does not have those features.
But scatter symbols do not have to have special roles. The most basic form of a scatter symbol is one that simply pays out every time it appears on the reels.
That is precisely what the Warrior symbol does on the Ugga Bugga slot.
Wild and scatter symbols are not the most impressive features. Many people assume that they are a given because almost every modern slot machine has them.
However, they are bonus features, and they work differently on the Ugga Bugga casino slot.
When you combine the wild and scatter symbols with the unique structure and the hold feature, they are far more valuable than the other bonus features on other casino slot games.
Review of Ugga Bugga Strengths and Weaknesses
It should be pretty clear by now that we love playing Ugga Bugga online. However, we still want our Ugga Bugga slot machine review to be accurate and unbiased.
To that end, here is an overview of both the positives and negatives of the Ugga Bugga casino slot machine.
Pros
Immersive tiki theme
Unique slot structure
Expandable wild symbols
Hold Feature
Scatter symbol that offers payouts for each time it appears on the reels
High RTP of more than 99%
Offers payouts for combinations of symbols in the same categories
Opportunity to win ten payouts for each spin
Cons
No progressive jackpot option
No free spins feature
No bonus games
Reels can stop anywhere, which leaves partial symbols on the reels
Individual payouts for each symbol are small
Our Ugga Bugga slot review verdict is that this game is distinctive and exciting. We love that it is not the same as all the other online slot games.
It lacks many of the features that other games offer, but that is what makes it unique.
The Ugga Bugga online slot machine also has one of the best RTP percentages in the industry.
That would not be possible if Ugga Bugga were a progressive slot game or a game with free spins and bonus rounds.
Most of the time, the more bonus features a game has, the lower its RTP percentage will be.
The unique slot structure, the hold feature, and the lack of other features all contribute to the high RTP of Ugga Bugga. They all make it an exciting and unique game to play.
Other Games to Try If You Like Playing Ugga Bugga
We are confident that you will love playing Ugga Bugga online for money. But we also recognize that the reasons you love it might be different from why other people appreciate it.
There are many other online slot machines similar to the Ugga Bugga slot. We want to recommend some of those other games based on the reasons why you might love playing Ugga Bugga online.
| | |
| --- | --- |
| If you like playing Ugga Bugga because… | You will also like playing… |
| It has a high RTP | Mega Joker from Netent |
| It has a unique slot structure | Triple Profits or Tropical Reels from Playtech |
| You like the hold feature | Video Poker or Cash Falls Huo Zhu from Scientific Games |
| It lets you win multiple payouts per spin | Mystic Hive from Betsoft |
| You appreciate the tiki theme | Tiki-Mania from Microgaming |
No matter your reason for enjoying Ugga Bugga, there is bound to be another slot game out there that offers a similar experience.
Finding Casino Sites with Ugga Bugga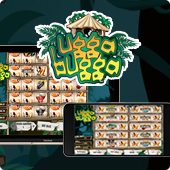 That wraps it up for our Ugga Bugga slot review. We showed you its unique setup, features, and the pros and cons to playing this slot from Playtech.
The only thing left to do is help you find an Ugga Bugga online casino. Fortunately, this exciting slot game is available at many sites.
You might be tempted to search for online casinos with Ugga Bugga. But that might be too specific to get you decent results.
Instead, we recommend you search for online casinos with Playtech slots.
Once you have found a few online casino sites with Ugga Bugga, you can check our reviews to find out about any casino promotions that might be available to you.
The good news is that once you have found and joined an Ugga Bugga casino online, you will be able to access the same game on your mobile device.
Ugga Bugga mobile casinos do not require additional downloads or a second account. You can start playing immediately by visiting the casino's site from your mobile device's internet browser.
So, what are you waiting for? Start playing Ugga Bugga on mobile or your desktop computer today!

Sign up Bonus
250% Up To $5,000
READ REVIEW
Visit Site
X