Review of The Naughty List Slot by RTG
Christmas themed slots are a fun way to celebrate the holiday season. They're also an excellent way to distract your crazy uncle when you need to. You could even win some money in the process! But which Xmas slot should you play?
The Naughty List is one of the most popular Christmas slots available. It offers an adult take on the concept of Santa's naughty list with scantily clad ladies in Christmas apparel. The seductive ladies are the icing on the cake, but the best part of the game is really its bonus features.
Our The Naughty List slot review of will tell you all about this game and the bonus features that make it so popular. Let's start by exploring some of the top-rated online casinos with The Naughty List.
What We Will Cover In This Review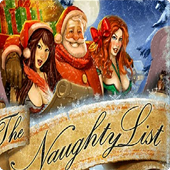 Where to Play The Naughty List Online
If you already know you are going to enjoy playing this game, you can start right away. All you need to know is where to play The Naughty List.
Fortunately, figuring out that part is easy. RealTime Gaming is the software provider that created The Naughty List. They're one of the most prominent software providers for online casinos around the world, including the best US online casinos.
You can find a complete list of the top online casino sites with The Naughty List and other RTG slots here.
Before you decide where to play The Naughty List, make sure you check out our in-depth casino reviews. They will tell you more information about the bonuses and other games available on each of our recommended sites.
Playing The Naughty List on Mobile Casinos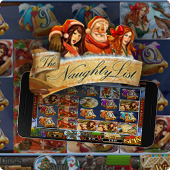 Another option is to play The Naughty List slot on mobile devices, such as your smartphone or tablet. You can access the game by visiting your favorite RTG casino site from your device's mobile internet browser.
We recommend holding your phone horizontally (landscape mode) when you play The Naughty List. You can play in portrait mode if you prefer, but the screen looks unbalanced.
One of the features we appreciate on RTG mobile slots is that you can turn off the right-hand mode. This setting moves the spin button to the other side of the screen to make it easier for left-handed people to play.
The Naughty List mobile slot was released in 2014. Mobile gambling options at that time used Flash Player software to stream the video slot on mobile devices.
Shortly after that, HTML5 software made Flash Player software unnecessary. HTML5 software allows game developers to engineer games so that they adjust to any screen that you are playing on.
Some online casinos have converted all their games to HTML5 software because it makes it easier for them to operate. Those casinos might not allow you to play The Naughty List online using your desktop computer. Playing The Naughty List on mobile browsers is an alternative for those casinos.
To summarize, you can almost always play The Naughty List on your mobile device, but some online casinos do not offer this game on desktop.
If you can't find the game on your computer, check the mobile casino site before you give up altogether.
The Naughty List Slot Information
Now that you know all about where to play The Naughty List, you need to know how the game works. Fortunately, it is an easy game to learn. Here are some of the most important details.
Theme: Holidays, Christmas
RTP: 95%
Type: Video slot
Release Date: 2014
Free Spins: Yes
Bonus Round: Yes
Progressive Jackpot: Yes
Multipliers: Yes
Gamble Feature: No
Reels: 5
Rows: 4
Paylines: 50, Adjustable
Volatility: Medium
Minimum Bet: $0.01
Maximum Bet: $50
Maximum Payout: 50,000X
Mobile Compatible: Yes
The Naughty List casino slot game has five reels and four rows. It has fifty paylines that you can adjust. You can play with as few as one payline, or as many as fifty, and any amount in between.
There are thirteen line bet options that range from $0.01 to $1 per line. If you are playing all fifty lines, the betting range is between $0.50 and $50. You can use the max bet button to modify your bet amount. It will automatically increase your line bet to $1 per payline. The max bet button does not affect the paylines.
We recommend that you always play with all 50 paylines active. However, if that is not possible, play as many as you can afford to.
It is better to play more paylines at a lower line bet than to play fewer paylines at a higher coin value.
For example, you could play fifty paylines at $0.10 per line or play ten pay lines at $0.50. In both cases, the overall bet is $5 per spin.
But you will have fifty chances to win if you play fifty paylines. When you play with only ten paylines, you need all the symbols to line up on one of those ten paylines before you win anything.
Symbols and Paytable for The Naughty List
Once you have set up your bet, you are ready to play The Naughty List for real money. You can press the spin button manually or set up the autoplay feature for up to 100 spins.
While the reels are spinning, you can enjoy all the details that make this one of the best Christmas slots – the symbols. All the symbols represent the Christmas theme. Santa Claus himself is the wild symbol that appears on the last four reels. He is a clustered wild symbol that often appears in groups.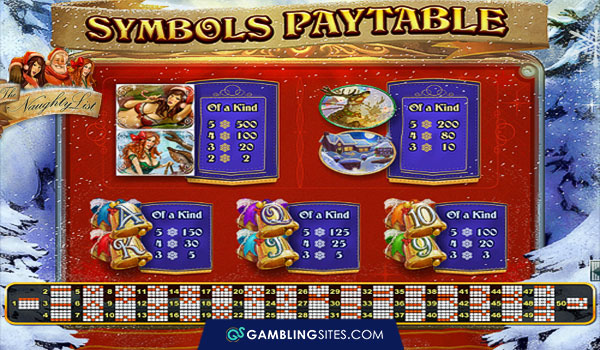 His naughty list is the game's scatter symbol. It pays out any time you get three or more during a single spin.
Rhonda Redhead and Bridgette Brunette are the high-paying symbols. You can earn payouts between 2x and 500x by getting between two and five of the matching ladies on a payline. The reindeer and North Pole follow those symbols as the medium-pay options. All the low-paying symbols are playing card symbols from nine to ace.
Even though playing cards do not typically relate to Christmas, these symbols are designed specifically for Christmas-themed slots. They are represented by Christmas bells and decorated for the season.
Free Spins and Other Bonus Features
The Naughty List online casino slot is packed full of bonus features that make this game even more exciting. You can enjoy a pick-and-click mini-game, a free spins feature, and a random feature that offers even more opportunities to win.
All these bonus features have multipliers or additional prizes available. Let's continue our The Naughty List slot review by exploring these features in more detail.
The Naughty Pick Feature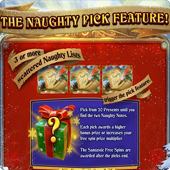 Usually, you would be disappointed to find out that you were on Santa's naughty list. But Christmas slot machines like The Naughty List like to flip those expectations around.
One way they do that is with bonus features like the Naughty Pick feature. This bonus feature gets activated when you get three or more scatter symbols on the reels at a time.
The reels transform to show twenty sparkling presents. Each present offers a bonus cash prize or a free spins multiplier.
Bonus prizes are listed as a multiplier. When the bonus game has ended, all those multipliers will get added up and multiplied against your bet amount to determine your overall bonus prize.
Free spin multipliers also add up throughout the pick-and-click game. The free spins multipliers will automatically multiply all your payouts during the free spins.
You get to click as many presents as you can. The bonus game ends when you get two naughty notes. Those naughty notes come with a lump of coal and an extra free spin multiplier or another bonus prize.
There is one thing that we didn't like about this feature. It is very slow.
After you pick a present, the prize will float up to the counter at the top of the screen. Then, you have to wait for the game to tell you to pick another present. Compared to the fast pace of the base game, this bonus feature can be annoying because you have to wait so long in between clicks.
Santastic Free Spins Feature
The free spins feature on The Naughty List online slot machine is unique because it does not start automatically when you get three or more scatter symbols. Instead, the free spins are only available at the end of the other bonus features. Both the Naughty Pick and Lucky features feed into the free spins feature. You will start with at least five free spins, but you can earn additional free spins through the Lucky feature.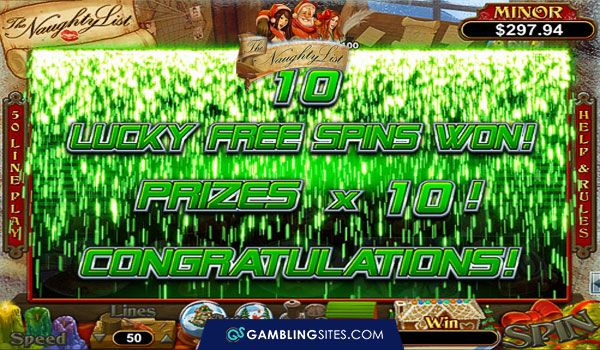 More Santa wild symbols and Naughty List scatter symbols are added to the reels during the free spins. If you get three additional scatter symbols, it will retrigger the Naughty Pick feature.
All free spins also have a prize multiplier. If you triggered the free spins with the Naughty Pick feature, the multiplier is determined by how many free spins multipliers you picked. When you trigger the free spins with the Lucky feature, the multiplier gets determined randomly. You can get multipliers worth up to 10x!
The Lucky Feature
We were a little confused by the Lucky feature during our Naughty List review. It is basically another version of the bonus features that we have already mentioned.
If the Lucky feature gets triggered, you earn between five to ten free spins with a random multiplier that can go as high as 10x. These free spins work the same as the Santastic Free Spins. So, if you get three scatter symbols during the Lucky feature, it triggers the Naughty Pick feature.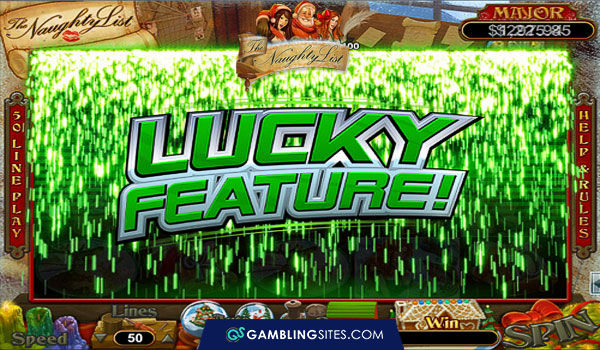 The only difference between this feature and the others is that this one is randomly triggered. You can trigger the Lucky feature to start at the end of any base game spin. This feature doesn't offer a cash prize on top of the free spins payouts, like the Naughty Pick feature does. But it can offer higher multipliers.
It seems strange to include another bonus feature that accomplishes the same thing as the other bonus features. But it gives you an easy way to earn free spins without having to wait for scatter symbols.
We will never complain about features that give us more opportunities to win. Neither should you.
Naughty List Progressive Jackpot
Did we mention that The Naughty List is a progressive jackpot slot game? The progressive jackpot takes a portion of every bet to increase the prize pool and pays out randomly.
You can win the minor or major jackpot at the end of any paid spin. The major jackpot offers at least $1,000 in prize money and the minor jackpot seeds at $100.
It is possible to win the jackpot during the free spins round as well. However, some online casinos have policies that prevent players from cashing in on progressive jackpots that hit during free spin bonus rounds.
Make sure that you check your casino's terms and conditions before you start to play The Naughty List real money slot, especially if you are gunning to win the progressive jackpot.
RTP and Volatility on The Naughty List Casino Slot
The overall Return to Player (RTP) percentage on The Naughty List slot game is 95%. That is an average RTP for online video slots. It is important to remember that the progressive jackpot plays into the overall RTP. The jackpot contribution on this game is as high as 1.5% of the total RTP.
Here are some other Christmas slot games and their overall RTP to give you an idea of where The Naughty List stands.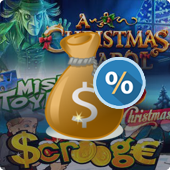 A Christmas Carol from Betsoft: 94.58%
Rival Gaming's Misfit Toyland: 94.71%
Secrets of Christmas from NetEnt: 96.72%
RealTime Gaming's Rudolph's Revenge: 97.5%
Scrooge Slot from Microgaming: 96.7%
The Naughty List casino slot has medium volatility. That means you can go several spins without any wins. During the base game, your overall payout will probably be small.
If you are lucky enough to trigger the bonus features, that is when you can win more significant prizes.
Additional Christmas Slots
There are plenty of other Christmas-themed slots that you can enjoy when you want to revel in the holiday spirit. Here are a few other examples that you might want to consider.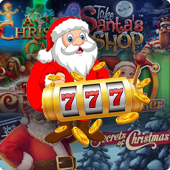 Take Santa's Shop by Betsoft
A Christmas Carol by Betsoft
The Nice List by RealTime Gaming
NetEnt's Secrets of Christmas
Christmas Jackpot Bells from Playtech
Quickspin's Big Bad Wolf Christmas Special
You can play all these Christmas slots for free, or you can play them for real money.
If your grandma or elderly aunt gave you a two-dollar bill for Christmas, we recommend depositing it in your online casino account to see if you can win something a little more valuable!
Review of the Naughty List: Final Verdict
Overall, The Naughty List slot game is a fun and pleasant way to get into the holiday spirit any time of year. It is an exciting slot game with several bonus features and a cheerful theme. Winning the progressive jackpot might be the best Christmas present you could ever get!
But it is not a perfect game. There are plenty of other Christmas games out there that this game has to compete with. So, to wrap up our The Naughty List review, here are our honest opinions of the game's features.
Graphics and Theme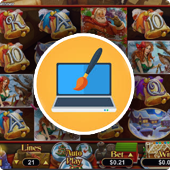 There is no denying that The Naughty List is one of the best Christmas slots. The Christmas theme comes across loud and clear. All the symbols represent the theme, and the Christmas music in the background is an excellent touch.
The background image offers a snowy glimpse into Santa's workshop. You can see a map of the world on the left side, and the top center shows the desk where Santa makes his list.
Because the edges of the picture are covered in snow or frost, the background image makes you feel like curling up with some hot cocoa near the fireplace.
However, there are some clashing elements as far as the theme goes. All the symbols and images are similar to old Christmas movies. They have a very traditional feel to them.
That traditional vibe clashes with the adult theme of the slot. Seductive women in their underwear seem out of place next to church bells.
Other Christmas themed slots, like Take Santa's Shop, have a much more modern Christmas theme. The adult aspect of this game would feel more relevant if the rest of the theme were more contemporary.
Bonus Features and Payouts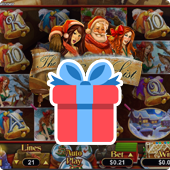 The bonus features on The Naughty List online slot are exciting because they give you several opportunities to win.
Our favorite feature has to be the Naughty Pick feature. It allows you to win free spins with multipliers and cash prizes. More importantly, the pick-and-click format adds some variety to an otherwise repetitive game. We appreciate the fact that you can pick as many presents as you can before the game ends.
We have one complaint about the bonus features. The Lucky feature is just a different version of the other two features. That makes us feel like the software developers got lazy. They definitely missed an opportunity to incorporate more theme-based elements into the game.
As for payouts, the maximum win in this game is 50,000 coins. That is an impressive max win, but the only way to win that much is by collecting multipliers during the free spins feature.
Overall Experience
If you enjoy playing Christmas slot games, you should definitely add The Naughty List to your collection. It is a fun and lighthearted game with exciting bonus features.
There are a few things that could be improved in this game. But we were surprised by how much we enjoyed our review of The Naughty List slot.
When you consider that this game came out in 2014, it is even more impressive. It has more bonus features than most slots did at that time, and the graphics and animations are innovative.
So, whether you need something to help you get in the Christmas spirit, or you just want a distraction from all the family time, The Naughty List slot is an excellent option.

Sign up Bonus
250% Up To $5,000
READ REVIEW
Visit Site
X