Bally Slot Machines
Bally Technologies, Inc. is a slot game design and manufacturing company that has grown through a series of mergers and acquisitions. The company was acquired by Scientific Games in 2014 butcontinues to operate as a separate unit.
The original Bally Manufacturing Company was established in 1932 as a subsidiary of Lion Manufacturing to make pinball games, which were very popular at the time. Founder Raymond T. Moloney builtthe company into the leading pinball manufacturing operation in the nation and by the late 1930s turned his eye to the growing mechanical slot machine market. Although the company was integratedinto the US defense industry during the Second World War it resumed development and distribution of pinball and slot machine games immediately afterward.
Although a successful enterprise, Bally Manufacturing suffered two setbacks in the late 1950s.
Ray Moloney died in 1958, leaving no clear successor. Lion Manufacturing went bankrupt and Moloney's heirs sold Bally Manufacturing to an investment group in 1963. The new leadership brought thefirst electromechanical slot machine, the "Money Honey", to market in 1964. By the end of the 1960s the company controlled 90% of the world wide slot machine market, had become a publicly tradedcompany listed on the Nasdaq, and had acquired its first subsidiaries, Guenter Wulff-Apparatebau and Midway Manufacturing.
Despite these successes the company found itself facing inquiries in the United States and Australia over alleged connections to organized crime syndicates. CEO William T. O'Donnell eventuallyresigned as Bally worked to open its first casino in Atlantic City, NJ. Despite these issues Bally also launched a home computer product called the Bally Professional Arcade.
Although the home computer operation failed in the 1980s subsidiary Midway Manufacturing became a roaring success by manufacturing popular arcade games such as Space Invaders, Pac-Man, and Ms.Pac-Man. During the 1980s, fueled by profits from the arcade games, Bally purchased the Six Flags amusement park company and launched Bally Total Fitness as a health club division within thecompany. During the decade Bally also purchased the MGM Grand and several other casinos in Las Vegas and Atlantic City.
However, by 1988 the company's rapid growth ruined its finances, forcing Bally to divest itself of its Bally-Midway, fitness club, and amusement park operations. Despite the sale of MidwayManufacturing Bally retained the Aladdin's Castle game arcade chain and continued to manufacture fitness equipment.
In the 1990s the newly rebranded Bally Entertainment Group continued to manufacture slot machines and operate casinos. Rival International Gaming Technologies was by this time dominating theworld slot machine market. By 1995 Bally had sold off the fitness manufacturing operations to Brunswick Corporation and the arcade business to Namco Cybertainment, Inc. In 1995, now focused onoperating casinos and manufacturing slot machines, Bally was acquired by Hilton Hotels Corporation and Alliance Gaming Corporation in separate buyouts that broke up the company; BallyEntertainment Group ceased to exist at this time.
The Other Side of the Bally Corporate History
Hilton separated its casino operations from the company's hotel management and slot manufacturing operations, forming Park Place Entertainment, which was eventually spun off into Caesar'sEntertainment in 1998. Harrah's Entertainment acquired Caesar's Entertainment in 2004 and Harrah's itself was acquired by a consortium of holding companies in 2006. The consortium revived theCaesar's Entertainment brand.
Alliance Gaming Corporation was founded in 1968 by Jack Solomon and Alvin Snapper as Advanced Patent Technology. The company used its profits to enter the Nevada casino market in 1979 byacquiring United Coin Machine Company, the largest slot route operation in the state. The company immediately began investing in the purchase or construction of new small casinos around thestate. Solomon's financial wizardry was investigated by the Securities and Exchange Commission, leading to his resignation as Chairman in 1980. However, the company's regulatory troublescontinued and it experienced financial difficulties over the next 18 years.
Richard Iannone was appointed CEO in 1981 and by 1983 he had turned the company around, making it profitable again. Advanced Patent Technology rebranded itself as Gaming and Technology, Inc. thatyear. In 1985 Gaming and Technology, Inc. agreed to a reverse acquisition with Omega Enterprises. Aflred Wilms, one of Omega's owners, became the new CEO. Still operating as Gaming andTechnology, Inc. the company closed Omega's slot game manufacturing facility in 1986 to focus on the slot route business. In 1988 the company took a new name, United Gaming, Inc. But in 1989Alfred Wilms decided to lead the company back into to casino operations. He initiated several ambitious investments and acquisitions.
By 1990 United Gaming, Inc. was experiencing financial difficulties. It began cancelling projects but restructured its debt by the end of 1992. That same year United Gaming entered the Louisianacasino and race track markets with casino acquisitions and new slot machine contracts.
Kirkland-Fort Worth Investment Partners, led by Richard Rainwater, took an 11% interest in United Gaming in 1993 and despite retaining a majority stake in the company Alfred Wilms ceded controlto Rainwater's group. Rainwater was connected to Texas gubernatorial candidate George W. Bush and the company had to downplay his involvement in its leadership and operations. The company raisednew investment capital and began expanding operations into several states. However, a scandal involving New Orleans Assistant Superintendent of Police Antoine Saacks, who consulted for UnitedGaming's video poker operations and was accused of having connections to organized crime, forced the cancellation of a deal to acquire 43 percent of Capital Gaming, which was developing a casinoin New Orleans.
In 1994 United Gaming acquired 90 percent of USA Gaming of North America, which operated casinos for four First Nations tribes. The company continued to expand with other investments across thecountry. Despite these aggressive moves some of the deals United Gaming was negotiating fell through. Nonetheless, investors anticipated a major acquisition, especially after the companyrebranded itself to Alliance Gaming Corporation in December 1994.
Alliance Gaming Corporation Acquires Bally Gaming
By 1995 Bally Gaming was the second largest slot game manufacturer in the world, having lost significant market share to International Gaming Technology. Alliance Gaming Corporation CEO SteveGreathouse believed that IGT was misreading the players' interests though because he thought slot machines should be more fun to play. IGT leadership held the position that slot machine gamblerswere not interested in playing entertaining games.
Although KFWIP CEO Joel Kirschbaum had expressed interest in a merger with Bally in 1993, Bally executives were dubious of United Gaming's financial strength. Bally soon entered into negotiationswith WMS Industries, another slot game manufacturer, and a complicated game of offers and counter-offers ensued. Alliance Gaming even walked away from negotiations in early 1995. However, Ballysolicited a return to negotiations and bidding came down to Alliance and WMS, eventually leading to all three companies filing conflicting lawsuits.
Brinksmanship and circumstances paid off for Alliance Gaming Corporation. The board of directors for Bally finally capitulated to a hostile takeover strategy and accepted the Alliance merger. Themerger was completed in 1996 and three Bally divisions were organized within Alliance Gaming Corporation: slot manufacturing under Bally Gaming, casino accounting and management systems underBally Systems, and Bally Wulff. The first two divisions were combined in 1998.
The company introduced a wide area progressive slot game called Trillions in 1999, which launched an innovative revenue sharing service to casinos (instead of merely selling them slot machinegames). The system became popular and more games were marketed in this way. Bally also developed home video games EVO platform including EVO 3 with Microsoft.
Alliance Gaming Corporation continued operating under that name through the early 2000s. The company sold off some assets and continued to focus on game development. In 2006 they rebranded asBally Technologies, Inc. and folded Bally Gaming and Systems into core operations. New innovations in gaming technology included the introduction of oversized slot machine cabinets, slant topcabinets, and improved video and onboard computing hardware that provided greater resolution and reduced power use.
In 2014 Scientific Games acquired Bally Technologies in a multi-billion dollar deal. Bally now operates as a subsidiary of Scientific Games. Bally continues to focus on creating slot machinegames and casino accounting software systems.
Bally Technologies Slot Games
Hundreds of slot games have been released under the Bally brand name and associated brands like Midway. Here is a random selection of some of their more well known games, many of which may now beavailable in online versions.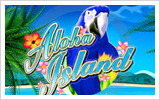 Aloha Island
This 50 pay line video slot game features a random Wild reel that changes on every spin. Three or more Free Games bonus symbols triggers 5 free spin bonus round that uses a different set ofreels. Aloha Island is easily recognized by players familiar with its iconic Blue Parrot.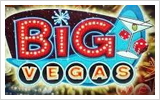 Big Vegas
This 40 pay line video slot game uses a unique random directional Wild symbol that spins and turns other symbols Wild. A free games bonus round is triggered when the Scatter symbol appears onreels 2, 3, and 4.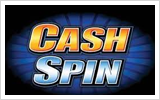 Cash Spin
Instead of betting on a per line basis you pay 40 credits for a chance to win 243 ways in this game. The U-Spin Wheel bonus game may award you cash prizes or free spins. The Money Bags pick bonusgame awards you cash prizes.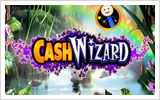 Cash Wizard
In this 30 pay line video slot game a little green dragon flies around the enchanted forest while you spin for money. Every now and then a friendly wizard spins up some special magic for you inthe form of extra Wild symbols, a mystery reel game, and more.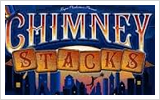 Chimney Stacks
Stacked Wilds free spin bonus games combine to make this 40 pay line video slot more interesting than many others. After the Scatter symbol triggers the bonus round if a stack of Wild symbolscompletely fills a reel the Wilds lock in place for the remainder of the free spins in that bonus round.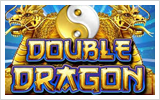 Double Dragon
This Asian themed game is popular with players because of the Dragon Wild symbol. It may expand to fill an entire reel, triggering a respin. The dragon is locked in place. If another dragonappears on the respin it expands to fill that reel and another respin is triggered. The process repeats until no more dragons appear or all five reels are filled with Wild dragons.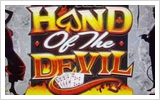 Hand of the Devil
Luck is random and crazy in this wild spinning slot game. Some reels go up and some go down. If you're lucky you'll trigger a bonus game where a randomly chosen Wild symbol may add up to a 5times multiplier to your spins. This game has 30 pay lines and uses a different set of reels during the bonus game.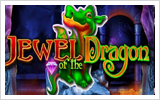 Jewel of the Dragon
A magic dragon guards its treasure hoard in a cave in this 40 pay line game. As you spin the reels hot zones drop down and pass through the reels. If any part of a hot zone comes to rest on asymbol that symbol becomes Wild. Sometimes if a hot zone stops above the playing reels the dragon will nudge it down. During the free spins bonus hot zones create sticky Wilds, increasing yourchances of winning multiple 5 of a kind prizes!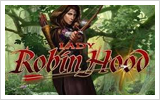 Lady Robin Hood
While you are spinning the reels Lady Robin Hood may fire an arrow across the screen that turns one or more symbols into Wild symbols. On certain reels the Free Spins symbol doubles as a Wildsymbol. And during the Free Spins bonus round you collect arrow symbols that are used to fill special target counters. Each counter that is filled awards you a full reel of Wild symbols thatremain locked in place for the remaining free spins.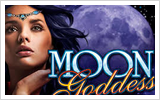 Moon Goddess
This 30 pay line game features a random Wheel bonus that may award cash prizes or a free spins game. During the free spins collect Moon symbols that are used to convert other symbols to Wilds onthe final free spin. During the basic game the Moon Goddess may become an expanding Wild symbol.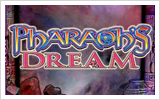 Pharoahs Dream
The pyramids are magical and Wild in this game set against ancient Egyptian motifs. A stacked Wild may appear and award you with many prizes. When three or more golden masks appear a free spinsgame is triggered. This 40 pay line game uses different sets of reels for the basic and bonus game.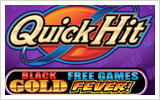 Quick Hit Black Gold
The Scatters are all over the place in this five reel 30 pay line game. You can win up to 9 Scatters at a time. Several variations on free spins games also make the Quick Hit Black Goldinteresting. This is a very popular game in land based casinos.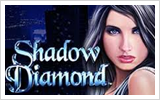 Shadow Diamond
Diamonds rule in this 40 pay line game. The reels use superstacks of symbols and when 12 Diamonds appear on reels 2, 3, and 4 the free spins bonus round is triggered. During the bonus only onesymbol is used for the superstacks, increasing your chances of winning a lot of prizes.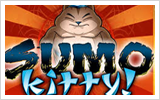 Sumo Kitty
Pay 50 credits for a chance to win multiple prizes in this 1024 Ways to Win game. Hot zones drift down through the playing reels during the basic game. Any hot spots over the reels when the reelsstop spinning convert their corresponding symbols to Wilds. The free spins bonus game starts with a pick option to set the mode of the game. Hot spot Wilds are multiplied by whichever option youchoose.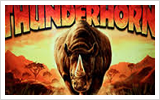 Thunderhorn
With 1024 ways to win this African themed game is popular with slots players. The Eucalyptus Tree is Wild and during the free spins game the Wild symbol has a multiplier. Additional free spinscan be won during the bonus round.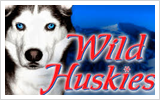 Wild Huskies
The White Husky is Wild and stacked in this game where winter lasts all year round. Three Free Games symbols trigger the free spins game. During the free spins game each additional Free Gamessymbol awards one more free spin. When three Bonus symbols appear during the basic game you win a chance to pick a prize from 3 to 100 times your triggering wager.
More Bally Technologies Slots
If the list above doesn't convince you to play slots by Bally Technologies, maybe our full game reviews will. Check out the following slot reviews for Bally Tecnhologies.
Conclusion
There is no question about Bally's importance to the slot gaming industry. In fact, players might still be trapped in the electromechanical three reel mode if the company had not pushed for moreentertaining game designs in the 1990s. Although it took more than a decade of game design evolution to create truly entertaining slot game experiences, we know that it all began with acompetitive strategy that was intended to help Bally recapture global market share.
The company's ups and downs are an interesting historical story but so characteristic of how corporations struggle for success and recognition just like individuals do. May Bally continuedeveloping great new games regardless of what they call themselves in the future!

Sign up Bonus
250% Up To $5,000
READ REVIEW
Visit Site
X