Slot Review of Lava Gold from Betsoft
If you were near an erupting volcano in real life, you would run as fast as you could in the other direction.
Betsoft wants to convince you to run towards that volcano in their exciting new slot game, Lava Gold. It is a thrilling game with free spins, cluster wins, and a volcano wild symbol.
The Lava Gold online slot game was released in May 2021. We're writing this review in June, as wanted to be one of the first to give you a Lava Gold slot review.
Our review of Lava Gold explains how to play and earn free spins, and where you can play Lava Gold for real money online.
Let's start by looking at the game's technical details.
Overview of the Lava Gold Slot Machine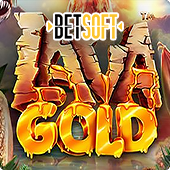 Theme: Volcano/Dinosaurs
Manufacturer: Betsoft
RTP: 95.99%
Reels/Rows: 5/5
Paylines: Cluster payouts
Minimum bet: $0.25
Maximum bet: $3.75
Maximum Prize: $25,600 (640x Max bet)
Jackpot: No
Volatility: High
Mobile Compatible: Yes
How Do You Play Lava Gold?
To start playing Lava Gold online for money, you need to choose your bet amount. This game has predetermined betting options that range from $0.25 to $3.75.
Once you have set your bet amount, you can start spinning. You can spin manually or set the autoplay settings to spin for you.
That part of playing the Lava Gold slot is standard. The Lava Gold slot machine is VERY different from other slot games beyond those basic gameplay features.
Cluster Pays and Erupting Reels
The first thing you will notice about the Lava Gold slot game is that it has a 5×5 grid instead of the traditional 5×3.
That 5×5 grid gives you a new way to play Lava Gold for money. Instead of matching symbols on specific pay lines, this casino slot offers cluster pays.
Every time you get five or more of the same symbol touching each other, you win. The symbols must have at least one side touching, so diagonal matches do not count.
It does not have to go from left to right, so it is possible to get a cluster payout for symbols in the center of the reels.
You can get clusters of up to 25 matching symbols. The paytable for the Lava Gold real money slot offers different payouts for each symbol, depending on how many symbols were included in the cluster.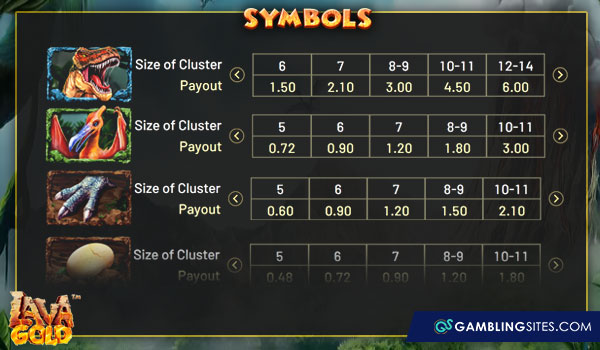 It might feel impossible to get 25 of the same symbol, but Lava Gold also has erupting reels that make it much easier.
Every time you get a cluster of five or more, the symbols will erupt, leaving an empty space on the reels. Those spaces will be filled by a symbol that was left behind in an adjacent spot.
Because the empty spaces get replaced by symbols that are already on the reels, it is easy to win again. The more consecutive wins you get, the more the same symbols will expand.
If you get enough consecutive wins, the entire grid will be filled with the same symbol. You win a payout every time one of the clusters erupts, so your winnings will add up fast!
Lava Gold Bonus Feature
You can win significant payouts on the base game because of the cluster payouts and erupting reels. But that is just the beginning of the Lava Gold bonus features.
On the right side of the screen, you will notice a lava meter. When the fiery lava gets to the top, you earn free spins!
Filling the Lava Meter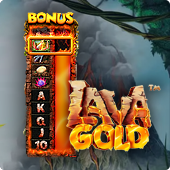 Filling the lava meter is very easy. All you have to do is get a payout for each symbol on the game, other than the volcano wild symbol.
When you get five or more tens, you will earn the cluster payout and fill the tens section on the lava meter. The same goes for jacks, queens, kings, and all the other symbols.
You do have to get the symbols in order. For example, if you get five queens before filling the tens and jacks section on the lava meter, that win doesn't count toward the lava meter.
In that case, you would need to win a queens cluster payout again after you have filled the tens and jacks part of the meter.
It isn't difficult to fill the bottom parts of the meter. But it gets harder as you go up because those symbols are less common. You may have to play for a while before you get to the top.
Fortunately, the erupting reels help in this situation. You might only have one dinosaur egg on the reels, but it can expand if the symbols next to it erupt.
Free Spins
When you get to the top of the lava meter, you will earn ten free spins. During the free spins, all the symbols on the center reel will be the same symbol.
The matching symbol is random, and it changes after each spin. That means you automatically get a guaranteed payout on every free spin because you have five symbols together.
If you get more of the same symbol on the adjacent reels, you can earn higher payouts.
The free spins still offer cluster payouts, but they do not have erupting reels. Instead of erupting reels, the free spins feature offers increasing multipliers.
You get a 1x multiplier on your first free spin, a 2x multiplier on the second, and so on. The tenth free spin has a 10x multiplier!
It takes a long time to activate the free spins feature on the Lava Gold online slot. But it is worth the wait because the free spins offer guaranteed wins with escalating multipliers.
Lava Gold Review Verdict
We enjoyed playing Lava Gold because it is distinctive. There are not many other slot games with this exciting combination of cluster payouts, erupting reels, and additional bonus features.
Our Lava Gold slot review would not be complete if it only told you the things we loved. You need to know everything about this slot game, including the things it could do better.
Here are some of the pros and cons of the Lava Gold online slot machine.
Pros
Cluster payouts instead of pay lines
Erupting reels that offer consecutive wins
Free spins bonus feature with guaranteed wins and automatic multipliers
High-quality graphics with animations that build anticipation
A 5×5 grid with erupting reels makes it possible to get 25 of the same symbol
Volcano wild symbol can replace any other symbol
Cons
Repetitive sound effects that get annoying quickly
Each spin can take a minute or more to complete because of multiple payouts and additional animations
Lava Gold is not a progressive slot
It takes a long time to trigger the free spins feature
Payouts for five symbols are low, even for the high-paying symbols. You need larger clusters to get significant payouts
There is no scatter symbol
Overall, we think this is an excellent game. It is unique and exciting. We enjoyed playing it while writing this Lava Gold review.
Getting consecutive wins because of the erupting reels keeps you interested in the game because you keep winning.
Some people feel like the game moves too slowly because of the consecutive wins and all the animations. But you can always turn on the turbo-play feature if you want the game to move quicker.
If you play online slots regularly, you probably expect to win the most from the free spins feature. Most online slot games offer the best bonuses during the free spins round.
It is possible to win significant payouts during the free spins, especially because it has automatic multipliers. But it takes a long time to trigger the free spins feature. You may play through your entire bankroll without activating the free spins once.
Don't disregard Lava Gold because it takes a while to get the free spins feature. The erupting reels on the base game make up for the lack of free spins by offering significant payouts on regular spins.
Overall, the Lava Gold casino slot game is exciting and entertaining. It has a unique slot structure and excellent bonus features.
You might get frustrated because it is not the same as other slot games. If you can look past that and give it a chance, we think you will enjoy playing Lava Gold for free or real money online.
Similar Slot Games to Lava Gold
Once you see how much you like the real money Lava Gold slot, you might start to wonder what other fantastic games you are missing out on.
We don't want you to miss out on any of the fun, so we are including other game recommendations in our Lava Gold slot review.
Instead of simply listing similar games, we have separated our recommendations based on particular features. That way, you can find other games with the same features that made you love playing Lava Gold online.
If you like Lava Gold because it has erupting/cascading reels, check out these other games.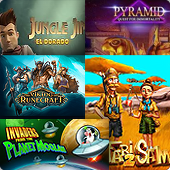 Pyramid Quest for Immortality from NetEnt
Viking Runecraft from Play N' Go
Safari Sam 2 from Betsoft
Invaders from the Planet Moolah from WMS
Players who enjoy the volcano and dinosaur theme will also enjoy these games.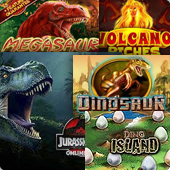 Megasaur from Realtime Gaming
Volcano Riches from Quickspin
Dinosaur Adventure from Genesis Gaming
Jurassic Park from Microgaming
Dino Island from Realtime Gaming
Here are a few other slot games that also feature a unique slot structure.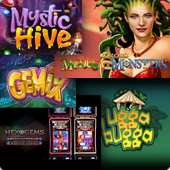 Age of the Gods: Medusa and Monsters from Playtech
Gemix from Play N' Go
Ugga Bugga from Playtech
Hexogems from Scientific Games
Online Casinos with Lava Gold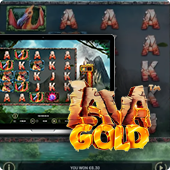 Now that you have read our review of the Lava Gold game, you are probably ready to start playing for yourself. Before you can do that, there is one more question we must answer.
Where can I play Lava Gold?
Betsoft is the software provider that created Lava Gold. Most of the casino sites that use Betsoft software will have the Lava Gold casino slot machine.
Because it is a relatively new game, it might take some time for various casinos to add the game to their collection.
Unfortunately, there is not an easy way to figure out which casinos have Lava Golf. The fastest and easiest way is to refer to our list of online casinos with Lava Gold or online casinos with Betsoft games.
Alternatively, you can go through our casino reviews to see which one works with Betsoft.
Playing Lava Gold on Mobile Devices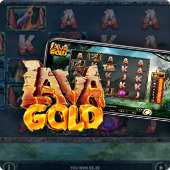 You might be wondering if you can play Lava Gold on mobile devices. The answer is yes! It is a mobile-compatible slot.
The software has been optimized to adapt to your screen size. When you play the Lava Gold mobile slot, you should have the same experience as if you were playing on your computer.
There won't be any glitches or slow loading times as long as you have a stable internet connection.
To play on a mobile device, you just need to visit your favorite mobile casino site with Lava Gold using your phone's internet browser. You don't need to download an app.
You will notice one difference when you play the Lava Gold slot game on mobile. The lava meter might be underneath the reels instead of on the side.
That is because there is not enough room on the screen for you to see the reels and the lava meter when they are next to each other when you play in portrait mode.
If you prefer to have the lava meter on the side, you can rotate your phone to play in landscape mode.
Other than that, playing Lava Gold for real money is the same, whether you play on your phone or a computer.
You better hurry to one of your favorite casinos with Lava Gold to start playing now. The volcano is ready to erupt, and that means more winnings for you!

Sign up Bonus
250% Up To $5,000
READ REVIEW
Visit Site
X