Ace Invaders Video Poker
Ace Invaders is a video poker game whose name intentionally evokes the name of one of the great arcade classic video games, Space Invaders. The resemblance to that game is clear enough. In this variation of video poker, you play 3 lines at once. If you're dealt an ace on one of the top 2 lines, and if it helps your hands below, it's pulled down by gravity in order to improve your hands.
Please read on for more information on this video poker variant. We start by explain how to play Ace Invaders, and then look at the pay tables. We cover the average payback percentages you can expect from this game too, and advise you on the strategies required to get the best possible return.
How to Play Ace Invaders Video Poker
In many ways, Ace Invaders is played like any other video poker game. It's most similar to Jacks or Better, but with a few twists.
You start by inserting your money into the game. We always recommend playing with your slots club card inserted, too, so don't forget to do that before you play even a single hand. Once you've inserted your money, the video screen will update and show you how many credits you have.
You can opt to play 1, 2, or 3 lines.
You can wager 1, 2, 3, 4, or 5 coins per line.
You should always make the maximum bet when playing Ace Invaders. Experienced video poker players already know why—if you don't make the maximum bet, you don't get the top possible payout for the royal flush (4000 coins). This does really bad things to the game's payout percentage.
In the case of Ace Invaders, the maximum bet is 15 coins. You have to bet all 3 lines and all 5 coins per line in order to be eligible for the 4000 coin payout on the royal flush.
Each of the 3 lines is considered a separate game and is dealt from a separate virtual deck. For example, you could be dealt the jack of clubs on line 1 and also on line 2. If the 3 lines were all dealt from the same deck, that couldn't happen. It's important to mention this, as it could affect your strategy when playing these hands.
The game starts by dealing you 5 cards on the bottom line. You can keep or throw away any of those cards. The game then deals the next 2 lines. If the aces on those top 2 lines might help the hand on the bottom line, they'll drop down and replace the cards there, and you'll get a new card in its place.
Please Note
The software is designed so that you get the best possible payout on the best possible combination of hands. You don't have to worry about aces dropping and ruining your possible payouts.
Ace Invaders Pay Tables
As with most video poker games, multiple pay tables are available to casinos which host this game. They all have the same top payout for the following hands:
Royal FlushAssuming you've made the max bet, the royal flush always pays out at 800 to 1.
5 AcesThis is the 2nd best hand in the game, and it's a hand that isn't normally available in a Jacks or Better game. It pays 500 to 1.
Straight FlushThis always pays out at 50 to 1.
Four AcesThis also always pays out at 50 to 1.
Any other 4 of a KindThese hands pay out at 25 to 1.
The full house and the flush are the only hands where the payouts vary. In this respect again, Ace Invader resembles no other game more than Jacks or Better, which also concentrates on making changes to the payouts of those 2 hands.
Full HouseOn the best possible pay table, this hand pays out 10 to 1. But you might also see payouts of 9 to 1, 8 to 1, 7 to 1, or 6 to 1.
FlushOn the better versions of the game, the payout for a flush is 6 to 1. But on some games it's 5 to 1.
The rest of the payouts for this game are as follows:
3 of a KindA 3 of a kind always pays 3 to 1 in this game.
2 Pairs2 pairs always pays 2 to 1.
A Pair of Jacks or BetterThis hand pays out even odds.
Below we've included an actual pay table for the best version of this game: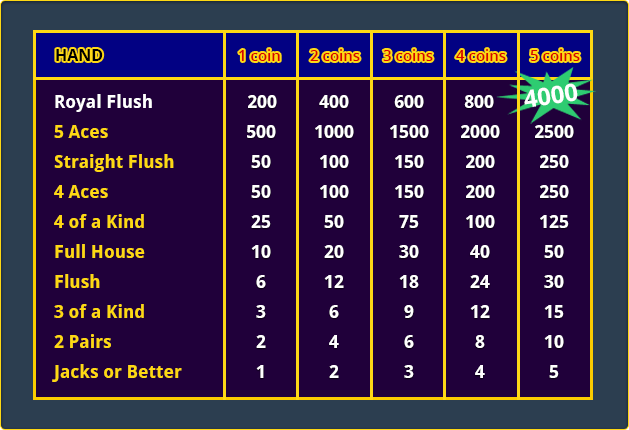 Here's another pay table, this time for the worst payout table in the game: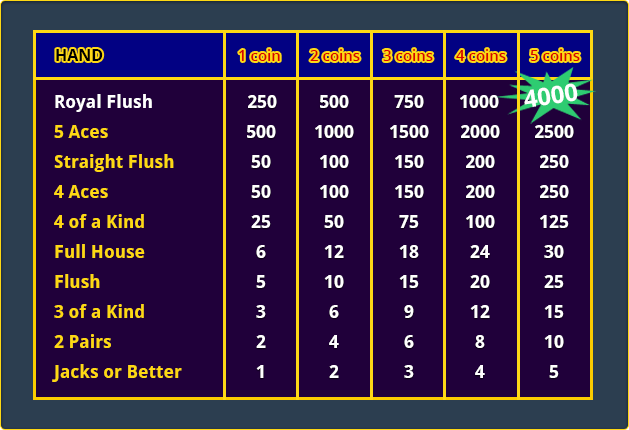 You'll notice 2 things about this 2nd pay table:
The payout for the royal flush if you make less than the max bet is marginally better—250 to 1 instead of 200 to 1. Since you'll be playing for the max bet every time, this won't make a difference to you.
The payout for the full house is reduced dramatically, and the payout for the flush is reduced significantly, too. This is true regardless of whether or not you're making the max bet, so this does make a difference to you in terms of payout percentage.
Payback Percentages
If you're playing with optimal strategy on the best possible pay table, the payback percentage of Ace Invaders video poker is excellent—100.2%. That's assuming you're playing all 3 lines and making the max coin bet.
Even the worst pay table in this game offers a reasonably good payback percentage—better than you'll see from almost any slot machine game—96.88%.
In terms of house edge, return to player, payout percentage—whatever you want to call it—Ace Invaders is a good gamble.
Ace Invaders Strategy
We got the optimal strategy for Ace Invaders from Michael Shackleford's site Wizard of Odds – although we present it slightly differently.
As with all video poker strategies, you start at the top and stop when you get to the hand that matches yours. You hold the cards that it says and discard the rest.
Royal Flush
4 Aces
Straight Flush
4 of a Kind + an ace
4 of a Kind
3 Aces
4 to a Royal Flush
Full House
2 Aces
Flush
3 of a kind + an ace kicker
3 of a kind with no ace
Straight
4 to a Straight Flush
3 to a Royal Flush


2 Pairs + an ace
A Pair of Jacks or Better + an ace kicker
2 Pairs
4 to a Flush + any unsuited ace
Ace
A pair of Jacks or Better without an ace
4 to a Flush
TJQK
Pair of 10s or lower
2345
9TJ suited
9JQ suited
JQ, JK, or QK, suited
9TJQ
Discard everything and start over
Ace Invaders Video Poker Online for Free
You can play Ace Invaders video poker online for free at the designer's website on this page.
You don't have to register an account or anything.
The only drawback is that they don't offer an online real money Ace Invaders video poker game to play.
Summary
Ace Invaders video poker is a fun and easy variation of video poker with a clever name that recalls the arcade game Space Invaders. The payback percentage for the best possible pay table is excellent, and even the worst pay table offers a payback percentage that beats most slot machine games. The strategy is easy to learn, too.
Ace Invaders is not as commonly found in casinos as Jacks or Better, Deuces Wild, or even Bonus Poker, but if you can find it, you'll probably like it. The only drawback is that it's not necessarily the best game for low rollers. To get the best possible payback percentage, you're required to make the max bet on 3 games at once, which means putting 15 coins into action. That means betting $3.75 per hand if you can find a quarter machine, or $15 per hand on a dollar machine. That's too rich for some gamblers' bankrolls, but if you can handle it, then we recommend giving Ace Invaders a shot.

Sign up Bonus
250% Up To $5,000
READ REVIEW
Visit Site
X