How to Use Stats When Betting on Tennis
Tennis is one of the most popular sports for betting and there are countless opportunities to win cash throughout the year.
Every tournament is different and you have to adjust your strategy to its specific traits to be successful. However, there are certain stats and trends for tennis betting apply to all of them.
We explore the most important among them and offer tips on how to use statistics to bet on tennis and make money.
Why Context Is Crucial in Tennis Data Analysis
If you have experience in any form of data analysis, you will know that adding context to the numbers is crucial. Tennis stats are no exception. You always have to consider various factors when evaluating them for betting purposes.
Here are the most important circumstances you need to take into account when analyzing the numbers.
Surface – Comparing stats for clay and grass courts is like comparing apples with oranges. You should always prioritize data from matches and tournaments on the same surface when looking for tennis trends.
Tournament Level – Working with stats from the Challenger Series or youth level competitions when betting on Grand Slams is pointless, and even potentially harmful. You need to look for data sets from events of the same caliber when preparing your picks.
Career Stage – When trying to analyze a specific player based on the numbers, you should always consider the stage of the athlete's career. A youngster that just hit his or her prime will likely be better than the numbers suggest, while the opposite is true for veterans who are on a decline.
Format – All women's matches are played in the best-of-three format, but the men's fixtures at Grand Slams are in the best-of-five and everything else is in the best-of-three. Make sure you're evaluating stats from matches that are in the same format.
Performance Trends – It's also crucial to be looking at performance trends. A player might be raising or dropping their level, so you should always check how the numbers move over time when you bet on tennis. Try to determine the direction where an athlete is going in order to find value in the gambling odds.
These are just some of the most factors you have to consider when you perform statistical analysis for tennis betting. However, there might be other circumstances that affect the context and you should always be thorough.
A good general rule is to exclude any data from events that are significantly different than the ones you're about to target with your wagers.
Long-Term Stats for Tennis Betting
We have decided to split the different stats for tennis gambling into different groups. The first one includes long-term numbers that can give a good idea of a player's general performance level and overall quality.
They can be used when preparing for tennis futures and outrights, or simply as a starting point that can help you determine how good the player is.
You have to be cautious with the stats in this group because there might be huge deviations in the short terms. Always look for the trends in the athlete's performance on top of the general stats.
The goals here are to both determine the ceiling of the player and his or her current level.
Record on a Specific Surface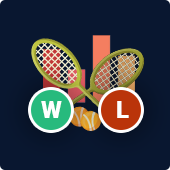 You should always look into how a player performs on specific surfaces. You can look at their balance in terms of wins and losses, as well as the overall performance in tournaments that are played on the same type of courts.
This is an excellent way to evaluate just how comfortable an athlete is on the surface in question. It could be the best one in terms of results or the worst. The point is that the overall record shows what kind of performance you could usually expect.
Once you check that, it's a good idea to look at the record in a relatively recent period, like the past several months, so you can evaluate the player's current form. Any emerging trends in either direction could be very helpful from a gambling perspective.
H2H Records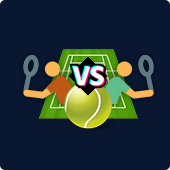 If you're betting on tennis matches, the head-to-head record is one of the stats you really should check. Previous meetings are a good indicator of how the styles of the two players involved interact.
Naturally, your statistical analysis should take several factors into account.
You should stick to comparable matches on the same surface and format. You should also mostly ignore encounters that are in vastly different circumstances in terms of age.
For example, if one of the players was just entering the tennis tour in previous matches, but reached their prime years for the upcoming clash, you shouldn't read too much into the past.
Record vs. Top 10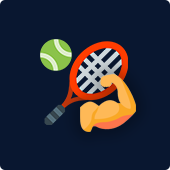 This is a statistic that can be very useful when you're looking for underdogs or players who are on the brink of a large jump in the standings.
If an athlete has consistently performed well against the best of the world, it's only a matter of time before they join that group.
Also, certain players are very good at a specific surface, usually clay or grass, and they regularly beat top opponents on it.
Identifying them is an excellent recipe for picking underdogs when you bet on tennis matches.
Best Stats to Assess Tennis Players' Style and Form
This group of tennis stats can be applied when you bet on matches, and they are especially useful for live wagers.
Analyzing the data we talk about here will give you a good idea of the style of the player as a whole. For example, you can determine whether defense or attack is their top priority.
The numbers also deliver a good indication of current form if you're looking at a small set of recent events.
Number of Winners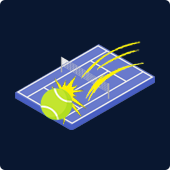 Let's begin with the number of winners. This includes any shot that the opponent didn't manage to return and led directly to winning a point. The more aggressive a player is, the more winners they will record.
The very best athletes in tennis usually have a lot of winners, but they are not the only ones. Players who prefer to attack a lot also register many of them, which is why you should always compare the number of winners to the number of unforced errors.
A large number of winners doesn't mean too much if there are also many mistakes. A player who has a lot of both simply has a very aggressive style that adds a lot of volatility to the outcome of their matches.
A good ratio means that the athlete attacks often, but doesn't go too far in the desire to finish the points quickly.
Unforced Errors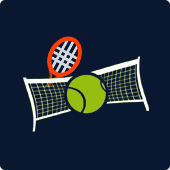 Every mistake that a player makes without pressure from the opposition qualifies as an unforced error.
Simply put, if a player hits the ball out or into the net while under no pressure, that's an unforced error.
Every player has unforced errors and it's important to evaluate where the mistakes are coming from. If they are combined with a lot of winners, that points to an aggressive style.
If a player has a high number of unforced errors without many winners, it's a sign that they simply aren't playing well.
Net Points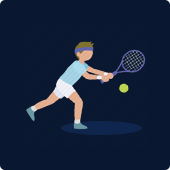 Net points are another interesting statistic that could be helpful when betting on tennis.
This stat shows how often a player goes to the net in the search of a finish, and the success rate when they do so.
Taller athletes with good volleys tend to use this strategy more often, while baseliners rarely visit the net.
You should always consider the surface when looking at this stat. Players who rely a lot on net points usually struggle on the slow red courts and excel on grass.
Tie-Breaks Won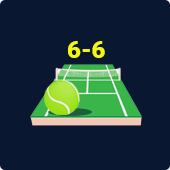 We decided to include this one because it can be useful for live betting on tennis as well as some pre-match wagers.
If you are watching a match that you're betting on and it reaches a tie-break, you should check the tie-break records of both sides.
The specific format of tie-breaks, and the added pressure, can lead to an improved performance by some players and a drop for others.
This statistic is useful when you prepare for close matches, too. If you expect a tight clash, there's a good probability of tie-breaks which could give an edge to a player who's significantly better in them.
Using Serving Stats When Betting on Tennis
It's time to move on to tennis stats that cover more specific aspects of a player's performance, starting with the serving numbers. You should be looking at these mainly in two situations.
The first one is during live betting when you have to determine how well the athlete is serving against this particular opponent in the current match.
The second one is when checking the most recent matches while preparing for future encounters – ideally analyzing fixtures from the same competition. This will tell you about the current serving form of a player which can be crucial from a gambling perspective.
First Serve Percentage – This number shows how often the first serve goes in. Higher is obviously better but only to a certain extent. Something in the 65-75% region is usually optimal because a higher number might indicate that the player is not taking enough risks and his first serve is easy to return.
First Serve Points Won – This statistic is crucial because it shows the percentage of points won by the player on a first serve. If both the first serve percentage and points won are high, it means that the player is dominating their serving games. A low percentage here indicates that breaks might be easy to achieve for an opponent.
Second Serve Points Won – This one works in a similar fashion but obviously applies to the second serve. It's one of the most useful stats for live betting as it can help you recognize a potential trend of incoming breaks. If the player is struggling to win enough points on their second serve, they could quickly find themselves in trouble on service games.
Aces and Double Faults – You should always check the number of aces and double faults, too. Players who have a lot of the former can usually escape tough situations with ease. The latter can be related to nerves and low confidence.
Break Points Saved – Another important factor is the player's behavior when facing break points. Some players are pretty good at defending against them, while others start to crumble when they face adversity.
You should always analyze the serving stats when betting on tennis matches because they can give you an excellent idea of what to expect.
For example, you will often encounter women's matches in which both sides are vulnerable when serving. That's a recipe for a wild clash that could see a lot of twists and turns, leading to a ton of opportunities to make money with live bets.
In fact, that's one of the favorite strategies for in-play wagers of one of our writers. Check out the following blog post for more of them.
Analyzing Returning Stats for Tennis Gambling
Once you've evaluated the serving skills of the players, it's time to move on to their performance when returning.
It's another helpful group of stats that can reveal a lot. These statistics can help you determine the most likely scenarios when you bet on tennis matches, either live or before the clash has started.
Return Games Won – Probably the most telling number is the overall number of return games won. It's pretty simple, really, and it shows how often the player breaks the opposition.
First Serve Return Points Won – This one shows the percentage of points won when facing first serve and it's a clear indication of whether the player has the tools to break the opponents often enough.
Second Serve Return Points Won – The same statistic but for the second serve. This one can be very useful if you want to see how aggressive an athlete is. The best in the world are very good at pressuring the opponents when they fail to hit their first serve.
Break Points Converted – Another statistic that's measured in percentages and it's very telling when it comes to mentality. A player that misses many opportunities to break might be struggling to cope with the pressure that comes in crucial moments.
Once you're done with both the serving and returning stats, you should be in excellent shape from a tennis betting perspective.
They can showcase emerging trends when it comes to live wagers or you can use them to evaluate the chances of both players to win their service games and, subsequently, the match.
More Useful Tennis Betting Resources
We some other tennis betting resources that can help you make money, so feel free to check them out.
We also have a section with tennis betting picks and a tennis blog. These are where our tennis writers share their recommended wagers, previews of big tournaments, opinions, and so much more.
Finally, here are two good sources of data you could use when running the tennis numbers for betting purposes. They have most of the stats mentioned on this page.
September
Sportsbook of the Month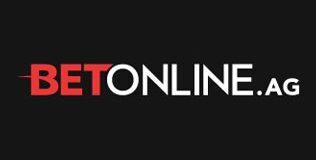 Welcome Bonus
50% up to $1,000