Olympic Extreme Sports Betting Guide
Betting on the popular Olympic events is always fun, right? Every four years, the world comes to a standstill for the 100m sprint, while other mainstream events receive vast coverage.
But have you ever considered betting on extreme sports at the Olympics?
Extreme sports involve a high degree of risk and often entail frightening speeds and dizzying heights. Although there isn't an official extreme sports category for the Summer Olympics, events like surfing, skateboarding, and rock climbing certainly fall into that bracket.
The Winter Olympics has a host of extreme events, too, with multiple disciplines for sports such as skiing, snowboarding, and bobsleighing.
This page covers everything you need to know about extreme sports betting at the Olympics. So, without further ado, let's get right into it.
Extreme Sports at the Summer Olympics
Before we dive into Olympics betting tips for extreme sports, let's take a closer look at the extreme sports on the Summer Olympic schedule.
Olympics Surfing
Debuting at Tokyo 2020, surfing is one of the Games' newest sports. As a result, there are currently just two Olympic surfing events – men's shortboard and women's shortboard.
Both competitions start with three heats, with the top two athletes from each heat qualifying for the next round. Following the heats, the quarterfinals and semifinals take place on the same day. The remaining surfers then battle it out for the medals in the final.
Key Info About Surfing at the Olympics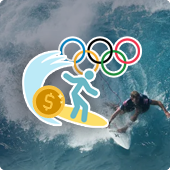 There are 40 athletes overall – 20 men and 20 women.
Olympic surfing uses a four-person heat structure.
Each heat runs for 20 to 25 minutes.
Only one athlete is allowed to ride a wave at any given time.
A panel of judges determines the riders' performances.
Surfers are given a score from 1 to 10 with two decimal places (e.g., 7.83).
Scores are based on speed, power, flow, and trick difficulty.
There are plans to include more surfing disciplines at future Games. If the sport remains successful, longboarding, bodyboarding, and standup paddleboarding could be featured at the Olympics in the coming years.
Olympic Skateboarding
Skateboarding was another of five new sports added to the Summer Olympics schedule for Tokyo. With two events for both men and women, there is no shortage of action.
The two Olympic skateboarding disciplines are park and street. If you're new to betting on extreme sports at the Olympics, check out to table below to learn about the main differences between the events.
MAIN FEATURES OF PARK SKATING AND STREET SKATING
Park
Street
Hollowed-out course
Relatively straight and flat course
Large bowls and ramps
Street-like features
Skaters achieve great heights
Stairs, handrails, curbs, and benches
More mid-air tricks
Ground-level tricks and grinds
As you can see, the park events take place on genuine skate parks, with bowls and ramps enabling the competitors to perform mid-air tricks.
The street course is designed to replicate an everyday setting. With features like benches, stairs, and handrails, street skaters perform the majority of their tricks at ground level.
Just like surfing, the Olympic skateboarding schedule comprises prelim heats before the main medal event and is scored by a panel of judges. 80 athletes take part in total, with 20 skaters competing in each event.
Olympic Rock Climbing
Rock climbing is another Olympic sport to make its debut at Tokyo 2020. There are two events – one for men and one for women. However, there are three different disciplines within each event.
Essentially, all the disciplines require athletes to scale a man-made wall using the provided grips. But each discipline is unique and comes with its own set of challenges.
Disciplines in Olympic Rock-Climbing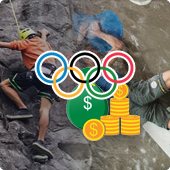 Speed Climbing – This discipline is a head-to-head race between two athletes. The climbers have safety ropes, allowing them to fly up the wall at rapid speeds.
Lead/Sport Climbing – Lead (or sport) climbing requires athletes to climb as high as possible on a 15-meter-high wall with a 6-meter overhang. There is a time limit for this discipline.
Bouldering – Using a 4.5m-high wall, climbers must overcome problems on a specific route over a set period of time. The ranking is decided by the number of problems solved.
Once a climber has completed all three disciplines, their overall score is calculated by combining their individual scores from each discipline.
Overall, 20 men and 20 women compete in Olympic rock climbing. Each event has an initial qualification round before the finals take place, with the top ten athletes from each side progressing to final stage.
Check out the video below to learn more about Olympic rock climbing.
Extreme Sports at the Winter Olympics
While extreme sports are new to the Summer Olympics, the Winter Olympic schedule is always packed with extreme sports.
Here are some of the extreme sports to look out for during the Winter Games.
Aerial Skiing – Often referred to as ski jumping, this event sees skiers fly downhill at breakneck speed, launch themselves off a ramp, and perform tricks while in mid-air. Remarkably, 49% of aerial skiers suffered injuries at the 2014 Winter Olympics in Sochi, Russia.
Snowboard Cross – Also known as boardercross, this event involves multiple athletes racing downhill on a course that features a series of jumps and drops. 34% of participants were injured in this event at Sochi 2014.
Slopestyle Skiing/Snowboarding – This event requires skiers and snowboarders to fly downhill while performing tricks on jumps and rails. Competitors are judged on both the height of their jumps and difficulty of their tricks.
Ski/Snowboard Halfpipe – Skiers and snowboarders achieve huge air while riding up and down a colossal half-tube of compacted snow. Athletes are given more points for difficult tricks, which can often lead to accidents.
Luge/Skeleton – Competitors use a one-person sled to navigate their way down a narrow and winding track made of ice. Luge athletes sled on their back, while skeleton athletes sled on their stomach. Oh, and did we mention these sleds can reach speeds of over 90mph!?
Bobsleigh – This event sees teams of either two or four athletes cram into a sled and maneuver down the same track used for luge and skeleton races. Bobsleighs often fly down the track more than 80mph.
As with the Summer Olympics, the sports and events at the Winter Olympics can and do change.
It's likely we'll see new extreme sports at the Winter Games in the future, while others may disappear from the schedule.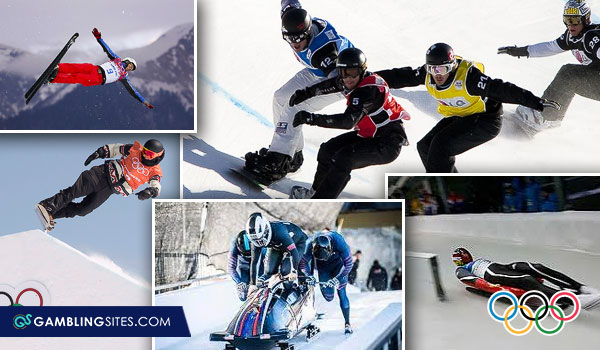 How to Bet on Extreme Sports at the Olympics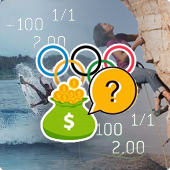 Now that you are familiar with all the extreme sports at both the Summer and Winter games, it's time to learn how to bet on extreme sports at the Olympics.
As extreme sports betting at the Olympics is a relatively new concept, most online sportsbooks don't have a massive range of markets for sports like surfing, skateboarding, and rock climbing.
While there are countless markets for popular events such as athletics, tennis, and swimming, betting on extreme sports at the Olympics isn't overly common.
However, there are still a few Olympics extreme sports betting markets to choose from. Let's go over the main options now.
Gold Medal Winner – The most common option for betting on extreme sports at the Olympics, this market enables you to predict the winner of an event.
Heat/Race Winner – You can also wager on individual heats and races within events before the medals are handed out. Surfing, skateboarding, and climbing all have prelims before the main event.
Podium Finish – Not only can you bet on the gold medal winner, but you can also bet on athletes to finish on the podium. This means you are gambling on a competitor to claim a medal of any color.
To Reach the Final – This extreme sports Olympics betting market allows you to wager on athletes to reach the final of any given event.
Given the wild nature of extreme sports, bookmakers are likely to offer some unusual and creative prop bets, too. Make sure you keep an eye out for the bookies' Olympics props in the lead-up to the Games.
Prop bets are not only a lot of fun, they can also be very profitable.
Tips for Extreme Sports Betting at the Olympics
Although there are several tips that relate to betting on every extreme sport at the Olympics, there are also several sport-specific tips to consider.
This section covers all the top tips for extreme sports betting at the Olympic Games.
Analyze the Qualifying Events
Before you think about laying down your Olympics bets, you should always study the qualifying events. Every Olympic sport requires athletes and teams to qualify, giving bettors valuable information before the Games get underway.
For example, all the surfers at Tokyo 2020 had to qualify via three different routes – the Pan American Games, the World Surf League, and the ISA World Surfing Games.
By looking at the results of pre-Olympic tournaments, you can gauge how athletes will fare at the upcoming Games. Ultimately, this will give you a significant edge when it comes to betting on the Olympics.
Expect the Unexpected
Extreme sports are new to the Games. While some sports have hundreds of years of Olympic history to look back on, you don't have the same luxury when you're betting on extreme sports at the Olympics.
With that in mind, you should always prepare for the unexpected.
An athlete may be the bookies' obvious favorite to win an event, but that doesn't mean that a lesser-known competitor can't upset the Olympics odds and claim gold.
As a result, we suggest placing mostly smaller wagers on extreme sports at the Games.
Consider the Weather in Outdoor Sports
Mother Nature can have a big impact on outdoor sports, so much so that we highly recommend keeping a close eye on the weather if you're betting on extreme Olympic sports.
Some athletes might perform better in certain conditions, giving them an advantage over their rivals. In the same way, other athletes may not be used to particular conditions and could end up finishing in an expected position.
In certain instances, events could even get postponed or canceled. If the waves are too dangerous on the day of an Olympic surfing event, the organizers may decide to call it off.
Make sure you keep up to date with the weather forecast to give yourself the best possible chance of landing your Olympics bets.
Check for Rule Changes
Rule changes occur regularly in most new sports, and extreme sports are no exception. That's why we suggest checking for any rule changes before betting on the Olympic Games.
More often than not, rule changes are minor and don't usually affect how people bet on the Olympics. Still, it is worth researching the rules of any sport before you part ways with your cash.
Olympic rock climbing, for instance, started out with three separate disciplines in one event. However, there are plans to give the sport two events at future Games, separating speed climbing from the lead and bouldering events.
Every climber has their preferred discipline, so athletes that struggled at Tokyo 2020 could perform far better at Paris 2024.
Researching Extreme Sports Athletes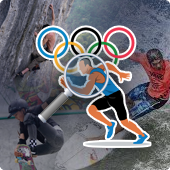 It goes without saying that extreme sports are not as popular as the mainstream Olympic events. For that reason, it can sometimes be difficult to gather information on extreme athletes.
If you're betting on Olympic swimming, for example, finding useful stats and trends isn't hard. But when it comes to extreme sports Olympic betting, getting enough info on the competitors can be challenging.
Luckily for you, we created this section to combat those struggles. You can find information on athletes in extreme sports for both the Summer and Winter Olympics below.
Remember – there is an almost endless amount of information on the internet. To enhance your chances of making winning Olympics predictions, make full use of what the web has to offer.
Future of Extreme Sports at the Olympics
There is a sense that more extreme sports will be included in the Olympic schedule in the coming years. After all, surfing, skateboarding, and rock climbing were all added to the same edition of the Games.
Who could have predicted that skateboarding would be recognized by the International Olympic Committee (ICO)? And did anyone truly believe that rock climbing would become an Olympic sport?
As the world of extreme sports continues to evolve, more and more events will surely be added to the Olympic program.
The table below details the extreme sports that will debut at the 2024 Olympics in Paris, along with other sports that could be featured at the Games in the future.
EXTREME SPORTS AT FUTURE OLYMPIC GAMES
Sport
Olympic Status
Breakdancing
Confirmed for Paris 2024
Kiteboarding
Confirmed for Paris 2024
Wakeboarding
Shortlisted for Tokyo 2020 and Paris 2024
Parkour
Shortlisted for Tokyo 2020
Mountainboarding
Under consideration
Ice Cross Downhill
Under consideration
Yes, that's right, you read that correctly – breakdancing will be introduced to the Olympics in 2024. We don't really know which category breakdancing falls into, but we think it's pretty extreme!
Kiteboarding will also make its debut at Paris 2024. Having been trailed at the 2018 Youth Olympic Games, kiteboarding will feature in the sailing category.
Wakeboarding and Parkour have been shortlisted for Olympic status, too, although neither sport earned a spot for Tokyo 2020.
Other extreme sports like mountainboarding and ice cross downhill have been considered by the ICO in the past, but it is currently unclear if either of those sports will gain Olympic status in the future.
Alternative Betting Options for the Olympics
Of course, we highly recommend betting on extreme sports at the Olympics; that's exactly why we created the guide!
But given the limited nature of events like surfing, skateboarding, and rock climbing, we also suggest gambling on other Olympic sports.
Here are some of the most popular Olympic sports to bet on.
Athletics – The top track and field disciplines are undoubtedly the standout events of any Olympic Games.
Tennis – Every four years, the best tennis players on the planet battle it out for Olympic gold – and you can bet on them.
Swimming – With a wide range of events taking place over various distances, swimming is among the most popular Olympic sports.
Boxing – The Olympic Games give us an opportunity to catch a glimpse of the best up-and-coming boxers in the word.
Basketball – Alongside events like soccer and hockey, basketball is one of the leading team sports at the Olympics.
We also endorse betting on some of the more obscure sports at the Olympics. Here are a few examples.
Sailing – Often overlooked by sports bettors, betting on Olympic sailing has the potential to be hugely profitable.
Rowing – Rowing has been an Olympic mainstay ever since 1900. Naturally, bettors have been gambling on Olympic rowing for a very long time.
Weightlifting – Weightlifting has been featured at every Olympics since 1920 and has produced countless memorable moments over the years.
Archery – Have you ever thought about betting on Olympic archery?
For many people, mainstream sports can't be beaten. But if extreme sports really grabs your attention, why not discover some more extreme events outside of the Olympics?
We have created betting guides for extreme non-Olympic events, too, so make sure you check those out.
June
Sportsbook of the Month

Sign up Bonus
60% Up To $1,000
READ REVIEW
Visit Site
X