Review of Betsoft's Madder Scientist Slot
Many slot machine games are simple variations of the same thing. Bonus features add variety to these slots to make them unique and interesting.
The Madder Scientist slot from Betsoft is an excellent example. This game is packed full of bonus features. They include re-spins, a pick-and-click bonus, sticky wilds, and a bonus mini-game.
All of those exciting bonus features combine with the high-quality 3D graphics Betsoft is known for. The result is a magnificent slot game that will keep you entertained for hours.
We cover everything you need to know about this thrilling game in our Madder Scientist slot review. We explain how to activate the bonus features, the paytable, and where to play Madder Scientist online.
Let's start by exploring how to play Madder Scientist for real money.
How to Play the Madder Scientist Slot Game
The Madder Scientist online slot game follows a standard slot structure. It has five reels, three rows, and thirty pay lines.
You have the option of only playing some of the pay lines. We always recommend playing the highest number of pay lines you can afford because that gives you more opportunities to win.
It is better to play thirty pay lines at one penny than one pay line at $0.30.
When you play Madder Scientist online, you also have the option of choosing your coin value and the number of coins you want to play per line.
There are buttons on the bottom left side of the screen that you can use to adjust your bet. If you press the max bet button, it will automatically adjust the number of pay lines and coins per line. The max bet button does not affect your coin value.
Once you have set your betting preferences, you can start playing Madder Scientist for real money. You can spin manually or set the autoplay feature.
Key Details for the Madder Scientist Casino Slot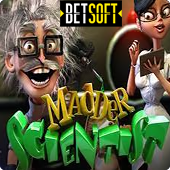 Theme: Science/Chemistry
Manufacturer: Betsoft
RTP: 95.18%
Reels/Rows: 5/3
Paylines: 30, adjustable
Minimum bet: $0.01
Maximum bet: $150
Maximum Prize: $2,500
Jackpot: No
Volatility: Medium
Mobile Compatible: Yes
Now that you know the basics for how to play, let's take a look at the symbols and payouts. That should give you an idea for how to win on Madder Scientist.
Madder Scientist Symbols and Paytable
The main character of the Madder Scientist casino slot is Dr. Walter Prescott. He is the same Dr. Prescott that starred in Betsoft's Mad Scientist slot.
In the original slot game, Dr. Prescott discovered a serum that could turn objects into gold. That achievement gave Dr. Prescott a taste of glory. Now, he is back to seek more fame and power.
Dr. Prescott himself is the highest-paying symbol in the Madder Scientist game, followed by his assistant and rabbit.
His scientific tools are the medium-value symbols, including the electric generator, microscope, and test tubes. The microscopic cells and danger signs are the low-paying symbols.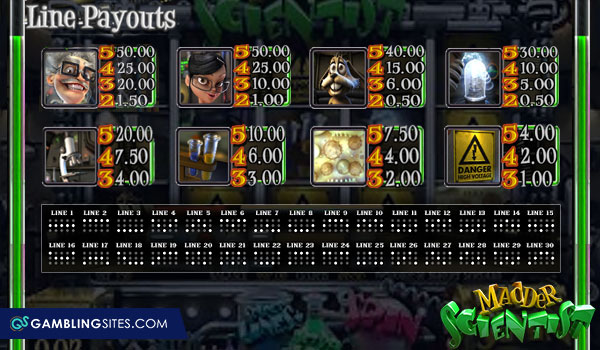 We appreciate that all of the symbols are related to the game's theme. Playing card symbols are traditional for slot machines, but they don't exactly fit in a scientist's lab.
Dr. Prescott is the perfect mad scientist too, with his frizzy hair, wide-rimmed glasses, and a crazy smile. When you win, he turns around to celebrate with you, complete with a maniacal laugh.
The Madder Scientist slot game is set in his laboratory. Switches, chemicals, and other scientific equipment surround the reels.
All of these details bring the theme to life. It makes you feel like you are standing next to Dr. Prescott and assisting with one of his crazy experiments.
Betsoft is known for creating excellent 3D graphics on all of its games. The Madder Scientist slot machine is no exception.
Bonus Features on Madder Scientist
There are three additional symbols on the reels; the carrot, the switch, and the beakers. None of these symbols offer their own payouts.
You can activate the Madder Scientist bonus features by collecting at least three of them. Each symbol activates a different bonus feature.
Pick-and-Click Bonus
Wild Switches
Chemistry Bonus Round
Let's look at how each feature works.
Pick-and-Click Bonus
When you get three beakers on the reels, you will get to play the pick-and-click bonus game. You will click on a beaker to reveal its prize.
Some of the beakers offer cash prizes, while others offer free spins.
You can keep playing this bonus game and collecting prizes until you click on a beaker that says collect on it. The collect beakers automatically end the bonus game.
The pick-and-click bonus game offers valuable opportunities to win extra prizes. But it isn't easy to trigger because beakers only appear on reels 1, 3, and 5.
We didn't trigger this feature often while writing this Madder Scientist slot machine review.
Wild Switches
The Madder Scientist online slot use the power switch as the game's scatter symbol. It can appear anywhere on the reels.
If you get three switch symbols, it will trigger the Wild Switches bonus feature. One of the reels will turn into a wild reel for a specific number of spins.
Which reel turns wild is determined randomly. You can earn additional spins with the wild reel by getting more switch symbols on the reels during the wild spins.
This bonus feature is the only time that the Madder Scientist casino slot game has a wild symbol.
Chemistry Bonus Round
Carrots might seem out of place in a science-themed slot. But Dr. Prescott is mad, so anything goes! The carrot is the object he tests his experiments on.
You can help Dr. Prescott achieve his next breakthrough when you get three carrots to land on the reels.
Once you have triggered the chemistry bonus round, you will be asked to pick two beakers filled with a colored liquid. Each beaker has a different cash prize.
After you have chosen the two chemicals, Dr. Prescott mixes them together and pours them on the carrot to see what happens. You will earn an additional cash prize based on the result.
The chemistry bonus round accentuates the theme, adds some variety, and offers excellent prizes. It is a fun part of the Madder Scientist casino game.
Reel Re-Spins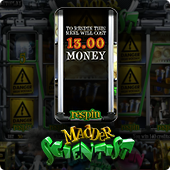 In addition to the random bonus features, the Madder Scientist online slot machine also has a re-spin feature available on every spin.
The re-spin button appears at the bottom of the reels after every paid spin. You cannot use the re-spin feature if another bonus feature has already been activated for that spin.
When you click on a re-spin button, that reel will spin again while all the other reels remain in place. There is no limit on the number of re-spins you can use.
You do have to pay for each re-spin. The fee for each re-spin will depend on your bet amount and the likelihood of getting additional wins because of the re-spin.
For example, you could keep re-spinning various reels until you get three carrots to activate the bonus round. If you already have two carrots, the re-spins will cost more because you have a chance to activate the bonus game.
Each reel has a different price for the re-spin, too. If you are going to keep spinning until you get a bonus, we recommend choosing the reel that is the least expensive to re-spin.
Ultimately, you want to be strategic about how you use the re-spins feature. In fact, let's go over a couple re-spin strategies you can use when you play Madder Scientist for real money online.
Strategies for the Re-Spins Feature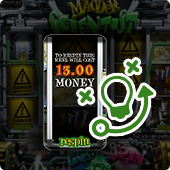 The Madder Scientist re-spin feature gives you some control, but you need to use it wisely. It can be tempting to re-spin after every spin or to keep re-spinning until you get a win.
You could easily waste the majority of your bankroll on re-spins. We recommend only using the re-spin feature when you are close to activating a bonus feature.
Another strategy is to use the re-spin feature for specific symbols. For example, you might only use the re-spin when you have two or more doctor symbols.
Also, we do not recommend you play with autoplay.
The autoplay feature gives you less than a second to click on the re-spin button before moving onto the next spin. That is not enough time to pick which reel you want to re-spin and click on it.
That's it. Stick to those tips and you'll give yourself the best chances of winning money while playing Madder Scientist. And have fun while you do it!
Now, all of these bonus features make the Madder Scientist casino slot machine much more exciting. But it can be challenging to keep track of what each bonus feature does and how they work.
We have compiled this table to summarize all of the Madder Scientist bonus features.
Bonus Feature
How to Activate
What it Offers
Other Information
Pick-and-Click
Three beaker symbols
(Reels 1, 3, 5 only)
Click beakers to collect free spins or cash prizes
The bonus ends when you choose a beaker that says collect
Wild Switches
Three switch symbols
It turns one reel wild for five spins
Earn extra wild spins for each additional switch symbol
Chemistry Bonus Round
Three Carrot symbols
Choose chemicals for the doctor to mix and get cash prizes
Carrots can appear on any reel
Reel Re-spins
Available after every paid spin for a fee
Re-spin a particular reel to offer additional wins
Don't use autoplay if you want to use the re-spin feature
Summarizing Our Review of the Madder Scientist Game
There is clearly a lot to love about the Madder Scientist real money slot. It is an exciting game with several bonus features, excellent graphics, and an immersive theme.
But it isn't perfect. There are a few aspects of the game that we think could be better. We want our Madder Scientist review to give you a complete picture of the game.
That means we have to explain the game's weaknesses, as well as its strengths. Here are a few things that we were disappointed with when we played the Madder Scientist slot online.
No wild symbols – There are no wild symbols on the base game. You can get a stacked wild during the Wild Switch bonus, but no wilds appear on the reels randomly.
Similar bonus games – The pick-and-click bonus and the chemistry bonus round are too similar. They are both games where you pick something to see what you have won. We would be more impressed if the bonus games had a different structure.
Free spins are rare – There is only one way to earn free spins on the Madder Scientist online casino slot. You have to win them during the pick-and-click bonus game.
Average RTP – The Return to Player percentage is only 95%. That isn't bad, but we like to see games with 96% or higher.
Low Madder Scientist jackpot – The highest prize you can win is $2,500. That is only available when you bet the max bet of $150 per spin. This is relatively high stakes for such a low max payout.
The Madder Scientist casino slot game has many bonus features, but you have to decide if they are worth it. You have to be willing to accept a mediocre RTP, no wild symbols, and low prize potential.
If you are looking for a game to keep you entertained, Madder Scientist is an excellent choice. We had a blast "testing" it while writing this review of the Madder Scientist game.
But we know everyone is different. So, you can watch the game trailer here to see if it's right for you.
If you aren't interested in playing Madder Scientist for real money, then continue on to the next section where we give you a few alternatives to try instead.
Madder Scientist Alternatives
After reading our Madder Scientist slot review, you will probably want to play the game for yourself.
If not, or when you're ready to take a break from it, here are a few other slot games to check out. We categorized them based on some of traits or features found on Madder Scientist.
If you want to play more games with bonus rounds:
Check out these other games with re-spin features:
Dim Sum Prize from Betsoft
Count Spectacular mobile slot from RealTime Gaming
Dragon Dance from Microgaming
Spina Colada from Yggdrasil
Divine Fortune from NetEnt
Here are a few more games with a similar science theme:
Incinerator from Yggdrasil
Mad Scientist from Betsoft (the prequel to the Madder Scientist slot game)
Jekyll and Mr. Hyde from Betsoft
Watts Up from Microgaming
Alchemist's Lab from Playtech
We also have a bunch more slot game reviews if you'd like to explore your options.
Where to Play Madder Scientist Online
Before we can wrap up our Madder Scientist slot review, we need to make sure you know how to find online casinos with Madder Scientist.
The quickest way to find Madder Scientist casinos online is to find slot sites that use Betsoft as one of their software providers.
Our casino reviews include information about software providers, too, so they are also an excellent resource. They will help you find a casino where you can play Madder Scientist for free or with money.
You should also know that you can easily play Madder Scientist on mobile devices. All you have to do is visit your favorite Madder Scientist mobile casino from the device's internet browser.
These websites have been programmed with mobile-compatible technology. That means that almost anything you can do on the desktop version of the site, you can do from your cell phone.
When you play the Madder Scientist mobile slot, the experience should be almost the same as playing from your computer. That's what we found when we performed our Madder Scientist mobile slot review.
Regardless of which device you play on, you are sure to have fun when you play Madder Scientist online for real money or even in demo mode.
So, what are you waiting for? Choose an online casino or slots app with Madder Scientist to start playing today!

Sign up Bonus
250% Up To $5,000
READ REVIEW
Visit Site
X