Invaders from the Planet Moolah Slots
Alien themed games are a dime a dozen in the slots world. But WMS' Invaders from the Planet Moolah is unlike any alien slot out there.
The invaders in this 5 reel, 25 pay line game aren't little green men, but rather cows in flying saucers. The theme immediately prepares you for a quirky game that has the potential to keep youentertained for hours.
But is this potential fulfilled with more than just an entertaining theme?
You can find out below as we cover this game's pay table, symbols, features, betting options, and comparisons to other alien themed slots.
Overview
The most distinguishable feature in Invaders from the Planet Moolah is the five cows in flying saucers hovering above each reel.
This has more importance than just fitting into the unusual theme because these cows zap symbols from winning pay lines and make them disappear. In the case of the cow wild symbols, the flyingsaucers beam them up.
The removal of these winning symbols allows symbols to fall from above and create more winning combinations, a.k.a. cascading reels.
You don't get a multiplier as more wins keep falling from above. This is a downside because most other cascading reel slots offer multipliers that increase as you earn more cascading wins.
But you can get free spins with four consecutive wins, which we'll cover in the features section.
The background looks like any other alien slot, with different planets and stars. You'll also hear alien type noises while you're playing.
Invaders from the Planet Moolah Pay Table and Graphics
Symbols and payouts for Invaders from the Planet Moolah are as follows:
Cow Wild

Cows substitute for all other symbols and appear on reels 2 5. As mentioned before, any cow that appears in a winning pay line gets beamed up into a flying saucer.

Jackpot Symbol

This symbol awards the game's highest payout, giving you 750 credits for 5 symbols, 150 credits for 4, and 30 credits for 3.

Mixed Symbols

The dog, grandma, grandpa, cowgirl, and man can combine in any manner to award you a win. 5 mixed symbols pay 500 credits, 4 pay 30 credits, and 3 pay 25 credits.

Barn

The barn pays 250 credits for 5 symbols, 50 for 4, and 20 for 3.

Trailer

The trailer pays 200 credits for 5 symbols, 40 for 4, and 15 for 3.

Truck

This symbol pays 150 credits for 5 symbols, 30 for 4, and 10 for 3.

Chickens, Milk

Both of these symbols pay 100 credits for 5 symbols, 20 for 4, and 5 for 3.

Mailbox, Outhouse

These symbols both pay 80 credits for 5 symbols, 20 for 4, and 5 for 3.
Symbol Graphics
Earlier we mentioned that Invaders from the Planet Moolah offers a unique angle to the alien genre since cows are the invaders. But you'll notice that most of the symbols fit the stereotypicalimages you'll see in other alien slots.
This can really be seen in the mixed symbols, with grandma and grandpa looking like your average farm couple, the man holding a beer can and sporting a white tank top, and the cowgirl alsofitting into the rural theme.
We suppose that WMS included these farm characters along with barn, trailer, truck, and outhouse to add familiarity to an otherwise wacky theme. But it would be nice if they kept with theoriginality and added more unique symbols to support the cow alien theme.
As for the visual quality, it's average at best. The background looks good, but the symbols lack the quality seen in many other WMS 5 reel slots.
If you want great graphics, other WMS games that you can try include Fire Queen and Crystal Forest.
Invaders from the Planet Moolah Bonus Features
Cascading reels are the big selling point to this game because they give you opportunities to keep forming winning combinations within the same turn.
WMS did a good job of going beyond cascading reels by including the flying saucers that zap/beam up winning symbols. These extra frills give Invaders from the Planet Moolah an added layer ofentertainment.
The one problem with cascading reels, though, is that they increase volatility on each turn. Sometimes you spin the reels 5 to 10 times with all 25 pay lines in play and get nothing.
The cascading reels help make up for these cold stretches, but it can be frustrating waiting for the multiple wins to come.
Game Bonus
If you get four wins in a row during the same turn, you earn free spins. When this happens, a warning siren goes off while the game title is announced.
Your free spins begin as soon as you hit the red button. This takes you to another screen where the background is darker and the reels are green.
Other than these effects, the free spins are exactly the same as the main game. But it's still nice that Invaders from the Planet Moolah offers some presentation before the free spins.
One frustrating aspect of these free spins is that they don't come around very often. We used autospin for 200 spins at one point and didn't get any free spins.
Betting Options
You must play all 25 pay lines because they're fixed. But you do have flexibility with the coin denomination since you can change it from $0.01 to $5.00.
This makes the minimum bet $0.025 per spin and the max worth $125.00.
QuickBet and Classic Panels
The nice thing about Invaders from the Planet Moolah's betting options is that you can switch between QuickBet and Classic Panels. Just click the C or the QB buttons in the lower left hand cornerto change views.
The QuickBet Panel allows you to quickly adjust your bets with a sliding bar. The higher the bets, the more space there is between the betting increments.
Here are a couple examples: bets increase by $0.25 increments from $0.25 to $2.50. Bets increase by $12.50 increments from $70.00 to $125.00.
You can also click the Min of $0.25 and Max of $125.00 buttons on the side to quickly go from one extreme to another.
The Advantage to the QuickBet Panel is that it speeds up the betting process and lets you focus on the game. The downside is that it gives you far less control over your increments.
This is where the Classic Panel comes in handy because you can adjust your coin denomination by one cent every time. If you want to bet $0.10 on every pay line or $2.50 total, you just hit theplus or minus arrow to arrive here.
We only played the $0.01 coin size so it didn't matter if we used the Classic or QuickBet panel. But we'd prefer the Classic Panel when varying bet sizes because of how much control it offers.
Other Options
You can choose when you want to stop playing by clicking the Options button at the top of the screen.
One way you can do this is through your balance, selecting to stop playing when your bankroll increases or decreases by a specific amount. Here's an example: we chose to stop playing when ourbankroll increased by $25.00 or when it decreased by $50.00.
You can also stop playing when you receive a single win worth a specific amount or when you've received any big win.
Comparison to Other WMS Slots
Like other slots companies, WMS has released several games that deal with aliens and/or outer space.
One of these games is based on the long running TV series Star Trek, which follows the voyages of the Starship Enterprise to strange planets.
Another slot is Space Invaders: Evolution, a skill based game that will hit Nevada casinos in the near future. While Space Invaders isn't officially available yet, we did get to see a preview ofit at G2E 2015.
Below you can see how Invaders from the Planet Moolah compares to both of these slots.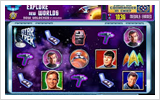 Star Trek Red Alert
The Star Trek franchise has been around since the mid-1960s through different TV shows, movies, and TV syndication. But Star Trek Red Alert is based on the original series that ran from 196669, starring William Shatner as Captain Kirk and Leonard Nimoy as Spock.
Star Trek Red Alert is a more advanced slot than Invaders from the Planet Moolah, using quality graphics, real life characters, and a moving background that makes it feel like you're flyingthrough space.
This slot also sees you earn medals during gameplay that allow you to unlock older slots in the series. The first goal is to collect 50 medals so that you unlock Explore New Worlds.
You pick up medals by getting 3 or more Feature symbols and playing the bonus round. The bonus is yet another perk of Star Trek Red Alert because you see clips from the show and a detailedscene at the top of your screen.
Fans and non-fans alike will enjoy Star Trek Red Alert because it has multiple layers that make it playable again and again.
Invaders from the Planet Moolah also has some nice features, like the zapping/beaming effect, but it's not as detailed of a game as Star Trek. The graphics aren't as good either, giving StarTrek the edge here.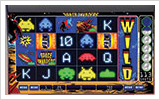 Space Invaders
Released in 1978, Space Invaders is one of the biggest arcade hits of all time. This game involves using a cannon to wipe out hordes of alien invaders who are trying to overtake Earth.
When WMS joined the next step in slots technology – skill based gaming – they decided that Space Invaders would be made a perfect slots adaptation.
Space Invaders: Evolution features retro graphics and plays like a normal slot during the main game. The fun part comes when you get 3 or more bonus symbols because you get to play a skillbased bonus to win the progressive jackpot or receive 10 free spins.
If you choose the skill based round, you play the arcade version of Space Invaders and have a limited number of shots to destroy as many aliens as possible. The round ends if you get hit by analien shot, if the aliens reach Earth, or if you run out of bullets.
Skill based bonus rounds like this are already available in online slots. But thanks to WMS and other companies, they'll soon be out in land based casinos.
As for how Space Invaders: Evolution compares to Invaders from the Planet Moolah, its theme isn't as fun or original. But the skill based bonus round gives it a certain appeal that PlanetMoolah can't match.
Conclusion
The title of Invaders from the Planet Moolah suggests that this is another run of the mill alien slot. But it's far from this thanks to the unique angle that the cows in flying saucers provide.
Rather than just creating another cascading reels/alien game, WMS has gone further by having the cows zap/beam up winning symbols. Not only do you get the cascading reels effect, but you're alsoentertained in the process.
We also like the high degree of control that you have over betting options with the Classic Panel and QuickBet Panel views. The fact that you can set stop loss limits is another bonus.
We'd like to see better graphics from this game since the symbols are average. The symbols could also include more originality because almost every alien abduction slot includes farmers and farmanimals.
Our Thoughts:
Overall, Invaders from the Planet Moolah has enough good qualities to make it worth trying, especially regarding the original theme.
September
Casino of the Month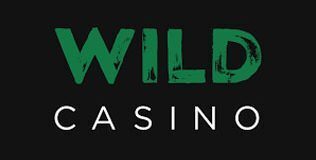 Welcome Bonus
250% up to $5,000