Adventures in Wonderland Slot Game
Adventures in Wonderland is a 5 reel, 20 pay line online slot that was developed by Ash Gaming.
The game offers another take on Lewis Carroll's 1865 novel Alice's Adventures in Wonderland, which has spawned numerous TV shows, movies, and slot machines.
The best-known adaptations of this story come from Disney, including the 1951 animated film Alice in Wonderland, 2010 movie Alice in Wonderland, and the 2016 film Alice Through the Looking Glass.
The general theme in any adaptation is that Alice chases the White Rabbit, falls into a rabbit hole, and discovers an amazing new world filled with strange creatures.
You likely know the story, but the key element in any Wonderland slot is the presentation.
How does Ash Gaming's Adventures in Wonderland fare in the presentation department?
Find out as we cover this game's animations, music, pay table, graphics, bonuses, and comparisons to similar online slots.
Adventures in Wonderland Slot Machines Overview
Background / Atmosphere
Adventures in Wonderland offers a nondescript background featuring shrubbery, flowers, butterflies, mushrooms, and a brick wall.
You wouldn't recognize this background in any part of the story since it looks like a stereotypical nature scene. But while the background doesn't add anything to the game, it doesn't takeanything away either.
Music
One of the best parts of this slot is definitely the music. You'll hear what can best be described as a combination of eerie, birds, and nature. This game is a more serious depiction ofWonderland, and the music perfectly reflects this.
Original sound effects that you'll hear include Alice drinking a potion, the Caterpillar smoking hookah, the Mad Hatter making an odd noise, the Cheshire Cat meowing, and Alice falling down therabbit hole during a bonus feature.
Animations
The animations also add a lot of entertainment to this game, and they include: the rabbit hole door opening, Alice falling into the rabbit hole, the Hatter sipping tea, Tweedle Dee and TweedleDum switching places, and the Caterpillar smoking.
The best bonus occurs when the Alice wild symbol helps form a winning pay line. She drinks a potion and shrinks down to miniature size, which is very detailed for a main game animation.
Pay Table and Graphics
Payouts and symbols for Adventures in Wonderland include:

Alice Wild
Alice is the wild symbol and substitutes for all other symbols except the bonus and two scatter symbols. Alice is also the top paying normal symbol, offering 10,000 credits for 5 symbols,1,000 for 4, and 100 for 3.

Mad Hatter Scatter Bonus
If you land 3 or more Mad Hatters anywhere on the reels, you'll trigger the Tea Party Bonus game. You receive 1,000 credits if you land 2 or more Hatters anywhere on the reels.

Free Spins Scatter
3 or more White Rabbit symbols appearing anywhere on the reels triggers the Pocket Watch Bonus feature.

Rabbit Hole Scatter
One rabbit hole symbol in the middle reel triggers the Rabbit Hole Scatter bonus along with sticky wilds.

Tweedle Dee and Tweedle Dum
These odd looking twins pay 1,500 credits for 5 symbols, 600 for 4, and 70 for 3.

Cheshire Cat
The Cheshire Cat pays 1,000 credits for 5 symbols, 400 for 4, and 50 for 3.

Caterpillar
The Caterpillar pays 500 credits for 5 symbols, 100 for 4, and 30 for 3.

A
Pays 100 credits for 5 symbols, 50 for 4, and 10 for 3.

K
Pays 80 for 5 symbols, 35 for 4, and 8 for 3.

Q
Pays 50 credits for 5 symbols, 20 for 4, and 6 for 3.

J
Pays 30 credits for 5 symbols, 15 for 4, and 5 for 3.

10
Pays 25 credits for 5 symbols, 10 for 4, and 4 for 3.
Symbol Graphics
The symbols are presented in realistic cartoon fashion, and they look good for what Ash Gaming is trying to accomplish. The best detail can be seen in Tweedle Dee and Tweedle Dum, Cheshire Cat,Caterpillar, and the rabbit hole door.
In most cases, we don't like when slots use generic letters and numbers to fill out lower paying symbols. But Adventures in Wonderland is a different story because even the letters/numbers havetheir own personality.
The A has a castle behind it, the K, Q, and J are playing cards, and the 10 has a soldier behind it. It's nice to see that every symbol in this game is unique and offers some flare.
Adventures in Wonderland Bonus Features
Rabbit Hole Scatter
As mentioned in the pay table section, any time that you land a rabbit hole on the center reel, you'll trigger a bonus.
The door to the rabbit hole opens, and the symbol expands to cover the entire reel. Alice begins falling down the hole while objects pass by, including books, lamps, mirrors, and vases.
Each item that Alice passes will deliver you credits. Once Alice reaches the bottom of the hole, your credits are added up.
You'll see this bonus far more often than any other feature in this game. In most cases, we ended up with between $5 and $10 after triggering the bonus with a dollar total bet $0.05 per payline.
Tea Party Bonus
The Tea Party Bonus is triggered when you land 3 or more Mad Hatter symbols anywhere on the reels. This takes you to a second screen, where characters from the story are seated at a table.
You serve each of the guests' tea, and you'll receive a larger prize as they drink more.
Also pay attention to the spoon in the sugar bowl because if the spoon serves sugar to the guests, you win the progressive jackpot.
Overall, this is the most entertaining bonus because it takes you to a second screen and involves one of the most famous scenes from this story. Our only complaint is that the Tea Party Bonescomes up so rarely that you may spin the reels for several hundred spins and never see it.
Free Spins Scatter
If you get 3 or more March Hares anywhere on the reels, you'll trigger the free spins round. When this happens, the March Hare hops onto the screen, the camera zooms in on him, and he looks athis timepiece.
Every time the timepiece spins around, it'll add the number of free spins that it points to onto your total. Here's an example: the watch hand spun around five times and gave us a total of 20free spins.
When this part is over, the March Hare hops on the reels and turns some of the symbols into Alice sticky wilds. These wild symbols remain for the duration of your free spins.
The music also changes to an up tempo beat, and the reels will begin spinning automatically. Once the free spins are finished, your credits are added up and everything returns to normal.
Betting Options
As with many online slots, you can change both the coin denomination and pay lines in Adventures in Wonderland. Pay lines range from 1 20, while you can change the coin size from $0.01 to $10.00.
This makes the minimum bet worth $0.01, and the max is $200.00 per spin when everything is maxed out.
You can click the Stake Up or Stake Down buttons to change your coin size, while pay lines can be changed with the buttons on each side of the reels or the Select Lines button. If you want to putall 20 pay lines in play, just click the Select 20 Lines button.
Other Options
Other options in this game include the ability to read game rules, check your betting history, auto spin the reels, turn sound on/off, and turn the background sound on/off.
The background sound really adds to the atmosphere in this game, so we don't recommend that you turn this off. But it's nice that the option is there if you get tired of hearing the music whileplaying.
As for auto spin, you can choose to keep the reels spinning with your betting options for 5 25 spins. Our only complaint about this is that there's an irritating time lapse in between eachspin. If you're looking to play as quickly as possible, we recommend just hitting the spin button over and over.
Volatility
We found the volatility to be average in Adventures in Wonderland. Playing all 20 paylines at a nickel apiece, we experienced plenty of times where the game didn't pay anything for several spinsin a row.
On the plus side, the Rabbit Hole Scatter happens frequently enough that it makes a real difference when you're playing. In fact, the Rabbit Hole feature happens so much that it's almost annoyingbecause it takes a while to conclude.
Return to Player RTP
We've see RTP for Adventures in Wonderland listed as low as 86.4% and as high as 92.9%. Neither scenario is good for players because the average online slot has an RTP of 95.0% to 96.0%.
You win frequently enough with 20 pay lines to make this feel like a normal paying slot. But clearly, the RTP range that we've seen suggests that your overall chances of making money with thisslot are low.
Comparison to Other Adventures in Wonderland Slot Machines
Given the fame associated with Alice's Adventures in Wonderland, it's little surprise that plenty of other slots have been created about this story. Below you can see how Adventures in Wonderlandcompares to a couple other online slots.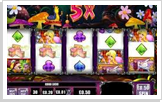 WMS Version
This 5 reel, 30 pay line slot looks different from Ash Gaming's version in that it feels like an old school Disney movie. Alice is featured on top of the reels with sunlight shining down uponher, while oversized plants and trees line the background.
The graphics aren't nearly as good as Adventures in Wonderland, but they still create a fun scene that makes this game worth trying.
The real charm in Alice and the Mad Tea Party is how many bonus features are offered. Bonuses include: Mad Tea Party Free Spins, Super Mad Re spins, Alice Expanded Wilds, CaterpillarMultipliers, Cheshire Cat Wilds, and Queen of Hearts Pick'em.
The Mad Tea Party Free Spins are really fun because you select a teapot at the top of the screen to get a multiplier, re spin, or wild icon for the ensuing spin. We also like the Alice ExpandedWilds because she uses the Drink Me potion to change sizes, before turning 1 5 reels into expanding wilds.
Overall, we wouldn't say that this game has anything on Adventures in Wonderland. But with 6 different bonus features, this slot is worth trying if you like the story.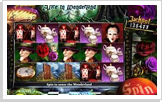 Slotland Ent.
Alice in Wonderland slot stands out from the other two games we've discussed due to its stellar 3D graphics. You might find that the doll like symbols look strange, but there's no denying thatSlotland did a fantastic job from a visual standpoint.
You'll of course see the story's main characters in this slot too, such as Alice, Cheshire Cat, Mad Hatter, Queen of Hearts, and Tweedle Dee and Tweedle Dum.
The biggest downside to this game, though, is the limited number of special features. All you have to look forward to is basics like free spins, an expanding wild, and the Mad Matter randomwild.
Conclusion
Our first impression of Adventures in Wonderland was that this is just another run of the mill take on the story, with above average graphics. But after playing Ash Gaming's adaptation, we foundout that there's more depth to this game than meets the eye.
For starters, the music does an excellent job of setting the Wonderland mood. It isn't a bright and cheery tune, but rather one that creates mystery and suspense as you're playing.
We also like the large variety of animations, notably the Caterpillar smoking, Alice falling down the rabbit hole, and Alice drinking the potion to shrink.
The bonuses in this game are both in depth and exciting.
Our favorite is the Tea Party Bonus, where you serve guests tea in hopes that they'll guzzle it down while awarding you credits. The Free Spins Scatter bonus is also fun because it uses the MarchHare to provide inventive ways to award you sticky wilds and free spins.
But our big complaint is that the two best bonuses aren't triggered very often. And while we like the Rabbit Hole Scatter features, it happens so often in comparison to the other two featuresthat we got tired of it.
One more negative is the RTP, which ranges from 86.4% to 92.9% depending upon the online casino. Some players consider this unacceptable for a land based slot machine – let alone an online slot.
Our Thoughts:
But overall, the graphics, music, atmosphere, and bonuses provide enough reasons to rank this as one of the better Wonderland themed slots. Just keep your coin size at $0.01 to $0.05 whileplaying, and the low RTP won't hurt your bankroll too badly.

Sign up Bonus
250% Up To $5,000
READ REVIEW
Visit Site
X