Famous Gamblers From History & Today
Throughout time there have been many gamblers who have become famous. For one reason or another, they have captured the attention of the masses and written their places in history. Some have been big winners, while some have been big losers. Some have gained fame through their cheating exploits, while others are known hustlers. Several professional gamblers, especially poker players, have made into the public eye.
The stories surrounding such individuals are often fascinating. Indeed, many of them have had books written about them or even films made about them. Some of these books and movies glamorize the life of a gambler, while others show the depths of despair that gambling can lead to. Some do both.
Either way, they're typically very entertaining for anyone with an interest in gambling. You can find information on some of the best gambling books and movies on this site, on the following pages.
In this part of our site, we look at the most famous gamblers ever to have walked the planet. Below you will find details of some of the greatest gambling legends of all time. We've not provided an exhaustive list by any means, we have just picked out a few of our favorites and the ones that we find the most interesting.
We've then provided information on more famous gamblers in a range of different categories.
Gambling Legends
Archie Karas
Archie Karas, a Greek-American is quite simply a legend in gambling circles. He has won and lost huge fortunes several times over and is considered by many to be the greatest gambler of all time. It could of course be argued that a truly great gambler would have held on to his fortunes, but there is little doubt that Karas has earned his reputation.
He is most famous for his incredible winning streak between 1992 and 1995, when he turned $50 into more than $40 million. This is the both the longest and the largest winning streak ever to be documented. Karas went on to lose the lot throughout 1995. Even before that run he had won and lost millions.
Born in Greece, Karas ran away from home aged just 15. He came to America after working on as a waiter on a ship and found work at a restaurant in Los Angeles. The restaurant was next to a pool hall and after working on his skills he started to make money through winning money games. As the number of opponents willing to play him dwindled, he started playing poker.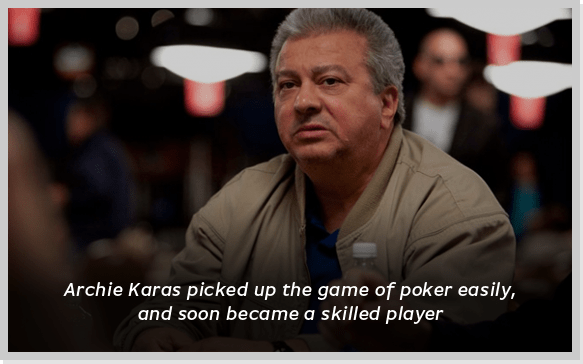 Karas built his bankroll up to above $2 million over time. However, by December 1992 he had lost it all bar $50. At this point he headed for Las Vegas seeking a change in fortunes, and it was there that his amazing run started. He started gambling as soon as got to Vegas and built an initial bankroll playing poker.
He then won fortunes playing pool and even more poker. He beat some of the very best players of the time and soon his action dried up. Karas turned to the dice tables and won even more. By early 1995 he had built up a fortune on $40 million. In the space of just a few weeks he lost it all by playing dice, baccarat and poker.
Since then Karas has had a number of other winning and losing streaks. Although these streaks would be considered amazing to most gamblers, he has never quite done anything on the scale of his biggest run. He still lives in Las Vegas today.
Nick Dandolos
Like Archie Karas, Nick Dandolos was born in Greece. This led to his nickname, Nick the Greek, although he was also known as the King of Gamblers. He was born in 1883 to wealthy parents and he was sent to the USA as a young man by his grandfather. Dandolos first settled in Chicago, where he lived off a generous allowance from his family.
He later moved to Montreal, which is where he began gambling on horse racing. He was successful at horse racing betting and won significant sums, but he then went back to Chicago and lost everything playing card and dice games. He soon got the hang of them though and continued to gamble and play poker. Throughout his life Dandalos continually won and then lost and he said that he went from rags to riches and back again dozens of times.
John Montagu
British statesman John Montagu was the 4th Earl of Sandwich and lived during the 18th century. He had roles in the military and in politics, and he was also a keen gambler. He deserves a mention in this list not specifically for his gambling exploits but rather because he was the man who invented the sandwich. That is certainly the legend anyway.
The story is that, during his lengthy gambling sessions, Montagu often asked to be brought slices of meat between two slices of bread. This habit of his was noticed by his gambling buddies and other began to order "the same as Sandwich". Eventually the snack became known as the sandwich and the name has stuck since.
Kerry Packer
Kerry Packer was a media mogul from Australia and a legendary gambler. He died in 2005, aged 68, and will be remembered for many reasons. He was a successful and wealthy businessman and also founded World Series Cricket. For many, though, it his gambling exploits that will live long in the memory.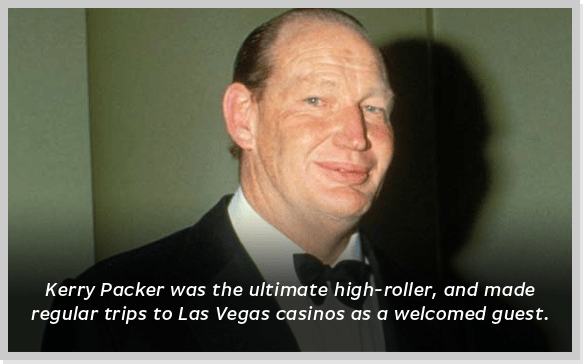 Packer often made large horse racing bets in addition to his casino gambling exploits in Vegas and other parts of the world. He would typically gamble for the highest stakes available and multi-million dollar losing sessions were not uncommon. He had his fair share of big wins too though. Unlike many other high-rollers, Packer had an excellent reputation for settling his markers in a timely fashion.
Brian Molony
Infamous rather than famous, Brian Molony is a compulsive gambler whose gambling habits hit the headlines. Molony embezzled over $10 million from his employers (Canadian Imperial Bank of Commerce) in order to fund his regular trips to the casinos in Atlantic City. His theft was uncovered and he was arrested in April 1982. Just the day before his arrest he had lost around $1 million at Caesars Casino.
Molony spent around two and a half years in prison for his crimes. A book, Stung, was written about his exploits and his story was also the basis for the movie Owning Mahowny.
Titanic Thompson
Titanic Thompson, real name Alvin Clarence Thomas, could perhaps be better described as a hustler than a gambler as he generally struck bets that he expected to win. He was famous for winning all kinds of different proposition bets that he devised himself. He was also a very skilled card player and not averse to cheating to win money. He died in 1974 aged 81 and will definitely go down in history as one of the most famous gamblers of all time.
Wild Bill Hickok
James Butler Hickok, better known as Wild Bill, was something of a hero of the American Old West. He was a lawman, a gunfighter, and a gambler. He is one of a number of famous gamblers from that era, arguably the most famous of all. Poker was his game of choice and he has been inducted into the Poker Hall of Fame.
In 1876, aged 39, Hickok was playing poker at a saloon bar with his back to the door. It turned out to be the wrong seat as he was shot in the back of the head by a man named Jack McCall. It is not known for sure why McCall killed Hickok although it is believed that he may have held a grudge having lost money to him previously.
At the time that Hickok was shot he was holding two pair – aces and eights. To this day that hand is known by poker players as the dead man's hand.
John "Doc" Holliday
John "Doc" Holliday was another famous gambler from the American Old West. He was also a dentist and a gunfighter. While his gambling exploits are a big part of his legend, he is probably best known for his friendship with Wyatt Earp and the fact that he took part in the famed Gunfight at the OK Corral. Holliday's life has remained of great interest and he is considered a hero of the time.
King Henry VIII
Henry VIII is remembered as one of the most famous English kings and a significant historical figure. He has a legendary reputation for lavish gambling and betting too. He was known to enjoy betting on all kinds of things, particularly dice and card games. It is rumored that he even once lost the bells to St. Paul's Church in a bet.
More Famous Gamblers
Ever wondered about the lucky few who win life-changing amounts of money when gambling? You can find out their stories in our section on famous big winners. Here's a selection of some of the people covered.
Gloria McKenzie
Elmer Sherwin
Charlie Wells
Colin & Chris Weir
Cynthia Jay-Brennan
Don Johnson
Experienced casino players will know that the house edge is impossible to overcome without the ability to count cards (and even with that ability it's very challenging). Some gamblers refuse to accept the house advantage though, and resort to cheating. You read about some of the most famous cheats, including those listed here, in the section linked below.
Tommy Glenn Carmichael
Richard Marcus
Ida Summers
Monique Laurent
Dennis Nikrasch
Louis Colavecchio
Card counting is not easy, as we alluded to above. It's possible though, and there have been many players that have managed to beat the casino at blackjack. Our section on famous card counters features some the most successful and well-known counters, including the following.
Standford Wong
Keith Taft
Ken Uston
Edward Thorp
Tommy Hyland
Four Horsemen
With so much televised poker these days, and plenty of glamor to the game, this is perhaps the best of form of gambling for anyone wanting to make a name for themselves. They'll need to be good though, as the top player are very skilled and make it to the top for good reason. We've covered some of the very best, past and present, in our section on famous poker players. It includes the following players and many more too.
Chip Reese
Doyle Brunson
Tom Dwan
Phil Ivey
Daniel Negreanu
Chris Moneymaker