The Best Super Bowl Party Games

Super Bowl parties typically center around watching the big game on the television, but you can take your party to the next level by incorporating some of these Super Bowl party games. Here are a few reasons why you may want to add some games to your Super Bowl party.
Get your guests excited and pumped for the game before it starts.
Give your guests something to do during the commercials or half-time show.
Competitive football betting games can make your guests more invested in the game. They will be more focused on the game because they have bets riding on it.
There are always some party-goers that just come for the food and fun. You can distract the people who don't know much about football with some fun Super Bowl games to make sure the party is enjoyable for everyone.
The good news is that you don't have to work hard to plan and execute many of these games. We have rounded up all the best Super Bowl party betting games, drinking games, and even food games on this page. We recommend you read this page from start to finish, but you can also use the links below to jump ahead.
Super Bowl Betting Games to Play with Friends
One of the best parts about watching the Super Bowl with friends is all the smack talk. You give each other a hard time whenever your team scores or their team turns over the ball. And you never let them hear about it when their team loses the game.
But if you want to take things to another level – if you want a lively Super Bowl party – you should consider placing some fun football bets with friends. Interested? Then here are some of the best gambling games for your Super Bowl party.
Super Bowl Squares
Creating a football pool using squares is the easiest way to create a fun and friendly betting system for one game that rewards lucky winners at the end of each quarter. You may already play this with friends or at work. If not, it's quick to learn.
You create a 10 x 10 grid on a piece of paper, giving you 100 squares. Make sure the squares are big enough to write a person's initials. Here's an example of one for Super Bowl 2022.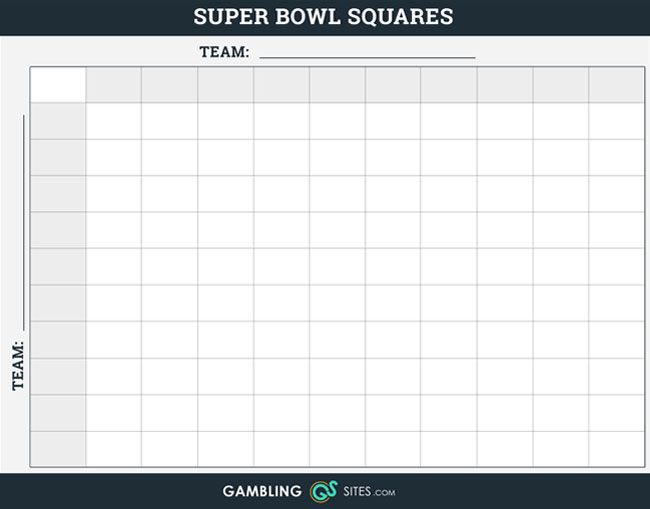 You can download and print this template to make things easier.
Write the name of one team across the top, above the squares, and the name of the other team down the left side. The template has space for you to do so. You can then fill the squares in one of two ways.
The first way requires that anyone who wants to play "purchase" a square. Let's say that you have 12 guests, and 10 want to participate in this football pool bet. Each participant can pay $1 to write his or her initials in a square (or $5 or $10…it's up to you how expensive you want the game to be and how big the potential winnings).
If you have ten players, each has the option to write their initials in up to 10 squares (since 10 players using 10 squares apiece will use up all 100 squares). There may be squares left empty, and that's okay.
After the players have filled in the squares of their choice, write the digits 0-9 across the top squares and down the left-hand side. Do not enter them in order. Put them in at random, such as 7, 4, 9, 0, 3, etc. An online random number generator is a good option to use here.
At the end of each quarter, use the final digit of the score for each team to find out who is in the square at the intersection of those two teams' numbers. That winner gets ¼ of the total money in the pot. If the winning square is empty, simply roll that amount of money to the next quarter's winner.
What's awesome about this Super Bowl party game is that it keeps your guests focused on each quarter of the game. Everyone's mood is up because someone is winning money each quarter.
That's one way to play Super Bowl squares. If you want to learn other ways to play, as well as what to do about buy-ins, choosing squares, when square are empty, and more, then check out the following guide.
Super Bowl Party Prop Bets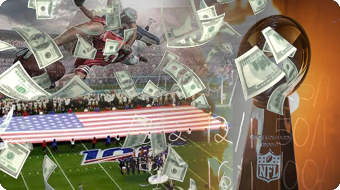 Another Super Bowl party game option is to place prop bets. A prop bets – or proposition bet – is bet other than the standard moneyline or straight wager. For example, who will win the game or will the winner beat the spread?
Prop bets concern variables that don't necessarily affect the outcome of the game—or even have anything to do with the game. For example, the color of Demi Lovato's microphone was a prop bet for the 2020 Super Bowl. Here are a few more examples of popular prop bets available at the best Super Bowl betting sites.
Which team will score the first touchdown?
Will the first score be a touchdown or something else?
Will the National Anthem last longer or shorter than two minutes?
Which side of the coin will be called?
Total number of songs played during the halftime show
Your prop bets for your Super Bowl party will be ones that are easy to determine as a win or loss. A good example is the coin toss, a popular Super Bowl prop bet at most sportsbooks. It doesn't require skill, and heads and tails have been pretty evenly called since the beginning of the Super Bowl.
Ask your friends to vote and put their bet into the pot and use a notebook to keep track. The winners split the pot.
You can even get a little fancy with your prop betting game (because it is a Super Bowl party, after all) by putting together a sheet with multiple props. You can add the two teams to the top and list the props below them. Here's an example of what it could look like.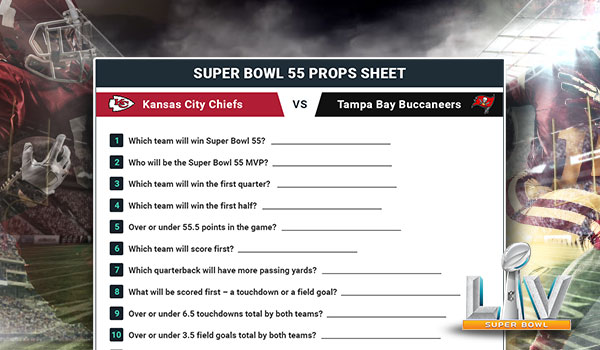 This should be enough to get you started, but if you want more ideas for Super Bowl party prop bets to add to your list, or if you want to learn more about Super Bowl prop bets in general, the following page will help you out.
BetUS – Best Super Bowl Betting Site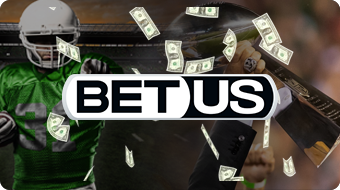 Another option is to place your prop bets online for real money. If that's something you're interested in doing, you'll need an account with a betting site that accepts wagers on the Super Bowl. We recommend BetUS. It is a trusted online sportsbook that has been operating since 1994.
BetUS offers a wide variety of bets on the Super Bowl. You can play traditional bets, such as the moneyline or point spread. They also have a fantastic collection of Super Bowl prop bets, including win margin, coin toss bets, and even bets on how long the national anthem will last.
Join BetUS today and you'll be eligible for a 125% welcome bonus worth up to $3,125. The site also has several Super Bowl betting contests and special promotions available. So check out BetUS to place your real money Super Bowl bets now.
Fun Super Bowl Bets with Friends – No Money Required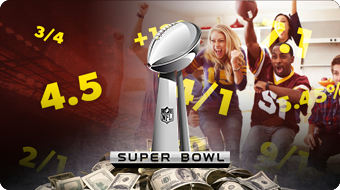 Remember that there are many different ways to enjoy football betting games with friends. Of course, you can bet for money, but you can also incorporate different prizes for winning or consequences for losing. Here are a few unique ideas that you can incorporate into your Super Bowl party gambling games.
The loser has to drink a shot. If you want a non-alcoholic option, you can also have the loser eat a strange concoction of foods that don't go well together, such as toothpaste and orange juice or Oreos with ketchup.
Whoever wins gets to text any contact from the loser's phone. Here is your chance to tell your friend's ex what you really thought of them.
Losers have to perform their embarrassing rendition of the half-time show dance.
Whoever loses has to host the Super Bowl party next year.
Winners don't have to help clean up after the party.
You can modify any of these to fit the group of guests that are playing the game. For example, if you have several couples in attendance, create a "boys vs. girls" challenge, and let the winning team plan the next date night.
The point is that you can incorporate different prizes to make your football gambling games more interesting. Another benefit of non-monetary prizes is that you can save your money to bet on the Super Bowl for real money instead.
Minute to Win It Super Bowl Games

Minute to Win It games are sixty-second challenges that use everyday household objects. They are the perfect Super Bowl party games because you can quickly play some games during the commercial breaks and then get back to watching the game.
Here are a few examples of Minute to Win It games that you can enjoy during your Super Bowl party.
Oreo Linemen – Grab some Oreos and a football-themed tablecloth for this game.

Each player has to slide their Oreos across the tablecloth with the hope of getting the cookies to land on each yard line. The first player to get seven cookies on seven different yard lines wins.
Kick-Off – You will need a bucket for each team and ten stuffed footballs or other stuffed animals.

Divide the group into teams of two. One player will hold the bucket while the other attempts to drop-punt a stuffed football into it. The first team to catch all ten footballs wins.
Face Goal – This is another game that uses stuffed footballs or similar soft objects.

You will need teams of two for this game as well. One player stands with their arms above their head like a goal post. The other player must attempt to hike the football underneath their legs and into the field goal without hitting their partner's face.
Mascot Match – Print off a few of these mascot match papers or create your own.

You might think you know your NFL teams well, but do you know the names of all their mascots? This game puts your knowledge to the test. Give players sixty seconds to correctly match as many teams with their mascots as they can.
Finger Flick Football – Fold some scrap paper into triangles to make mini-footballs.

Have one team member create a goal post with their fingers while the other team member attempts to flick the paper football through the goal post.
Football Ring Toss – Tie a few pens, straws, or sticks together to create a goal post and use washers as the rings.

This game puts a football twist on the classic ring toss game. Players have to try to get as many rings on the goalposts as possible.
Football Toss – You will need a football and a hula hoop, tire, or another circular object for this game.

Of course, the best Super Bowl party games are simple football toss games. Test your own football skills by throwing a football through a hanging hula hoop, tire, or another circular target.
Football Snack Challenge – Each team will need an identical plate of random snacks, such as pretzels, marshmallows, or carrots.

Give teams sixty seconds to transform their plate into some sort of football-related snacks, such as pretzel stick goalposts or a team mascot made out of marshmallows. Make the game even more challenging by requiring that they incorporate all the snacks.
Commercial Bingo – Create your own bingo cards with popular brands that you think will buy a Super Bowl ad.

This game isn't quite a Minute to Win It game because you will have to play it throughout the night. You can create bingo cards with advertisers and then mark them off if they have an ad that airs during the game. The first person with five in a row wins.
Once you have decided which Minute to Win It games you want to play, it is important to think about how you will structure the competition. For example, you can have different prizes for each game or a single prize for the team or player that won the most often.
The original Minute to Win It TV show had ten levels. Each team had to win the first level before they could progress to the second level, and so on. If you really want to make your competition similar to the TV show, you can give each team three "lives," so they have a chance to get back into the competition after a loss.
No matter how you decide to structure the competition, these football Minute to Win It games are sure to be some of the most exciting Super Bowl party games available.
Best Super Bowl Drinking Games
Another way to enjoy some football party betting games for adults is to incorporate some drinking games throughout the party. In fact, alcohol and the Super Bowl go hand-in-hand in many ways.
Many of the country's biggest beer brands spend millions to buy ads during the big game. Those ads are highly effective because Americans drink approximately 325.5 million gallons of beer on Super Bowl Sunday. Those gallons add up to approximately $1.3 billion in beer sales.
Odds are you're going to have a drink or three during your Super Bowl party with friends, so why not turn that into a game? If that's something you're interested in, then here are some drinking-themed Super Bowl party games for adults for both the first and second half of the game.
Drinking Games to Play During the First Half
The Replay Go-Play – When either team's coach requests a replay review, participants have to quickly create a cocktail they've never had before. And beer drinkers have to put down the same label they've been drinking for years and try a new beer…an apricot hefeweizen, perhaps?
The Fumbler – Whenever the ball is fumbled, everyone passes his or her drink to the left. Now you have a new drink to finish. If this feels too edgy, you can change it to everyone has to get the same drink the person to the right is drinking and finish at least half of it.
The Beer Cooler Challenge – Whenever a beer commercial comes on, everyone has to pound half a beer. It doesn't need to be the brand in the commercial, but it does have to be at least half. Appoint a referee. Give him or her a whistle. Cheaters have to do a shot.
The Penalty Shot – When a team gets a penalty, whether five yards or more, everyone is handed a Jell-O shot. This Super Bowl drinking game will require pre-game preparation, so ask if someone will bring them or prepare to make them the night before or morning of the game.
Second Half Drinking Games
Score-and-Shoot – Everyone takes a shot when a touchdown is made and chugs a beer for successful field goals and safeties.
The Time Out Cocktail Hour – Everyone makes a cocktail when a time-out is called by a team. Vodka cranberry is an easy cocktail that is popular with most. Whiskey lemonade is also a great choice for people set to dither after the time out is over. When one team makes a score, whether a field goal, a safety, or touchdown, the fans of the other team have to do a shot. Fence-sitters have to do half a shot.
The Get Sacked – Whenever a quarterback from either team is sacked, guests have to choose a slip of paper you've placed into a paper bag. Whatever drink is listed on their slip is what they have to consume next.
Tasty Super Bowl Party Food Games
Your guests are going to eat and drink like victorious Romans. Diets go out the window on this day. Portions are big. So, make it fun with some Super Bowl party games involving food!
The Win-Win Food Competition
This is a potluck competition. Each guest brings his or her best dish, and everyone votes by making a tick mark on a notepad. This game works especially well if you host the party year after year. Your guests start to get a feel for what the others will bring, and rivalries will develop. This is when people get creative.
If you host the Super Bowl once and ask people to bring their fave dishes, you'll get a tater tot casserole, maybe some finger sandwiches, and almost certainly a pizza.
If you host repeatedly, you'll begin to see dishes like Hatch Green Chile Chili and Jamaican Jerk Salmon bites. This makes the game more exciting with each passing year. The fact that the food becomes better, too, is a solid win.
The best part of holding a tasting contest, of course, is the fact that your guests provide the food!
All you have to do is come up with a bottle of wine or a Starbucks card to award the winner of the popular vote (no electoral vote winners on food competitions, sorry. Food is too important for us to bypass the democratic process).
The Make-a-Plate Game
This works well for any gathering, especially one in which you need to break the ice a little.
Count the number of diners. Take that number of disposable plates, and with a Sharpie in the other room, put the same symbol on every two plates. You will end up with a stack of plates that have matching symbol pairs written underneath.

Top Tip
Some good symbols to use are easy ones…stars, dollar signs, question marks, letters, numbers, etc.
Shuffle the plates and hand them out. Have everyone prepare a plate of food and then carefully lift the plate to find the symbol underneath. People with the same symbols will exchange plates and eat a plate of food someone else prepared.
This game always leads to laughter, conversation, and some moaning about "I didn't get shrimp!" or "Why would someone put so much guacamole on three chips?"
If you are hosting small groups of people who don't know each other, this can be a way to get your Super Bowl party started before the game without having to wait until halftime, when most people eat their main meal.
Just use small appetizer plates and restrict the game to finger food appetizer foods instead of using larger meal plates.
To Sum It Up
Go have fun with your Super Bowl party games. Remember that you already have friends and family and food around you, so it's pretty much a guaranteed great time. Games and friendly bets keep the gathering lively, which actually makes things easier on you since people are entertained and enjoying themselves.
If you set things up ahead of time, you can sit back and relax as if you were a guest, and who doesn't love that feeling?
Just…make sure someone reliable holds onto the bet money. Drunk Uncle Donald has already been hitting people up for a twenty; he may not be the best bet for house banker.
Asking one friend to run the football squares betting game and another friend to announce your Super Bowl drinking games is a good way to make people feel involved while making your hosting of the day even easier.
On a final note, come fourth quarter, it might be a good idea to start a pot of coffee and hand out doughnuts. The doughnuts help soak up the alcohol, and the coffee can revive the guests who may be starting to nod off from something similar to Thanksgiving Day syndrome. (Also, just…coffee + donuts!).
---
Did you enjoy this article about Super Bowl party games? Then you might also enjoy of the following blog posts.
September
Sportsbook of the Month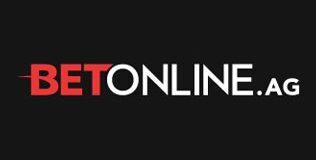 Welcome Bonus
50% up to $1,000