StarCraft II Betting Sites
The StarCraft series of games has been one of the most influential on the entire esports scene. It's story started back in 1998 when Blizzard Entertainment released the first StarCraft game. It was the best-selling game that year, and set a new standard for the real-time strategy genre.
StarCraft was especially popular in South Korea. It played a huge role in establishing competitive video gaming as a legitimate spectator sport in the region. The professional StarCraft circuit was broadcast on two major channels, and watched by millions of fans. This was effectively the start of professional esports as we know them today.
Blizzard released StarCraft 2 in 2010, and it quickly became the biggest esports game in the world. It's been overtaken by other games since, such as Dota 2 and League of Legends, but it remains one of the most popular. It's also one of the most bet on esports games, and presents a lot of good betting opportunities.
Because betting interest in StarCraft is so high, the vast majority of esports betting sites cover the game (to some extent at least). This means you have plenty of options for where to place your wagers. However, it's important that you don't just sign up with any old site. We'll explain why shortly, but let's first look at the sites that you SHOULD join. Here's a list of our recommended StarCraft betting sites for 2022.
These Are the Best StarCraft 2 Betting Sites of 2022
Rank
Betting Site
Exclusive Bonus
Get Started

#1

BetOnline

50% Up To

$1,000

Visit Site

Visit Site

#2

Bovada

50% Up To

$250

Visit Site

Visit Site

#3

BetUS

125% Up To

$2,500

Visit Site

Visit Site

#4

Everygame

100% Up To

$500

Visit Site

Visit Site

#5

MyBookie

100% Up To

$1,000

Visit Site

Visit Site
We have no doubt at all that these are currently the BEST sites for betting on StarCraft II. They're the ones we use ourselves, and we're very happy with the services they provide. Are they all perfect? No. There are some minor things they could do better for sure. Overall, though, they're of a very high standard. They do the important things well, and we have no problem trusting them with our money.
This last point is why you have to be VERY careful when choosing a betting site. Although most sites are reputable and trustworthy, there are a few that aren't. Some sites are nothing short of crooked, and will look for ways to rip you off whenever they can. You obviously need to avoid such sites completely.
You can rest assured that the sites we've recommended will NOT try to rip you off. Each one is a fully licensed operator based in a jurisdiction where online gambling is both legal and regulated. They all have a strict code of conduct to adhere to, and they all have a good track record of treating their customers in a fair and ethical manner.
If you're looking to bet on StarCraft, these are definitely the sites you should be using. We're confident that you'll have a very good experience at any one of them. They all offer a sign-up bonus to new customers too. So, what are you waiting for?
The rest of this page features some additional information and advice about StarCraft and StarCraft betting. We've covered each of the following four topics.
StarCraft II Betting Advice
A lot of people who bet on StarCraft just do it for fun. They try to win money if they can, but that's not what it's really about for them. They're typically big gaming fans who enjoy watching professional StarCraft contests, and they find that placing a few wagers simply makes things more interesting.
We refer to these people as "casual" or "recreational" bettors. They don't take things too seriously, and they don't put much effort into making their betting decisions. They just get a buzz out of trying to predict what's going to happen in matches. Although they PREFER to win their wagers (obviously!), they don't get too upset when they lose.
Betting in this way can be very enjoyable. We bet with the goal of making a profit ourselves, but we fully understand why some people like to just focus on the fun. If this is the approach that appeals to you, there are just two pieces of advice we want you to bear in mind.
Set a budget, and only bet with money you can afford to lose.
Try to pick your spots carefully, and bet when there's a good reason.
When you're betting for entertainment purposes, any losses you incur are effectively just the cost of that entertainment. There's nothing wrong at all with losing an AFFORDABLE sum, but losing money that's needed for more important things can have disastrous consequences. So, our first piece of advice here is EXTREMELY important. Please make sure that you gamble responsibly, and stick to a sensible budget.
Our second piece of advice will help you to get value for money from your budget. A lot of casual bettors place several wagers on every single match they watch, but this really isn't the best approach. We suggest being far more selective, and only placing wagers when you can make a genuinely good case for doing so. This will ensure that your money lasts A LOT longer.
These two pieces of advice are not going to turn you into an amazingly successful StarCraft bettor. They should greatly enhance your overall enjoyment, though. They're easy to follow, too, so please try to remember them.
If your goal is to make a PROFIT from betting on StarCraft, you're going to have approach things differently. Having fun is easy, but making money is not. It requires a lot of time and effort, and only a small percentage of people succeed.
Don't let this discourage you though – winning money IS possible.
You're not going to start betting on StarCraft and make money immediately. You need to prepare yourself for that. If you work hard enough, however, there's no reason at all why you can't be profitable eventually. You'll need to be patient, and there's a lot you need to learn, but you can definitely get there.
Here are some useful tips to help you on your way:
Learn ALL about StarCraft II.
Study the different betting options available.
Follow the teams and players closely.
Keep up to date to with the latest news and developments.
Watch as many professional contests as you can.
These tips are all pretty straightforward, but they WILL improve your chances of making money. The first one is something you should do before getting started, really. You can't expect to make good decisions if you're betting on a game you don't fully understand, so some knowledge of how StarCraft is played is essential. We cover the basics further down this page, and that's a good starting point.
The betting options available will vary for different contests and at different betting sites. You probably won't want to use ALL the wagers available, but it's still worth taking a look at them all and seeing how they work. Limiting yourself to just the simple wagers can reduce your chances of finding good opportunities to bet.
Our final three tips should be followed on an ongoing basis, and there are plenty of online resources that can help with this. A particularly useful one to note is the StarCraft subreddit. This is very active, with several new posts every day, and there's a lot of good information in there. We recommend checking out the StarCraft section of GosuGamers, too. You'll find all the latest news and details of upcoming contests and where to watch them.
For some additional tips that can help with your StarCraft betting, please take a look at the following page.
How StarCraft 2 is Played
StarCraft II is a real-time strategy game. If you're not familiar with this genre of video game, please read our basic explanation here.
There are actually three versions of StarCraft II. StarCraft II: Wings of Liberty is the one that features in most professional contests, so that's the one we'll focus on here. The other two versions are Heart of the Swarm and Legacy of the Void.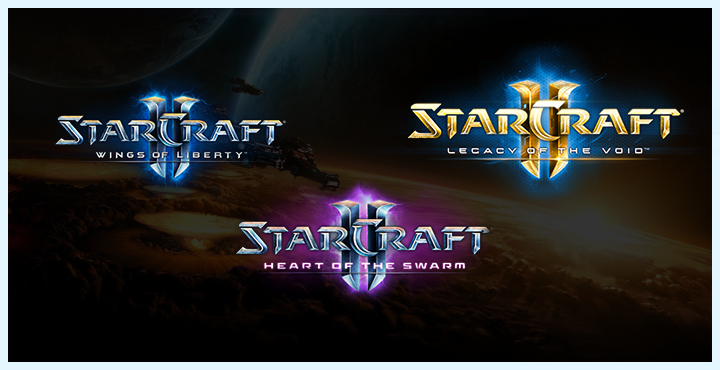 Wings of Liberty is set in the "StarCraft Universe," around 500 years in the future. It continues the storyline from the original StarCraft game, and revolves around the main character, Jim Raynor. The game can be played in either single player mode or multiplayer mode. Single player mode features a variety of campaign missions, while multiplayer mode puts players in direct competition. Competitive matches can be either 2-v-2 or 1-v-1.
Players start a match by choosing which faction to play as. There are three options – Zerg, Protoss and Terran – each of which has their own unique units and abilities. Professional players tend to specialize in a specific faction, but some players are competent with more than one.
In multiplayer mode, players attempt to destroy their opponent's base while protecting their own. They must produce military units to aid with attack and defense, and collect various resources. This is mostly achieved through constructing different buildings within their base. Each building has a specific purpose and there are four main types.
Town Hall

The Town Hall is basically the headquarters for each base. It's where workers are produced and resources are stored.
Supply Buildings

These increase the maximum number of units a player can produce.
Static Defense Buildings

These are built to protect or defense specific areas in or around a base.
Production Buildings

Production buildings are where units are produced.
The strategy involved in StarCraft II is primarily about efficient management of resources and effective deployment of military troops. It sounds simple, but this is an incredibly complex game. There's a steep learning curve, and it can take new players a long time to get a grip on everything.
One of the best ways to familiarize yourself with how StarCraft II is played is to watch some of the many tutorials on YouTube and other video hosting sites. The following video is particularly good for beginners.
You might also like to read our in-depth guide to StarCraft 2. We've only touched on the basics here, but our guide goes into A LOT more detail.
Prominent StarCraft II Players
One of the betting tips we provided earlier was to follow the teams and players closely. Here's a quick look at five current players that we DEFINITELY recommend keeping an eye on. These are among the most consistent StarCraft II players in the world right now, and they always have a chance of winning the tournaments and leagues they compete in.
Kim Yoo Jin (sOs)
Kim Yoo Jin is a Protoss player. Born in 1993, he's amassed nearly half a million dollars in earnings from professional StarCraft contests. His career began in 2011, when he joined the ProLeague and he quickly made a name for himself.
He won his first premier tournament in 2013, when he took first place in the WCS Global Finals. He then became the first player to win the tournament twice, with another victory in 2015.
A member of the Woongjin Stars team for nearly ten years, Kim Yoo Jin moved to Jin Air Green Wings in 2013. He still plays for the team currently.
Jun Tae Yang (TY)
Also known as "BaBy," Jun Tae Yang was one of the youngest-ever professional video gamers. He was drafted by his first team at the young age of 12.
He was appearing in televised matches within two years, and by age 16, he was playing in the ProLeague.
Known as an accomplished Terran player, he has won over $400,000 in his career to date. He's currently playing for Splyce.
Byun Hyun Woo (ByuN)
Byun Hyun Woo is another Terran player. He's currently playing for Team expert, having joined in 2016. His previous teams include X-Team and Prime.
Woo's esports career started slowly with low earnings in his first few years. He hit the big-time in 2016 though, when he won the Global StarCraft 2 League.
Despite being an outsider, and without a team at the time, he put in a near faultless performance. He was soon being talked about as one of the top players in the world.
Lee Shin Hyung (INnoVation)
Lee Shin Hyung was a key player for the SK Telecom esports team.
The team disbanded their StarCraft roster in 2016, and Hyung has been without a team since then. That hasn't held him back though.
He's still a regular on the StarCraft II circuit, and one of the top ten earners of all time. He holds a number of records, including the most all-kills in league play.
Joo Sung Wook (Zest)
Joo Sung Wook is one the top Protoss players.
He has five premier tournaments to his name along with two majors.
Although he's currently without a team, he's still playing regularly in domestic and international tournaments. His career earnings total just over $300,000 to date.
You can find more information on these players (and others) on Liquipedia.
Match Fixing in StarCraft II
The original StarCraft game and StarCraft II have both been at the center of match fixing scandals. The first incident came in 2010, when several professional players were found to have deliberately thrown StarCraft games. It was alleged that they had received financial gain from one or more gambling websites.
At the time, there was widespread concern that the scandal could seriously damage the reputation of esports and limit the growth of the professional scene. However, the Korea esports Association (KeSPA) took swift and decisive action. The following players were banned from professional gaming for life, and some of them were fined significant sums:
sAviOr
1st
DarkElf
go
YellOw
Upmagic
ShinHwA
Luxury
Justin
Hwasin
type-b
It was hoped that these bans and fines would act as a deterrent in the future. In 2015, though, there was another scandal. The game was StarCraft II this time, and gambling was, once again, the root cause.
The 2015 scandal began at the start of the year when Pinnacle Sports voided all bets on a match in the ProLeague. They cited "suspected manipulation" as a result of uncommon betting activity. Members of the gaming community had also spotted unusual movements in the odds and lines for the same match.
Pinnacle voided bets on another match shortly after. At the same time, it was revealed that several small online tournaments were being sponsored by known gamblers. As sponsors, these gamblers were able to watch matches through the in-game client. This gave them an edge over bookmakers and other bettors who were watching on a slightly delayed stream.
In the months that followed, there were more reports of suspicious line movements and further voiding of bets by Pinnacle Sports. KeSPA released a statement regarding allegations of match fixing, claiming that there had been ATTEMPTS to fix matches, but that the players approached had declined to get involved.
That was not the end of the matter, as a full investigation was launched in August. Two months later, the Chanwon Region Prosecution Service (in Korea) arrested a coach and two players for match fixing. They were subsequently given suspended prison sentences, and were banned for life by KeSPA.
There was yet ANOTHER scandal in the following year.
The player "Life" was arrested in January 2016, on suspicion of match fixing. This caused a real shock in the gaming community, as Life was a well-respected and successful player. He was later charged, along with another player, Bbyong. Several brokers and financial backers were charged, too.
It's often been suggested that these match-fixing scandals are at least partly responsible for the decline of StarCraft 2 as an esports game. We don't think that's the case, though. Although StarCraft 2 isn't as popular as it used to be on the professional gaming scene, that's largely due to the increased interest in MOBA games.
The fact is that the gaming community seemed mostly satisfied with the way the incidents were handled. The authorities reacted quickly when suspicions were raised, and steps have been taken to prevent such incidents from happening again. StarCraft II may not be the top esports game anymore, but it's still retained a large following. We don't expect that to change any time soon.
July
Sportsbook of the Month

Sign up Bonus
60% Up To $1,000
READ REVIEW
Visit Site
X