Top CSGO Betting Sites of 2022
Counter-Strike: Global Offensive is one of the oldest games played on the esports scene. Usually shortened to CS:GO or just CSGO, this title was launched in 2012 as a sequel to Counter-Strike: Source. It was initially met with disappointment in the gaming community, but has since become one of the most played video games in the world.
CSGO is currently THE most important game in the esports betting industry, and there are a couple of reasons why this is, which we'll explain later. We'll also look at the various different types of CSGO betting, including skin betting and fantasy betting.
Before we get to all that, here's a list of the best CSGO gambling sites for 2022. Having tested and compared a huge range of sites, we've found that these are currently the best options for real money betting on CSGO.
Rank
Betting Site
Exclusive Bonus
Get Started

#1

BetOnline

50% Up To

$1,000

Visit Site

Visit Site

#2

Bovada

50% Up To

$250

Visit Site

Visit Site

#3

BetUS

125% Up To

$2,500

Visit Site

Visit Site

#4

Everygame

100% Up To

$500

Visit Site

Visit Site

#5

MyBookie

100% Up To

$1,000

Visit Site

Visit Site
We use these sites for betting on CSGO ourselves – in fact, we use them for most of our esports wagers. This is because they have betting markets for virtually ALL the major esports tournaments and leagues. We're not limited to JUST betting on CSGO at these places.
Now, we're obviously very happy with our experiences at these sites, or we wouldn't be recommending them to you. But what exactly is it that sets them apart from the dozens of other CSGO betting sites out there?
A key factor is we KNOW they can be trusted.
We've deposited lots of times at these sites, and never had to worry about whether our money is safe. We've requested a lot of withdrawals too, and have always been paid our winnings. Unfortunately, we can't say the same about EVERY site we've ever used.
Another thing we like about these sites is the fact that they're all user-friendly, which makes the online betting experience SO much more enjoyable. We hate using sites that are badly designed or difficult to use, because we just end up getting frustrated.
We also like the wide variety of wagering options available at these sites. The esports betting market is still relatively new, and a lot of sites only offer a limited number of wagers to choose from. This can make it difficult to find good spots to get our money down, but we don't have that problem at our recommended sites. We benefit from competitive odds and lines too, and generous bonuses and rewards.
So, if you're looking to start betting on CSGO contests right now, these are the definitely the sites to use. They all offer a welcome bonus, so there's an added incentive to get signed up and make a first deposit.
Want to learn more about CSGO betting before getting started? No problem! You'll find everything you need to know below, including a brief overview of Counter-Strike: Global Offensive for those of you who are new to the game. We've also explained why it has such an important role in esports betting, and information on how the various different types of CSGO betting work too, along with details of some sites that specialize in CSGO skin betting and CSGO fantasy betting.
CSGO & It's Role in Esports Betting
Counter-Strike: Global Offensive is a first-person shooter (FPS) game for PC, Xbox and PlayStation and the fourth game in the Counter-Strike series from Valve Corporation. Unlike many other similar games, there's no single player mode, which means you can't play CSGO on your own. You have to join up with a team of actual players to play against other teams.
CSGO matches are always played between two teams, with five players on each team. One team plays as "The Terrorists", and the other plays as "The Counter-Terrorists". Matches are played across 30 rounds, with both teams given a different objective at the start of each one. Whichever team meets their objective first, or kills all their opponents, wins the round. The first team to win 16 rounds wins the match.
Here's an in-game screenshot to show you what the action looks like.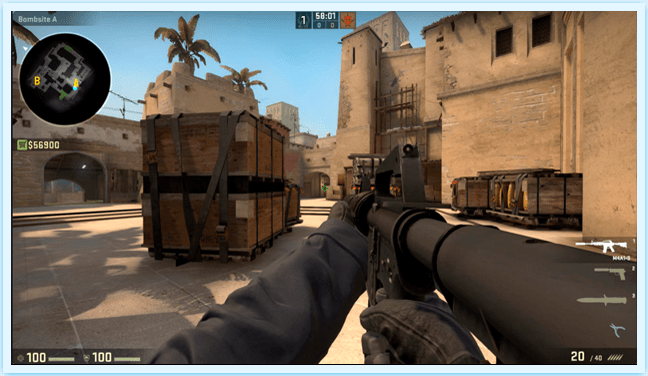 There are a few key features that make CSGO different from most other first-person shooter games on the esports scene. These include the following.
Each round in a match is short, usually taking less than two minutes to complete.
The health of the players' characters does not regenerate, making characters easier to kill.
There is no "respawning" during a round. When a player's character is dead, they're out until the next round.
Dead players' equipment does not carry over to subsequent round. They start the next round with only a basic weapon.
Players can use money earned from previous rounds to upgrade their equipment and weapons.
The information provided here tells you a little about CSGO, but there's a LOT more to the game. Although you can start betting on CSGO knowing just the basics, we recommend that you first learn about the game in detail, which is why we've written a comprehensive guide to CSGO. This guide will teach everything you need to know about this game and how it's played.
Do you remember what we said earlier about the initial reaction to CSGO? The game wasn't particularly well received, and was far from being an immediate success. This was partly because it was very similar to the previous games in the Counter-Strike series, and although some people appreciated the fact that it stayed true to its roots, others were hoping for more of an overhaul to bring it in line with other modern FPS games.
There were lots of other popular FPS games on the market at the time, and the general feeling was that CSGO was a little outdated in comparison to most of them. There was certainly no indication at all that this would go on to be one of the most successful video games of all time.
The "arms deal update" of 2013 changed everything for CSGO.
In August of 2013, Valve Corporation announced a major change to CSGO. They were introducing new "skins" for all the weapons in the game. These skins would not affect gameplay at all, but would simply modify the appearance of all the weapons. They could be acquired by purchasing keys to unlock cases that appear periodically when playing the game.
Here are some examples of skins from the game.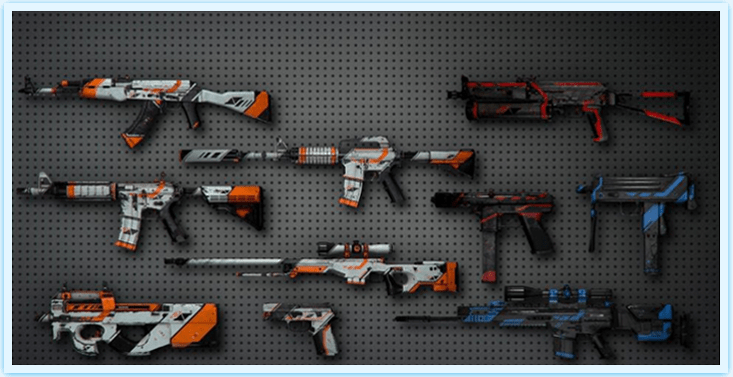 The introduction of these skins was a MAJOR boost to the popularity of CSGO, and over the next two years, the number of people playing grew exponentially. By 2015 there were around 350,000 people playing CSGO at any given time, and that's still the case now.
In-game purchases were nothing new in the video gaming world of course, so why did the introduction of skins have such a profound effect on the popularity of CSGO? The answer lies in what happened next. A trade market sprung up for CSGO skins, and players were able to buy and sell them for real money. This trading activity initially all took place in the Steam marketplace, but soon there were third party websites that also facilitated trades.
The most common CSGO skins are typically priced at just a couple of dollars, or even just a few cents. Here are some examples.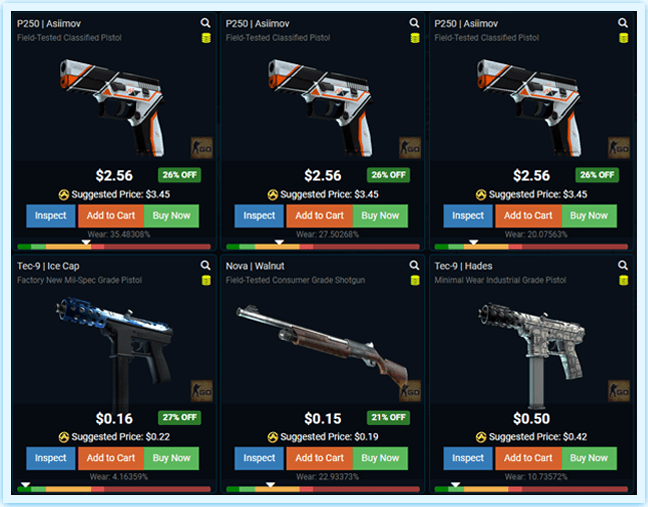 Some skins are more in demand in others, and this affects their value. For example, the brightly colored skins have proved to be very popular among players, and as a result these tend to sell for more money. It's not uncommon to see colorful skins sell for around $10 or $20.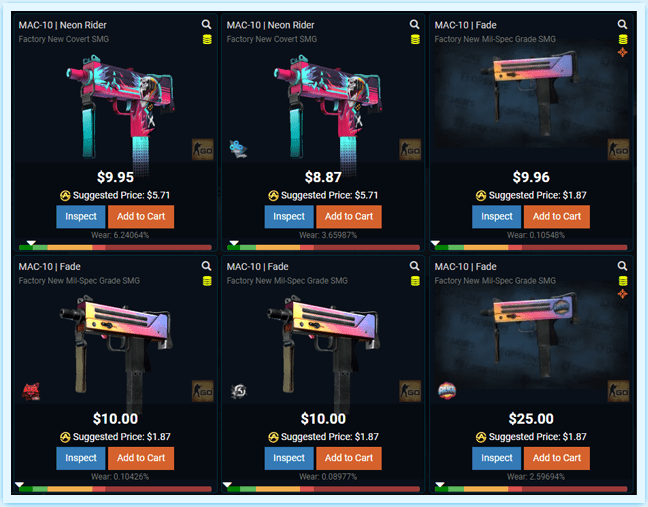 It might be hard to believe, but some skins sell for a lot more than this. There are plenty of skins valued in the hundreds of dollars, and even some valued in the THOUSANDS. These are typically the rarest skins that are hard to find. Here are some examples from the "High Roller Store" on Steam.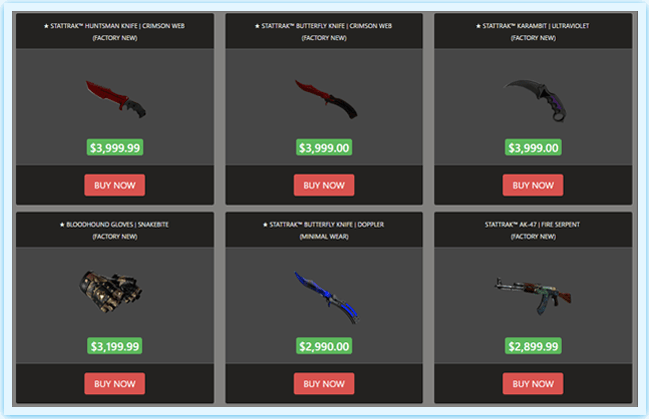 This is all very interesting, but what do these skins have to do with the role of CSGO in esports betting? Well, it was ultimately their introduction that turned CSGO into such an important game for the esports betting industry.
Like we said earlier, these skins gave a real boost to the popularity of CSGO, and as more and more people began playing the game regularly, there was greater interest in the professional CSGO contests. This led to an increase in the BETTING on those contests, which helped to grow the overall esports betting market. According to the betting sites we've spoken to about this, League of Legends contests are the only thing that generate more betting action.
Even more significant than that is the fact that the growing trade market for CSGO skins led to a whole new type of betting coming about. Because the skins have an inherent value, they can effectively be used as a virtual currency. And that's what happens with "skin betting".
Yes, you can actually use CSGO skins to gamble with!
This might seem like a crazy concept, but there's actually a HUGE market for CSGO skin betting. It's been estimated that over $2 billion worth of skins were wagered in 2015. That's not exactly small change! Skin betting has become a primary vertical in the esports betting industry, and it's all because of CSGO.
We talk about CSGO skin betting a little later in this article. First, we explain all about real money CSGO betting.
Real Money CSGO Betting
Real money CSGO betting works in much the same way as traditional sports betting. We're just wagering on CSGO events instead of events like football games, soccer tournaments or tennis matches. We can wager on pretty much any of the major CSGO events, and several of the lesser-known ones too.
Popular CSGO Events for Betting
The most common way to bet for real money on CSGO events is the simple match bet. With this, we just have to pick which team we think will win a match. Here's an example of a betting market for an upcoming match in the popular ELEAGUE.
Astralis vs Virtus Pro
Match Betting
The numbers next to each team are the odds, and Astralis are the favorites here, at 1.31. A $10 wager on them to win the match returns $13.10 (including stake) if successful. Virtus Pro are the underdogs at 3.05, and a $10 wager on them to win would return $30.50 if successful.
Please note that a team is not guaranteed to win just because they're the favorites. They may not even be the most likely team to win. The odds are just a reflection of what the bookmakers think is going to happen, and where people are putting their money. Underdogs can and do win, so don't make the same mistake as many other CSGO bettors and just blindly back the favorite all the time. We talk more about this in a moment.
You can bet on the winner of individual matches at any of the CSGO betting sites listed at the top of this page. Most of them offer a variety of other wagers too, including live betting wagers which allow us to bet on matches AFTER they've started, on things like which team will win the next round.
You'll find a complete list of the different CSGO wagers you can place on the following page. There's also a lot more detail about real money esports betting in general.
Tips for Real Money CSGO Betting
It's not easy to make consistent profits from betting on CSGO events, but it IS possible. There's definitely money to be made if you know what you're doing. Although you're unlikely to start winning money straight away, you'll get there eventually if you put in enough time and effort. The following tips will help you get started in the right way.
Know the game
Watch as many professional matches as you can
Learn the concept of betting for value
Bet small to start with
Use our recommended CSGO betting sites
Knowing the game is essential, and in the same way you wouldn't (or shouldn't) wager on a sport like football without knowing how it's played, you shouldn't wager on CSGO unless you fully understand it. You should ideally spend some time playing it yourself, as this will give you a real feel for how it's played and what's involved.
You can also read our CSGO game guide that we mentioned earlier, and there's a TON of other resources for learning more about the game. A good option is to watch the professional gamers who stream their playing activity. They often offer some useful and interesting analysis that will give you a better insight into the game.
We particularly like watching TheWarOwl on Youtube. He produces some excellent CSGO content, including in-depth explanations of how various parts of the game work. The following video is great for beginners, as it explains the basics of the economy system in CSGO.
Watching professional matches is also good for learning more about the game. It helps you get to know the teams and players better too, which is vital for making good betting decisions. Remember what we said earlier about not blindly betting on the favorite every time? What you actually want to do is assess the strengths and weaknesses of both teams and then make your own judgements about which one is likely to win. This is obviously easier to do when you know the teams well.
The best places to watch professional CSGO matches are HLTV and Twitch. These sites steam matches live, and also have videos of past matches.
Our third tip is perhaps the most useful one on our list. We're certain that the concept of betting for value is something that many esports bettors know nothing about, but we're equally as certain that the ones who are making money are fully aware of it. It's almost impossible to be a profitable bettor WITHOUT a proper understanding of value, so this is something you need to learn about NOW.
We won't go into the details here, because we've explained the concept fully in the following article. Please make sure you take the time to read this. It's guaranteed to benefit you enormously in the long run.
Betting small is important for the simple reason that you're probably going to lose money as a beginner, so why lose more than you have to? Keeping your stakes low while you're still learning is just common sense really.
Our final tip is simple, and easy to follow – when you're betting on CSGO, be sure to use our recommended sites. Like we explained earlier, there are some good reasons why we've chosen these sites to recommend. They provide a better overall experience than any other sites, and you don't have to worry about being ripped off in any way.
CSGO Skin Betting
We talked a little about CSGO skin betting earlier and how it's become a REALLY big thing, and its popularity is showing no signs of slowing down. This is despite the developers of CSGO (Valve) trying to crack down on the activity, and even sending cease and desist notices to skin betting sites.
It's hard to see how Valve can put the brakes on what has become such a thriving industry. The only obvious solution is to stop the trade of skins completely, but we're certain they're not going to do that. So it looks like CSGO skin betting is here to stay, for now at least. Here's how it works.
The basic principle behind skin betting is simply that skins are used as a replacement for cash. We can deposit our skins at skin betting sites in a similar way to how we deposit money at real money CSGO betting sites. Our skins are not converted into cash, but they ARE assigned an approximate value. At some sites, they're converted into credits.
We can then use our skins or credits to bet on the outcome of CSGO matches.
That, in a nutshell, is all there is to it. We use our skins (or credits) as a stake when placing wagers, and we win additional skins (or credits) when our wagers are successful. We lose the skins we staked when our wagers are NOT successful.
We can withdraw our skins at any time, and they get returned to our inventory. At sites that use credits, we have to convert our credits back into skins first. We can then use our skins in the same way as normal. We can use them in the actual game, sell them to other players, or use them for more gambling.
In addition to the fact that we use skins instead of cash, skin betting is different from real money betting in two key areas.
Potential returns are uncertain
There are less wagering options
When we place a real money wager, we're given odds for our selections. Whenever our wagers are successful, we get paid out at the agreed odds, which means we know exactly how much we stand to win for every wager we place. Most skin betting sites don't use odds though, and instead provide a "potential reward" for each wager placed. This gives us SOME idea of what to expect if we win, but it's only a guide.
At most skin betting sites, we can ONLY wager on the winner of individual matches. We don't get the same variety of options we get at real money sites.
There are, however, lots of other ways to gamble our CSGO skins.
Most sites offer a variety of casino style games, where we can gamble our skins on the roll of virtual dice or the spin of a virtual roulette wheel. We can even play blackjack with our skins!
An especially popular form of skin gambling is jackpot games. With these, we put some (or all) of our skins into a pot where the more skins we put in, the greater our chances of winning. Other players do the same, and the winner gets ALL the skins in the pot.
We explain more about the various forms of skin gambling in the following article.
Tips for CSGO Skin Betting
Our top tips for CSGO skin betting are as follows.
Be VERY careful about which sites you use.
Don't deposit real money.
Don't deposit ALL your skins at one site.
Don't deposit any skins that you really want to keep.
Be aware of the risks involved.
There are dozens and dozens of skin betting sites on the web, possibly even hundreds. We've given up on trying to keep track of them all, because there are new ones opening all the time. Sites also close down regularly, and reopen under a different name. This might all settle down in the future, but there are no signs of that happening just yet.
Many of these sites are outright scams, with either rigged games, or just blatantly stealing their users' skins. These sites are not regulated at all, so there's no governing body to go to if you get ripped off. You're basically just out of luck, which is why you need to be so careful about which sites you use.
Here's a list of some popular sites that appear to be legitimate.
Popular CSGO Skin Betting Sites
You may have noticed that we said these sites APPEAR to be legitimate. You may also have noticed that, unlike the list of sites at the top of the page, we haven't used the word "recommended" here. There's a good reason for that!
We do not endorse, approve or recommend these sites in ANY way. They're not licensed, they're not subject to regulation, and we can't say for certain that they can be trusted. They're probably among the best places to bet with CSGO skins, but that's about as much as we're willing to say. At this moment in time, there isn't a single skin betting site that we can wholeheartedly recommend.
That's essentially the reason behind the rest of the tips on our list. There's no way you should be depositing real money at skin betting sites, because there's no guarantee that you'll ever get it back – even if you win. There's also no guarantee that you'll get any skins you deposit back either, which is why you shouldn't deposit all your skins at one site. It's also why you shouldn't deposit any skins that you really want to keep.
Please note that we're not saying that you shouldn't get involved with CSGO skin betting. We know people who have a lot of fun with it, and a few of them make good money. It's extremely important that you're aware of the risks though, and we don't just mean the normal risks associated with gambling (i.e. that you can lose), but the risks of using unregulated and unlicensed CSGO betting sites. There IS a chance you could be ripped off, so you need to be prepared for that.
CSGO Fantasy Betting
Do you know how daily fantasy sports work? If you do, you pretty much know how CSGO fantasy betting works, because the basic principle is exactly the same. For those of you who don't know anything about fantasy sports, here's a quick overview of how it works for CSGO.
Fantasy CSGO gambling sites run regular contests, typically based around specific leagues and tournaments.
There's a fee to enter these contests, and all the fees are paid into a prize pool.
Entrants to the contest then must draft a fantasy team of professional CSGO players. Players are assigned a value, and entrants have a set amount of virtual money to spend on our team.
Players earn points based on how they perform in matches. For example, they might earn one point for a kill, and two points for winning a round.
At the end of the contest, entrants are ranked based on how many points their team earned.
The prize pool is paid out to those entrants who finished in the top positions.
That's pretty much all there is to it, but we explain everything in a lot more detail on the following page.
At this point in time, the major fantasy sports operators have not really embraced esports. DraftKings runs contests for League of Legends, but none for CSGO just now, and none of the other big fantasy sites run contests for esports at all. There are, however, some smaller sites that focus entirely on fantasy eSports. These are the two best-known ones right now, and they both run contests for CSGO.
Tips for CSGO Fantasy Betting
Our top tips for CSGO fantasy betting are as follows.
Read the rules CAREFULLY.
Get to know the teams and players.
Always check who's playing who.
Our first tip is important because the rules vary from one fantasy site to another. There are different rules for the scoring, and different rules about how you can build your team. You obviously need to know these rules before putting your team together.
Getting to know the teams and players is vital if you're going to have any success at fantasy CSGO, and you can be sure that a lot of the people entering fantasy contests will be avid CSGO fans who know everything there is to know about the pro gamers and teams. If you want to beat these people, you need to match their knowledge.
We recommend checking who is playing against whom, as this can have a big impact on how many fantasy points players score. If a strong team is playing a much weaker team, for example, then the players on the strong team are likely to rack up a lot of points. If a strong team is playing another strong team, however, then the players' scoring rate might be a lot lower.
Hopefully you've learned a lot about how CSGO betting works, and were able find a CSGO betting site to place your wagers. One final point we'd like to make is that there are other esports games that offer good betting opportunities too, and we've detailed the most popular in the article listed below. It's a good idea to learn about at least some of these, as there may be time when you want a break from CSGO or just feel like betting on something new.
July
Sportsbook of the Month

Sign up Bonus
60% Up To $1,000
READ REVIEW
Visit Site
X