The Top Apex Legends Betting Sites for 2022
If you're looking for a place to bet on Apex Legends with real money, look no further. These are the best Apex betting sites online in 2022.
Rank
Betting Site
Exclusive Bonus
Get Started

#1

BetOnline

50% Up To

$1,000

Visit Site

Visit Site

#2

Bovada

50% Up To

$250

Visit Site

Visit Site

#3

BetUS

125% Up To

$2,500

Visit Site

Visit Site

#4

Everygame

100% Up To

$500

Visit Site

Visit Site

#5

MyBookie

100% Up To

$1,000

Visit Site

Visit Site
The online bookmakers above are known for offering a top esports betting experience. There are many benefits to using these over other sportsbooks available on the internet.
For a start, these Apex Legends betting sites are safe and secure. They'll be carefully protecting your money and personal information. On top of that, they offer plenty of promotions, fast payouts, and a betting interface that's easy to use.
We'll talk more about our selection process and why we believe these are the best Apex Legends betting sites out there in a moment. We'll also cover a few more topics related to betting on Apex Legends, the game itself, and esports gambling in general.
Here's a breakdown of the contents of this page. You can jump straight to any section that interests you, or just read through the whole thing.
How We Picked These Apex Legends Betting Sites
If you're wondering why we recommend the sportsbooks above, good for you! You should be questioning EVERYTHING when you're betting online with real money.
Choosing who you're going to trust with your betting funds is not a decision to take lightly. Although there are many, many, quality gambling websites on the web today, there's more than a few shady ones, too. It's obvious that you want to use the quality sites, but it's less obvious which ones those are.
That's precisely why we do what we do. Ranking the best betting and gaming sites is our primary function, and it's something we take very seriously. We work hard to provide solid recommendations that allow our readers to have a positive online gambling experience without the fear of being ripped off.
The exact process for picking which sites to recommend varies depending on the type of sites involved. It always involves assessing a wide range of factors, though. Here are some of the most important factors we look at when ranking the best Apex Legends betting sites.
Safety and Security
One of our top priorities is to always check if betting sites are safe to use. You need to be able to trust them with your money and personal details.
Thankfully, there are plenty of trustworthy and reliable gambling sites on the web. While some have bad intentions, they're very much in the minority. We still need to weed them out, though, and make sure that we only recommend the sites that offer the highest levels of safety and security.
Of course, it should be mentioned that an operator doesn't have to have bad intentions to represent a risk. Some sportsbooks simply don't have the right technology in place to provide the required protection and data encryptions.
That's why this is such an important factor for us to check when ranking the best Apex Legends betting sites, or gambling sites of any kind.
Ease of Use
If you're going to bet online regularly with real money, you'll want a site that's easy to use. The menus and different sections should be clear, and you should have fast access to the betting markets you want.
At this stage of the 21st century, there's really no reason why you should have to put up with outdated design, poor interfaces, and a bad user experience.
Bonuses and Promotions
One of the beauties of online gambling is that you gain access to various bonuses and promotions that could instantly boost your betting bankroll.
For a start, almost every single sportsbook on the internet has an attractive welcome offer. It could be a first-deposit bonus, a free bet, or some other kind of offer. The promotions for new customers are usually the most valuable (so make sure you take advantage of those), but they're not the only ones available.
Existing customers can claim special deals, too. Plenty of online bookies have loyalty programs and other ongoing promotions that can provide even more extra value.
Some betting sites are more generous than others when it comes to these bonuses and promotions. We don't typically penalize a site too heavily for not being especially liberal with the extra value they offer, but this is definitely a ranking factor that matters.
All other things being equal, a generous site will be rated higher than a site that's a little on the miserly side.
Betting Margins
Let's start with a short definition of betting margin, as not all gamblers are aware of exactly what this is.
The betting margin is essentially the advantage the bookmakers build into the odds they offer. It's similar to the house edge in casino games. Simply put, the guys setting the odds don't offer truly fair prices. They add in a small margin that guarantees them a mathematical advantage over their customers in the long run.
This is not an unethical practice or anything — it's literally how the bookmakers make their money. Without a built-in margin, they'd effectively be providing their services for free. And as much as we'd love that as customers, we have to remember that the bookmakers and betting sites are commercial operations.
However, that's not to say that the betting margin doesn't matter. It absolutely does. Some betting sites operate on low margins, some on much higher ones. Low margins lead to higher odds, so we always prefer the sites that keep their margins to a reasonable level.
Payment Methods and Payout Speed
Another important aspect of the top Apex Legends betting sites is the range of banking options they support. Customers should have a choice of payment methods when it comes to funding their online betting accounts and withdrawing their winnings.
Visa, Mastercard, PayPal, Neteller, Western Union, and bank wire are among the most popular options, so we want to see as many of these available as possible. We like to see support for cryptocurrencies like Bitcoin, too.
On top of the options available, the speed of transactions also matters, especially when it comes to cashing out. Deposits should be instant, and they almost always are, but withdrawals take longer. That's fine, but they shouldn't take TOO long. A couple of working days (or less) is optimal, and anything up to seven days is acceptable. When sites start going beyond that, we consider it a big negative.
Mobile Betting Options
Sometimes, you might want to bet on the go when you're without access to your laptop or PC. With odds constantly moving in most betting markets, you don't want to miss out on any potentially profitable opportunities just because you're not at home.
This is why we like online sportsbooks that provide full access to their betting platforms on mobile devices. They don't necessarily have to have dedicated apps, but they should definitely have responsive websites that are fully compatible with all major mobile devices. This should include iPhone, iPad, Android, and Windows Phone as a minimum.
Ideally, you'll also be able to manage your account, deposit, and withdraw from your mobile device.
Customer Support
Finally, we want to mention customer support. When you bet on esports online, or bet on anything for that matter, there's always a chance that you're going to run into issues where you need some help.
The online bookmaker or betting site you're using should be able to provide that assistance via a competent and helpful customer service team. No ifs. No buts.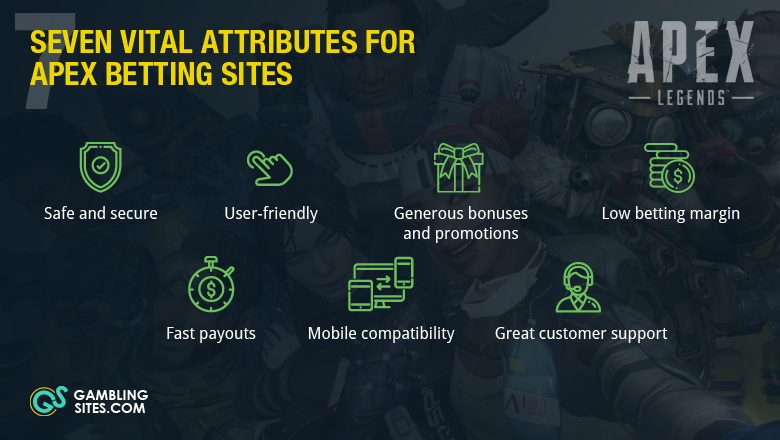 What Is Apex Legends?
On February 4th of 2019, Apex Legends became the newest title to be added to the already over-saturated genre of battle royale games.
Many were surprised when Apex Legends was released by developer Respawn Entertainment and publisher Electronic Arts because there was almost no marketing for the game before it was announced. None of this stopped Apex Legends from racking up over 25 million downloads in its first week of existence.
So how does a game with almost no marketing before release overcome a saturated genre to become one of the biggest smash hits of all time? Simple. Apex Legends is free, it's fun to play, and it's what battle royale fans have been waiting for.
Apex Legends' spin on the battle royale genre is a futuristic first-person shooter that pits 20 squads against each other until one is left standing. The game takes place in the same universe as Respawn Entertainment's other franchise, Titanfall, so the aesthetic will be familiar to those who played Titanfall 1 and 2.
At the start of each match, players choose from a roster of eight Legends who each have a unique set of skills and abilities. Legends come equipped with a passive ability, an active skill, and an ultimate ability that defines their role within the team.
The abilities of Legends effortlessly synergize together to promote teamwork within a squad, akin to games like Overwatch or Rainbow Six Siege. Gameplay was designed and balanced around squads of three players; there is no solo mode in Apex Legends.
After locking in Legends, squads jump from a dropship down to named locations scattered across a large map. Players must loot weapons, weapon attachments, ammo, armor, and healing items while trying to survive the ever-present danger of enemy players. Squads are forced together into a shrinking zone called the Ring, which is similar to the Storm in Fortnite.
Fights in Apex Legends are fast-paced and intense. Special movement mechanics like sliding, jumping, and climbing can be chained together to create a uniquely fluid combat experience.
Players quickly learn that traversing the map in Apex Legends is not only fun, but it's also a skill that can be improved over time.
The game features a typical array of futuristic weapons including assault rifles, submachine guns, sniper rifles, shotguns, light machine guns, and pistols. Most weapons are balanced well enough to be powerful in the right hands, and gunfights are typically won with superior aim and skill.
Items in Apex Legends are categorized into four levels of rarity: common, rare, epic, and legendary. Players can loot buildings, supply crates, and eliminated players for higher tiers of items that possess enhanced properties over the base version. The excellent user interface makes looting easy — no getting stuck in menus or inventory screens here.
Apex Legends is available for free to anyone with an Xbox One, PlayStation 4, or Windows. The game utilizes a free-to-play model of selling cosmetic items that grant no competitive advantage. Apex took a page out of Fortnite's playbook here, and it's one of the many reasons for the game's instant rise to popularity.
If you still have doubts whether Apex Legends is the right game for you, go check out some gameplay on Twitch. The popular streaming site has fueled much of the excitement around the Apex Legends, and the game's average viewership numbers have recently been surpassing some of the biggest titles in gaming.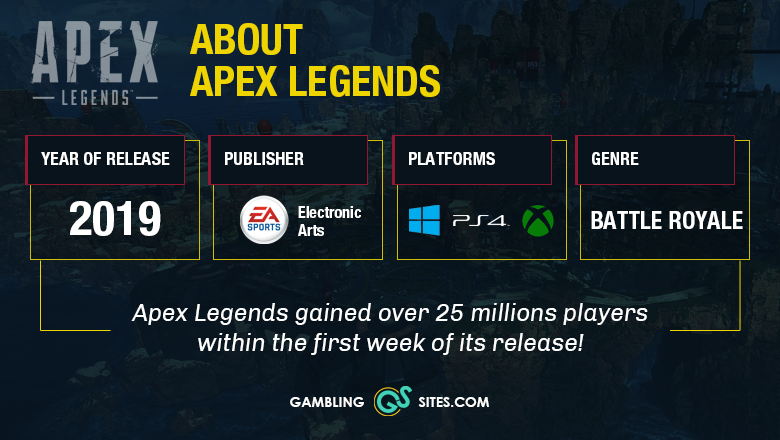 Why Bet on Apex Legends?
Apex Legends has real potential to become one of the biggest ever esports games. It's also likely to become very popular with esports bettors.
Let's take a look at some of the main reasons why you should consider betting on Apex Legends with real money.
New and Rising
You rarely see a game gain popularity as quickly as Apex Legends did. The game attracted tens of millions of players in just the first week after its release. With the way it's blown up, it's entirely possible that it'll soon become part of the competitive esports scene, so bettors will find plenty of valuable betting opportunities before long.
The sooner you understand the basics of Apex Legends and prepare for the esports competitions that are about to emerge, the better.
This will give you a competitive advantage over most bookmakers and the majority of the recreational bettors that will be influencing the odds with their wagers.
We recommend you stay ahead of the Apex Legends betting curve, as this has the potential to bring you a lot of profit in the long run.
More Bookies Will Offer Apex Legends
The rising popularity of esports is encouraging most betting sites on the web to offer several mainstream games. This is the reason we expect a ton of safe Apex Legends betting sites to be available soon.
This will give you the chance to obtain a lot of value from promotions and find solid prices on future Apex Legends tournaments.
Esports Will Only Get Bigger
This one applies to all esports, so Apex Legends is not an exception. The esports scene is getting bigger; there are more and more tournaments, higher prizes, and a rising number of players involved.
And because the gambling industry itself is also expanding all the time, there are now plenty of opportunities to make money by betting on esports online.
If you're playing games either way, this represents a great opportunity to profit from your hobbies. Sure, you have to be smart about the bets you choose and put some effort into looking for value, but pretty much everything worth doing requires some effort.
The Battle Royale Genre Is Super Popular
If you take a look at the success of games like Fortnite and PUBG, you can easily see that the battle royale genre is attractive to millions of players from all over the globe.
Apex Legends is the latest addition to this genre, and it incorporates some new features that have captivated players. The game's quick success shows that it's only going to get more popular, so the betting opportunities you will have are going to grow, too.
Can Apex Legends Replace Fortnite?
The secret sauce that makes Apex Legends taste so good is the amount of care and attention to detail that Respawn Entertainment took in developing the game. Apex Legends utilizes gameplay mechanics that smartly fix problems associated with other battle royale titles.
A common complaint that players have with Fortnite is the amount of randomness associated with many elements of the game. The Storm is random, the loot is random, and even the accuracy of weapons can be random. This randomness, or RNG, irks many top-level competitive players who would prefer gameplay mechanics that leave out the chance.
Insert Apex Legends. This game has been designed from the ground up with competition in mind.
Movement mechanics and Legend abilities help squads rotate around the map and escape the circle with ease. The loot table in Apex Legends is more balanced and features fewer items that are non-viable in an esports environment. Gunplay revolves around aim and positioning; there's no complaining about bloom in Apex Legends.
Apex Legends may be a more welcoming game than Fortnite for many players. The building mechanics of Fortnite are a turnoff for some who don't want to take the time to learn Fortnite's unique combat mechanics. Apex Legends is much more familiar to anyone with first-person shooter experience, making it a friendlier game for new players to pick up.
The popularity of Apex Legends on sites like Twitch and YouTube prove that there is a large community of people hungry for the game's content.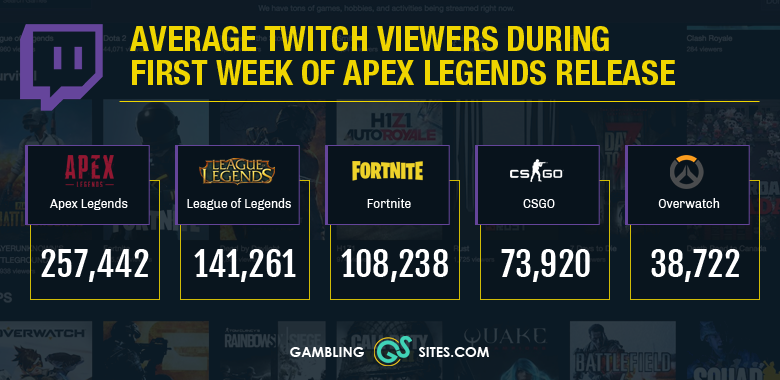 Many popular streamers from other battle royale titles have made the switch to Apex Legends and seen a rise in their viewership numbers. The challenge for Apex Legends as an esport will be maintaining the game's current growth and player numbers over a long period of time.
Over the past year and a half, Fortnite has taught the gaming industry a number of valuable lessons about maintaining a player base and keeping them happy. Epic Games has been relentless in their pursuit of keeping Fortnite fresh by pushing weekly patches and content updates to keep players coming back to their game.
Epic Games has also been vocal and diligent about their commitment to growing Fortnite as an esport. Fortnite's developer announced in 2018 that they would be putting up $100 million in prizes for the first year of competitive play, and then they announced another $100 million for 2019. Fortnite has been serious about creating tournaments like the Summer Skirmish or Winter Skirmish series that showcase the game's top players.
Apex Legends needs to follow suit if they want to surpass Fortnite as the top battle royale esport. Respawn Entertainment must prove to their fans that they are invested in Apex Legends for the long haul by continuing to improve the game on a consistent basis. They need to work side by side with tournament organizers to foster a healthy competitive environment.
We have no doubts about the viability of Apex Legends as an esport. The game released in an exceptionally polished state, and many of its gameplay mechanics are specifically catered towards a competitive audience.
However, Apex Legends needs to be careful not to put the cart before the horse. Many games have fallen into the trap of focusing on esports before they have a community of fans big enough to support the tournaments.
If Apex Legends can continue to build its player base at this astounding rate, we wouldn't be surprised if it overtook Fortnite as the most popular battle royale esport.
Basic Apex Legends Betting Tips
If you're interested in betting on Apex Legends online, you should prepare yourself first. This is the reason we compiled a list with our basic Apex Legends betting tips that will help you avoid some common esports betting mistakes and have a better chance to be successful in the long run.
Play the Game
You should have a good understanding of Apex Legends before you invest real money into betting on it. The easiest way to build a solid knowledge base is to play the game.
It's free, and it's available on a couple of different platforms, including PC. Simply download it and play a bit. There's no need to become a pro Apex Legends player, but knowing the objective and how the basic mechanics work is a must.
Investing a couple of hours for that is totally worth it, so if you aren't already a player, we recommend you play Apex Legends before you bet on the game.
Watch How the Pros Do It
The live streaming platform Twitch was a complete game changer for esports because it gave casual players a look at the best in the world. You can now watch pro games do their thing and explain various details about the most popular titles out there.
Apex Legends is not an exception, as there are a ton of Twitch streamers and YouTubers that are producing meaningful content about the game. This is the perfect chance to become an expert in Apex Legends.
Find the best streamers out there and start watching them. It's both fun and useful, and it'll help you get to know the game better.
Be Careful with the New Teams
One of the most specific aspects of esports betting is that it's always possible for some new team or player to storm the scene out of nowhere. This is especially true for a relatively new game like Apex Legends.
There will be a lot of changes in the list of leading teams and players, so you should always stay up to date with roster changes and recent results. Don't underestimate the unknown newcomers out there, as they might be the next big thing.
The first to react to any major changes are usually the ones that make money out of it, so you'll want to make sure you're staying up to date with recent Apex Legends news.
General Gambling and Esports Betting Tips
Every single sport or esport out there has its own specifics, and Apex Legends is no exception. But there are some general betting rules that apply to every situation. You should follow these rules if you want to become a successful bettor.
Let's take a look at the most important among them.
Learn Proper Bankroll Management
One of the first things we try to highlight when it comes to betting with real money is the importance of bankroll management.
There are a couple of important steps here. The first one is to set aside a budget you can afford to invest in betting. It has to be an amount you can afford to lose. While you won't place bets with the intention of losing, it's always possible, so you need to plan your starting bankroll accordingly.
When you've done that, you need to pick a staking plan. This is important because even the most successful bettors out there have losing streaks. You need a runway that's long enough to survive the tough moments.
If you want to learn more about the topic, here's a page that covers it extensively.
Don't Place Too Many Bets
One of the biggest mistakes that rookies make is placing too many wagers. This is especially true when betting online, as most of the top betting sites offer an incredible range of betting markets.
Some people can't help but bet on too many of them. And that's one of the most certain ways to lose money in the long run. The truth is that you have to be very selective with your wagers. Pick only the spots that are solid and make you feel confident.
Going after too many bets will mean that there will be a lot of bad ones that will negate the positive expectations of your good ones.
Always Shop Your Lines
There are plenty of reasons to use multiple Apex Legends betting sites, but none is more important than line shopping. This is the process of finding the best possible odds out there.
While the top bookies on the web have similar prices most of the time, their lines are not exactly the same. There are some seemingly small differences that matter in the long run. Make sure to take full advantage of that by joining a couple of sportsbooks and always getting the highest odds.
Learn more about that on the page below.
More Esports Betting Tips
Betting on esports has many differences from betting traditional sports such as football, basketball, or tennis. Although the above rules are universal for all forms of betting, there are some unique aspects of esports betting that mean there are other rules you should also learn.
We won't get into all of these here, but you can check them out on the following page.
Final Words
Online betting can be a lot of fun. It can potentially be profitable, too. However, it can also be a bad experience if you don't take the necessary precautions.
Regardless of what you're betting on, it's imperative that you use the right online sportsbooks. Make a bad choice here, and your chances of having fun and making money will all but disappear.
Fortunately, we've made it easy for you to make a good choice. Simply pick any one of our top-rated Apex Legends betting sites, and your chances of having a positive experience will multiply. Follow the rest of the advice on this page, too, and you've got a real shot at making some money.
Remember, though, that gambling responsibly is just as important as where you gamble. So please be sensible with your wagers. The combination of a reputable sportsbook and an affordable budget is ultimately all you need to enjoy betting on Apex Legends.
June
Sportsbook of the Month

Sign up Bonus
60% Up To $1,000
READ REVIEW
Visit Site
X