Esports Explained – Beginner's Guide to Professional Gaming
Did you know that the first ever organized video game tournament took place over 40 years ago? Congratulations if you did! Don't worry if you didn't though; we had to look this fact up ourselves. It's not exactly common knowledge. It IS significant though, as that first tournament marked the start of a trend that has ultimately created a billion-dollar industry.
Video game competitions, or esports, are a big thing these days. A huge scene has developed from within the gaming community, and it's growing at a rapid rate. Professional teams and players from around the world compete in leagues and tournaments that can offer prize pools worth millions of dollars. Many of these competitions attract massive audiences. Thousands of people attend to watch live, and there are many more watching online.
The interest in esports is increasing all the time. Not just from those wanting to watch and play the games, but also from people who want to BET on video game contests. We get asked a lot of gambling related questions here at GamblingSites.com, and recently, more and more of them have been about esports betting. That's why we've put together our detailed guide to betting on esports.
This particular page has nothing to do with betting, but we consider it one of the most important in the whole guide. Why? Because many of the questions we receive are from people who know absolutely NOTHING about esports. They want to get involved with the betting, but they want to learn what esports are all about first, which is what we cover here.
You NEED to read this page if you're a beginner to esports. We first answer some basic questions relating to esports, and then provide some further information that we think you'll find both useful and interesting.
What Are Esports?
The term esports is short for "electronic sports". It was introduced some years ago as a new way to describe competitive video gaming. What's competitive video gaming? It's exactly what it sounds like! It's basically just people playing video games in some form of competition.
Now, anyone who's ever played video games will tell you that video gaming is ALWAYS competitive. People play to win even when they're just gaming for the fun of it. However, when we use the term esports, we're not really referring to a group of friends playing for bragging rights.
The term esports typically refers to PROFESSIONAL video gaming.
Playing video games casually with friends, or in informal contests, is still technically classed as participating in esports. There's a big difference between this and playing professionally, though—
Just like there's a big difference between playing a friendly game of tennis and competing in the US Open.
Did we really just compare video gaming to a sport like tennis? We sure did! And it's a justified comparison, too. There are obviously some key differences between esports and traditional sports, but there are plenty of similarities too. Fans of esports enjoy watching their favorite teams and players in action, just like fans of other sports. Professional contests already attract large audiences, and interest is set to grow significantly in the coming years.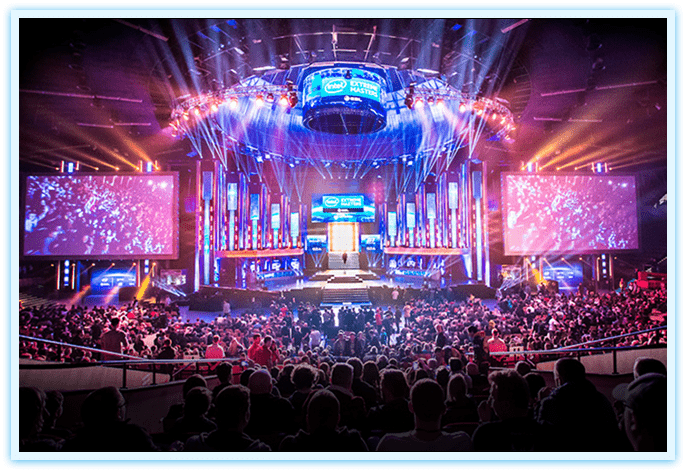 Lots of people find it genuinely hard to believe that professional video gaming is for real. It absolutely is though, and esports are here to stay. Will they ever be as big as the most popular sports? It's impossible to say, but they're certainly catching up. It helps that they're so accessible, with competitions available to watch on an almost daily basis. The range of different games that are played helps too, as this provides plenty of variety.
We've answered some common questions relating to esports competitions and esports games below, so keep on reading to find out more!
What Types of Game Are Played as Esports?
Most types of video game have the potential to be played as an esport. There are, however, a few types that are especially popular. The following are well suited to competitive gaming, and they dominate the professional scene right now.
Multiplayer Online Battle Arena Games
First Person Shooter Games
Fighting/Combat Games
Real Time Strategy Games
Not familiar with all these types? Don't worry, here's a brief explanation of each one.
Multiplayer Online Battle Arena Games
Multiplayer online battle arena (MOBA) games are primarily strategy based, but there's some action involved, too. Most of them are team games, with each team made up of a number of virtual characters. The individual players control one character each, and must work with their teammates to meet a specified objective. This is usually to kill the opposing team or destroy their base.
First Person Shooter Games
This has been a popular genre of video game for decades, as the earliest first-person shooter (FPS) games were developed as far back as the 1970s. Modern FPS games are far more in-depth than the early versions (and they look a lot better too!), but the basic concept has remained the same. Players view the game from the perspective of the character they control, and use various weapons to engage in combat with enemy characters. There are usually specific objectives to complete.
Fighting/Combat Games
This is a classic video game genre that has also been around for decades. Most games follow a very similar format, with players controlling a single character in a 1-v-1 fight against another character. Fights are usually split into a number of timed rounds, with the goal to inflict as much damage as possible on the opponent.
Real-Time Strategy Games
Most real-time strategy (RTS) games involve a combination of resource management and combat. Players usually have to destroy one or more opponents as quickly as possible while defending their own base. They can build various structures that help with generating resources and various units that help with defense and attack.
What Are The Most Popular Esports Games?
There are dozens of different games that feature in professional esports contests. Some feature FAR more than others, though, and there are three in particular that are firmly established as the most popular. These are as follows.
Dota 2*
Genre: MOBA
Released: 2013
Developer: Valve Corporation
Platform: PC/Mac
League of Legends*
Genre: MOBA
Released: 2009
Developer: Riot Games
Platform: PC/Mac
Counter-Strike: Global Offensive*
Genre: First Person Shooter
Released: 2012
Developer: Valve Corporation
Platform: PC/Mac/Playstation/Xbox
If you're interested in learning more about esports games, these are the games that you should focus on first. We explain each one in detail in the following guides.
These three games are easily the most popular on the esports scene. There are others that feature prominently too, though, such as the following:
StarCraft II
The original StarCraft game was released in 1998 by Blizzard Entertainment. It was hugely successful, and widely considered to be one of the best real-time strategy games ever. StarCraft II then took things to another level in 2010. It was designed as a single player game, but it had a multiplayer mode, too. This helped it to become a major esports game.
StarCraft II was one of the first games to be taken serious as a "spectator sport". It's at least partially responsible for the growth in esports competitions being held in venues with live audiences.
Call of Duty
Call of Duty is a series of games. Each game is of the first-person shooter genre, so they all involve a lot of killing. There's a bit more to them than just destroying the enemy, though. These are very in-depth games, with lots of strategy involved.
The Call of Duty series began in 2003, when the first game was released for Microsoft Windows only. It was later released for a number of popular consoles and handheld gaming devices. Call of Duty 2 was released two years later, and Call of Duty 3 was released the year after that. The first game and both these sequels were set in World War II.
A fourth game, Modern Warfare, was released in 2007. This was set in the modern day, and proved so popular that many other Modern Warfare games were subsequently released. It's these games that are mostly used for professional esports.
Hearthstone: Heroes of Warcraft
A free to play game, Hearthstone is part of the phenomenally popular Warcraft franchise. The franchise includes World of Warcraft, one of the most successful online games ever. Hearthstone is a turn-based card game, where two opponents compete to destroy each other.
Hearthstone is an ideal game for esports. It's fast-paced and relatively easy to learn, but there's a great deal of strategy involved. The game has won several coveted awards, including best digital card game of 2013.
World of Tanks
Can you guess the theme of this game? Yes, it's obviously tanks. To be more specific, tanks from the early to mid-20th century. There are nearly 400 different vehicles featured in this game, from different regions all over the world. Although this is not technically a simulator, the attention to detail on each vehicle is very impressive.
World of Tanks competitions can be either team events or individual events. The goal is usually to destroy all enemy vehicles, but it can also be to capture an enemy base.
esports
Smite is another MOBA. It was developed by Hi-Rez Studios, and first released in 2014. Players control mythological figures, and compete as teams in combat against other teams. There are five players per team, and teams start each game at opposing sides of map. They have a set amount of gold to buy items and abilities that will help them during the game.
You can read more about these games, and others, on the following page.
What Are The Biggest Esports Competitions?
The professional esports scene is changing all the time. Developers and organizers are constantly launching new leagues and tournaments, which results in some of the older competitions losing their importance. Some even get discontinued completely, while others are merged into the newer competitions. There are two well-established competitions that are undoubtedly THE most important, though. These are as follows:
The International Dota 2 Championships
Founded: 2011
Organizers: Valve Corporation
Qualifying Teams: 18
Location: Vancouver, previously Cologne and Seattle
Biggest Prize Pool: $20,770,460 (2016)
League of Legends World Championship
Founded: 2011
Organizers: Riot Game
Qualifying Teams: 16
Location: Varies
Biggest Prize Pool: $6,700,000 (2016)
These two tournaments are huge. They generate more interest and have bigger prize pools than any of the other esports competitions. We explain all about them in the article listed below.
Here's a quick overview of some of the other major tournaments and leagues.
Call of Duty World League Championship

The premier competition for Call of Duty. This has been running since 2013. The main event is held in the U.S., in California, with regional qualifiers held all over the world.

Major League Gaming Pro Circuit

This is a series of events held throughout the U.S. and Canada since 2002. It features a variety of different games on a variety of different platforms.

Evolution Championship Series

Typically referred to as "Evo", this annual event is one of the longest running esports contests. It's been held every year since 1996.

Smite World Championship

This is the biggest Smite competition. It's held in January every year, and features 10 qualifying teams.

Apex

This tournament is held in New Jersey, and focuses on fighting games. It's been held annually since 2009. The featured game is always Super Smash Bros, but other games are included, too.

Capcom Cup

Focused on the Street Fighter franchise of games, the Capcom Cup is held annually in America. A series of qualifying events are held throughout the year, known as the Capcom Pro Tour.

eGames

This international competition has been labeled, "the Olympics of esports". It was launched in 2016, by the International eGames Committee, with plans to run every two years.
More Esports FAQ
The four questions we've answered above are the ones we get asked most often. They're not the ONLY esports questions we get asked, though. Here are a few more that we hear quite frequently, along with our answers.
Is video gaming really a sport?
There has been plenty of debate about whether video gaming can truly be considered a sport. It's a debate that's sure to run for many more years, and they may never be a general consensus on the issue. In our opinion, however, video gaming SHOULD be considered a sport.
Most people struggle to accept esports as a "proper" sport simply because there's no physical exertion required. There are lots of other sports that aren't physical too, though. Think darts, for example, or snooker. Some people even consider chess to be a sport. So why should video gaming be treated any differently? There's a great deal of skill involved—and it's competitive; that's good enough for us!
Who watches esports?
There isn't a specific "type" of person who watches esports. However, the fan base is made up mostly of people who are gamers themselves. Studies have shown that over two-thirds of esports fans watch professional contests at least partly to improve their own gaming skills.
It's often assumed that esports fans are all young males, but that isn't the case. Although many are from the millennial generation, there are plenty of older fans, too. And females account for nearly 40% of the fan base.
Can anyone play esports?
Yes. All that's required is a computer or a gaming console, and access to the internet. However, it's NOT easy to become a professional gamer. The teams and players that win the big contests are incredibly skilled, and they have their tactics down to a fine art. Reaching that level of ability takes a great deal of practice and dedication.
Why are esports so popular?
We never really know how to answer this question. Why is ANY sport popular? We can't say that we know for sure, but it's probably because people simply enjoy watching it. Take soccer, for example. This is the most popular sport in the world, and that's largely because soccer games are so entertaining. But, there are plenty of people who would much rather watch tennis or some other sport. Ultimately, it's all about personal preferences.
All we know for certain is that there are millions of people in the world who get some level of enjoyment out of watching esports. Perhaps this is because they play the games themselves. Or perhaps, it's because they appreciate the skill and strategy involved. Maybe they just like watching the action scenes. Truth be told, there are probably all kinds of different reasons!
Where can I watch esports?
There are a lot of websites where you can watch esports. Two of the biggest are Twitch.TV and HLTV.org. These sites offer live streams for almost all of the major contests and many of the smaller ones, too. They also host recordings of these contests, so you can watch them back after the event.
You can also watch esports on TV, albeit only occasionally. They haven't quite made the mainstream yet, but ESPN and other broadcasters have started to air some of it's biggest events.
How much money do esports players earn?
The leading players earn millions of dollars a year. Exact amounts vary though, as players earn money through multiple sources. Prize money is the main source of income for most players, but some earn a lot through sponsorships, too. Some players are paid salaries to be contracted to their teams, and some earn additional income through guest appearances and streaming.
You can read more about the top esports players and teams (and their earnings) on the following page.
Do people really gamble on esports?
Yes! Esports betting is big business, and it's rapidly getting bigger. There are many different ways to bet on esports contests, including real money betting, skin betting and fantasy betting. If you're interested in learning more, please check out the page listed below. It tells you everything you need to know to get started.
A Brief History of Esports
Organized video gaming contests are nothing new. Like we said in the introduction to this article, the first tournament was played over 40 years ago. The interest in competitive video gaming has grown steadily since then, but it has REALLY snowballed in recent years.
The following timeline highlights some of the key events that have helped esports to develop into the flourishing industry of today.
1972
The "Intergalactic Spacewar Olympics" becomes the first organized video game tournament.
1980

Atari holds "The Space Invaders Championship," which attracts over 10,000 participants.
1980
Walter Day founds Twin Galaxies, an organization to keep track of high scores in video games.
1982
The TV show Starcade is launched, featuring contestants trying to beat each other's high scores on popular video games.
1983
The U.S. National Video Game Team is formed by Twin Galaxies
1988
Netrek becomes one of the first video games to offer online play. Up to 16 players could compete against each other over the internet.
1990

The first Nintendo World Championships are held.
1996
Battle by the Bay, the first major Street Fighter tournament, takes place in California.
1997
The winner of the Red Annihilation tournament for the FPS game Quake was awarded with a Ferrari as first prize.
1997
The Cyberathlete Professional League is formed, and begins running tournaments with prize pools worth thousands of dollars.
1999

FPS games Unreal Tournament and Counter-Strike are released. Both become popular games for organized contests.
1999
Quake III Arena is released, having been designed specifically to offer multiplayer combat.
2000
The World Cyber Games and the Electronic Sports World Cup are launched as major international tournaments.
2002

Major League Gaming (MLG) is formed, and would go on to become one of the largest and most successful esports leagues.
2006
MLG's "Halo 2 Series" becomes the first professional esports tournament to be televised in North America.
2009
Riot Games releases their League of Legends MOBA game. It would go on to become one of the most played games ever, and be featured heavily in esports contests.
2010
The Global StarCraft II League is launched in South Korea, and starts to attract huge audiences.
2011

A 2011 tournament at Dreamhack is watched by nearly 2 million viewers online.
2012
Esports contests start attracting large live audiences.
2013
Dota 2 is released by Valve Corporation.
2014

The Dota 2 International breaks new records with a prize pool worth over $10 million.
2016
The Dota 2 International prize pool surpasses $20 million.
This is just a very brief overview of how the esports industry has developed. To find out more, we need to also look at how VIDEO GAMING itself has developed. This is something we cover in detail in the following two articles.
Key Roles in the Esports Industry
It's the professional teams and players that get most of the attention in the esports industry. However, there are a lot of other key roles as well. Here are some of the most important:
Game Developers
Game Publishers
Streamers
Casual Players
Fans
Shoutcasters/commentators
Contest Organizers
Sponsors
Broadcasters
Governing Bodies
Coaches & Analysts
Team/Player Managers
The people and organizations that fill these roles all play their part in the esports industry. They've helped it to grow to the size it is today, and they're integral to its future growth, too. You don't NEED to understand exactly what they do and why, but you might find it interesting to learn more about their roles. We've explained them in detail on the following page.
Glossary of Esports Terms
A lot of the terms you'll come across when watching or playing esports are specific to individual games. We explain all them in the game guides we linked to earlier. There are also some general terms that are used more broadly, and we've covered all these below. This is not an exhaustive list of esports terms by any means, but these are the terms you'll encounter most often. >
AAA:
Only the highest profile video games get classed as "Triple-A." These are usually games from major developers that instantly attract a lot of attention. Games from smaller developers only get AAA status if/when they become hugely popular.
Aggro
This is term is short for aggressive. It refers to a style of play that's focused on attacking rather than defending. "She played really aggro, and racked up lots of kills."
Buff:
A buff is an item or ability that makes a character stronger and more powerful. The term can also be used as verb. For example, "he had to buff his champion before he could defeat his enemies."
Cheese:
A strategy or tactic that exploits some aspect of a game in an unfair way. Using cheese is typically considered unsportsmanlike and close to cheating.
Clan:
Another word for team in the gaming community.
Co-Op:
Short for "co-operative play". A format of game/mode where players team up to play together against a common opponent.
Cross-Platform Play:
A function within some games that allows gamers on different platforms to compete against each other. For example, allowing an Xbox player to play directly against a PlayStation player.
Dennis:
A slang term for a beginner. Usually used in a derogatory way, to describe someone who doesn't know what they're doing. "He played like such a Dennis, and made way too many mistakes."
Farming:
Repeating the same task over and over again to gain some kind of benefit. For example, repeatedly killing creatures on the same level to earn a lot of gold.
Gank:
A slang term for an ambush. Being "ganked" means being killed as the result of an unexpected attack.
GG:
Short for "good game." Usually said to an opponent or opponents at the end of a match.
Grinding:
An alternative term for farming.
Meta:
An abbreviation of "metagame." A term used to describe advanced strategies and tactics.
Nerf:
The opposite of a buff. A nerf makes a character, item or spell weaker in some way.
NPC:
Short for "non-player character," a character within a game that is controlled by artificial intelligence.
OP:
Short for "overpowered." An overpowered character or item is considered to negatively affect the balance of a game.
PC:
Short for "player character," a character within a game that is controlled by a real player.
PVE:
Short for "player versus environment." Refers to games where players are playing on their own against the computer.
PVP:
Short for "player versus player." Refers to games where players are playing against other real players. The vast majority of esports games are played in the PVP format.
Rekt:
A slang term for being badly beaten. "He got totally rekt in that game, and never came close to winning."
Salty:
A player is said to be salty if they react badly to losing. "I got so salty after that game, I just had no luck at all."
Strat:
Just an abbreviation for strategy.
Streaming Site:
A website that shows live streams of esports contests and/or lets players stream their personal gaming activity.
June
Sportsbook of the Month

Sign up Bonus
60% Up To $1,000
READ REVIEW
Visit Site
X