Best Ways to Make Money From Reality TV Betting

It's tough to beat reality TV. It's more scripted than anyone cares to admit, but that doesn't make it any less engrossing.
The lying, the cheating, the competition; whatever the reality TV show is, it tends to feature some or all of the worst qualities a person can have.
And I am here for every second of it.
Some reality TV shows are rather light and upbeat, others just follow celebrities around, and some of the best series concoct wild competitions that produce an eventual winner.
The list of reality TV shows you can enjoy is endless, but the ones that take center stage are the ones you can bet on.
From Survivor to American Idol, it's all worth tuning into, and if you play your cards right, you can even make some money from your couch.
You probably had some idea of how you can bet on reality TV, but there's actually a lot of ways to profit from it. For the top ways to make money from betting on reality TV shows, read on.
Predict Who Will Win
The most obvious way to make money from betting on reality TV shows is to predict who wins a specific competition. Reading expert predictions is one of the best entertainment betting strategies, so this feels like a great place to start.
Not all reality TV shows are competitions that follow a long and winding road to someone winning "it all", but most of the best ones are.
Here are the reality TV shows that stand out the most, where you'd usually have the opportunity to bet on the winner.
Survivor
The Amazing Race
Big Brother
American Idol
Dancing With the Stars
The Voice
America's Got Talent
The Masked Singer
There are other reality television shows you can bet on that may fit this description, but these are the most popular ones that come to mind.
More importantly, they're the big reality TV shows you can bet on actively at the top entertainment betting websites.
Each of the shows listed above are highly engrossing and incredibly entertaining. They're filled with drama, backstabbing, and of course, intense competition.
All of that plays into you enjoying what transpires from the comfort of your home, and it also creates a pretty fun betting environment.
Here's a few things to consider when looking to bet on a reality TV show winner.
Is the favorite the best bet?
When is the right time to bet?
Which sleepers could actually win?
Is a longshot bet worth your time?
Sometimes the favorite is simply the best bet, no matter what. Like Tony Vlachos, Kaitlyn Bristowe, and so many others before them, the favorite is often flat out unavoidable.
You still need to decide if betting on the favorite is the right call, and when that bet needs to happen. If you think the current favorite is the winner and they're at -200 or shorter, the time is probably now to strike.
If they're really the favorite, that price probably won't be getting any better.
If not, you may want to wait to see the favorite's price lengthen, so you can get even more value with a sleeper bet. And of course, there's always the case of the rare long shot bet that could pan out.
There are good chunks of these series that are pre-recorded, but the ultimate winner usually isn't revealed until the final live shows. Before the first episode airs – and throughout the season – you should see odds for who will win, and you'll often be able to bet on the winner.
What does that look like? Betting sites will simply have a wager that asks you who will win the current season of a show, and then they'll list the available options to bet on, along with their odds.
How you go about predicting the winner, how much you wager, where and when, of course, is entirely up to you.
Bet on Who Gets Eliminated
Just as fun as betting on who will win reality TV shows is betting on who gets eliminated from them.
Almost all of the best reality TV shows have some type of elimination process.
"The tribe has spoken."
That's the classic Survivor tagline host Jeff Probst drops on exiting contestants once they've been voted off.
It pierces the heart every single time.
The guys and gals who don't get a rose on The Bachelor and The Bachelorette are shown the door, too, and if you don't get the votes or win the support of the judges, you're sent packing in reality TV singing and dancing competitions, as well.
The process and what's at risk can be different from episode to episode depending on the show. Some shows even toss in the wrinkle of allowing eliminated contestants a second chance, as Survivor has been known to do.
But the point here is reality TV betting websites tend to feature elimination wagers.
You'll want to be well versed on the show, understand the rules, and be clued into the current season before placing any bets. But if you play it right, you can profit every time someone is sent home as you watch your favorite reality TV show unfold.
It might make for less drama, but it sure could fatten up your wallet.
Wager on Casting and Off-Camera Decisions
Not every reality TV show is created equal. There are the more wholesome series like most of the shows I touched on above, and then you have the other side of things, where reality TV focuses more on just pure drama.
Some of these hit reality TV shows are sure to ring a bell.
Keeping Up With the Kardashians
Real Housewives
Vanderpump Rules
Married at First Sight
Jersey Shore
To be fair, it's usually difficult to find reality TV show props dealing with shows like this.
Why? Because anything that would be worth wagering on tends to become public knowledge fairly quickly.
That, or there just isn't anything that's both enticing and still a secret. Even if there is, the most reputable entertainment betting websites won't always offer it.
Still, there can be props dealing with these shows that stem from them, but don't necessarily have to do with the pre-recorded content.
And, as you'd imagine, they can make you some money.
Some sites may host props dealing with who will be showcased or what will happen with certain celebrities, but the wagers you're really looking for deal with real life bets.
This would touch on relationship props bets (whether a couple will stay together), or if someone will get fired from the show at some point.
True, this isn't quite the same as other bets where you can risk some cash and see things unfold right before your eyes. But these props would still be affiliated with your favorite show, and if you bet correctly, you could still profit from them/
Use Betting Bonuses & Promos
I've gone over some of the best ways to make money from betting on reality TV shows. Most of them are fairly self explanatory, but at least involve specific wagers that apply to certain series.
Another way that is pretty literal is the idea of just applying online betting bonuses and promotions to work to your advantage.
Do you make money from bonuses directly from just betting on reality TV somewhere? Not always, but by taking advantage of various bonuses and promos – depending on what they are – you can in theory make money just by taking part in the betting process.
Some sites will also offer special themed contests (especially in-season during a hit show), but the main idea here is to jump on a big bonus or promo while you also plan on betting on your favorite reality TV series.
There are countless entertainment betting sites to choose from, but the best ones work hard to give back to the betting community.
Here's a quick look at some of the best online betting bonuses being offered right now.
This is just a quick list of some of the top entertainment sites for betting online. They're among the best options due to reliability, wagers offered, customer service, and competitive odds – but also because of these sweet bonuses.
MyBookie and BetUs are probably the two best options for bettors at the moment due to the 100% bonus matching, but any of these sites are good for betting on reality TV.
For all you need to know about this way to make a little extra cash, check out our beginner's guide to online gambling bonuses.
Play Fantasy Contests
Betting on reality TV is awesome, but you don't always have to risk your own cash to profit from these shows. There are also a lot of reality TV daily fantasy contests available to viewers.
Some of the best novelty betting websites offer these as well, but the leaders in DFS like FanDuel and DraftKings have been known to offer these.
Especially when the world was hit with a global pandemic and sports leagues were closing up shop left and right, there was an explosion of these types of fantasy contests.
Most were free to play, but considering they align so well with prop bets, they're still in a sense betting.
FanDuel is probably the easiest site to point to for this, as they still actively offer reality TV fantasy contests for shows like The Bachelorette and Top Chef.
They have also featured these contests for Survivor and other reality TV series.
When the top reality TV betting sites aren't offering props, you can turn to DFS sites for these types of contests.
It's not quite as good as actual betting, but it tends to be free, and it's another way to make money from betting on reality TV shows (in a sense).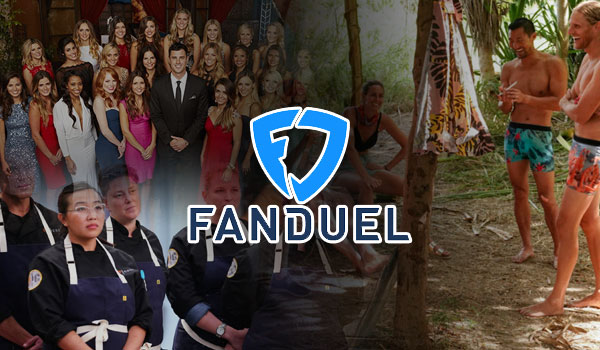 Bet on Reality TV Props
Technically, betting on who will win a reality TV show and the like would qualify as props. But this is more of a miscellaneous category, in a sense.
Basically, whatever reality TV wagers are out there that don't fall in their own category, are covered here.
Here are a few examples
Performer Winner Props
Bachelor Final Rose props
Sex of Winner Wagers
Score/Grade/Rating Props
Contestant Order of Finish
Fastest finish time (Amazing Race, etc)
Most votes received
The first prop touches on sites asking you to bet on a specific performer to win a round or an entire competition.
A great example is from betting on America's Got Talent. In 2020, there was a prop asking if an act receiving a Golden Buzzer would win that season.
There was even a second string of props that asked if the specific Golden Buzzer recipients would win, and the book then provided them each with their own odds for "yes" and "no".
I already touched on the idea of "predicting the winner", but that bet usually just offers an entire field, and you need to pick the right winner. This wager looks more like this.
Roberta Battaglia Will Win AGT
+400
Roberta Battaglia Won't Win AGT
-600
You can then leak into Bachelor props dealing with who gets a rose each episode, among other things. Then there are props dealing with the sex of the ultimate winner, and some props even are attached to show scoring or grading.
This one especially ties to Dancing With the Stars, but there are other reality TV programs that have ratings or grades that you could potentially bet on.
The list could be longer, but you get the idea. Prop bets that don't directly only deal with predicting a winner, betting on who gets eliminated, or ask you about casting, would all fall in line here.
The point is it's broad and seemingly endless, and that's kind of the perk of betting on reality television in general – there are just so many possibilities.
But beyond the major ways to make money from betting on reality TV shows, basic, generic, or specific props are an obvious way to cash in.
They're going to be quite specific to each show, and they can often deal with specific cast members, but they tend to be stand alone wagers.
Shop for the Best Odds
I've detailed some ways to make money from betting on reality TV shows, but this last way is pretty blunt. It's not really a "way" to profit from reality TV, so much as it's a process.
However, without it, you're going to miss out on a lot of value.
It's pretty simple, really. If you love a bet at -200, but it can be had at -150 or better, wouldn't you want it?
Of course! Bettors often have the entertainment betting sites they prefer, and I totally get that. When I suggest the best reality TV betting sites, I obviously am pointing to an isolated group of sites that are credible and trustworthy.
But that doesn't mean you should pick just one and only ever bet there.
Instead, having a solid list of betting sites to turn to increases the potential earnings you can get your hands on.
The website interface, payout options, customer service, and bonuses won't be the same everywhere you go. However, a positive that comes in going to different sites is wagers you might not get at one site, as well as competitive pricing.
You can make money betting on reality TV (and anything, really), no matter which entertainment betting sites you call home. However, if you compare pricing and shop around, you can add extra dollars onto your initial bet if it hits.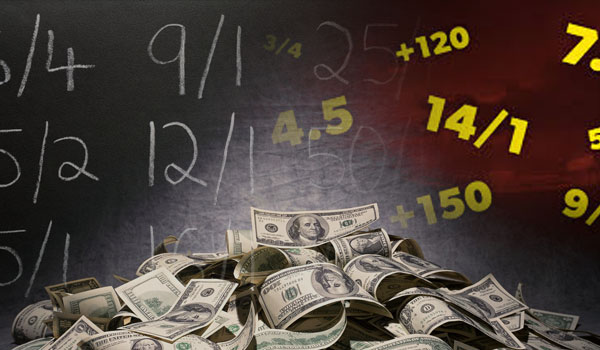 Summary
If you break down all of the ways to make money from betting on reality TV shows, you get to a number much bigger than six.
That number just touches on the most popular ways to make money off of reality TV, but the list can go on forever due to each specific show having endless options.
Of course, that's just in theory.
It's still up to the top reality TV betting websites to actually round up these bets, assign odds, and offer them to you, the bettor.
If and when they do, though, you'll be prepared to lay some money down, because you now have a better idea of the ways to make money from betting on reality TV shows.
Fortunately, my insight doesn't stop here. I've handed out picks, predictions, and general advice for countless reality TV shows, and really just all things entertainment.
If you're looking for a little extra help when trying to make money from betting on reality TV shows, do yourself a favor and bookmark our entertainment betting blog.