5 Best Free Slots Apps – Where to Play Slot Games for Free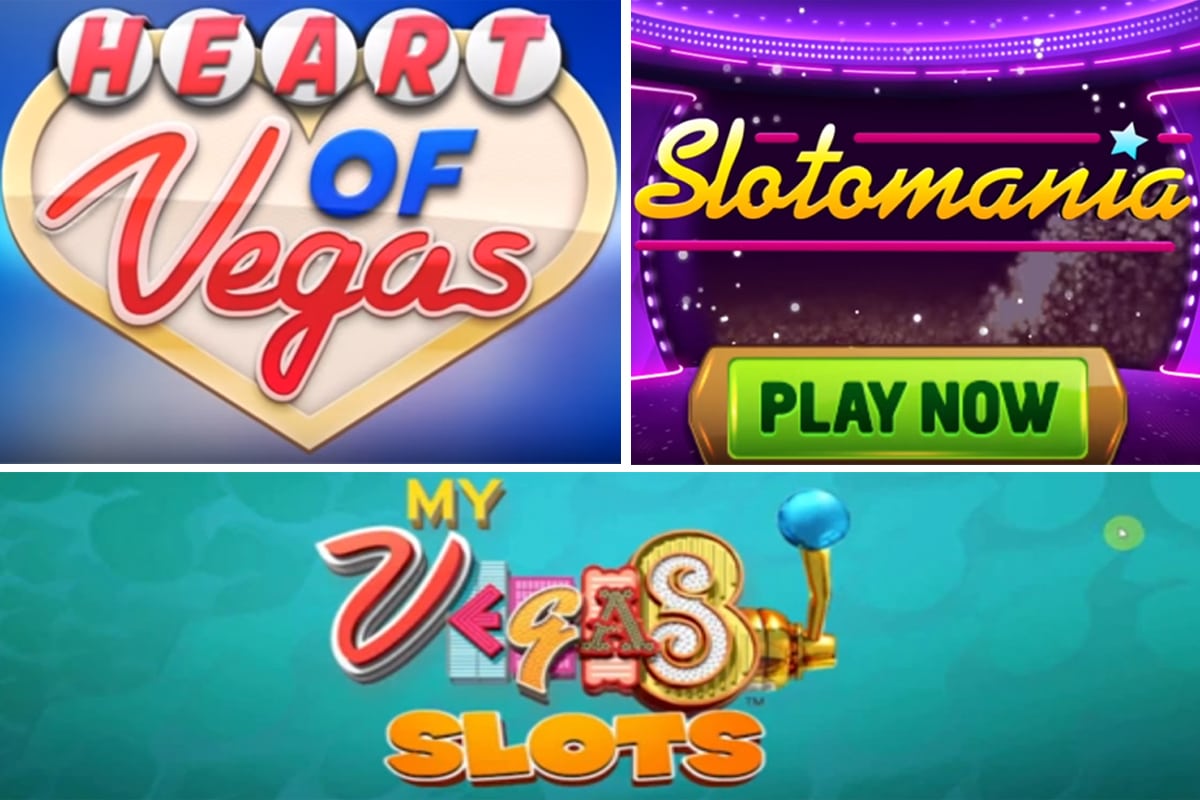 I know what you're thinking.
"Why should I have to risk my own money to enjoy playing slot machines on my laptop, iPad, or mobile device?"
And don't pretend that wasn't what you were thinking. I'm psychic.
Well, the answer should cheer you: There are plenty of places you can visit on the internet that will give you free access to hundreds of different slot games — all without having to give them much more than a valid email address and a password you make up on the spot.
There are a multitude of slot machine apps available for both the iPhone and Android platforms, and they pretty much all operate the same way.
The apps are always free to download, and they're ostensibly free to play. Still, you may find yourself "penniless" after an hour or so playing one or a dozen surprisingly entertaining slots, at which point the app will helpfully offer to sell you more chips.
Depending on the app, the sales pitches can be anywhere between smooth and somewhat subtle to annoying and constant, but they all have something in common: The apps exist to make money, and selling you chips (or access to specific slots) is how they do it.
Once you understand that, you can proceed to enjoy the games.
Choose to purchase more chips or choose to wait until the app gives you more free chips (they all do this). You are in control. By the way, prices for chips tend to range from 99 cents for enough to play for a few hours up to $199 for enough to play for, well, more than a few hours, I would hope.
I recommend patience. It only costs you time, while impatience costs you money. Besides, if you sign up with two or three free slot apps, you can move from one to the next seamlessly, farming your free chips as you go. Just a tip.
Here are the five best free slot apps I've tried that give you more than your money's worth.
#5: Caesars Games
Caesars Games is backed by a gaming conglomerate — in this case, Caesars Entertainment — and is developed and run by Playtika, a top game developer that provides slots and other games to a number of "free slots" apps.
Incidentally, if you go looking for Caesars Games, you might get confused because there is also a mobile app out there for Caesars Casino. Both offer slots and other gaming, but Caesars Casino actually offers real money gambling for people in New Jersey. Adding to the confusion is the fact that Caesars Games says "Caesars Casino" at the top of the browser version and has a Caesars Casino graphic on the left-hand side of the mobile screen.
Avoid the confusion: If the app you've downloaded wants you to set up a real money account, it's Caesars Casino, not Caesars Games. Here's the link for the browser version of Caesars Games, and here's the link for the downloadable app for the mobile version for Android, as well as the mobile app for Apple.
That wasn't all that difficult, now, was it? By the way, you'll find many of the same games at Caesars Games that you can play on a multitude of other sites — not at all surprising since the developer, Playtika, provides gaming apps to a multitude of casinos.
You'll have to play enough to rise in levels in order to unlock the more intriguing games. Also, if you purchase chips, you'll also rise in "Playtika Rewards," going from Bronze to Silver to Gold and on through Platinum, Diamond, Royal Diamond, and finally, Black Diamond.
Attaining these various rewards levels increases the size of coin packages you can purchase, faster accumulation of status points (for attaining higher rewards levels), and lengthier periods of double XP (for unlocking games).
When you first sign up, the only game you'll have access to is Cleopatra's Quest, but don't worry; it takes about five spins on that slot to unlock the next game, Pink Panther. After a few spins on that slot, you'll unlock Foxtrot Follies. And so on…
All the slots are casino quality, with sound effects, background music, and of course, graphics equal to anything Vegas has to offer. A nice feature I didn't notice on Slotomania that is available on Caesars Games is the ability to save your favorite games on your mobile device.
Normally, each time you select a different game at Caesars Games, it has to download it first, wasting 20-30 seconds of my extremely valuable time (yeah, I know). But tapping and holding a game's icon causes it to be downloaded to your mobile device so that it in the future, it will be immediately available, saving you many half-minutes of your time, which — like mine — is no doubt extremely valuable.
#4: Heart of Vegas
A creation of the Aristocrat-owned Product Madness company, Heart of Vegas offers plenty of Aristocrat favorites, including the evergreen Buffalo. That makes it an immediate addition to any must-have free slot apps, even if the only way you can sign up for it is with your Facebook account. You can play for a limited time as an anonymous "guest," however.
Frankly, I would have included Heart of Vegas here simply because it offers the free version of Buffalo.
Unlike other free slot apps, Heart of Vegas does require you to unlock the various games. All of them, including the progressive slots, are available to play immediately after you sign up. What is locked (and requires increasing levels) is the amount you can bet on a single spin.
There's even a high-roller room where you can win billions of chips (yes, that is billions with a very large B), but you need to rise to level 12 to play the games.
Heart of Vegas also features a Player's World loyalty program, which features cashback and other rewards, all based on your tier level (independent of the gaming levels you achieve through play).
Everyone starts out at the '"Member" tier. The tiers run from there to Bronze, Silver, Gold, and Platinum. How does one rise through the tiers? Good question. Here's the answer: You must purchase additional chips. That is the sole method for rising through the tiers.
So, to recap, Heart of Vegas has two separate rating systems — levels and tiers. Levels are simply numbered and are achieved through your play. Higher levels give you the opportunity to bet more on each spin of a slot.
Tiers, on the other hand, are based entirely on the amount you spend buying more chips. Once you've risen above the starting "Member" tier and into the metallic tiers (bronze, gold, etc.), you begin to earn loyalty rewards like cash-back.
I know. Still, you're never required to purchase additional chips. And hey — they have Buffalo. That gets them mucho leeway in my book.
As with all the others, you can play at Heart of Vegas without downloading anything at their website, or you can download the appropriate app for Slotomania to your Android or Apple mobile device.
#3: Slotomania
Slotomania's games look better on your mobile device than they do in your PC browser, a side effect that suggests that the images are all optimized for mobile play. No matter — the games still look great and play wonderfully on either platform.
Like most other online free slots purveyors, game developer Playtika (remember them from Caesars Gaming?) really, really wants to sell you chips, and Slotomania is quite adept at grasping your interest firmly and keeping you in rapt attention as you navigate its various (optional) "SlotoQuests" to gain levels and access the more entertaining slots.
Each SlotoQuest requires that you reach some milestones with each new game. For instance, one slot might require you to win a total of 15,000 credits and play at least one "special feature," while another might simply require you to spin the reels 50 times.
Your reward for fulfilling these SlotoQuests is little bags of money as you unlock each new game, until you reach the final goal (of that particular SlotoQuest, anyway), where you'll unlock a new game and get the opportunity to satisfy yet another batch of milestones.
I'm making this sound tedious, but it's not. It's quite entrancing, and I spent a couple of hours glued to my Android, just so I could win 14,000 credits and unlock a new slot. You may find you run out of chips before you can unlock that next slot, and Lucy — did I mention Lucy? She's your animated hostess at Slotomania — helps with everything from sign-ups to chip purchases and beyond.
Anyway, Lucy will pop up to sell you more chips should you run low before you can unlock that next slot game. Buy some chips if you want. Me, I can't imagine being all that ambitious, since the games you get access to within your first hour of play are quite entertaining and very cleverly designed.
My favorite (so far) is Despicable Wolf (I know, right?). The sound effects are wonderful, and a voice actor doing a very good Buster Poindexter impression will chime in occasionally with "Everyone's a winnah!"
You can open Slotomania through your browser to start playing right away (with no download required), or you can download their app to your Android or to your Apple mobile device.
#2: Hollywood Casino
As Caesars Games is to Caesars Palace, so is Hollywood Casino to Penn National Gaming. Frankly, the games are not quite as polished in terms of animation, graphics quality, or music/sound effects. That said, the games are still pro level, and just as addictive.
And while there are no prizes as with MyVegas (the next entry on the list), the pop-ups hawking chips are far less frequent, so you can concentrate on the entertainment of the game.
Although Hollywood Casino backs off the constant huckstering of buying chips, it comes at you from a different perspective — getting you to purchase access to their more popular slots. It works like this: You can play the lower-end stuff immediately, but if you want to play, for instance, Invaders from the Planet Moolah right after you sign up with Hollywood Casino, you'll be asked to purchase a pass to access the game.
Still, Hollywood Casino regularly unlocks some or even all of their slots for special events, so you can get a taste of what you can unlock later.
Those unpredictable freebies notwithstanding, as you play the slots available to you at Hollywood Casino, you rise in level, and as you ascend the levels, you remove locks on more and more slot games. Play long enough, and you can play Invaders from Planet Moolah for free.
You can even link your Marquee Rewards card (Penn Gaming's rewards club for its casinos) to your Hollywood Casino membership, and in return, you'll receive up to 100,000 free credits.
You must log in (meaning you'll need to set up an account with a valid email address and a password you make up on the spot).
Speaking of logging on, like MyVegas, you can play at Hollywood Casino on your browser, or download their app to your Android, or download it to your Apple mobile device.
#1: MyVegas
The best of the free slots apps, hands-down, has got to be MyVegas. Developed by Playstudios for MGM Resorts International, MyVegas isn't so much a free slots app/site as it is an entire world of casino-quality slots. Everything here is polished, crisp, and well-programmed for your entertainment.
Dozens of well-animated games await you, including Feast of the Gods, Excalibur, Bridesmaids — a veritable cornucopia of slots. They've also added Konami favorites like Masked Ball Night and Lotus Land, as well as electronic blackjack, where you can play up to three hands at a time.
You can purchase chips, but once you're signed up with MyVegas, the app will give you a sack full of free chips. In fact, almost every day, MyVegas will email you a link to claim even more free chips.
The best part is, as you play (regardless of whether you win or lose), you accumulate points to use for merchandise, BOGOs, spa visits — even tickets to Las Vegas shows. Even if you don't live in Vegas, you can select rewards that jibe with your vacation schedule. How cool is that?
Sure, it's a very clever marketing ploy (it's almost like they employ people who have studied human nature and effective marketing techniques, but that couldn't be possible, right?). But the games are all top-notch, and it is never a requirement to purchase chips.
I'll admit, the constant pop-ups encouraging you to buy more chips can get a bit annoying, but once you're aware of them, they become quite easy — perhaps even a bit too enjoyable — to dismiss and go back to your game.
Speaking of interruptions, MyVegas not only wants to sell you more chips, but it wants you to post your various jackpots to Facebook. Even the smallest jackpot seems worthy of sharing with all your Facebook friends.
Naturally, you can click right past that pop-up like I do. Or you can go ahead and share your jackpot news with your internet friends. I won't judge you. You were pretty cool about that whole me being a psychic thing. The least I can do is return the favor.
In any case, MyVegas is definitely worth a try. You can access it on Facebook or download the MyVegas app to your Android or to your Apple device. The MyVegas app has over 10 million downloads, so I'm going to guess that if you aren't already playing it, you know someone who is.
All Jackpots, Great and Small
I hope these thumbnail reviews of my five favorite free slots apps have helped you in your search for the perfect slot. As a psychic, I believe you will find your perfect match among them. Also, you will soon take a trip, where you will meet a tall, dark — okay, ya got me. I'm not a psychic.
I'm a gambler, which is even better. For one thing, I don't have to wear that sweaty turban or burn incense all the time.
As a gambler, there are two things I know for sure. One, the more you know about a game, the better you will be at it, and two, gambling lessons are expensive.
Except at these free slots sites, they aren't expensive. In fact, they cost nothing. Why, it's almost like they've decided to hand out free gambling wisdom and — who's that at the head of the line? Why, it's you!
Okay, maybe that was a little overboard. Still — at best, these free slots apps can help you get familiar with the pay tables and special features of the various games, all the while earning tickets to Celine Dion's next Farewell Forever Really No Kidding This Time concert.
And at worst, they make great ways to forget you arrived 30 minutes early for your dentist's appointment.
But in either case: Go! Play! Win!
I should also point out that we have a number of free slot games to play right here on GamblingSites.com. Most of these games can also be played for real money at our recommended slots casinos.