The 10 Best Games in the Casino

There's bound to be a lot of disagreement about what the best games in the casino are. After all, different gamblers have different preferences. I might enjoy playing blackjack because I count cards, while you might play slot machines because you don't want to have to think about what you're doing.
But some casino games are just too good a deal to pass up, while others are really awful. Some games are boring for almost everyone. Some just have terrible odds. And some games qualify for this top list if you make certain bets but not if you make others.
All that being said, don't let anyone judge you based on what casino games you enjoy. I'm offering my opinions below, but yours might differ. Everyone has his or her own reason for gambling in a casino.
At the end of the day, even the best games to play at casinos favor the house. How much of a favorite the house is doesn't matter as much as you might think. After all, if you play a negative expectation game long enough, you'll lose all your money. It doesn't matter whether the game is on this list, or on my list of the worst casino games.
There's one important piece of advice I should offer before go any future. Whatever top casino games you choose to play, if you're playing online then make sure you use safe and trusted gambling sites. These are currently our top-ranked online casinos, and they're all reputable and highly recommended.
Best Online Casinos
How We Rate

Safety & Security
You should be able to gamble online without fear. So we only recommend licensed sites that use the latest security and encryption techniques.

Bonuses
Maximize your bankroll with fantastic bonuses. Our recommended sites offer valuable bonuses with fair terms and conditions, including manageable wagering requirements.

Games & Betting
The best sites have the best wagering options. That's why you will find extensive games and betting opportunities on our recommended sites.

Banking
Getting your money to and from your account shouldn't be a hassle. We only recommend sites with a variety of convenient banking methods, including cryptocurrency and e-wallets.
Now, without further ado, here's my list of the best casino games to play. The games are listed in no particular order.
1. Blackjack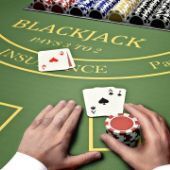 Not everyone likes blackjack, but many will argue it's the best game to play at casinos. That said, I'm going to start off by listing some of the downsides to playing blackjack. I'll get into the reasons why it's on this "best of" list after I've admitted to the game's flaws.
Blackjack is not a good game for introverts unless you can find a table where no one else is playing. Even then, you're still going to interact with a live human dealer—unless you're playing online. But human interaction is almost always a given with a blackjack game.
Also, some people just don't like card games. Maybe they didn't play cards when they were growing up or something, so they don't know much about how they work. Some people just don't like math at all, even simple addition, and blackjack just becomes incomprehensible really quickly because of all the addition and subtraction.
Finally, some players don't want to have to make decisions. Blackjack is most certainly a game of decisions, and what you decide has an effect on your outcome. A lot of the other players at the table think that what you decide has an effect on their outcome, too.
They're wrong about that, but for an introvert who doesn't want to make decisions and also doesn't want to deal with other people, blackjack might be one of the worst games in the casino.
While there ARE drawbacks to blackjack, they're easily outweighed by the pros of the game.
Blackjack has one of the lowest house edges in the casino. The house edge is the percentage of each bet that the casino expects to keep over the long run—thousands of bets. The higher the house edge is, the worse the long-term expectation for the player.
If you find a blackjack game with a good set of rules, and if you play using basic strategy, the house edge might be under 0.3%. That's usually the lowest house edge in the casino usually. Sure, you might sometimes find a video poker game with a comparable number, or even slightly better, but that's not common these days.
By the way, if you're looking to play blackjack in Vegas, you should check out our Las Vegas blackjack survey. We carry it out annually, and record the rules and conditions of every blackjack game in Vegas casinos. This way you can find the best tables to play at.
Even blackjack games where the game conditions are less than favorable offer better odds than most casino games. The worst blackjack games usually have a house edge of around 1%.
Basic strategy refers to the correct decision for every potential hand in blackjack. You compare the total in your hand with the dealer's up card, and there is one decision with the best expected value. If you make that decision every time, you're using basic strategy.
Expected value is a mathematical term that expresses how much a particular decision is worth over the long run. You multiply the odds of winning by the amount you stand to win and subtract the odds of losing multiplied by the amount you stand to lose.
Luckily, you don't have to figure out the correct basic strategy for yourself on every single hand. You can find detailed guides to basic
blackjack strategy
right here on our site. You can even print up a table to take into the casino, and the dealers will let you use that printout while you play.
Even if you ignore basic strategy and just follow your hunches, you're only losing between 1.5% and 3.5% per hand—unless you're just making purposefully boneheaded decisions, that is. If you hit every hand until you bust, the house edge is 100%.
Another great thing about blackjack is that it's one of the only gambling games where a talented, smart player can get an edge. Counting cards is the best known advantage gambling technique used in blackjack, but there are several other ways of getting an edge over the house.
Counting cards is easier than you think, too. This site has an extensive series of pages about how to count cards in blackjack. We even have pages about other advantage blackjack techniques like shuffle tracking.
Blackjack is without a doubt one of the best casino games you can play, and even if it's not your go-to game at the casino, it should be on the menu of games that you choose from. It's just a lot of fun, and the odds are some of the best in the casino.
2. Video Poker
Video poker games resemble slot machines, but they offer players much better odds of winning. And getting better odds of winning is something everyone should be interested in.
As with blackjack, I'm going to look at the pros and cons of this game versus other games. I'll start with its drawbacks.
If you're a social gambler, video poker might not be the best choice. You don't generally interact much with other players when you're sitting in front of a Jacks or Better machine.
Also, if you're a high roller or a low roller, video poker might not be available in the denominations you're looking for. The lowest end video poker games cost $1.25 per hand to play (25 cents with a max bet of 5 coins), and even the highest end video poker games top out at less than most whales want to play.
Finally, video poker is a game that rewards skilled play. This is just too much pressure for some players. The idea is that they've come to the casino in order to relax, not to think about what they're doing.
Video poker might be one of the best games in the casino to win money at, but you'll need to pay close attention to what you're doing. This is not purely a luck based game where it doesn't matter how you play.
As with blackjack, the pros of video poker outweigh the cons in a significant way.
The main reason is that the odds are so good. It's also a very transparent game.
Here's why.
A video poker game uses a random number generator that duplicates the kinds of odds you'd see if you were playing with a real deck of cards.
That means if you need an ace to fill your straight, you can calculate the odds of getting that card.
There are 4 aces in the deck. No more, no less.
Compare this to playing slots. With a slot machine, you have NO way of knowing what the likelihood of getting a particular symbol on a particular reel is. A cherry might be programmed to come up once every 10 spins, or it might be programmed to come up once every 100 spins. You have no way to know.
As a result, the payback percentage for a video poker machine can be calculated. You're just multiplying the odds of achieving each hand by the payout for that hand. The payback percentage for a slot machine can be calculated, too. But not by you. You don't have access to the information you need, and you'll never be able to get access to it.
The best video poker games, like full pay Jacks or Better, offer a payback percentage of over 99% when played with appropriate strategy. Most slot machines, on the other hand, offer a payback percentage of 95% or much less.
Even video poker games with less than ideal pay tables pay more than slots. Even the worst Jacks or Better games, like the ones you'll find at the airport, have a payback percentage north of 94%. Compare that with the slot machines there, which often have a payback percentage of 75% to 80%.
Having to learn how to use a little bit of strategy in order to get these better odds isn't too big a drawback, either. In fact, for players with my temperament, learning strategy is fun. I like having some control over my destiny, even if I can't turn the odds to my favor. I still want to get as much gambling for my money as possible, and I don't mind making the effort to get there.
3. Craps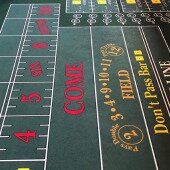 Craps might seem intimidating, but it's undeniably one of the best games in the casino – and certainly one of the most thrilling. Still, you have lots of people standing around the table, the bets all have funny names, and you even need an entire crew of people just to run a single game.
And everyone is excited.
I'll start again with the drawbacks to craps, but I'm a firm believer that this is one of the best casino games for anyone, no matter what their level of experience is.
The first drawback is that the gameplay is actually a little bit complicated and hard to follow, especially if you've never played before. This is a game with a lot moving parts, but at the end of the day, it all boils down to someone shooting dice and hoping to get certain numbers.
It's just that there's a difference between the come-out roll and the subsequent rolls when the player is trying to make a point. Heck, even some of the bets on the table aren't labeled.
Another drawback is that the game is as streaky as a casino game can be. You can easily lose hundreds of dollars at the craps table in a matter of moments. That's a two-edged sword, though, as you can also win hundreds of dollars really fast, too.
Finally, some of the bets at the craps table offer some of the worst odds in the casino. The house edge for some of these bets is over 10%, in fact. But that's not such a big drawback, either, as it's pretty easy to choose the better bets.
So, what are the advantages to craps?
Once you learn how to play, it's not that hard at all. There are only 2 dice in use, and there is only one shooter at a time. And the shooter's goal is simple enough—they want to roll a 7 or an 11 on the come-out roll, and they want to avoid rolling a 2, 3, or 12.
If they roll any other number, they're set a point. The goal then changes. They now want to roll the point before rolling a 7.
The simplest bet at the craps table is a bet on whether or not the shooter is going to succeed or fail. This bet is called the pass/don't pass bet, but subsequent bets also have a come/don't come option, which treats those subsequent rolls as new come-out rolls.
But the game also offers the only bet in the casino which has a 0 house edge. This is called an odds bet. When a point is set, you can place an additional bet behind your original pass or don't pass bet. This bet is a multiple of your original bet, and the maximum amount you can bet on this option is pre-determined by the casino.
Since this bet pays out at the actual odds of it being won, it's a bet with a 0% house edge. This hedges your risk in a dramatic way. The more money the casino lets you place on the odds bet, the better your odds become.
It's also easy to avoid the high house edge bets. Just stick with the simple bets on the table and avoid the ones that seem complicated. If you stick with pass/don't pass, come/don't come, and odds bets, you'll be facing a house edge of around 1% or less. That puts this game on a par with blackjack.
But unlike blackjack, you don't have to know any kind of strategy when you play craps.
The only real strategy for playing craps is to avoid the bets which have a high house edge and focus on the bets with a low house edge.
Another advantage of craps, for some people at least, is that it's also one of the most social games in any casino. People are jumping up and down, yelling, and giving each other high fives constantly.
I mentioned earlier that the game is, by its nature, streaky. That's a feature, not a drawback. Few gambling experiences are more exciting than getting involved with a craps table with a hot shooter.
And if you think the game is too intimidating, look for the casino game class schedule at the casino. Almost all casinos offer these in the mornings and in the afternoons. Once you've taken one of these classes, you'll be able to play craps as if you were an old pro. You could also play online, to learn the game with no-one else around.
4. Baccarat
I'll admit that baccarat isn't one of the top casino games on my personal list, but it's been a favorite of casino high rollers for decades—maybe even longer. It has advantages and disadvantages over other card games in the casino, but one of the biggest advantages the game offers is its relatively low house edge.
Baccarat is a simple guessing game. The dealer gets a hand and the player gets a hand. There's an elaborate process for determining the score for each hand—you just add the card values together and ignore the first digit.
You don't make any decisions when playing baccarat. This isn't like blackjack at all, really—the only thing the games have in common is that they're dealt from a traditional deck of cards.
This game is perfect for high rollers, as the stakes are generally available. It's also perfect for players who aren't looking for something especially fast paced. It's a leisurely game that offers a certain amount of elegance.
It's also a good game for players who don't want to learn a strategy and who aren't interested in trying to get an edge over the casino. Baccarat is not as streaky as craps, but players can get on a winning streak without too much trouble.
5. Slot Machines
I probably sounded pretty down on slot machines when I wrote about video poker earlier, but the reality is that for the right type gambler, slot machines are an excellent choice. But not all slot machine games are created equally.
Slot machines are easily among the top casino games for people who aren't interested in socializing with other gamblers. They're also the right games for players who don't want to make decisions. You put your money in, you spin the reels, and you accept your luck. That's just how they work, and that appeals to a lot of people.
The best slot machines are the ones played at the higher denominations. If you look at any table comparing payout percentages at the various denominations, you'll see that the higher denomination games always have the best payouts. That doesn't mean you should play above your bankroll, though.
You should always play a game where you're comfortable with the stakes. If you get in over your head financially, it can be disastrous, and that can happen really quickly. Saving 1% on your payback percentage isn't going to save you money if you're switching from a $5 slot machine to a $25 slot machine.
Here's how the math of that works out:
You make 600 spins per hour on a $5 slot machine. That's $3000 in action, and if you're losing 5% on average, then you're looking at an expected loss of $150 per hour.
You trade up to a $25 game, so now you're putting $15,000 per hour into action. But now you're only losing 4% on average, because the payout percentage is better. That's an expected loss of $600 per hour.
Even if the payout percentage dropped to 3%, you're looking at an expected loss of $450, which is still triple what you'd lose on the$5 game.
So it's not all about payback percentage. The stakes for which you're playing also make a big difference.
Another consideration is how complicated the game is. The general rule of thumb is that the payback percentage on the simpler games is higher than for the more complicated games. A 3 reel slot machine almost always has a better payout percentage than that of a 5 reel slot machine. A slot machine with a flat top jackpot almost always has a better payout percentage than that of a progressive jackpot machine.
So if you're an introvert who's not interested in making decisions, give the slots a try. Just stay within your budget and stick with the simpler, more traditional games. Slot machines get a bad rap, but that's a little undeserved.
6. European Roulette
In general, roulette gets a bad rap among so-called sophisticated gamblers, when in actuality it's one of the top casino games to play. They cite the lack of a skill element and the high house edge for the game. But somehow roulette has managed to remain popular for centuries.
Why?
One reason is because the relatively high house edge is mitigated by the pace at which it is played.
Consider this. European roulette, which only has a single 0, has a house edge of 2.7%. Let's say you found a really great slot machine that also has a house edge of only 2.7%.
Which game is going to cost you more money?
Most roulette tables probably don't see 60 bets per hour—less if the table is crowded. Suppose you're betting $5 per spin of the wheel. That's only $300 that you're putting into action each house. With a 2.7% house edge, you're looking at an expected hourly loss of $8.10.
Say you play that really good slot machine for $5 per spin. You're looking at 600 spins per hour, which amounts to $3000 in action. Remember we said that it had the same house edge, too? Now you're expected hourly loss is $81.
Roulette is best for social players who aren't in a hurry. It's a slow-paced game where there are usually lots of people at the table.
You'll notice that I specified European roulette on this list. American roulette is going to make my list of worst casino games. That's because the house edge for American roulette is almost twice as high as for European roulette, and there's no advantage to playing it. The game simply has worse odds for the player.
Don't just take my word for it, though. Check out this European vs. American Roulette comparison to get a good taste of both games.
Not all casinos have European roulette. My recommendation is to just skip roulette if the only version you can find is American roulette. There are other options with much better odds which suit similar temperaments—baccarat is one choice that might work well for you.
If enough gamblers start ignoring the American roulette wheels, the casinos might start putting in more European wheels.
7. Pai Gow Poker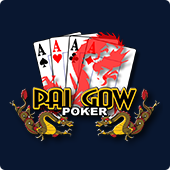 I love Pai Gow Poker for multiple reasons, but the main reasons have to do with the pacing. It's a leisurely game. In that respect, it resembles roulette or baccarat. But the game also presents opportunities for pushes on a consistent basis, which lowers your expected hourly loss even further.
Like craps, though, Pai Gow Poker can be intimidating for beginners. I'll make the same recommendation for this game that I made for craps—take one of the classes that the casinos offer for free. This game is fun enough and offers a good enough deal that it's worth learning how to play.
Pai Gow Poker is played with a 53 card deck—it includes a joker as a wild card. Like blackjack, it's a house-banked game. So it's a "casino poker" game rather than a "real" poker game. In casino poker, players only compete with the dealer's hand. In real poker games, the dealer doesn't usually even have a hand, and all the players compete with each other.
The gimmick is that each player gets a 7 card hand. You're required to set that hand into 2 hands—a 2 card hand and a 5 card hand. The dealer has to do the same, but the dealer has to do so in a prescribed way. (This is another similarity to blackjack.)
If the player's 2 hands are better than the dealer's 2 hands, he wins even money less a 5% commission. If the dealer's 2 hands are better than the player's 2 hands, the player loses his bet. Other outcomes result in a push, which happens more often than you probably think.
This game does require a certain amount of strategy, because you do have to make decisions about which cards to put in the 5 card hand and which cards to put in the 2 card hand. If you enjoy the mental challenge of making decisions that affect your bottom line, then Pai Gow Poker, like blackjack or video poker, is probably a good choice for you.
The house edge for this game is only about 1.5%, which isn't as good as blackjack, but it's still a great gamble. Even players on a budget can usually afford this because of the leisurely rate of play and the plentiful pushes.
8. Spanish 21
Some people consider Spanish 21 just a blackjack game with some rules differences. They're not wrong about this, necessarily, but I think that the rules changes are significant enough that Spanish 21 deserves to be listed as its own game. It has most of the same pros and cons as blackjack.
Here are some of the differences between Spanish 21 and standard blackjack:
Spanish 21 uses a "Spanish deck", which is a deck of playing cards with all of the 10s removed. This confused me the first time I read it, but I later realized that the face cards were still in the deck. It was literally just the cards with the number 10 on them that had been removed.
Late surrender, which is not available in most blackjack games, is always available in Spanish 21. Doubling after splitting is also always allowed in Spanish 21—most traditional blackjack games have limits to this, if they allow it at all. Aces can be re-split, too, which is also unusual in traditional blackjack games.
One of the other advantages a player gets in Spanish 21 is that a total of 21 for the player ALWAYS wins, regardless of the dealer's total. That's a huge difference right there.
This includes blackjacks on both the dealer's and the player's side—the player always wins one of these ties.
Spanish 21 also has several bonuses for various hands. A 5 card hand totaling 21, for example, pays off at 3 to 1. A 6 card hand totaling 21 pays off at 2 to 1. 7 cards or more with a total of 21 pays off at 3 to 1.
A 678 or a 777 also gets a bonus payout—3 to 2. But if the cards are suited, the payout is increased to 2 to 1. And if the suit is spades, the payoff is increased again, this time to 3 to 1.
Like regular blackjack, players who are willing to learn and implement basic strategy are able to reduce the house edge dramatically. The house edge for Spanish 21 never goes above 1% as long as you use basic strategy, and under ideal conditions, the house edge is only 0.4%,
Spanish 21 is often a better game than blackjack, although the rules variations do mean you have to adjust your strategy in some significant ways. Still, it's worth learning how to play. It's often the best bet, mathematically, out of all the bets available in any given casino.
9. 3 Card Poker

3 Card Poker makes the list not because of its low house edge but because it's so much fun. In fact, 3 Card Poker has some of the worst odds of any game on this list. But the odds aren't terrible, and the game has some other perks which might make up for the relatively high house edge in some ways.
I mentioned earlier that there's a difference between a traditional poker game and a casino poker game. That's because in traditional poker you're competing with the other players. In a casino poker game, the house is banking all the action. It's like blackjack—you only have to beat the dealer; you don't have to beat the other players at the table.
Of course, in a poker game with only 3 cards, the odds of getting certain hands change quite a bit. That's part of the fun of this game. It's easier to get a straight, a flush, or a straight flush when you only have to get 3 cards to match.
Here's a look at the probability behind that.
Suppose you want to determine the probability of getting a flush. In probability terms, this is an "AND" question. The 2nd card needs to be of the same suit as the 1st card, AND the 3rd card has to match those suits, too.
In probability, when the question uses the word "and", you multiply the probabilities of the separate outcomes by each other to get your overall probability.
To keep things simple, I'm going to estimate these odds without taking into account the cards that have already been dealt. There are 4 suits, so the probability of getting a card of any particular suit is ¼.
¼ X ¼ is 1/16, which is a reasonable approximation of your odds of getting a flush in 3 card poker.
In a 5 card poker game, the odds would look like this, instead:
¼ X ¼ X ¼ X ¼ = 1/256.
That's an order of magnitude in difference.
The bottom line is that you'll see bigger hands more often in 3 Card Poker, and that's just more fun. Of course, your hand still has to beat the dealer's hand in order to win.
The house edge for 3 Card Poker is around 3.3%, making it a worse bet than European roulette, but not by much. It's also a considerably better bet than American roulette, which has a house edge of 5.26%.
10. Caribbean Stud Poker
Caribbean Stud Poker is another house-banked poker game, but this one offers a progressive jackpot. I recommended avoiding slot machine games with progressive jackpots earlier, because they offer worse odds to the players. If you're looking for a fun game where you get a shot at a big prize, Caribbean Stud Poker is a good place to look.
Also, Caribbean Stud Poker is a game in which you can socialize with other players. I'm not a fan of gambling alone, although I know some people prefer slot machines and video poker because they ARE fans of gambling alone. As Shakespeare said in Hamlet, "To thine own self be true."
The house edge on this game is relatively high, about the same as that for roulette. So on our list of best casino games, this is the worst of the bunch. I wouldn't recommend this at all if it weren't for the fun factor and the potential progressive jackpot.
This is also a game that rewards strategy, but the strategy for playing is more complicated than just learning basic strategy in blackjack. This is a plus and a minus.
Here's why:
I enjoy a challenge. Learning a complicated strategy for a game is entertaining to me.
But why would I want to spend my time learning a strategy for a game with a house edge that's 10 times as high as that of blackjack? I could just use that that time learning basic blackjack strategy and enjoy a much better house edge.
The truth is that it's all about the progressive jackpot. Most blackjack games don't offer a progressive jackpot, and sometimes I just want to dream about the big score. And you can't ever get a big score if you don't play a game where a big score is available.
Heck, even if you don't hit the progressive, some of the hands pay out at 100 to 1 or 50 to 1. You won't see that at the blackjack table, either.
What is the Best Game to Play at Casinos?
What constitutes a casino game in the "best of class" category is largely a matter of personal preference. You know your goals as a casino gambler better than I ever could. Beware of people offering blanket black and white advice about which casino games are better than others and why.
A lot of these gambling pundits base all their advice on one factor—the house edge. As factors go, that isn't a bad one, but it's not the only thing most people consider—or even SHOULD consider—when choosing a casino game to play.
You should also think about whether you're an introvert or an extrovert. You should think about whether you like fast paced game or slow paced games. Would you prefer to have frequent small wins, or do you prefer to go for a big jackpot?
All of these are factors that you can and should take into consideration when choosing one of the best casino games to play. The options on this list represent my favorites more than anything else, but there's no denying they're among the top casino games you should be interested in.
As for picking one casino game that rules them all, I'll leave that task to the reader.
Hopefully my breakdown of the best games to play at a casino help you. Of course, the best piece of advice is to just play what you know and/or are comfortable with. And if you need further guidance as to deciding where to play, visit the top rated online casinos below.
AUGUST
Casino of the Month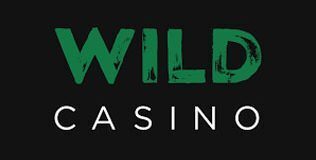 Welcome Bonus
250% up to $5,000
Read Review
Visit Site